Health Minister gets Covid-19 vaccine shot
Health Minister Nguyen Thanh Long and four Deputy Ministers are given the first dose of AstraZeneca vaccine Thursday morning.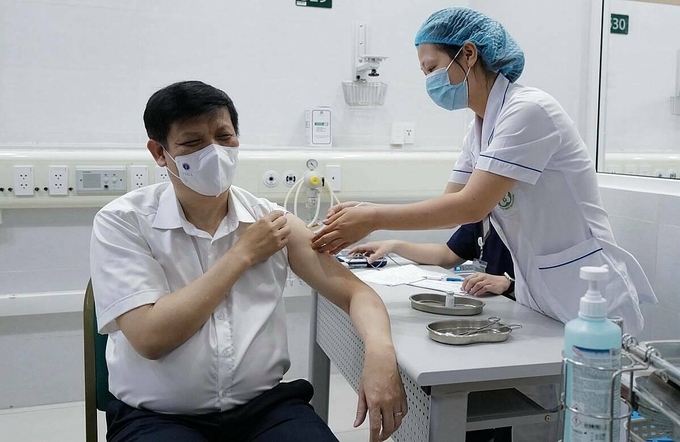 Health Minister Nguyen Thanh Long getting the vaccine (Photo: VNE)
"My health condition post-vaccination is totally normal," Long said after getting the jab at Bach Mai Hospital, a leading health facility in Hanoi. All the four leaders are having their health closely monitored by medical staff.
Vietnam is expecting another 1.6 million doses of AstraZeneca vaccine sourced from Covax, the World Health Organization's program that ensures global equitable access to Covid-19 vaccines. The upcoming batch, Long said, will be further administered to the prioritized groups, including frontline medical personnel, border guards, members of Steering Committee for Covid-19 Prevention and Control of all levels.
"Besides, we are adding students and laborers planning to work abroad to the priority list," he added.
So far, Vietnam has completed 74 percent of its national vaccination plan with the imported AstraZeneca vaccine. The speed is evaluated as "meet the deadlines".
Of the over 600,000 Covid-19 vaccine recipients, 16 percent experienced reactions post-inoculation, all symptoms reportedly wore off within one day. According to the Minister, such a rate is lower than in other countries. A few cases with severe side effects received prompt treatment from doctors and are all in stable health condition now.
Over 90,400 more individuals are scheduled to be immunized in May. By then, the National Vaccination Program will partially cover prioritized people in 48 out of 63 provinces and cities.
To date, Vietnam has received two batches of the UK's AstraZeneca vaccine, either through commercial contracts or the Covax program.
The country aims to secure 150 million doses to cover 70 percent of its population by next year
It is experiencing its fourth wave which has seen 64 cases of community transmission since last week in Hanoi, Da Nang and HCMC and the provinces of Ha Nam, Vinh Phuc, Hung Yen, Quang Nam, Dong Nai, Hai Duong, and Yen Bai.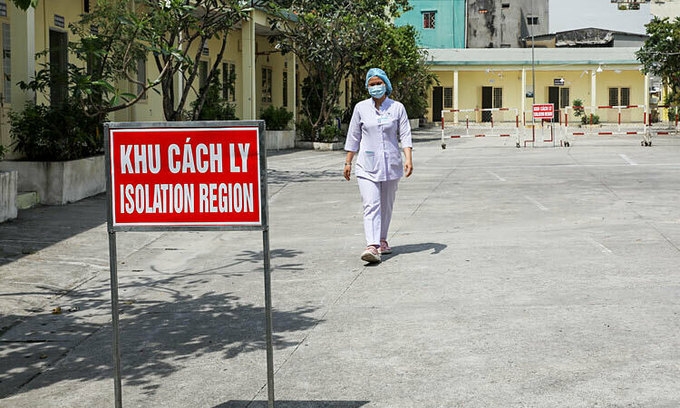 A nurse walks inside a facility used for centralized quarantine in HCMC, March 2020. (Photo: VNE)
On May 5, the country extended its quarantine policy from 14 to 21 days for both foreign arrivals and those who come into contact with Covid-19 patients.
The decision has been made after several individuals contracted the virus after they'd already completed the 14-day quarantine and tested negative twice or thrice, according to VNE. The decision, which took immediate effect Wednesday, was taken after the Health Ministry consulted experts on ways to keep the larger community safe, said Minister Nguyen Thanh Long.
In the past week, at least three such cases have been detected.
The latest decision is the second reversal in as many days. The ministry had said a day earlier that those in centralized quarantine facilities would not be allowed to go home after completing the mandated 14-day quarantine and testing negative twice during the period. It had not specified the new duration.
Earlier on March 26, Deputy PM Vu Duc Dam received the second shot of the made-in-Vietnam NanoCovax vaccine, which was on the second trial phase at that time.
After the injection, the official waited 30 minutes for medical monitoring and then talked to other volunteers, expressing his trust in those engaging in NanoCovax research and trials.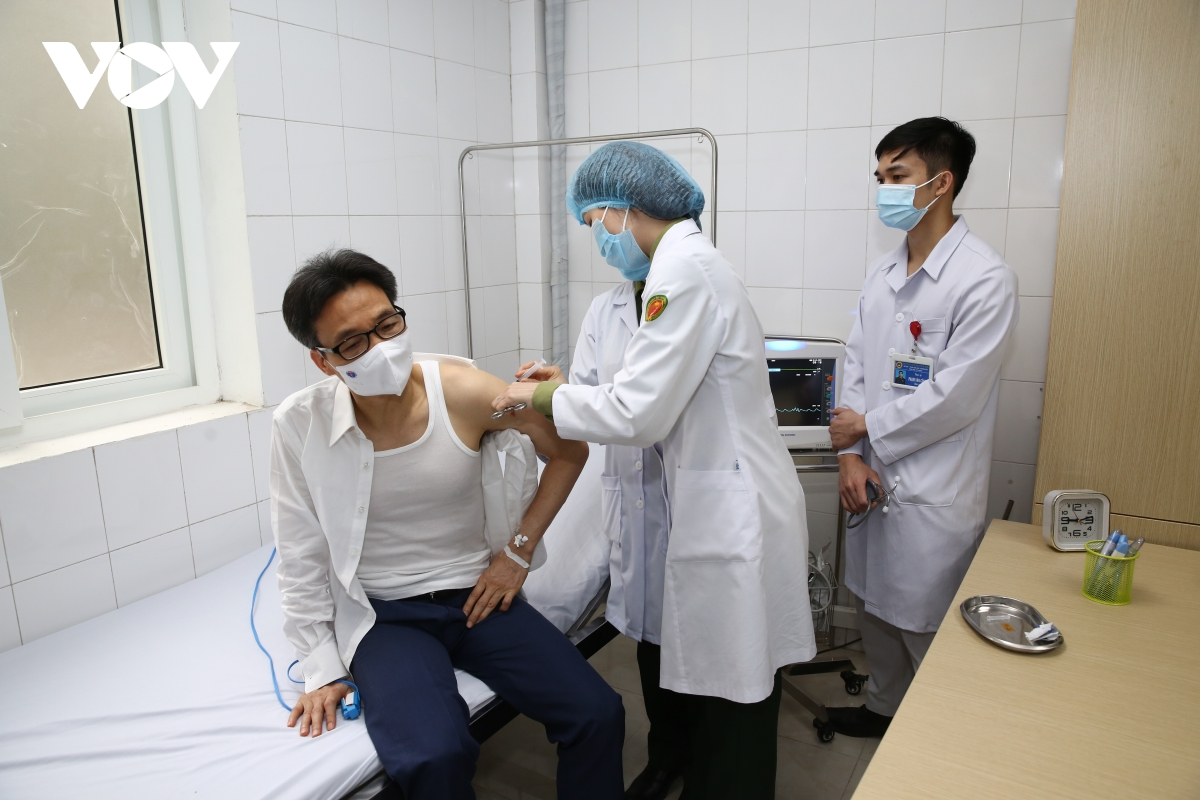 Deputy Prime Minister Vu Duc Dam gets the second shot of made-in-Vietnam NanoCovax COVID-19 vaccine. Photo: VOV
NanoCovax, developed by the Nanogen Pharmaceutical Biotechnology Company, is Vietnam's first candidate vaccine to reach the human trial stage. The candidate is expected to get use authorization in Q3.
Vietnam, the country's been showered with praises over comprehensive and effective COVID-19 containment attainment is having three other potential vaccines on hands. The vaccines are studied and produced by Vabiotech, Polyvac and the Institute of Vaccines and Medical Biologicals (IVMB), all have completed the laboratory production process.
IVMB's candidate Covivac has entered the first phase of human trials in early March after yielding safe and strong immunity response on animals.