Health Minister: More drastic measures needed to stem quick spread of Covid-19
A series of drastic measures must be taken to curb the novel coronavirus (COVID-19) pandemic due to the virus spreading rapidly, Health Minister Nguyen Thanh Long stressed on February 2 during a regular cabinet meeting held in Hanoi.
The Minister proposed that Prime Minister Nguyen Xuan Phuc request all people to wear masks as a mandatory measure and limit gathering in crowds, especially in confined spaces, such as attending weddings or sitting on buses, VOV reported.
At the meeting, PM Phuc also asked ministries, sectors, and localities to focus on providing a warm Lunar New Year (Tet) holiday to all while implementing measures to prevent and control COVID-19 at the same time.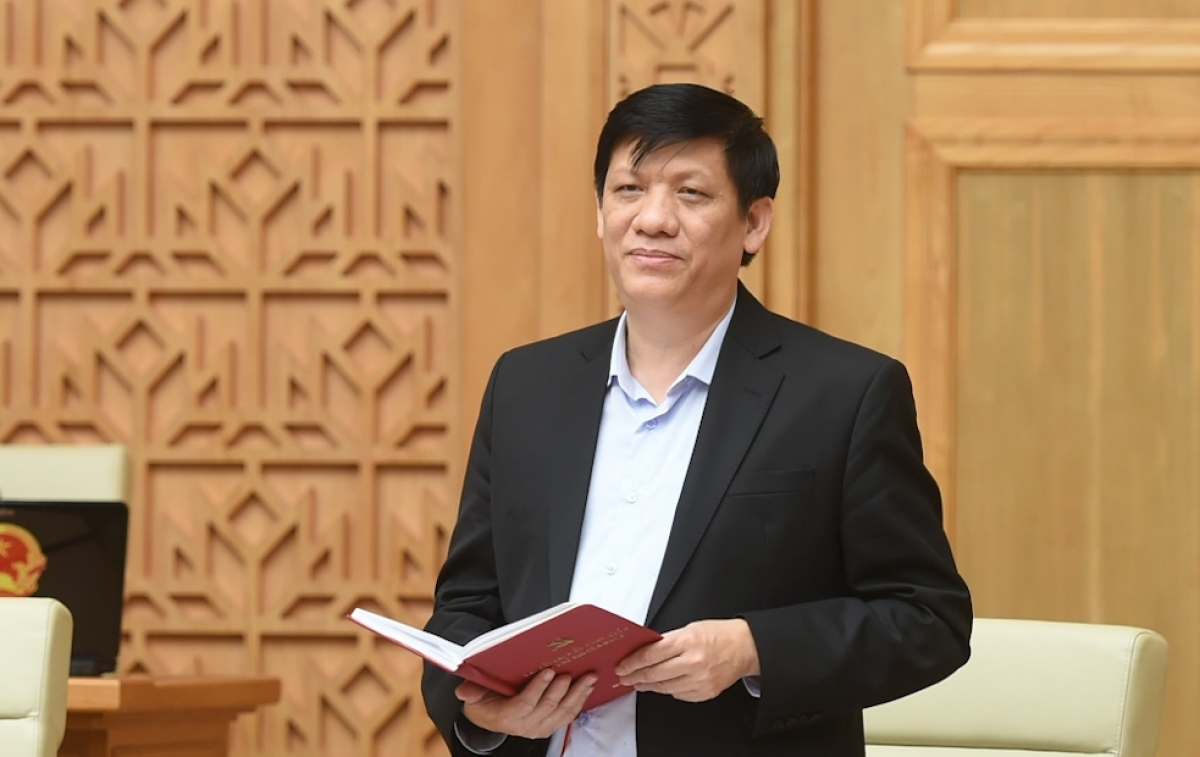 Health Minister Nguyen Thanh Long speaks at the regular cabinet meeting Photo: VGP
The PM stressed the need to continue extinguishing COVID-19 while avoiding panic and continuing to implement the "twin" targets. The National Steering Committee on COVID-19 Prevention and Control and the Ministry of Health should design specific plans to give timely direction to localities, according to Vietnamplus.
Along with pandemic prevention and control, it is necessary to boost economic growth in the first half of this year, he stressed.
Regarding the COVID-19 update, the Ministry of Health on February 2 afternoon confirmed 30 further new cases of COVID-19 in the community and one imported case which was immediately isolated upon arrival.
Among the 30 community cases, 18 were detected in Hai Duong, 8 in Quang Ninh, 3 in Gia Lai and 1 in Hanoi. Most of the cases are linked to Hai Duong and Quang Ninh outbreaks or had close contact with coronavirus patients.
The remaining imported case is a 43-year-old Russian expert who entered Noi Bai Airport in Hanoi on February 1 and was diagnosed positive with the SARS-CoV-2 virus one day later. Currently, the patient is being isolated for treatment at the Central Hospital for Tropical Diseases in Hanoi's Dong Anh district.
The nation has so far recorded 1,882 SARS-CoV-2 infections. Of the total, 994 were locally-transmitted cases, including 301 found since the latest resurgence of the virus on January 27.
The total number of recoveries now stands at 1,461 after one more COVID-19 patient was released from the hospital the same day.
In another development, a new and more contagious variant of COVID-19 originating from the UK was found in patients in the northern provinces of Hai Duong and Quang Ninh, according to details released by the National Institute of Hygiene and Epidemiology.
Most notably, 11 out of the 16 samples tested by scientists from the institute feature 17 signature mutations of the super-spreader B.1.1.7 strain that was first discovered in the UK in December 2020.
The new strain of the virus is said to spread more quickly compared to previous variants of SARS-CoV-2. Indeed, it has caused a surge in the number of COVID-19 infections in the UK, as well as in other European countries, with the variant already detected in 60 countries worldwide as of January 17.
A female worker from Vietnam Poyun Electronics Co., Ltd was found with the B.1.1.7 variant when arriving in Japan last month.
The highly contagious strain originates in South Africa and was also initially detected in December 2020, according to the National Institute of Hygiene and Epidemiology and the National Hospital for Tropical Diseases.
Fences are put up at a road leading to Cai Rong Town, Quang Ninh Province, which is under lockdown, February 1, 2021. Photo: VnExpress/Minh Cuong.
Vietnam imposes series of lockdowns over Covid-19 variant
Many areas in Vietnam have been placed under lockdowns following the latest Covid-19 outbreak featuring a rapidly transmitting U.K.-originated variant, said VNExpress.
The northern province of Hai Duong, the country's biggest hotspot in the new outbreak that struck last Thursday, imposed a 21-day lockdown starting January 28 after dozens of workers of a Taiwanese-run firm were found infected with the novel coronavirus.
No public activity and no passenger transportation out of the town is allowed, apart from exceptional cases. The use of personal vehicles should be avoided as much as possible. Transportation of materials and goods is still allowed.
Besides Chi Linh, home to 220,000 people, Hai Duong, the capital town of the eponymous province, has locked down many residential areas for 21 days since January 31, suspending activities involving large crowds. Some communes and villages in Nam Sach and Kim Thanh districts have also been placed under lockdowns.
Hai Duong is currently the biggest Covid-19 hotspot with 209 confirmed as of Tuesday morning.
Its neighbor Quang Ninh, another Covid-19 hotspot where 33 infections have been recorded starting with employees at Van Don Airport, has locked down 12 communes and one ward in Dong Trieu Town of Dong Trieu District, and one commune in Van Don District.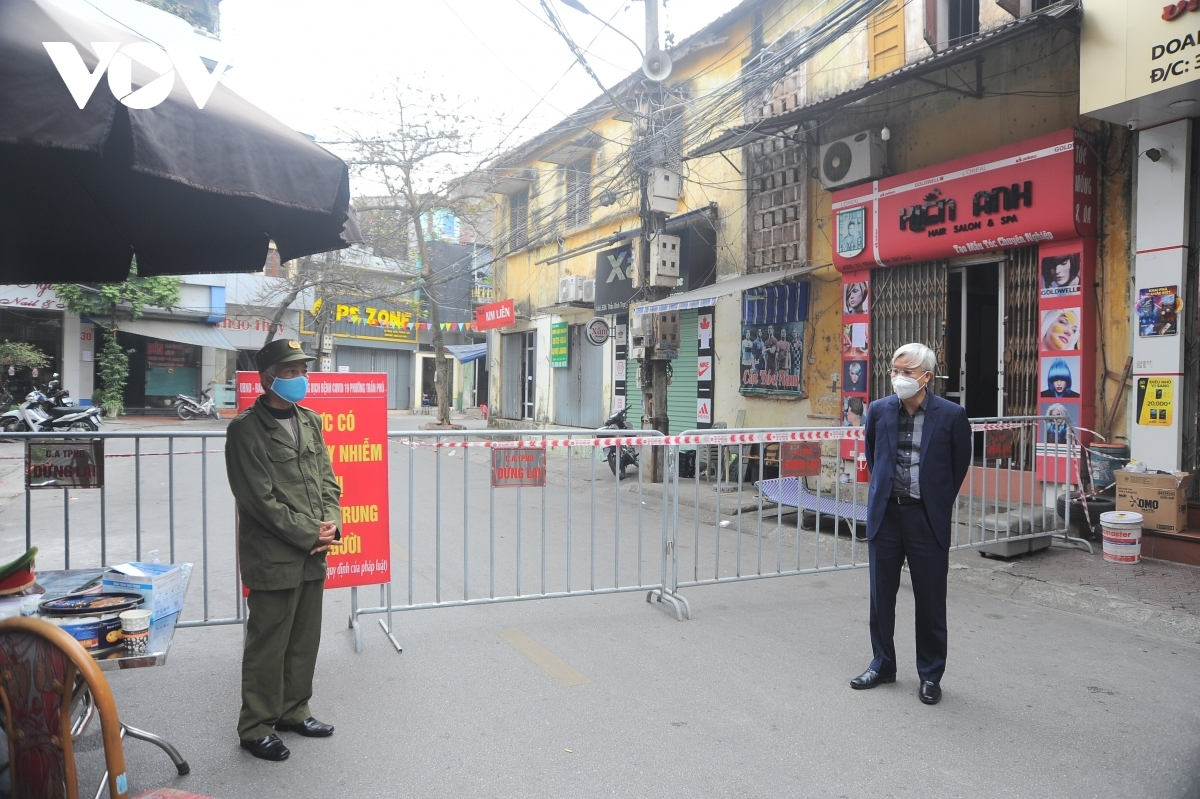 A residential area is put in lockdown in Hai Duong province, the locality recording the highest number of COVID-19 cases of local transmission in the nation. Photo: VOV
The province is set to extend the lockdown over the entire Dong Trieu Town, which neighbors the Chi Linh hotspot in Hai Duong Province and home to around 200,000 people, from Wednesday.
Quang Ninh's Cai Bau Island, 50 km from the famous Ha Long, home to seven communes and towns, was locked down Tuesday after more infections were detected.
Authorities in Hanoi, less than two hours to the east of Hai Duong, have so far locked down nine areas, including a primary school and an apartment in Nam Tu Liem District, the FPT University in Thach That District, and a military-managed factory in Dong Anh District. Other locked down areas are in Cau Giay, Hai Ba Trung, and Me Linh districts.
Hanoi authorities on Monday afternoon decided to shut down the video game and internet parlors in the city from Tuesday, following the shutdown of all bars, karaoke parlors, and discotheques a day earlier.
The northern port city of Hai Phong also locked down its maternity hospital Monday after a man visiting the hospital to take care of his wife was confirmed positive for the virus the same day.
Bac Giang Province, around 50 kilometers from Hanoi, has locked down a commune in Luc Nam District after it recorded its first community transmission case during the latest wave.
Gia Lai Province in the Central Highlands, which has reported six infection cases in the latest outbreak, has also placed many areas under lockdown, including a general hospital.
The southern province of Binh Duong, which neighbors HCMC, has also recorded a community transmission case in Thu Dau Mot Town linked to the Hai Duong outbreak. Town authorities imposed a lockdown on many areas starting Monday.