Health Minister: The 4th wave likely more complicated and prolonged
The pandemic, however, has been basically contained as most of the new cases are either from quarantine centers or blockaded areas.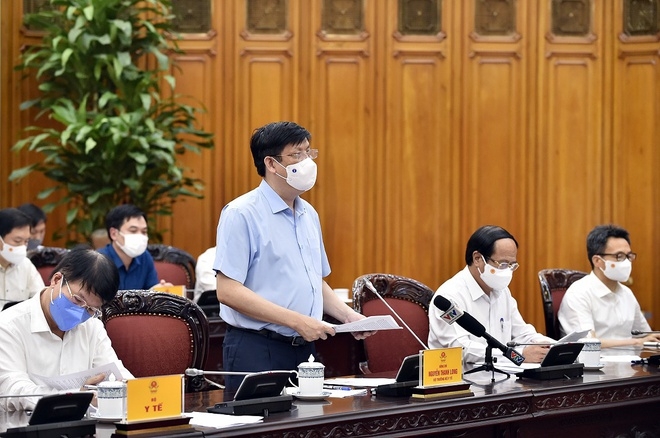 Health Minister Nguyen Thanh Long speaks at the meeting (Photo: VGP)
The current pandemic situation in Vietnam might become more unexpected and last longer than previous ones. Medical officials, however, have basically put the novel virus under control so far, Health Minister Nguyen Thanh Long said at the Government's regular meeting on Covid-19 prevention and control on May 24.
Long stressed that the 4th outbreak starting since April 27 has spread to 30 provinces and cities. Most of the infections are related to industrial parks with large numbers and densities of workers. High travel frequency also makes these areas more vulnerable. Mutated variants from India and the UK have also been found.
"However, the pandemic has basically been controlled as most of the new cases are either under quarantine or from blockaded areas. Infection sources have also been traced," Long added.
Accordingly, the provinces and cities with good coronavirus containment results include Yen Bai, Dong Nai, Quang Ngai, Nghe An, Quang Ninh, Nghe An, etc. Six localities have gone two weeks without local infections.
Over 300 workers in Bac Giang are confirmed positive for coronavirus on March 25 afternoon (Photo: VOV)
Meanwhile, the two northern provinces of Bac Giang and Bac Ninh are still battling with record daily new cases. Bac Giang on Tuesday noon alone confirmed 132 new patients.
Authorities in the two biggest hotspots have been deploying the strictest protocols, imposing comprehensive quarantine or social distancing at high-risk areas. Four large-scale industrial parks in Bac Giang and several companies in Bac Ninh have been suspended to contain the virus.
Earlier last week, Vietnamese medical experts predicted the 4th wave might end in late June with a total of 4,100 – 6,600 infections depending on the scale of social distancing order in different places.
The national tally has reached 2,506 and nine deaths reported since the resurgence on April 27. Bac Giang, Bac Ninh, and Hanoi are the three hardest-hit localities, with 1,156 cases, 507 cases and 316 cases respectively.
Hanoi has requested to shut down all food and beverage establishments as well as salons and beauty parlors starting Tuesday. People returning to Hanoi from other localities must submit medical declarations within 24 hours. Those who returned to the city between May 10 and May 24 should also do so by May 25.
The municipal administration has already shut down non-essential services like bars and dance clubs.