Health Minister: We will not falter in Covid-19 fight
Health Minister Nguyen Thanh Long on Wednesday said Vietnam would not take any steps back in the fight against the coronavirus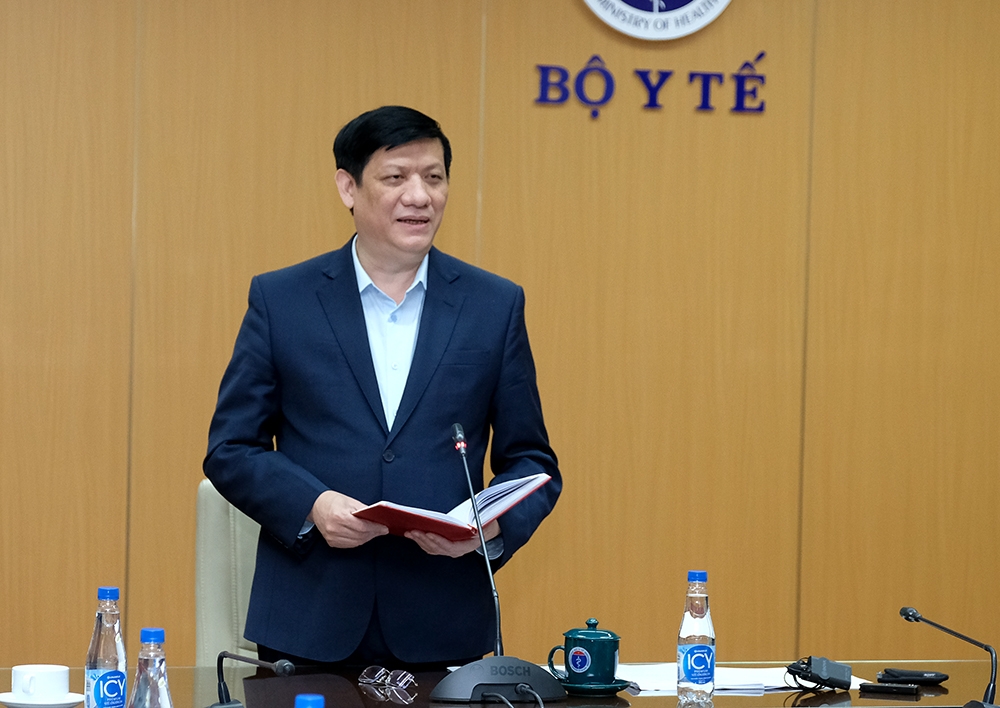 Health Minister Nguyen Thanh Long (Photo: Suc Khoe va Doi Song)
The country is grappling with the its fourth wave of the coronavirus, which has been evaluated as the most dangerous yet. There are possible challenges and risks, yet authorities, frontline workers, and residents are not shying away from the battle.
The Vietnamese health minister said the situation was more complicated, with the advent of more contagious coronavirus variants and new epicenters discovered. Therefore, he stressed that there is no room for delay or resting.
Many frontline medical facilities in the Covid-19 battle have been under lockdown for the last two weeks, including the National Hospital for Tropical Diseases and K Hospital. At least 10 medical staff have contracted the novel virus since April 27 when the first community case of the fourth outbreak was reported. One nurse in the southern An Giang Province has died of an allergic reaction to a Covid vaccination.
"I highly appreciate the sacrifices the white soldiers [medical staff] across the country have made. They have been dedicating their expertise, time, and safety to help others," Long wrote in the letter he sent to medical personnel on May 12. With a plan to change the anti-pandemic approach from defense to an active fight, the minister called for more joint efforts from healthcare workers.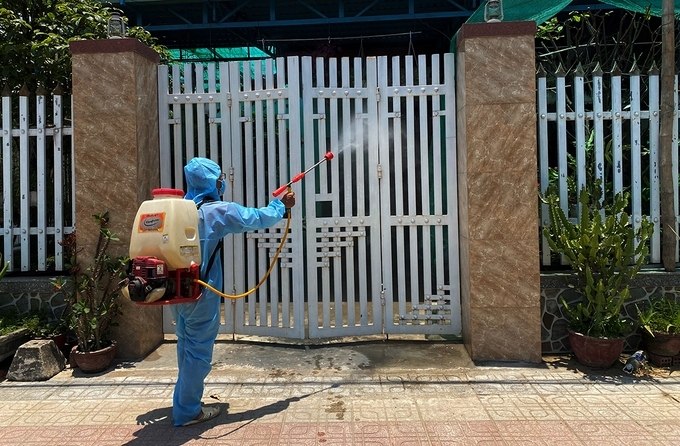 Medical staff disinfecting the house of a patient in Quang Nam Province (Photo: VNE)
Deputy Prime Minister Vu Duc Dam on Tuesday said it was not imperative to issue a national social distancing order.
"In the last few days, the PM kept asking me if it's imperative to place more stringent anti-pandemic measures such as a social distancing order. As the deputy PM, and head of the National Steering Committee for Covid-19 Prevention and Control, my answer is not yet," Dam said. "I have the same questions from the press at a time when coronavirus has spread to 26 provinces and cities."
From the professional perspective of healthcare workers and Covid-19 fighters, early social distancing, localization and entry bans are the easiest way to contain the virus. However, Dam stressed that authorities must consider such an approach carefully to reach the dual goal of persistently combating the pandemic while ensuring socio-economic development.
Dam reaffirmed that Vietnam would stick to the strategy it's been adopting since the very first days of Covid last year, which is to "prevent, detect, quarantine, localize and give active treatment."
"These principles haven't changed so far. To date, Vietnam is one of the top countries in the world with great Covid-19 containment results," Dam said.
Deputy Health Minister Tran Van Thuan also said that the pandemic situation had been controlled in four major epicenters: Da Nang, Yen Bai, Hai Duong and the Dong Anh-based National Hospital for Tropical Diseases.
"It proves that Vietnam's protocols and strategy in the Covid-19 battle are totally on point," Dam concluded.
The government has assigned the health ministry to go all out to expedite domestic Covid-19 vaccine production and boost imported vaccine allocation, thereby increasing coverage nationwide.
Vietnam is experiencing its toughest Covid-19 wave yet, which has seen 581 community transmission cases in 26 cities and provinces since April 27.
In the latest update, several workers at Samsung and Canon factories in northern Bac Ninh Province were found coronavirus-positive on May 12.
Medical staff take samples from Canon workers in Bac Ninh for coronavirus tests on May 11, 2021 (Photo: VNE)
Two positive cases at the Japanese optical-imaging firm Canon Vietnam have both linked to a co-worker who was tagged as "Patient 3,357" on Monday. The two new cases have not been confirmed as Covid patients, pending further test results.
Around 2,000 samples for Covid-19 testing have been taken in Bac Ninh for contact tracing, revealing the two aforementioned coronavirus cases.
Local authorities have locked down a Canon dormitory with 1,200 workers in Que Vo District.
At South Korean Samsung Electronics Vietnam in the province's Yen Phong District, two coronavirus cases have also been detected.