Helen Keller International donates medical supplies to help mountainous province fight Covid-19
The US non-governmental organization Helen Keller International assisted the northern province of Son La, aiming to drive back the pandemic and stabilize production.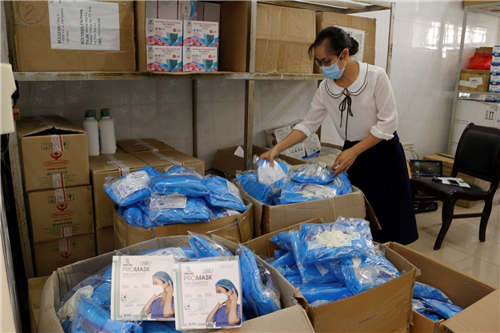 Son La Provincial Center for Disease Control received supplies from Helen Keller International. Photo: DCD Son La
In order to join hands to contribute to the Covid-19 prevention and control, Helen Keller International (HKI) in Vietnam has just donated medical supplies to the Center for Disease Control of Son La province.
The number of medical supplies includes 300 N95 masks, 300 medical masks, 300 sets of personal protective equipment (suits with hoods, shoe covers, gloves, masks and goggles). After receiving thee donated supplies, the Son La Center for Disease Control will use supported protective clothing for Covid-19 prevention and control activities.
Previously, the HKI also helped with hand washing and hygiene. In Giang Ma commune, Nung Nang commune, Tam Duong district, Lai Chau province, the health workers organized small events to teach parents to take better care of their children, and at the same time present soap bars and vegetable seeds to prepare for the new season.
Vietnam logged 141 new locally transmitted Covid-19 infections and two imported cases in the past 6 hours to 6 pm on May 29, according to the Ministry of Health.
The country documented a total of 5,354 domestic infections, with 3,784 cases since the latest outbreak hit the country on April 27.
Founded in 1915, Helen Keller International is an international non-governmental organisation with the mission of saving the sight and lives of the most vulnerable and disadvantaged by combating the causes and consequences of blindness and malnutrition. The organization has been working in Vietnam since the 1990s through the Vietnam National Institute of Ophthalmology (VNIO). At the present time, they are working in Can Tho, Tra Vinh, Nam Dinh, Hoa Binh, Son La, and Lai Chau provinces, to implement development projects in Eye Health and Nutrition.
In close collaboration with various local partners, HKI is working to improve service delivery for eye health, including vision care services for school children and teachers, such as vision screening, refraction, and the provision of corrective eyeglasses for those who are in need.
In addition, HKI's nutrition activities contributed to improve the health of mothers and their children in Son La province. This model is being scaled up to Hoa Binh and Lai Chau provinces.
Christian NGO joins the fight against Covid-19

Along with providing daily necessities to needy households, the programme also assists medical staff, and frontline forces from quarantine areas in the northern mountainous province ...