Vietnam in negotiation for Moderna Covid-19 vaccine
Through distribution of the US vaccine, Vietnam could speed up its nationwide vaccine rollout, increasing coverage amid surging new cases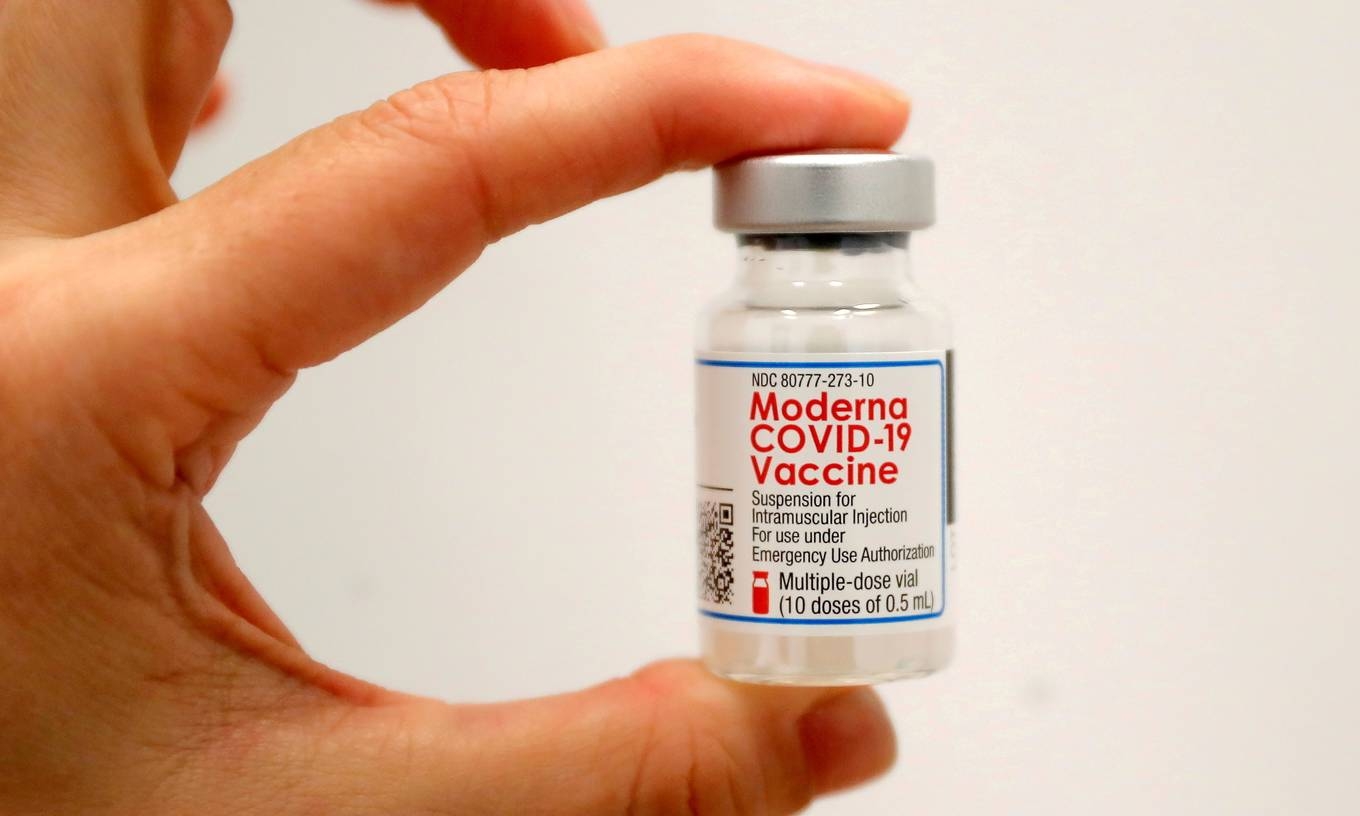 One vial of Moderna vaccine (Photo: Reuters)
Health Minister Nguyen Thanh Long on Friday asked for prompt and reasonably-priced allocation of the Moderna vaccine from Zuellig Pharma Company, the vaccine's representative in Vietnam. Zuellig Pharma pledged to discuss the proposal as soon as possible.
Long is also working with representatives of the Japanese and Korean Embassies and foreign enterprises in Vietnam on vaccine supplies and rollouts for industrial workers.
"Vietnam's motto is to get the fastest access to Covid-19 vaccine, thereby ensuring the highest rate of coverage," the minister said.
Given the good containment results, Vietnam has prioritized coronavirus vaccines less than countries with poor pandemic management, he added. The Ministry of Health and attendants were also in talks for solutions to have better vaccine access, including removing vaccine export bans, as well as encouraging foreign enterprises to purchase vaccines themselves to immunize their workers.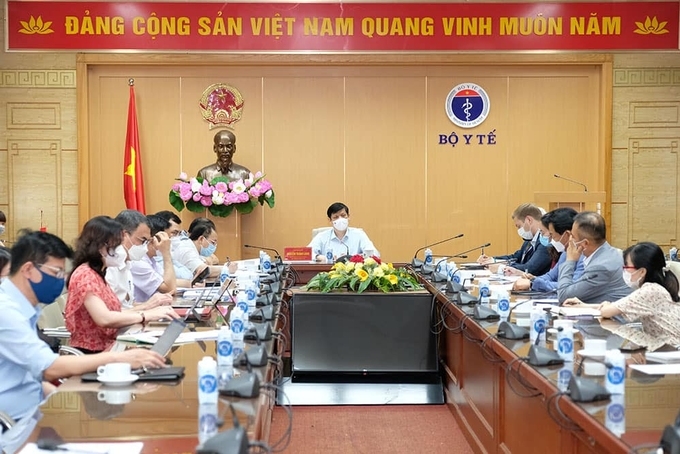 At the meeting on May 28 (Photo: VNE)
Vietnam, which currently uses the vaccine produced by British-Swedish firm AstraZeneca for its immunization program, has received nearly 2.9 million doses, 464,000 through commercial contracts and the rest through Covax, and vaccinated over a million of its 96-million population.
The ministry has struck commercial deals for 30 million doses and will get 38.9 million doses through Covax.
It has registered to buy another 10 million doses through Covax under a cost-sharing scheme to benefit from lower prices, according to VNE.
It has also inked a deal to buy 31 million doses of Pfizer's vaccine this year.
Four vaccines are under development in the country: Nanogen Pharmaceutical Biotechnology JSC, the Institute of Vaccines and Medical Biologicals, Vaccine and Biological Production Company No. 1, and Polyvac.
On May 26, the government approved the establishment of a Covid-19 vaccine fund to raise contributions from various sources and ease the burden on its resources. The fund would accept contributions in the form of cash and vaccines from benefactors in Vietnam and abroad.
It will be audited by the State Audit Office of Vietnam and the Vietnam Fatherland Front, an umbrella organization of all political and social groups in the country.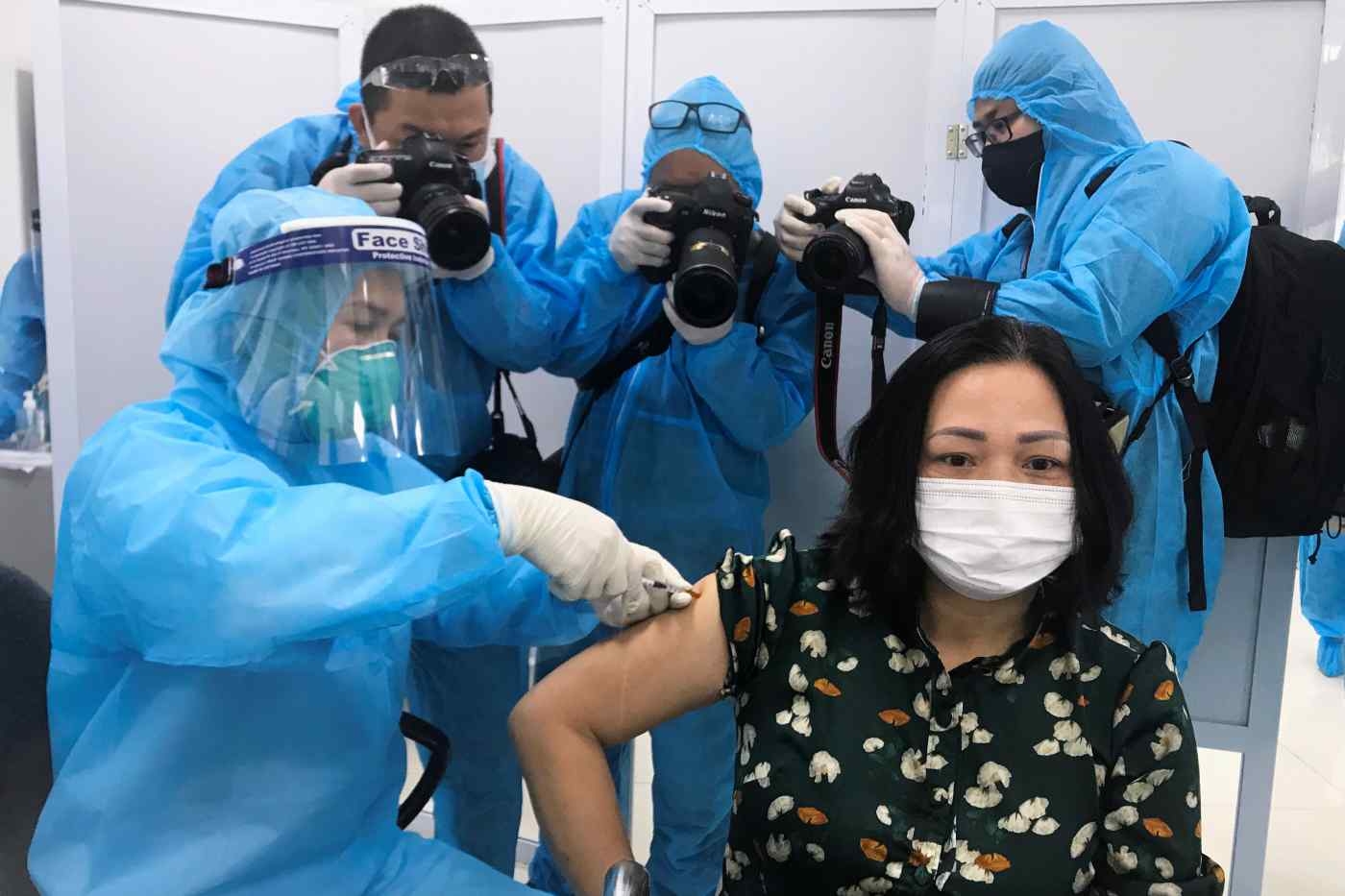 A woman receives an injection as Vietnam starts its official rollout of AstraZeneca's Covid-19 vaccine, in Hanoi, on March 8, 2021. (Photo: Reuters)
The Moderna vaccine was developed from messenger RNA, or mRNA, which contains instructions for human cells to construct a harmless piece of the coronavirus called the spike protein that triggers an immune response in the human body.
Moderna vaccine received approval for emergency use by the WHO and the European Medicines Agency in late April and January, respectively. It has so far been greenlit for use in 45 countries and territories, including the United States, Canada, the UK, and Singapore. The U.S. candidate is the fourth Covid-19 vaccine in the world to get such agreement, after Pfizer, AstraZeneca and Johnson & Johnson.
Trials of the vaccine in the United States showed it is safe and effective for teenagers.
The nation is in the grip of a new wave of Covid transmissions, which has caused 3,595 infections in 33 cities and provinces in the last month.
The fourth wave has been predicted as more prolonged and complicated than previous ones. However, it has basically been put under control as most of the new cases are either under quarantine or from blockaded areas. Infection sources have also been effectively traced.