Hanoi needs over $43.3 million to vaccinate its citizens
Hanoi needs over VND 1 trillion (43.3 million U.S. dollars) to buy 5-6 million doses of Covid-19 vaccines to inoculate its citizens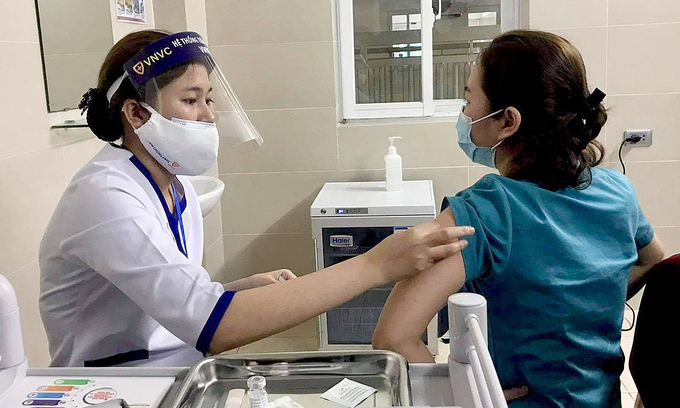 A medical worker in Hanoi's Thanh Nhan Hospital is vaccinated against Covid-19. Photo: VnExpress
Secretary of the Hanoi Party Committee Dinh Tien Dung on May 27 outlined the plan of purchasing and distributing Covid-19 vaccines to residents
Dung said Hanoi was grappling with the fourth wave of Covid-19 and underscored the need for mass immunization in stamping out the pandemic.
Besides giving vaccines to prioritized groups, the city will use its fund for Covid-19 prevention and control to give free vaccinations to all its citizens.
With a population of about 10 million people, Hanoi needs over VND 1 trillion to buy 5-6 million Covid-19 vaccine doses to inoculate its residents in the first round to reach herd immunity.
Dung has called for enterprises, organizations and enterprises to contribute to the city's fund for purchasing the vaccine.
He has also appealed for and encouraged owners of apartment buildings and enterprises to give free vaccines to their residents and workers.
Since the beginning of 2021, the city has received much support from businesses and entrepreneurs for its fund for Covid-19 prevention and control. Dung extended his thanks to donors, saying that the aid was a great encouragement for the city to soon win over the pandemic.
Vietnam entered its fourth wave of Covid-19 community transmission on April 27 and since then, 3,335 infections have been registered in 31 cities and provinces.
Hanoi has reported 352 infections.
Bac Giang and Bac Ninh still lead the nation with the highest number of infections, at 1,701 and 689 respectively, owing to their large-scale industrial parks that employ thousands of workers.