High asymptomatic Covid-19 cases challenge Vietnam's containment efforts
With 60% of Covid-19 patients display no symptoms, Vietnam is facing an added challenge in its effort to ramp up contact tracing and screening.
A medical worker handles samples for Covid-19 testing in HCMC, May 13, 2021. (Photo: VNE)
Such a large number of asymptomatic patients is adding more pressure for the country already grappling with new variants and a surge in new cases.
60% of the 1,000 Covid-19 patients currently treated in 50 medical facilities across the country are asymptomatic, according to the Ministry of Health. In Hanoi's National Hospital for Tropical Disease alone, which is under lockdown and handling some 300 patients, the rate reaches 50%.
"There are many cases where even X-ray scans of the lungs fail to expose the patient's infection status. When they do, it's already too late," Nguyen Van Kinh, part of the Covid-19 diagnosis experts, said Thursday. "This is a major challenge for the screening efforts."
Dr. Nguyen Hong Ha, vice president of the Vietnam Infectious Diseases Association, commented that the high asymptomatic rate is posing the biggest difficulty for the Covid-19 battle in Vietnam. Infection risk is thus very high, he added, especially when some patients only have positive results towards the end of quarantine time or even after discharge.
"Patrolling, contact tracing, and screening for suspected individuals in the community are very important to curb virus spread," the vice president said. "If we only wait for people to show symptoms like fever, coughing, or difficulty breathing, we will surely miss infections."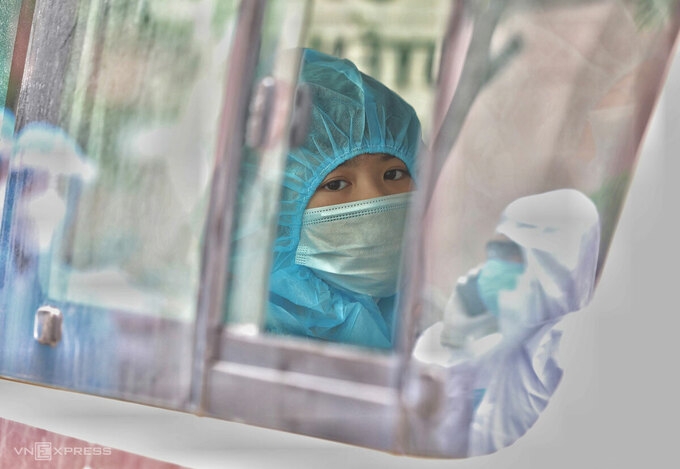 One woman with close contact with Covid-19 patient was taken to quarantine center in Hanoi (Photo: VNE)
Research has revealed that the virus's incubation period could last up to 21 days, with symptoms typically showing up on days 5-12. From day 15-21, very few symptoms are seen, if any.
In most patients, the symptoms are mild and would typically clear up after about a week. But severe cases mean trips to the ICUs, ventilators and increased risk of death, according to VNE.
The disease's trajectory is difficult to anticipate, especially so in elderly patients with underlying conditions, where an asymptomatic case may very quickly turn into a life-threatening one.
Scientists have yet to ascertain exactly how contagious an infected person could be during their asymptomatic period. Some experts are calling for the quarantine of all people in close contact with confirmed patients. Anti-pandemic measures must be tightened, especially the mask mandate, hand washing, and disinfection at patients' residential and workplaces.
The health ministry has extended the mandatory quarantine time from 14 to 21 days in response to certain infections only discovered after finishing the two-week isolation. Ha stressed that all suspected people must abide by prevention regulations even when they experience no coronavirus symptoms. "The most crucial thing is still people's obedience," he added.
Luong Ngoc Khue, a senior official with the health ministry, said Covid-19 patients should be treated at local hospitals to save overrun frontline facilities for severe cases.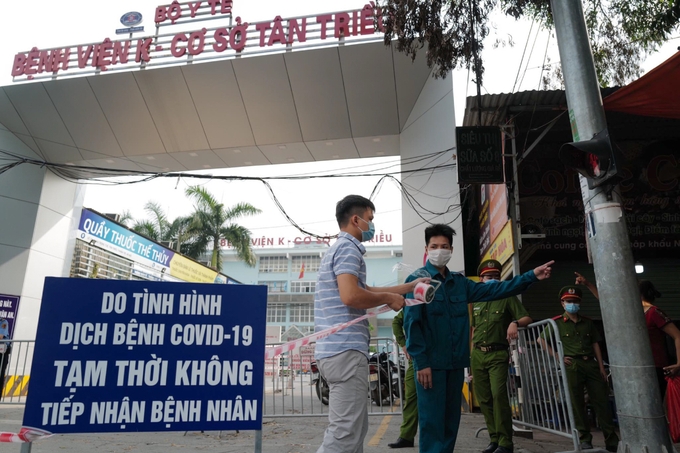 Tan Trieu - based K hospital was placed under lockdown following new cluster (Photo: VNE)
Vietnam's latest Covid-19 wave has recorded 665 community transmissions in 26 localities since late last month.
Vietnam is grappling with the fourth wave of the novel coronavirus, which started on April 27 and has been the country's most challenging by far. To date, 713 infections have been recorded in 26 cities and provinces.
The domestic Covid-19 tally was up by 31 on Friday morning.
Vietnam's tally, counted since the start of the pandemic last January, reaches 3,689 cases.
More than 942,000 people, or 1% of the country's population, have been vaccinated against Covid-19.
Vietnam is expecting nearly 1.7 million AstraZeneca doses, supplied by COVAX Facility via the UN Children's Fund, this Sunday. The move will speed up vaccine rollout and increase coverage nationwide.
The nationwide vaccination program started in the country on March 8. So far, the UK's AstraZeneca vaccine is the only coronavirus vaccine injected in Vietnam. In late February, the health ministry purchased over 117,000 doses via Vietnam Vaccine JSC. Over 800,000 doses supplied by COVAX Facility arrived in March. All the doses have been administered to prioritized individuals in 62 provinces and cities, including frontline medical personnel, Steering Committee for Covid-19 Prevention and Control members, police and military forces.
The country aims to secure 150 million doses to cover 70% of its population by next year.