How To Make Baked Mooncakes At Home
Mooncakes are a delicacy enjoyed during the festive season.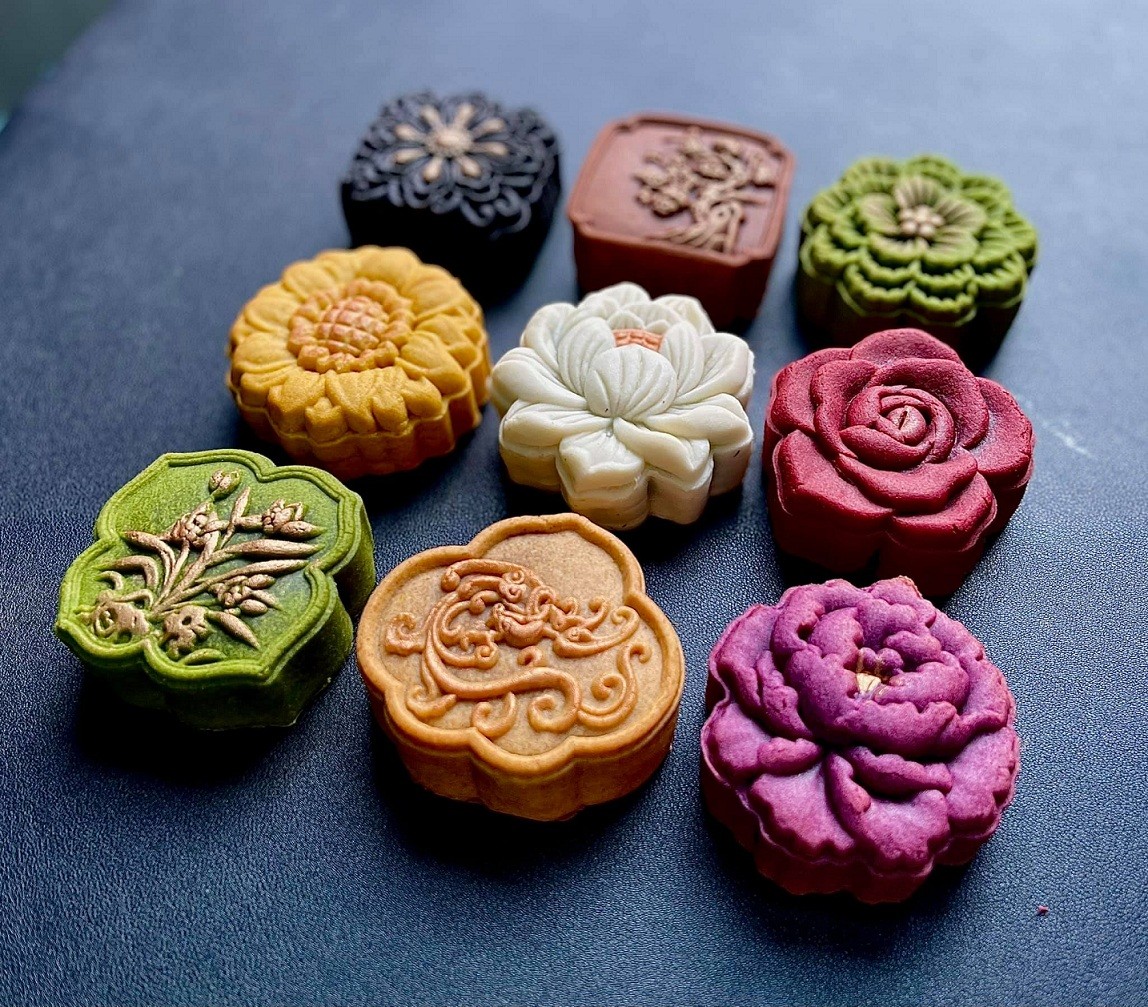 A Vietnamese Facebooker uploads photos showing her own home-made mooncakes. Photo: Hang Le
There is only nearly one month to go until the Mid-Autumn Festival, a very special time of year in Vietnam, especially for kids. The ancient holiday is a time for delicious mooncakes, a baked pastry that symbolises family reunions and which is traditionally consumed as part of the celebrations and an indispensible part of every offering tray. They are classified into two types: Banh nuong and Banh deo – Baked mooncake and Sticky rice mooncake.
What do you think about baking your own moon cakes? Home-made moon cakes show off your cooking skills while ensuring hygiene and food safety.
Mooncakes are traditionally made from 20 ingredients like sugar, flour, glutinous flour, melon seeds, cashew nuts, green beans, char siu, sausages, and salted eggs, but you can create new versions using almonds, raisins, walnuts, oats, and cheese.
Many amateurs too are offering handmade moon cakes with unique designs and materials on Facebook and other social media.
Mooncakes are composed of two parts, the skin and the filling. The skin is made with flour, golden syrup, alkaline water, and cooking oil. The skin is wrapped around the filling, and then pressed into a pretty mold before it goes into the oven.
Making mooncake at home might be more cost-effective, and is a healthier option. This is because you'll have control over which artificial colourings and preservatives are being added to your mooncake.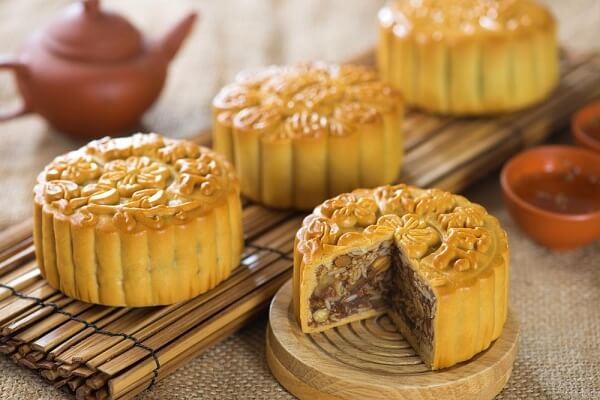 Baked mooncake's skin is made from wheat flour, while the fillings are a rich mixture of fat, sugar-preserved winter melon, lotus seed, char siu, etc., pressed in a mould.
Ingredients (for baked mooncake)
Mooncake dough
400 gr wheat flour, with very low protein content, between 8% and 10%
250 gr golden syrup
50 gr cooking oil
2 egg yorks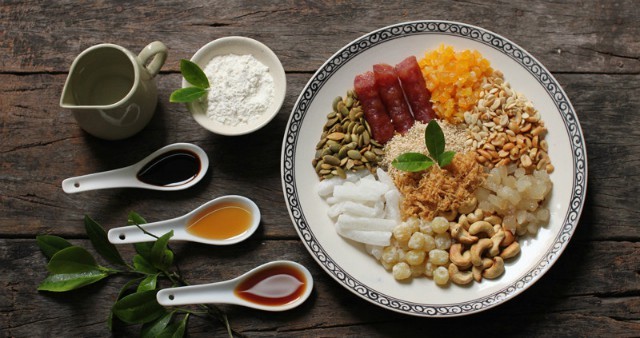 The baked mooncakes' fillings are diverse. Source: Lambanhtrungthu.com
Mooncake fillings (for savoury pork-filling mooncakes)
Jam portion: 100 grams of pumpkin jam, 100 grams of red ginger jam, 100 grams of red lemon jam.
Seeds: 100 grams of white sesame seeds, 100 grams of cashews, 100 grams of watermelon seeds (or pumplin seeds).
Egg portion: 10 salted duck eggs, 2 duck eggs.
Wine part: 1 tablespoon white wine, 10 ml cinnamon apricot wine
Seasoning: 1/2 teaspoon salt, 1/4 teaspoon seasoning, 110 gr white sugar, 1 ginger root, 3 tablespoons sesame oil, 5 lime leaves
Other ingredients
100 gr glutinous rice flour
50 golden syrup
Golden syrup, also called inverted sugar syrup, has a thicker texture and a richer aroma than regular syrup. The honey- flavored syrup, which is rich and fruity, helps maintain moist and texture, so the cake can easily be formed into delicate shapes.
100 gr malt
150 gr pork fat
200 gr pork floss (ruốc/chà bông)
100 gr lap cheong sausages (lạp sườn)
Instructions
To make mooncake dough
Combine golden syrup and vegetable oil in a large bowl, mix again until evenly blended.
Sift flour into the bowl.
When the flour is fully combined, shape the dough into a ball.
Gently knead the dough a few more times and place it back in the plastic wrap.
Refrigerate for thirty minutes to let the dough relax. It is more manageable to work with a relaxed dough which is more elastic. As a result, it will not break or crack easily during shaping and wrapping.
To make mooncake filling
Make salted egg yolks:
Clean the salted egg, then crack it open.
Remove the egg yolk then wash the egg yolk with water to remove the egg white sticking to the yolk.
Soak the yolk with white wine and crushed ginger for about 15 minutes to remove the smell, then remove and rinse with cold water.
Continue marinating the yolk with 10 grams of white sugar, 1 tablespoon of sesame oil to infuse. Then, steam it for about 30 minutes.
Traditional cakes' small cubes of pork fat.
Make sugared pork fat:
After buying pork fat, you wash it, then blanch it with boiling water, then take it out, drain the water and then cut it into small cubes. Add 100 gr of white sugar and then leave it for 1 day.
Other ingredients:
Sesame seeds, cashews, melon seeds put in a dry roasting pan with low heat. Cut lime leaves into small pieces. Bake the sausages in the oven for 15 minutes at 150 degrees C.
Put all jam and seeds, sugared pork fat, sticky rice flour, 1 tablespoon sesame oil, 10ml cinnamon apricot wine, lime leaves, pork floss, sausage in a bowl, mix well. Melt the malt and then slowly pour into the filling mixture, continue to add 50 grams of sugar water and mix well.
Roll into round balls, about 110 grams/ball. Add salted egg yorks to the filling, gently squeeze by hand, about 130 grams/ball.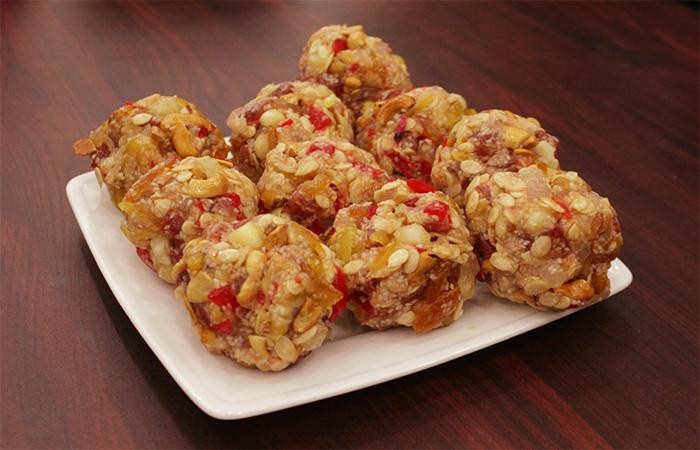 Shape each of the divided filling portions into small ball.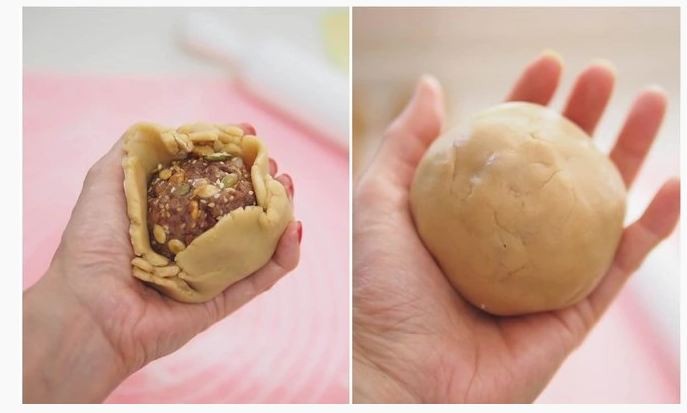 Place each filling ball in the middle of each rolled pastry. Gently push, press, squeeze the dough to fully cover the filling ball.
Prepare the wrappers:
Take the dough out from the refrigeration, divide into small portions and leave to rest for few minutes.
Roll each of the divided pastry portion thinly.
Place one ball of meat filling into the center of each dough wrapper. Gently pull the wrapper, so it wraps the filling completely. Shape into a ball, then lightly flatten with a rolling pin.
Place the mooncake ball into your mold and turn it upright on your surface. Press the plunger down until you feel resistance. Lift the mooncake mold off the table and use the plunger to push the mooncake out.
Shaping the cakes
To create beautiful patterns for the cakes, you will need mooncake molds. You can find them at baking grocery stores or e-commerce platforms. They come in different sizes with all kinds of patterns.
Sprinkle a little flour into the dough and a little into the mould. Place the stuffed mooncake into the mould and press it tightly for good shape.
Prepare a mixture of egg wash including: 1 egg yolks, a little water, a little sesame oil or cooking oil and beat evenly.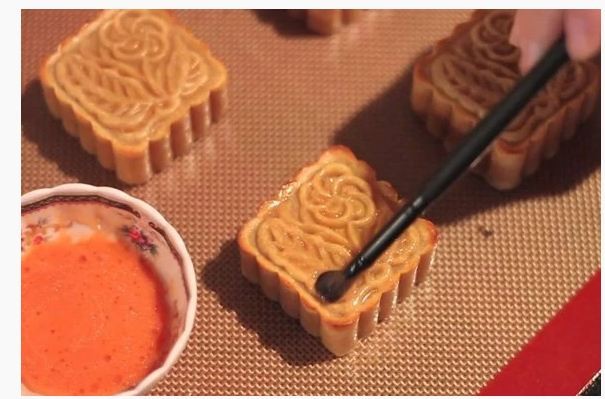 If too little egg wash is applied, the color will be on the light side. However, if you let too much excess egg wash get in the gaps, you may lose the beautiful patterns on the top of the cakes.
Baking
Place the cake on the baking tray with a baking paper. Bake it 3 times as followed:
First time: Preheat the oven for 10 minutes at 200 degrees C. Bake the cake in the oven for 5 minutes until the crust turns slightly golden. Take the tray out and spray the water to cool the cake.
Second time: When the cake surface is dry, brush lightly and thoroughly the egg wash on the crusts. Do each brush one time only as the rebrushing will crack the cake. Let the cake rest for about 10 - 15 minutes, then continue to bake for about 5 - 7 minutes. Take out the tray and brush the egg wash again.
Third time: Continue to bake when the cake turns fully golden. The mooncake skin will become soft and shiny in 1 or 2 days time.
Besides the traditional mooncake filling, you can also try with other types of filling such as roasted pork, roasted chicken, char siu, bacon, beans, etc.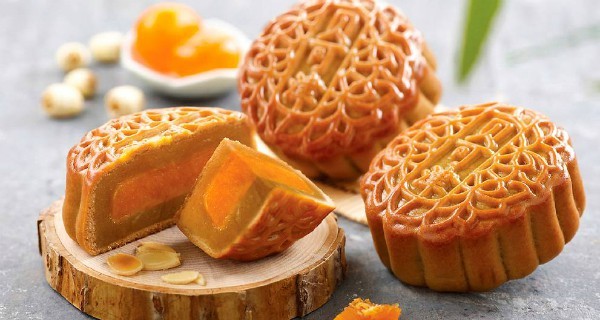 The lotus and green bean paste inside the cakes represent nature and people, while the egg symbolises yin and yang, the ancient Chinese philosophy of positive and negative forces.
Other mooncake fillings
Other popular mooncake flavors in Vietnam are lotus seed, black sesame seed, taro and mung bean. With these kinds of fillings, some general rules to follow are:
Cook the beans or seeds first. It can be steaming lotus seeds or split mung beans, or toasting black sesame seeds. Then process in a food processor until smooth. Cook the filling on the stove over medium low heat to reduce water content while adding sugar.
You still need to add some toasted glutinous rice flour and oil to the paste for the same reasons as with the mixed nuts filling. Do it while cooking the filling on the stove. Mung bean and lotus pastes go really well with coconut oil, but for black sesame paste, you should use toasted sesame oil.
Note
Traditional baked mooncakes are made with wheat flour, with very low protein content, between 8% and 10%, which is suitable for soft-textured cakes.
Besides high-quality flour, golden syrup is also a staple ingredient, which determines the success of the crust.
"The soul" of the cake, or "the moon" of the cake is the salted eggs. The luscious yolk slowly melts in your mouth with the first bite and leaves a fragrant taste.
If you find that the mooncake cracks during baking, try to spray some water to the mooncake before baking. It should be only one or two sprays from a distance so that there will be no excessive water lands on any part of the mooncakes.
The baked moon cakes are very flaky and crumbly right after baking, so you need to let them rest at least 2-3 days until the texture becomes soft and color the slightly yellow.