Lockdown Baking: Feast Your Eyes on These Amazing Mooncakes
As the world continues to deal with the virus, this Asian treat offers comfort in this trying time. For one Saigonese girl, her painted mooncakes received a lot of online praise.
During Ho Chi Minh City's social distancing measures, a girl decided to paint on her mooncake. The detailed designs bring smiles to one's face and hunger to one's belly. Her works have received compliments from many people for their fun and innovative makeover, reported Thanh Nien newspaper on August 2.
To those unfamiliar with Chinese and Vietnamese Mooncakes, they are the symbol of the Mid-autumn festival. Vietnamese people buy mooncakes to eat and to give to others as gifts.
Traditionally, the cake mimics the shape of the moon at its fullest, also symbolise completeness and reunion. In modern time, mooncake are made in different shapes, including those of the 12 Chinese zodiac animals. Vietnamese people consider eating mooncake as a way of celebrating Mid-Autumn Festival.
Recently, mooncakes in different and special shapes have created "fever" among Facebook users.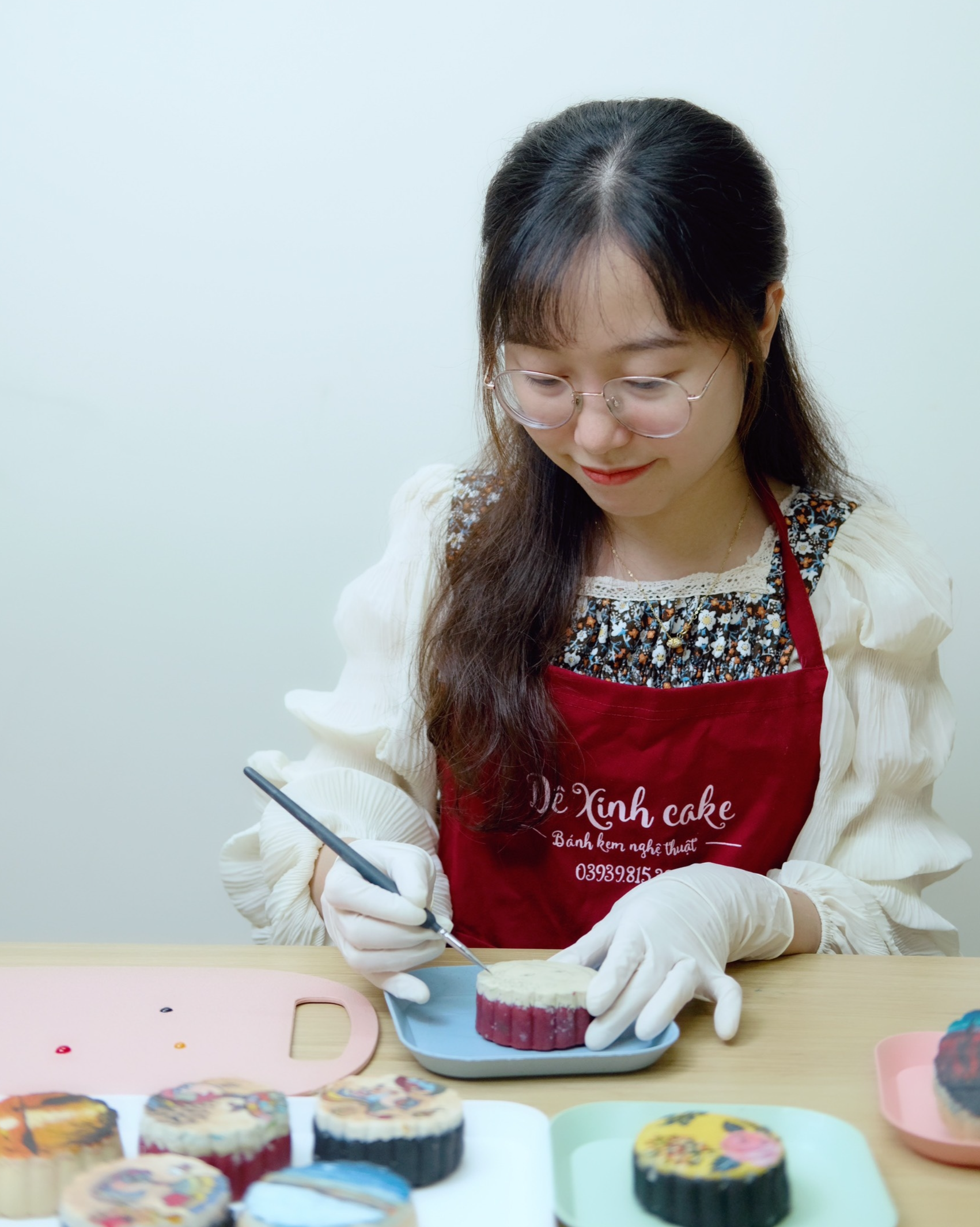 Nguyen Thi Thuy Duong, a 26-year-old resident in HCM City is the owner of one of these unique handmade mooncakes. "The pandemic is complicated, I can't go anywhere, baking helps me less bored during the current social distancing period. I also post how to make cakes on social media groups and kitchen associations, to share what I know and spread positivity to everyone during this difficult time," Duong shared.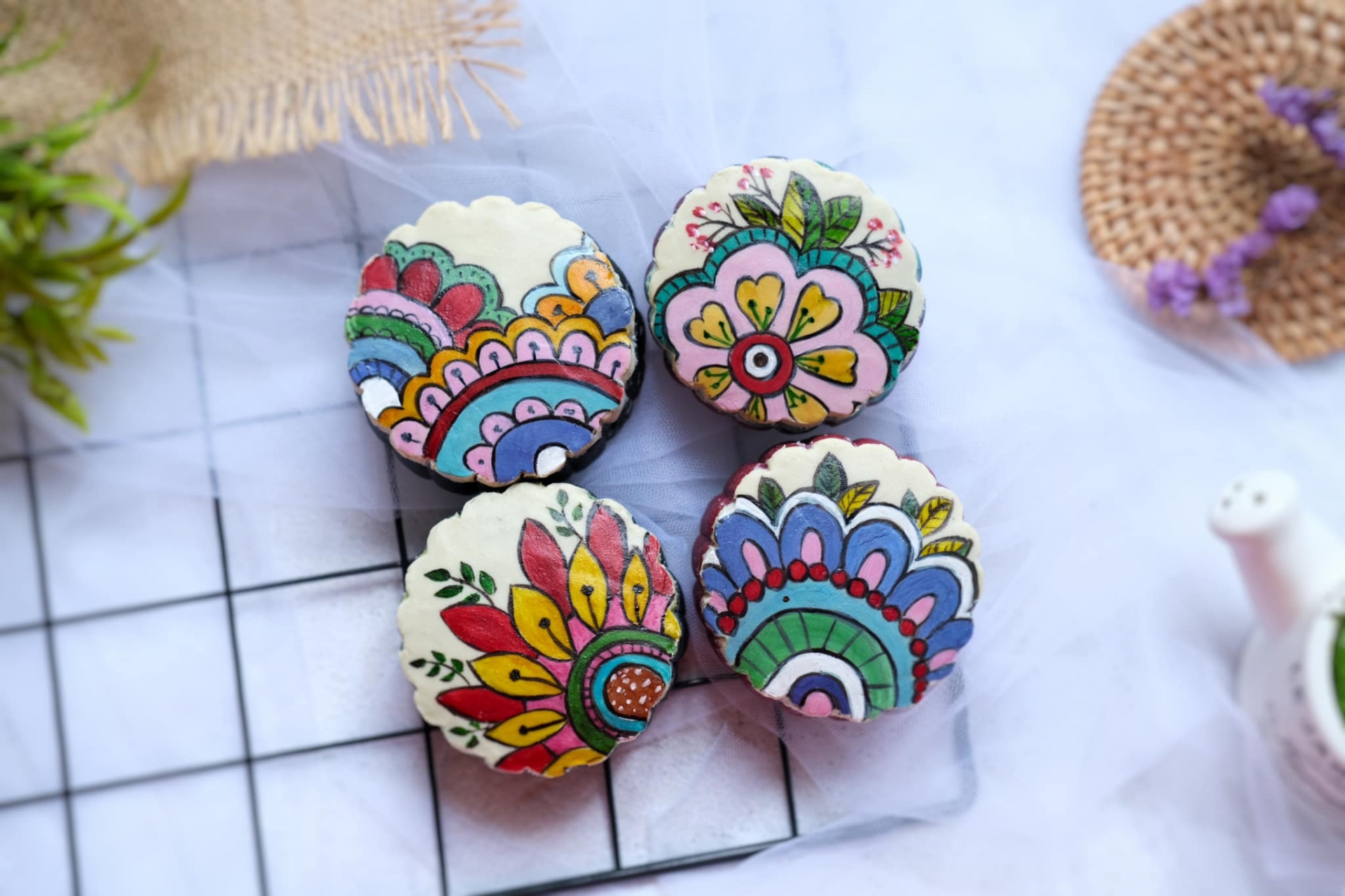 Her previous job as a bank employee was quite stable, then Duong decided to quit to pursue her passion for baking. She also opens baking courses for people with similar interests. In the days of social distancing, Thuy Duong came up with the idea of ​​"changing clothes" for moon cakes by painting pictures on them.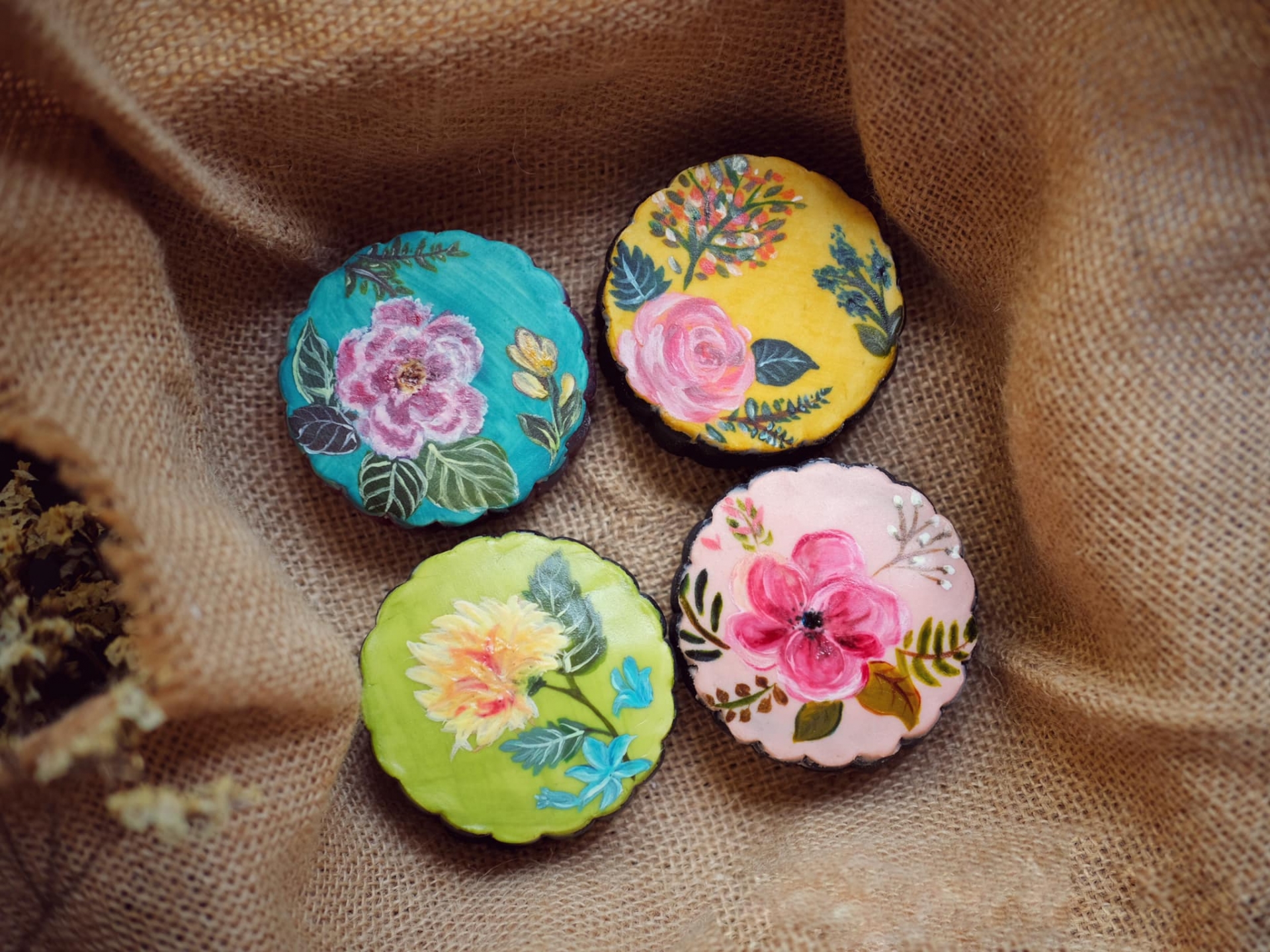 Thuy Duong is quite famous in the local baking community because of her skillful and professional skills. During this newest social distancing period, instead of just making original cakes, she tried many different kinds and made it more unique.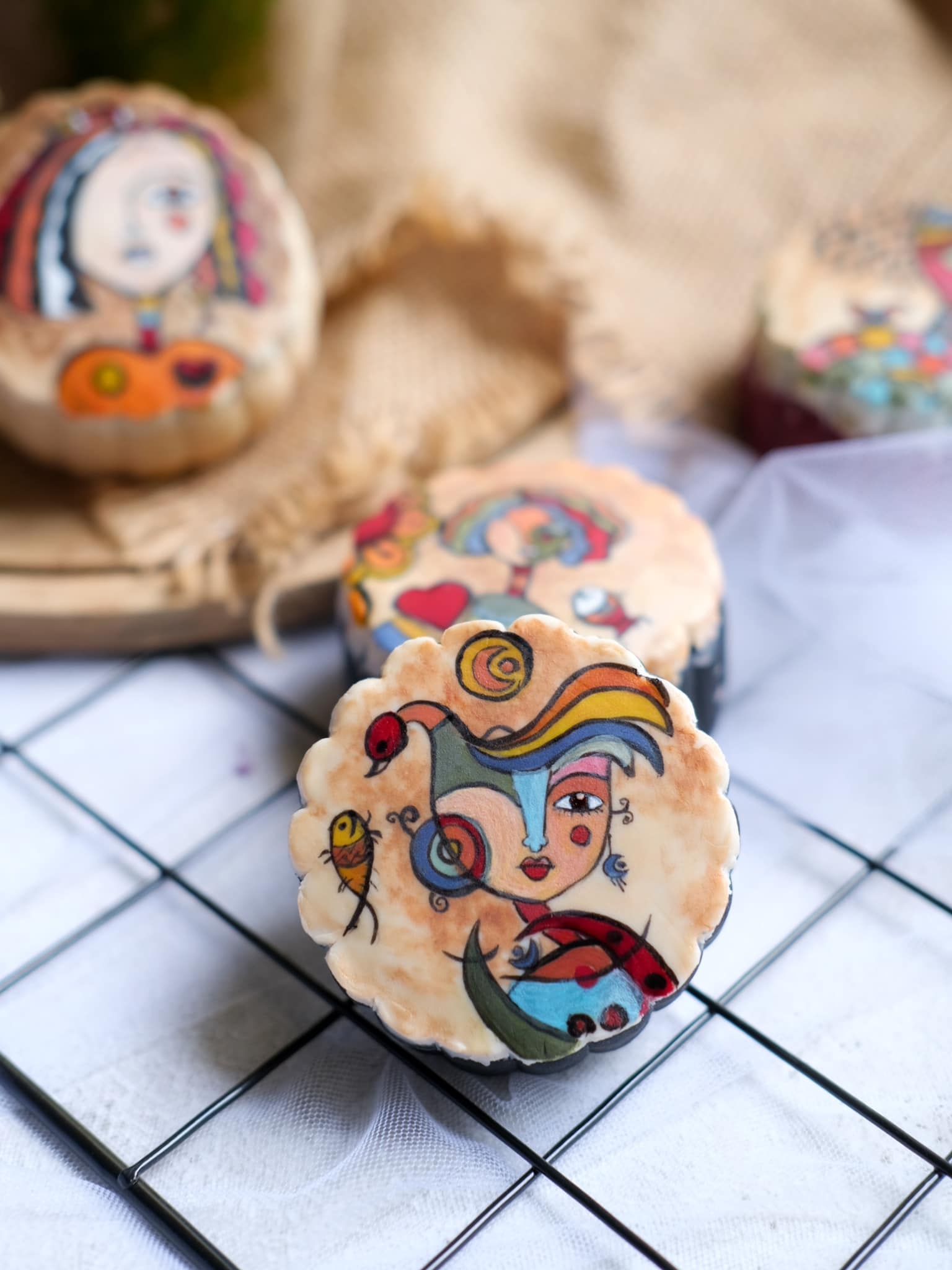 When she first draw on the cake, it was not east at all because she was not used to controlling the color palette. In addition, drawing on a soft cake skin is also more difficult than on paper. After many times of trying and diligently practicing, Duong finally got used to and created many paintings with different styles.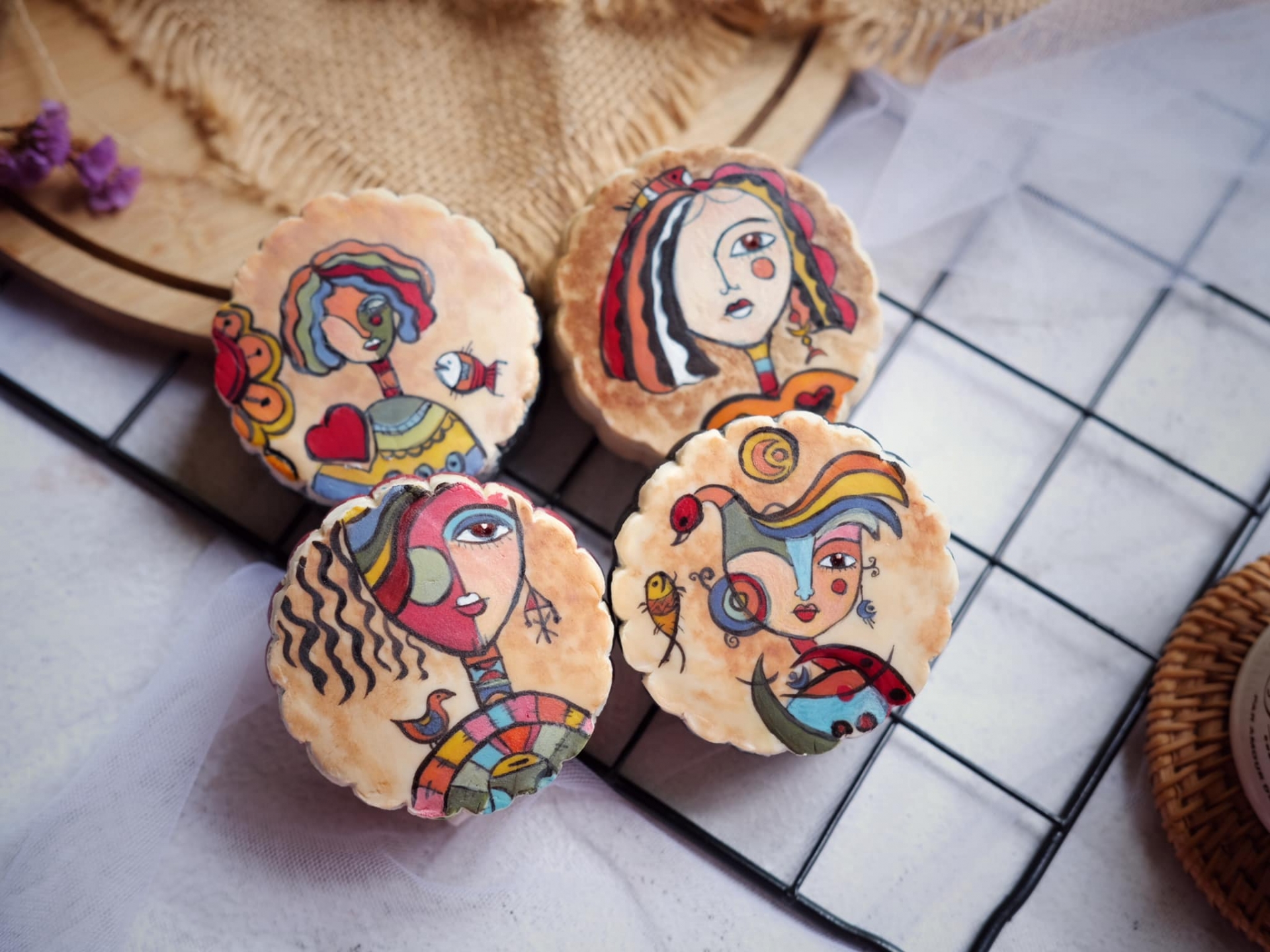 Sharing about the idea of ​​drawing pictures on moon cakes, Thuy Duong said: "I myself like to draw, but I am not used to using palettes. So I suddenly thought that I would draw directly on the moon cake to satisfy my passion."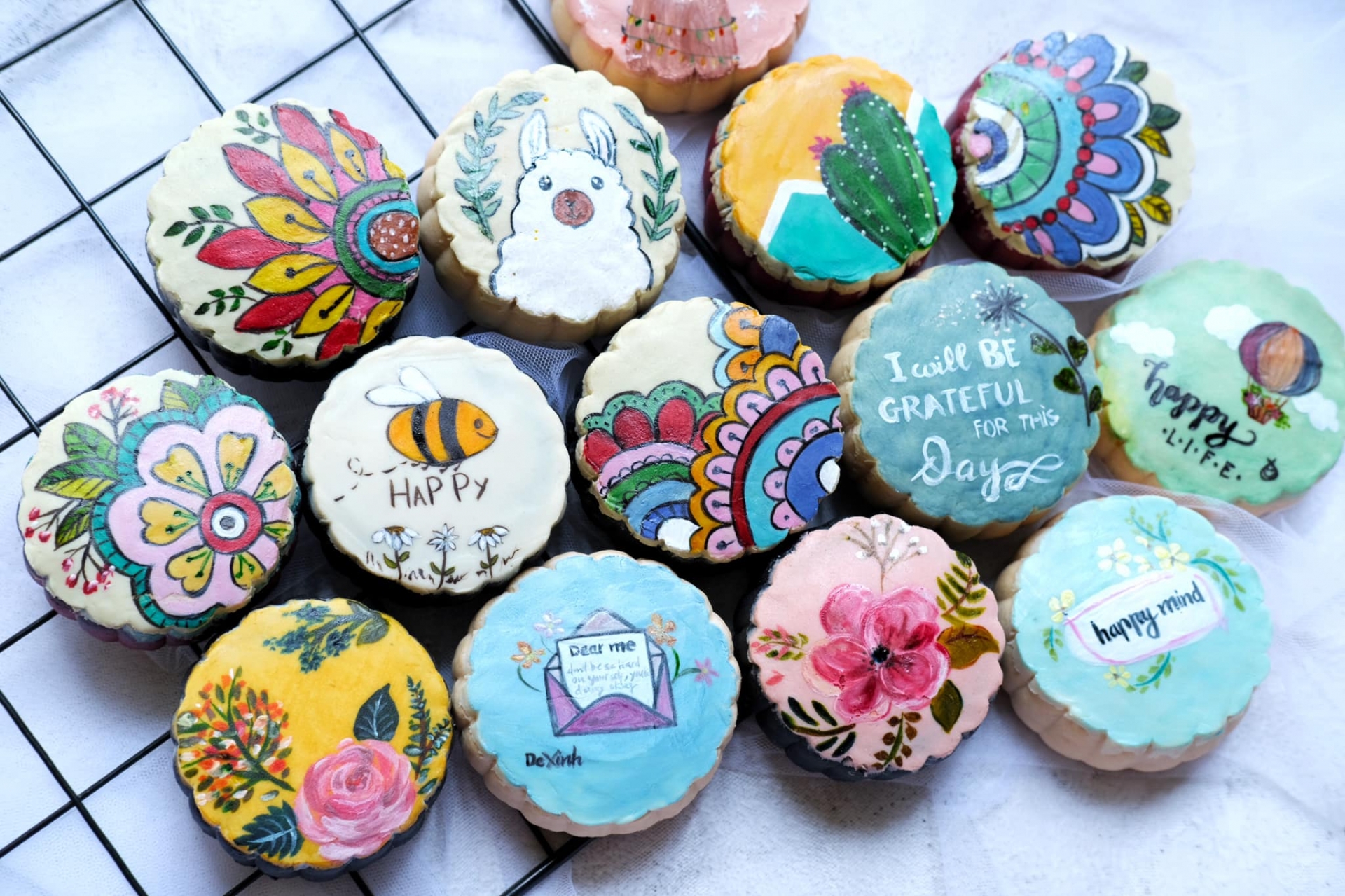 Thuy Duong chooses green beans and white beans for the cake skin. "The bean background is both easy to paint on and touchable hold, plus, the color are maintained well," Duong revealed.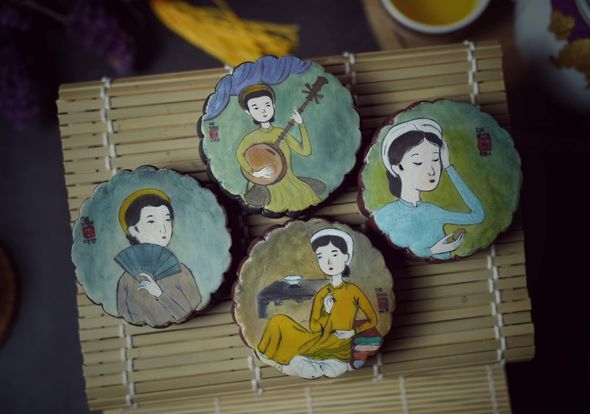 "First, I soak the green beans for 2 to 3 hours and then simmer with a little salt. Next, I blend the cooked beans with the sugar until smooth. Then, put the above paste on the stove and stir slowly. When almost blended, mix the coconut oil with the flour. Then I stir until the mixture don't stick to the surface anymore. Then I mold it on the surface of the moon cake, and the stage is done as a background for coloring," Thuy Duong carefully instructed.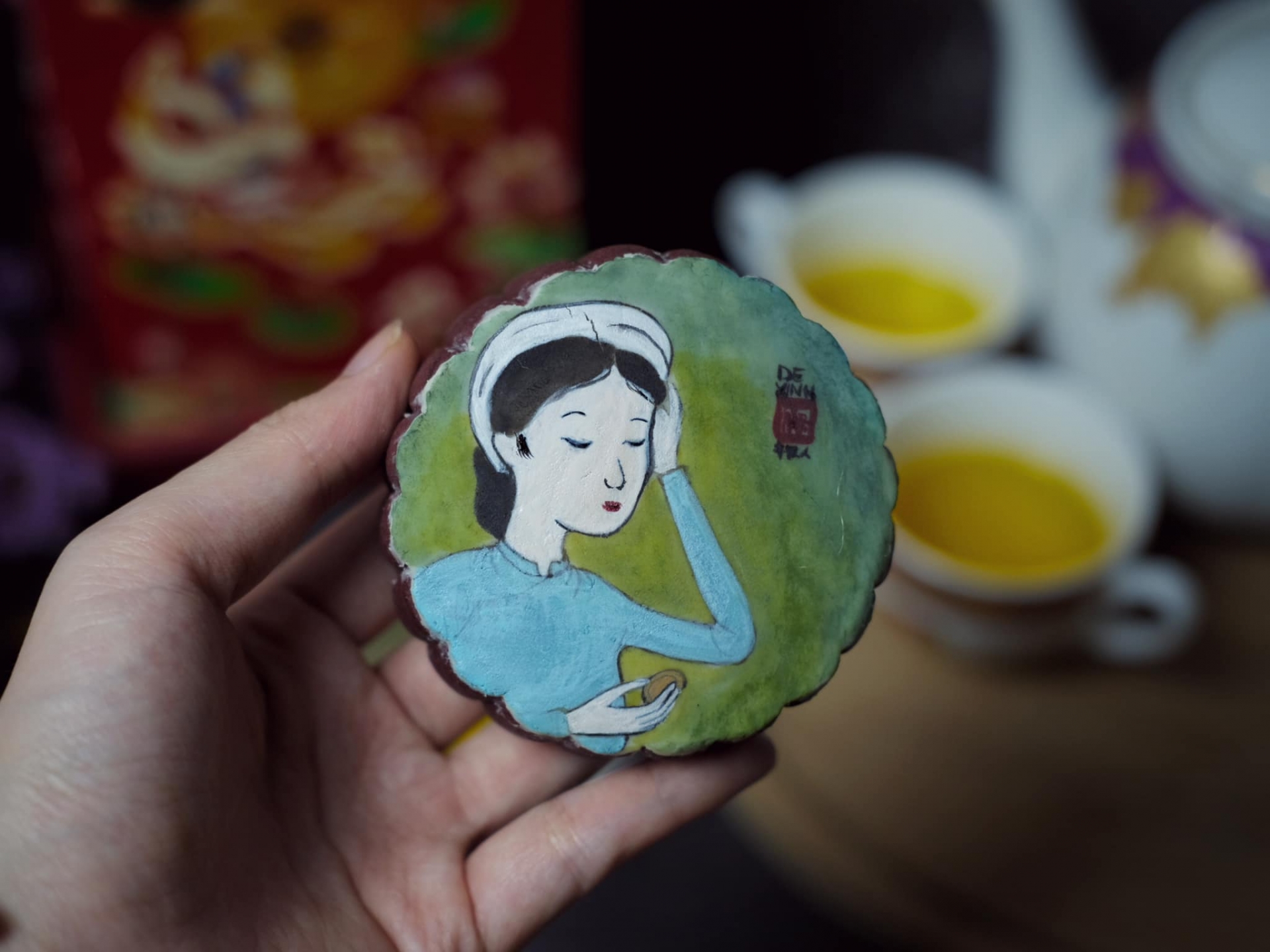 Mooncakes replicate paintings by renowned Vietnamese artist Mai Trung Thu.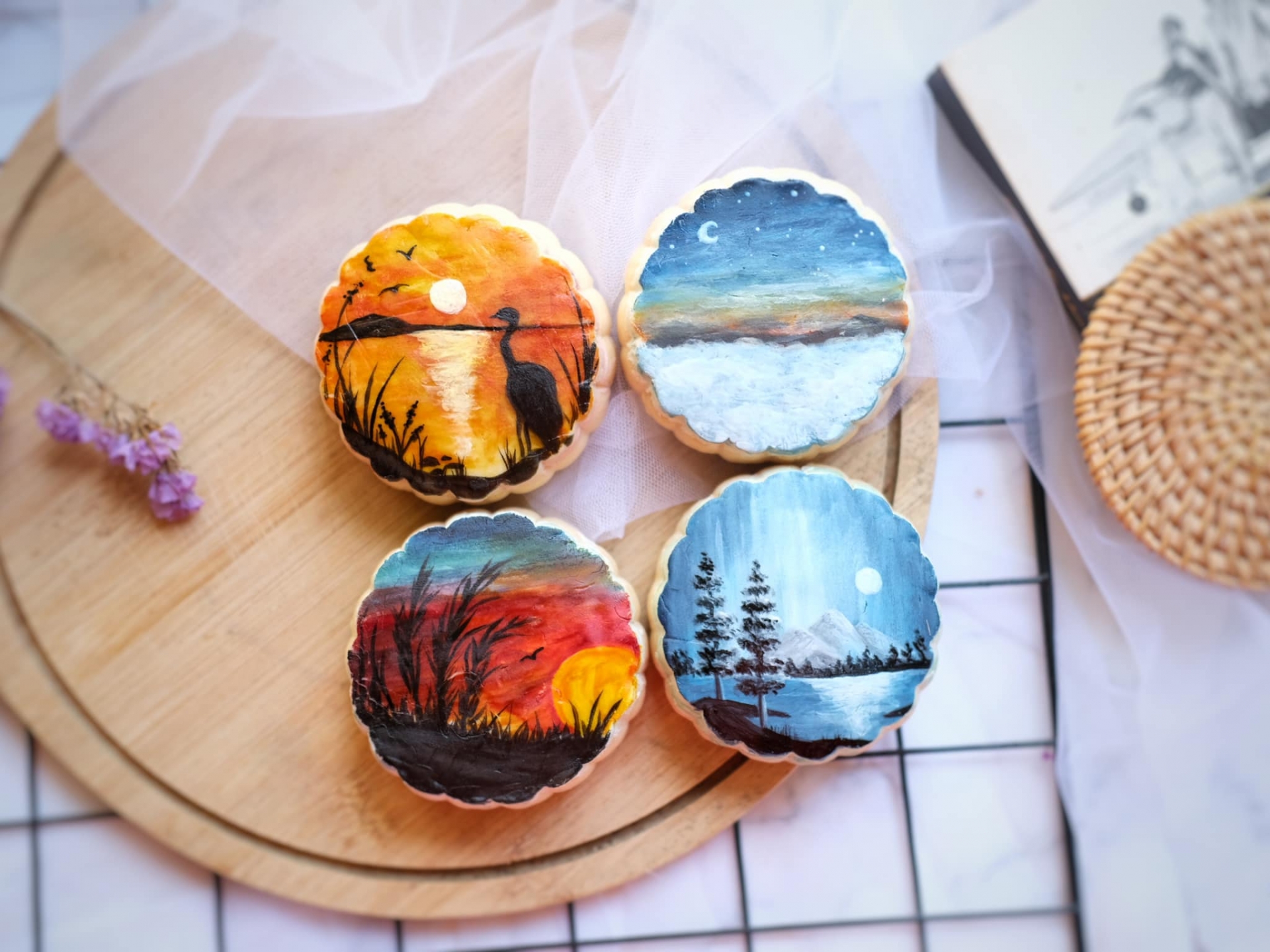 When drawing, Duong uses brushes and food coloring to paint directly on the cake shell. With a simple drawing, it only takes her about 5 minutes to complete. As for the elaborate pattern, each cake takes from 20 to 30 minutes.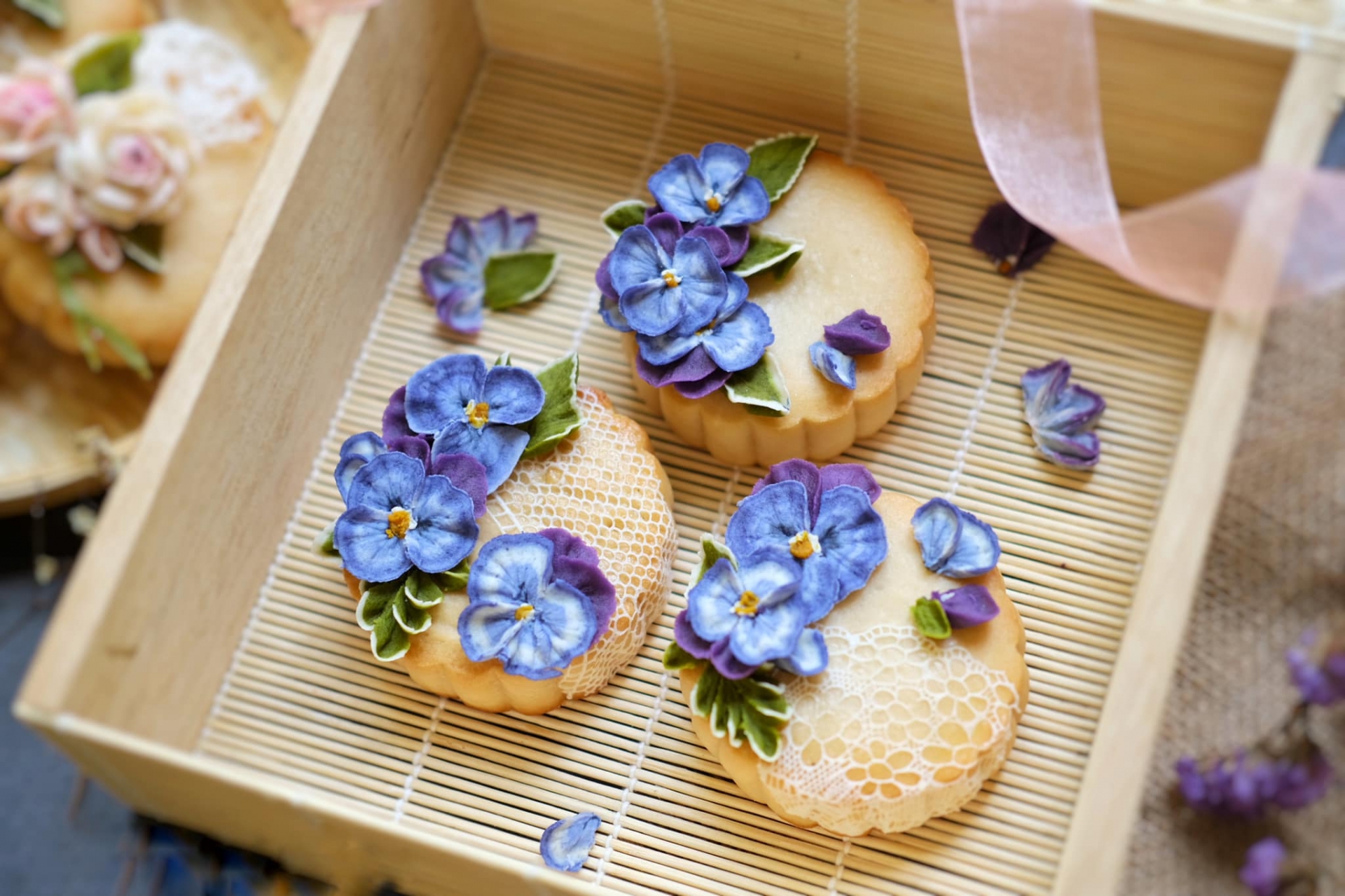 Thuy Duong's mooncakes with flowersmade with bean paste.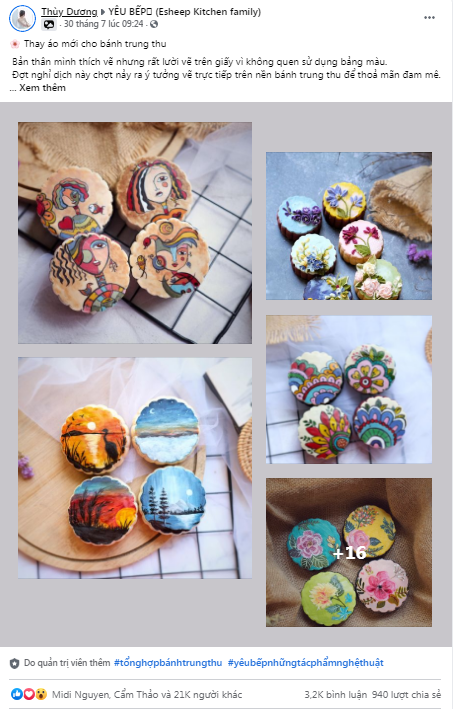 Come cross Thuy Duong's products on Facebook, many people praised her skills and techniques, saying Duong has brought the national soul and cultural features into the cakes.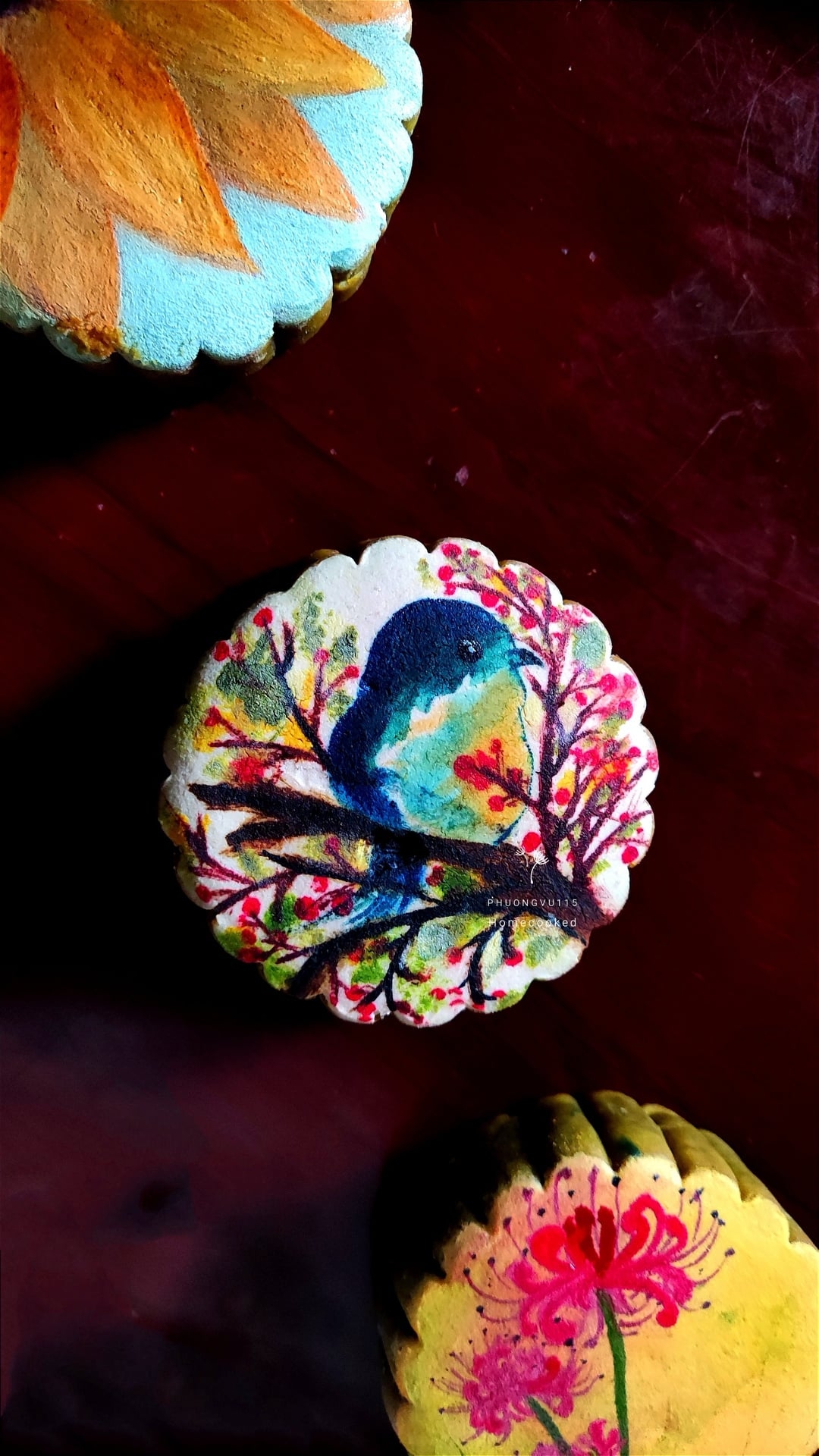 After Thuy Duong's mooncakes, a woman from Hanoi also took her time to create painted mooncakes using lotus paste as the background.
She also never learned any techniques only watched some tutorial video before visualized the painting in her head.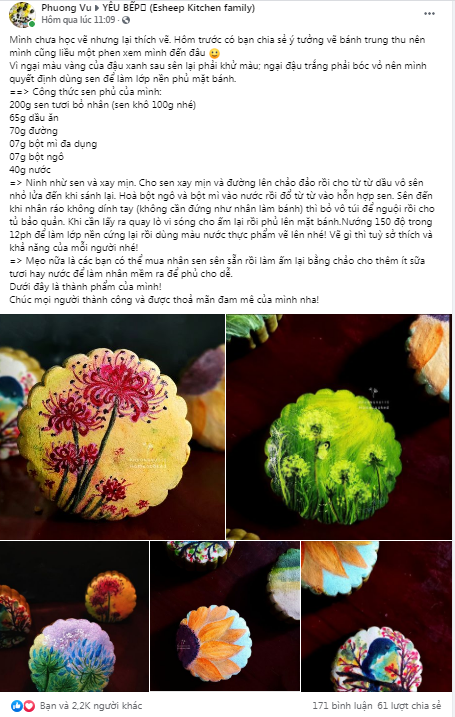 Her post received 2,200 'likes' and 61 shares.