Easy Recipe: How to Make Nghe An Ngao Sweet Cake (With Video)
When enjoying 'ngao' cake, you will feel the fragrant flavor of glutinous rice mixed with the moderately dark ginger sweet soup.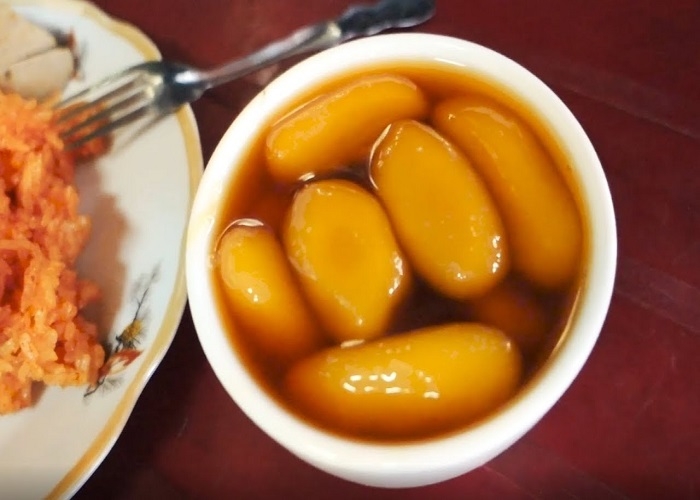 Banh Ngao can be called in English "sweet cake", it has special sweet taste which other sweet cakes do not have.
Not only attracts tourists with attractive entertainment spots, Nghe An province also holds the feet of diners by specialties with a rustic taste, extremely interesting.
This famous sweet cake is a folk specialty dish of Nghe An with simple ingredients but has a delicious taste that is indescribable. The main ingredient to make sweet cakes is glutinous rice flour, cooked with molasses and ginger juice. The steps are simple but require meticulousness and ingenuity of the baker.
When enjoying the sweet cake, you will feel the rich taste of glutinous rice mixed with the moderately sweet ginger syrup, the delicate smell of ginger.
It's no fillings version of Chè trôi nước, a delightful Vietnamese dessert of glutinous rice balls filled mung bean served in a warm ginger syrup with coconut sauce and toasted sesame seeds.
- Total time: 35 minutes
- Servings: 3-4 people
- Total calories: 1.511 kcal
Ingredients
- 200 gr glutinous rice flour
- Fresh ginger, sliced
- Molasses
- 1/4 teaspoon salt
- 700ml hot water
Instructions
- To prepare the dough, add 1/4 teaspoon of salt to the glutinous rice flour. While pouring hot boiling water in, use a ladle to mix it into a slightly moist mixture, then stop, let it cool. Spread a layer of flour on a flat surface, add knead glutinous rice flour until it becomes a smooth, non-sticky mixture.
Add hot water as needed to form a dough. The dough will be soft and pliable because of the hot boiling water/juices.
Once the dough is formed, cover it with a damp cloth and let it rest for 30 minutes.
The dough can't be too wet or it won't hold its shape. It can't be too dry either or it will crack. Add a little more flour if it's too wet or add a little more water if it's too dry, about half a tablespoon at a time.
- To shape the cake, divide the dough into equal parts (probably about 10 small doughs), roll them and then press slightly flat like a silkworm cocoon. Repeat until all the dough is finished.
- First time boiling: Bring a large pot of water to a boil. When they are rolling boil, add the balls and cook until they float to the top. When the cakes float, wait for 2 more minutes and their color turns lightly means they're cooked.
Use a slotted spoon to remove them from the pot and submerge them in a fresh water briefly so the balls don't stick together.
- The ginger syrup is a simple mixture of molasses and water flavored with ginger. Simply cook everything together over med-high heat until the molasses is completely dissolved. Remove it from heat and let the ginger steep in the syrup for an hour. If you love ginger, steep it longer or double the amount of ginger in the recipe.
-Second time boiling: The second time aims to imbue the pieces with the sweetness of molasses.
Put the rice balls in and cook until the soup thickens and the balls floating up the surface. Depending on your preference, you can add water to adjust the sweetness.
Finished product: Smooth, sticky glutinous rice balls mixed in smooth, golden, richly sweet molasses soup with a very attractive smell of ginger.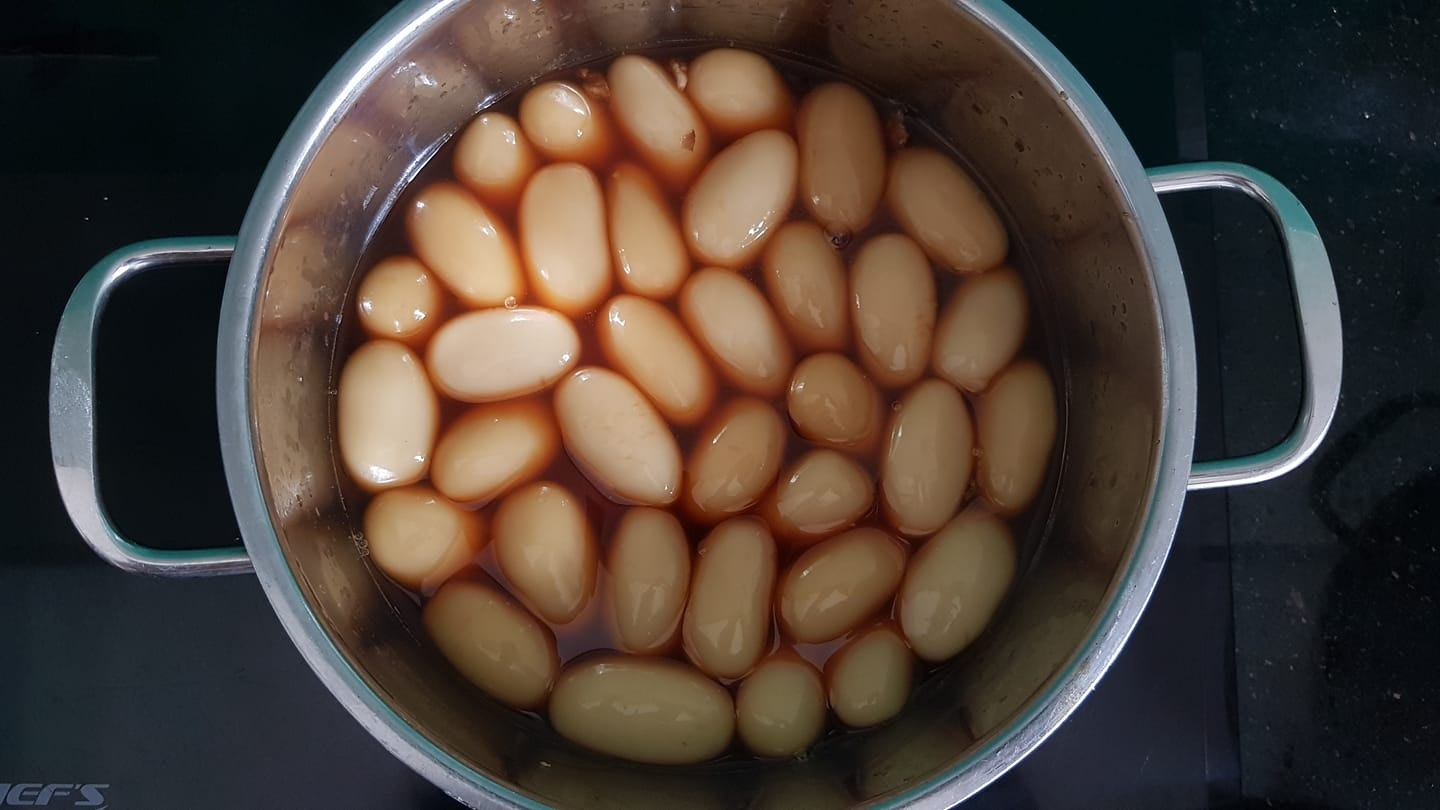 Glutinous rice balls floating up the surface of ginger sweet soup when cooked.
Note:
-Depending on your preference, you can add mung beans, black sesame, peanut or meat fillings.
You'll need to soak the mung beans for 6 hours or overnight. Once they're softened, it will be easier to steam. Blend it in a food processor to create a smooth filling. Use a tablespoon to measure out the mung bean and roll them into little balls. You can make the filling a day ahead and leave them in the fridge covered with plastic wrap to save time.
Roll a piece of dough into a ball, then press the edges with your fingertips to form a round with a dime-size belly of thicker dough in the middle. Center the mung bean filling in the dough, then gather the sides around it to enclose. Pinch the seams shut and gently roll into a smooth ball.
-The amount of hot water when kneading the dough is adjusted according to the condition of glutinous rice flour, so you should pour it in slowly. If the dough is wet, add more flour. Then let it cool and then stuff it.
-Apart from silkworm cocoon-like shape, you can just roll the dough into little roundballs.
-If you don't have molasses, you can substitute it with palm sugar. It contains less glucose and has a lower glycemic index compared to regular sugar.
-Cooked rice balls will harden when they are kept in the refrigerator. Keep them in a container in a fresh water for up to 2 days max. You can reheat them on the stove in a boiling water to soften and then serve them with sweet ginger soup.