Hue's traditional craft villages turn colorful as Tet approaches
Prior to the Lunar New Year annually, the craft villages in Hue turn colorful and are engulfed in the bustling and joyful ambiance as the local residents are busy making the traditional products to sell to the market.
Thuy Xuan incense-making village
Nestled at the foot of Vong Canh Hill, Thuy Xuan boasts a peaceful and poetic landscape. Only 7km to the southwest of Hue city, Thuy Xuan is one of the long-lasting traditional craft villages in Hue, according to Du lich Vietnam (Vietnam travel).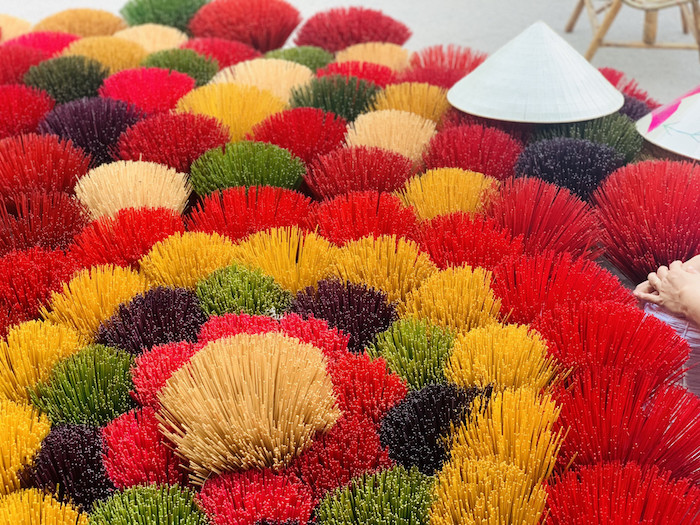 Photo: Baomoi
Most of Thuy Xuan villagers has a tradition of making incenses for generations. Thuy Xuan incenses initially have only two basic colors namely red and brown. Later, the local residents mix different colors to create more eye-catching incenses.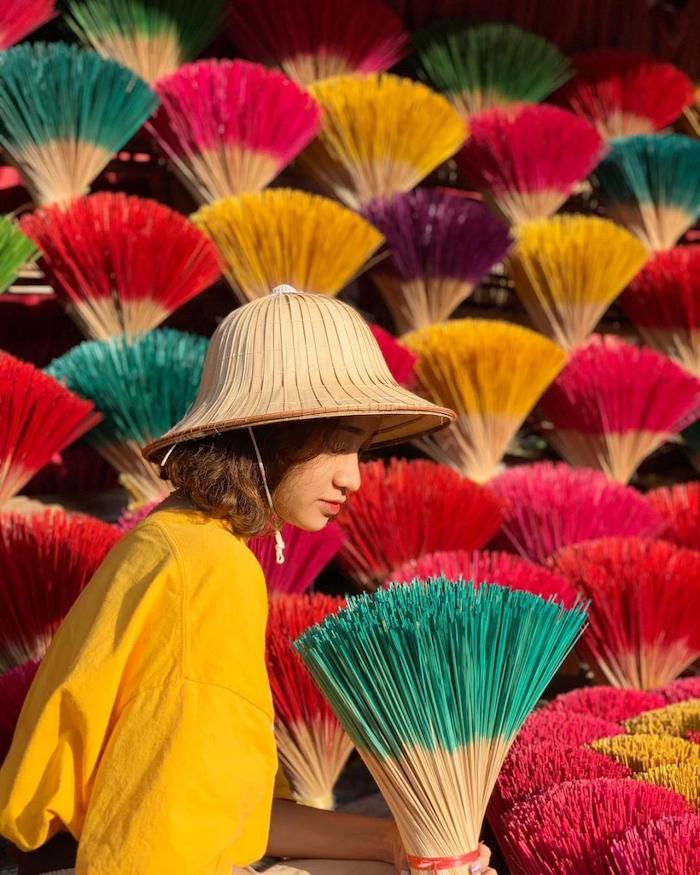 Photo: gody.vn
Visiting the village, tourists will have the opportunity to admire the colorful bundles of incenses being dried under the sun. The entire village is effused in the scent of incenses.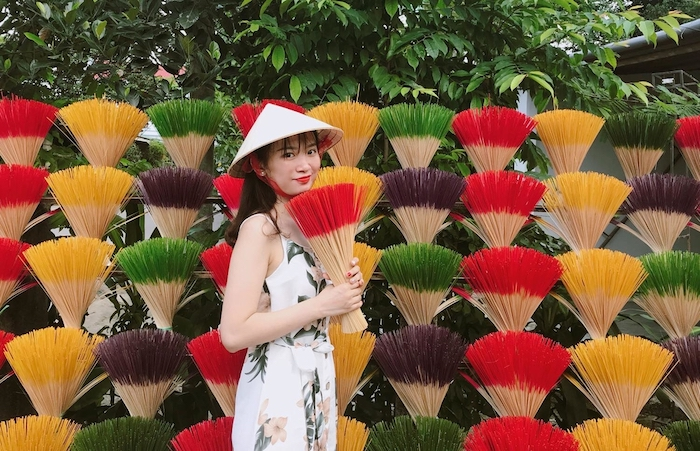 Photo: guu.vn
Incenses are completely produced by hand, according to an heirloom recipe, including precious herbs such as Chinese herbs, Lanxangia Tsaoko, anise, cinnamon, clove, etc, and especially agarwood essential oil. It's these herbs that make Thuy Xuan incenses distinguished from the other ones.
As the Lunar New Year is drawing near, the local residents are busy churning out incenses to meet the high demands of not only neighboring areas but also across the country.
Thanh Tien paper flower-making village
Located in Phu Mau commune, Phu Vang district, Thua Thien Hue province, Thanh Tien paper flower-making village has existed for nearly 400 years, formed under the Nguyen Dynasty. The tradition of making paper flowers derived from the folk worshipping religion of Hue people.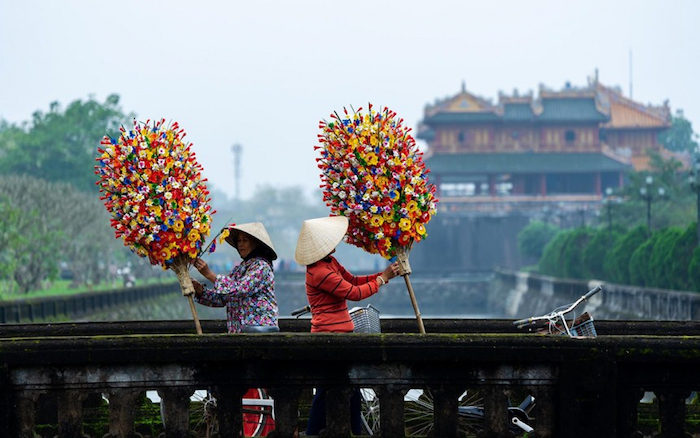 Photo: Vnexpress
As one of the most unique traditional craft villages in Hue, Thanh Tien manufactures paper flowers not only to serve worshipping activities in Tet holiday but also to decorate homes, display in exhibitions as well as export.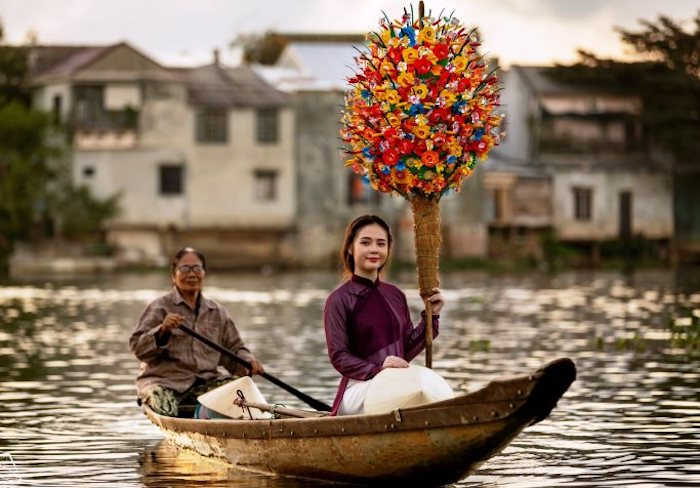 Photo: Baomoi
Creating beautiful paper flowers require experienced, meticulous and skillful workers. The steps to make paper flowers include dyeing papers, drying bamboo, shaping petals, pistils, etc.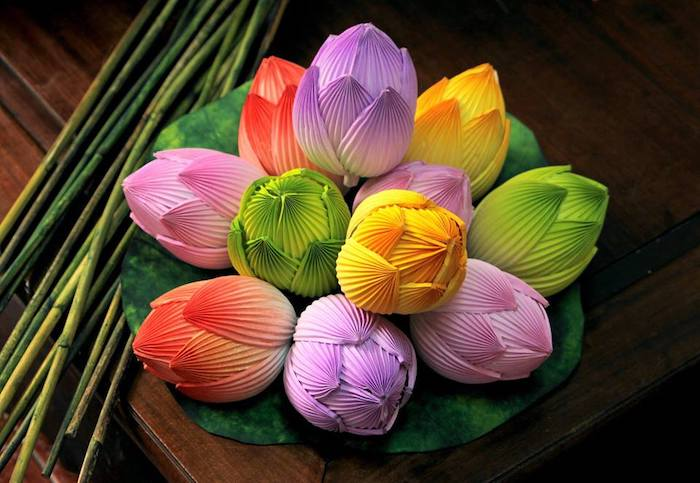 Photo: Baomoi
Paper lotus flowers, the village's signature product is preferred by many customers.
Sinh folk painting village
Besides folk paintings of Hang Trong or Dong Ho, folk paintings of Sinh village has also earned its reputation. Every spring, Hue people often decorate their houses with folk paintings of Sinh village to wish for happiness and well-being.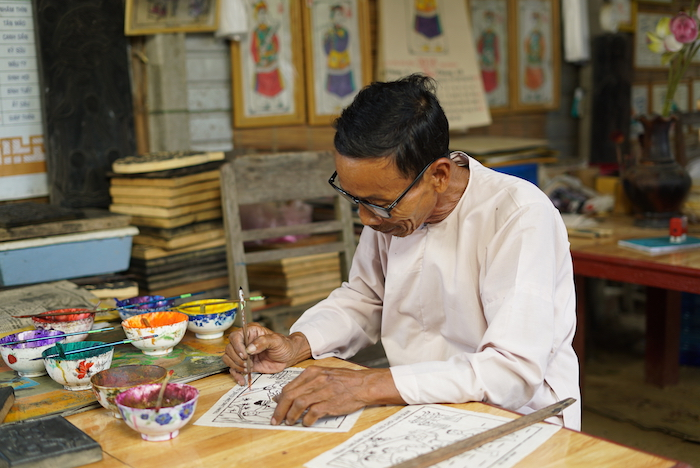 Photo: Baomoi
Sinh craft village is situated by the bank of the Perfume (Huong) River. The profession of making folk paintings has existed for a long time, not only to serve paintings enthusiasts but also to meet the religious needs of Hue people.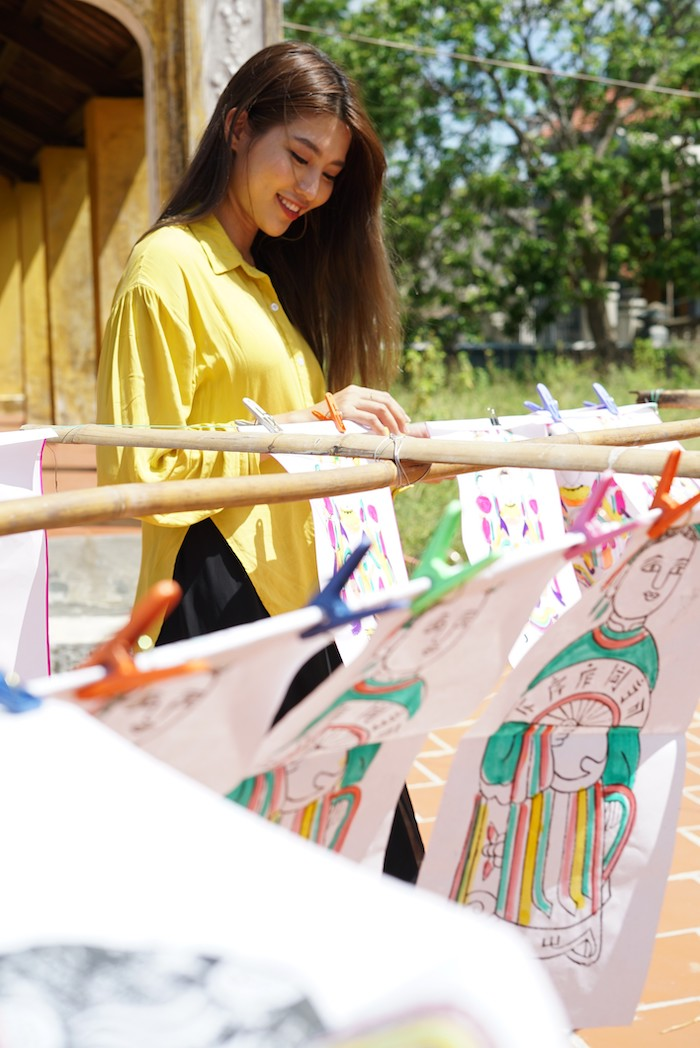 Photo: Thanh Nien
Coming to Sinh village, don't miss out on the opportunity to take photos with paintings as well as buy them as gifts for your relatives and friends.
Phuoc Tich pottery village
Phuoc Tich is the second old village recognized as the "national monument" following Duong Lam ancient village in Son Tay Town, Hanoi.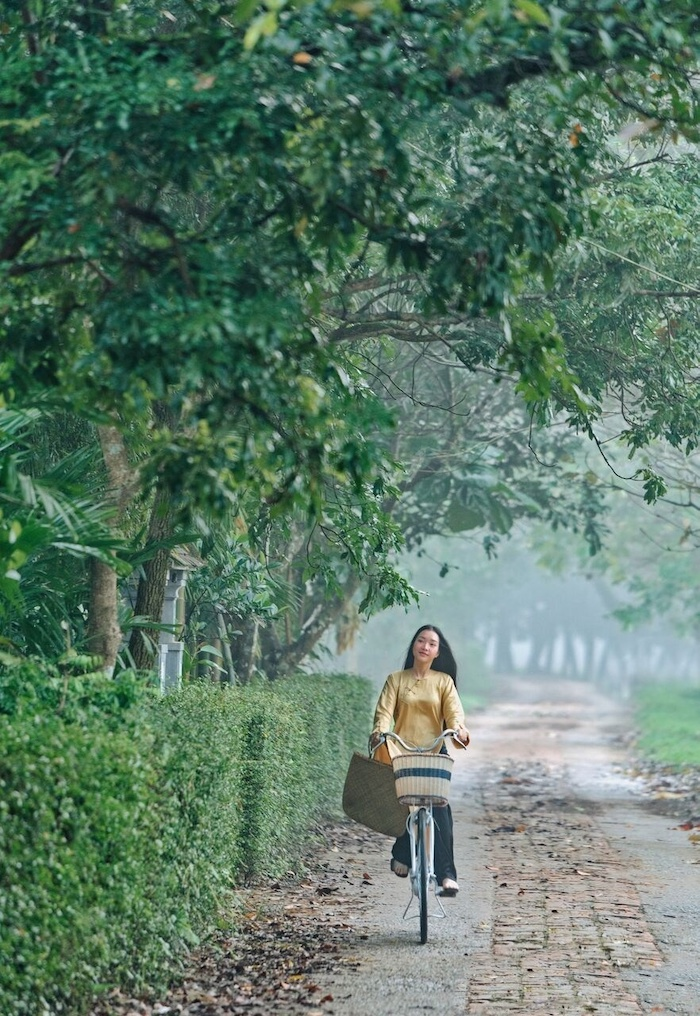 Photo: Vnexpress
The residents in Phuoc Tich village has the tradition of making pottery for more than 500 years. Phuoc Tich pottery products are well known for sophistication and duration.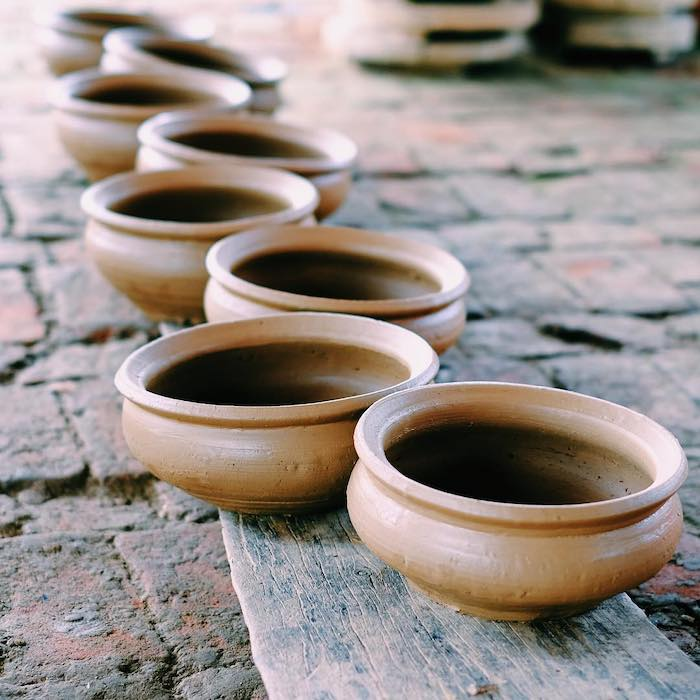 Photo: Baomoi
In the past, Phuoc Tich pottery was used in the forbidden palaces or in villas of the nobility. Nowadays, it is diversified in appearance, gradually becoming a favorite item of both Vietnamese and people in the world.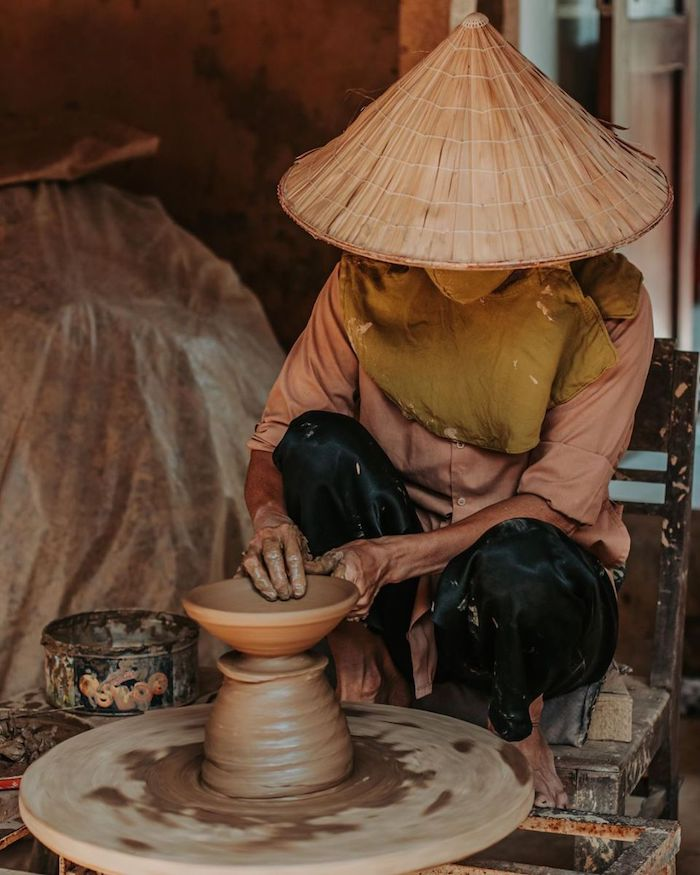 Photo: Baomoi
Not only is a renowned traditional craft village, but Phuoc Tich village is also a "not-to-be-missed" destination for any traveler stepping on Hue thanks to its ancient beauty and friendly people.
The lush grass carpets and ancient houses at Phuoc Tich village serve Instagrammable backgrounds to take stunning pictures.