International Holocaust Remembrance Day: Messages of Peace to a Hopeful Future
The International Holocaust Remembrance Day in Hanoi teaches reminds residents to "never forget." The solemn event took place on March 29.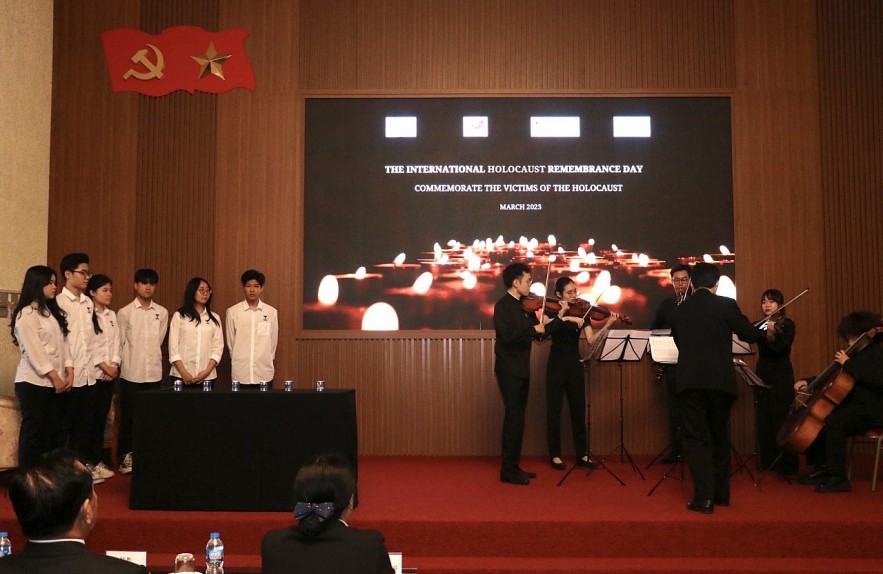 Students of Hanoi Experimental High School perform a candle-lighting ceremony to commemorate the Holocaust victims, a Jewish tradition preserved around the world. Photo: Thu Ha
"Never forget. Remind future generations of the dangers of hatred and prejudice," is the message of a ceremony marking International Holocaust Remembrance Day in Hanoi on March 29.
The event was co-organized by the Vietnam Peace Committee, the United Nations in Vietnam, the Israeli Embassy, and the German Embassy in Vietnam.
World War II was a dark period in human history, when Nazi Germany killed 6 million Jews in Europe, alongside other minority groups.
The UN designated January 27 as International Holocaust Remembrance Day since Nazi's Auschwitz concentration camp was liberated by the Red Army on January 27, 1945.
The Hanoi ceremony was attended by President of the Vietnam Union of Friendship Organisations Nguyen Phuong Nga, Permanent Vice Chairman of the Vietnam Peace Committee Tran Dac Loi, UN Resident Coordinator in Vietnam Pauline Tamesis, Israeli Ambassador Yaron Mayer, and German Ambassador Dr. Guido Hildner.
Notably, for the first time, a Jewish survivor of the Holocaust has come to Vietnam to tell her own story. At the event, six students from the Hanoi Experimental High School performed the candle-lighting ritual in remembrance of Holocaust victims, a Jewish tradition preserved throughout the world.
The highlight of the ceremony was the conversation with Betty Eppel, the 88-year-old survivor.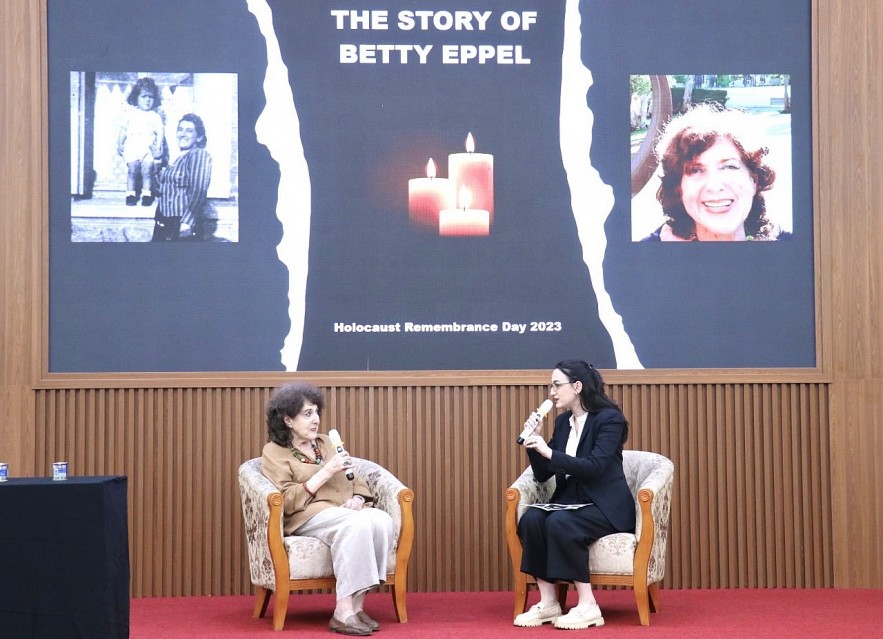 Betty Eppel (left), a Jewish survivor of the Holocaust disaster, tells her story. Photo: Thu Ha
Recounting her miraculous survival story in the mass murder, Eppel said a Catholic family in southern France hid her during the Nazi oppression from 1942 to 1945. She was only seven at that time and lost contact with her mother and younger brother. More than two decades later, she learned that both had died at the Auschwitz camp, most likely gassed to death.
Eppel returned to Israel, got married, and had children. She regularly shares the lessons learned from one of the darkest periods in modern history. Her profound message is not to remain neutral in the face of hatred. The obligation of conveying and educating younger generations has become increasingly important. Today, there are no longer many pieces of evidence and living witnesses of history.
In his remarks, Loi said by remembering horrifying memories of the past, people are more and more aware of the importance of peaceful coexistence among peoples, and of the need to prevent a recurrence of such disasters.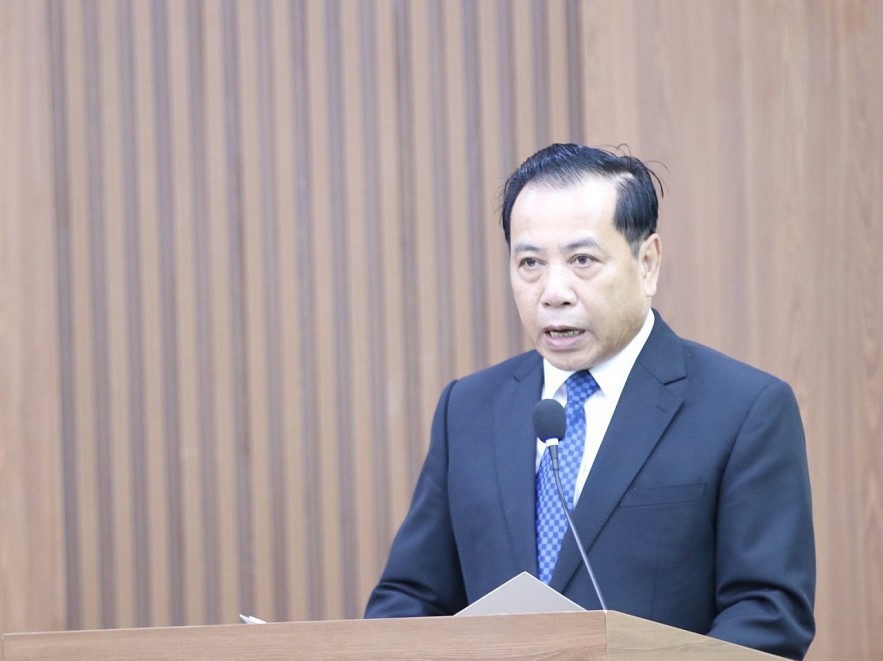 Permanent Vice Chairman of the Vietnam Peace Committee Tran Dac Loi speaks at the event. Photo: Thu Ha
"The Vietnamese people understand and sympathize with the sufferings of the Jewish victims, and at the same time deeply appreciate the value of peace and friendly relations with the peoples around the world," he said, adding that Vietnam joins hands in building a peaceful world, a humane and civilized society in which all people, all ethnicities, religions, and countries are equal, respect each other, all disputes and conflicts are settled based on peace.
Israeli Ambassador to Vietnam Yaron Mayer called on everyone to show a high sense of responsibility to ensure that a similar disaster will never happen again.
Addressing the ceremony, UN Resident Coordinator in Vietnam Pauline Tamesis said "never to be silent in the face of hate. Never tolerant of intolerance. Never indifferent to the suffering of others."
"And what is true for antisemitism is true for other forms of hate. Racism. Anti-Muslim bigotry. Xenophobia. Homophobia. Misogyny. Neo-Nazi, white supremacist movements are becoming more dangerous by the day. They now represent the number one internal security threat in several countries – and the fastest growing."
According to Tamesis, many parts of the Internet are becoming toxic waste dumps for hate and vicious lies. They are profit-driven catalysts for moving extremism from the margins to the mainstream.
"We know how easily hate speech turns to hate crime, how verbal violence breeds physical violence, how diversity and social cohesion are undermined – as are the values and principles that bind us together.
That is why I launched the United Nations Strategy and Plan of Action on Hate Speech. To provide a framework for our support to Member States to counter this scourge while respecting freedom of expression and opinion," she said.
As part of Our Common Agenda, she has proposed a Global Digital Compact for an open, free, inclusive, and secure digital future for all, firmly anchored in human rights.
She has also called for a code of conduct to promote integrity in public information – so people can make choices based on fact, not fiction.
"We all have a role to play. We can never let hate have the last word. We cannot allow old hatreds to find new outlets and impunity on digital platforms," she stressed.