Japan, S.Korea, Philippines plan to resume flights from Vietnam as Covid-19 relaxed
Japan is considering easing entry restrictions on people from Vietnam and three more countries as coronavirus cases are declining in those countries, the Yomiuri newspaper reported, citing government officials.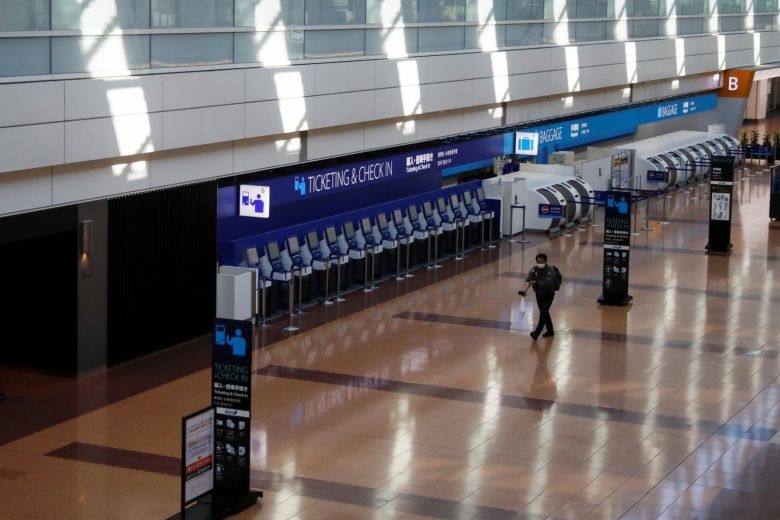 The departure terminal of Haneda Airport in Tokyo on April 29, 2020. Photo: REUTERS
The Japanese government may relax the limits from as early as summer, the newspaper said on May 31.
The visitors would be required to carry documentation showing that they had tested negative for the virus before leaving their countries, and would need to be retested when they arrive in Japan, according to the report.
Prime Minister Shinzo Abe remains cautious towards softening the restrictions any time soon on China, the report said.
Japan is also being careful about opening up for visitors from South Korea because of increasing infections there, it said.
The number of daily new COVID-19 cases in Korea has been declining for four consecutive days, but health authorities remain on high alert for sporadic group infections, The Korea Times reported.
The Korea Centers for Disease Control and Prevention (KCDC) on May 31 said it had detected 27 new cases, and there had been one more death, Saturday, which brought the country's total to 11,468, and the death toll to 270.
As coronavirus cases fall, air flight timetable is slowly normalizing with 51 international routes being offered from South Korea starting this month.
Maeil Business Newspaper found eight Korean carriers – Korean Air Lines, Asiana Airlines, Jeju Air, Jin Air, Air Busan, T'way Air, Eastar Air and Air Seoul – will run a total of 51 international routes in June.
Full-service carrier Korean Air Lines resumed services to Hanoi, Washington, Seattle, Toronto, Vancouver, Amsterdam, Frankfurt, Yangon, Kuala Lumpur, Jakarta and Taipei (China's Taiwan) from June.
On the budget front, Jin Air is preparing to reopen five routes to Bangkok, Hanoi, Taipei, Narita and Osaka next month in response to rising travel demand from Koreans living outside the country and to carry students, business travelers and cargoes.
South Korean full-service carrier Asiana Airlines announced on May 14 it will resume and expand flights to China, Southeast Asian, the United States and Europe from June amid easing restrictions on business travels, Pulse News reported on the same day.
Southeast Asian routes will be widened. Flights to Hanoi and Ho Chi Minh City of Vietnam will be run every day, and services to Phnom Penh of Cambodia and Manila of the Philippines will be available four days a week.
Meanwhile, Philippine Airlines (PAL) on May 31 annouced it will resume operating scheduled flights in June on selected international to the USA, Canada, Guam, Vietnam, mainland China, Malaysia, Indonesia, Hong Kong (China), Taipei (China), Singapore, Japan, the UAE, Qatar and Saudi Arabia; and sweeper flights to Australia, Singapore and the UK.
Vietnam recorded no new COVID-19 cases in Vietnam from 6am to 6pm on May 31, leaving the total at 328, VNA cited the National Steering Committee for COVID-19 Prevention and Control.
May 31 also marked the 45th consecutive day Vietnam saw no infections in the community.
Among the 328 cases confirmed so far, 188 were imported.
Vice Foreign Ministry Spokesman Doan Khac Viet has said ministries and agencies are preparing a proposal to the National Steering Committee on COVID-19 Prevention and Control and the Prime Minister to loosen immigration policies and resume a number of air routes, trade, tourism, and investment, with an eye kept on developments of the pandemic in the country and the world.
During the ministry's regular press conference in Hanoi on May 28, Viet said the move is in compliance with the Prime Minister's direction.