"Journey to a Safer City" Workshop Addresses Gender-Based Violence
Women and girls will benefit from this meeting between social organizations, held in Hanoi.
The Research Center for Management and Sustainable Development (MSD) and Plan International in collaboration with local partners on March 15 organized the workshop "Journey to a Safer City" in the framework of the project "A safe and friendly city for girls".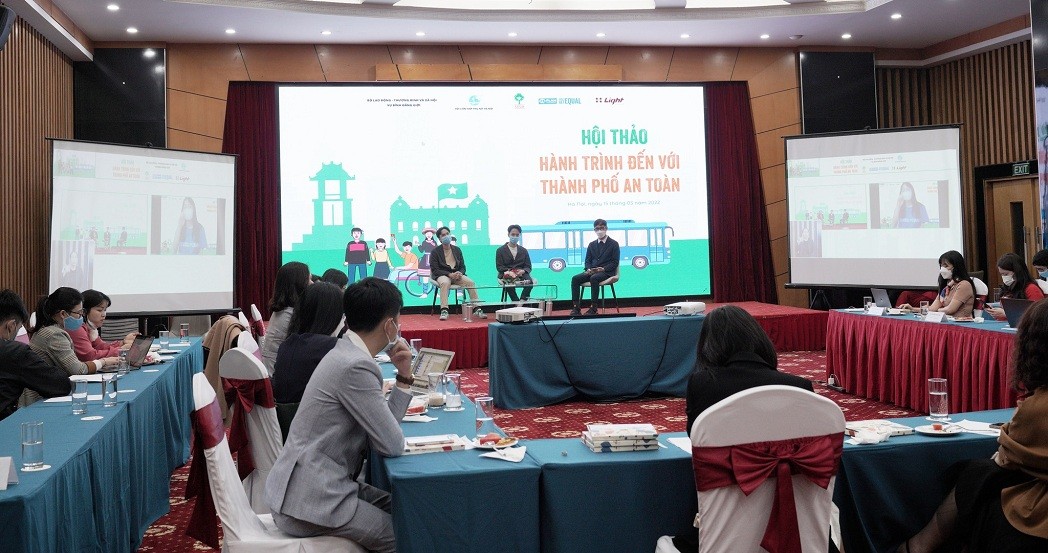 At the event.
Participating in the workshop, representatives from interested organizations shared about the Safer Cities project implemented by Plan International and its partners, efforts to address gender-based violence and build safe public spaces for women and girls, experiences and insights that contribute to recommendations submitted to policy makers on promoting gender equality and preventing gender-based violence, thus building a safe and girl-friendly environment in Hanoi.
Luu Quang Dai, Plan International's Program Quality & Development Manager, said: "In the first phase, the project focused on improving the safety of girls on buses. In the next phase, the project focuses on gender-based violence training and awareness raising. Following the successes of the previous period, the project team has worked with partners including the Department of Gender Equality, MSD, and Light Institute to develop a model to promote youth participation in formulating and monitoring the implementation of laws and policies, which can be applied nationwide."
According to estimates by the UN, by 2030, one in three people will live in cities/urban areas with at least half a million inhabitants. Every month, about 5 million people are added to the population of cities in developed countries and it is estimated that by 2030, about 1.5 billion girls will live in urban areas.
Girls living in cities will have twice the opportunity to thrive while also facing twice the risk. While they have better educational opportunities, are less likely to face child marriage, have access to information and promote personal growth, they also face risks in sexual harassment, exploitation and insecurity.
Hanoi is one of the first five cities to pilot the Safer Cities project since 2012 with the goal of building a safe, friendly and inclusive city for and for all girls.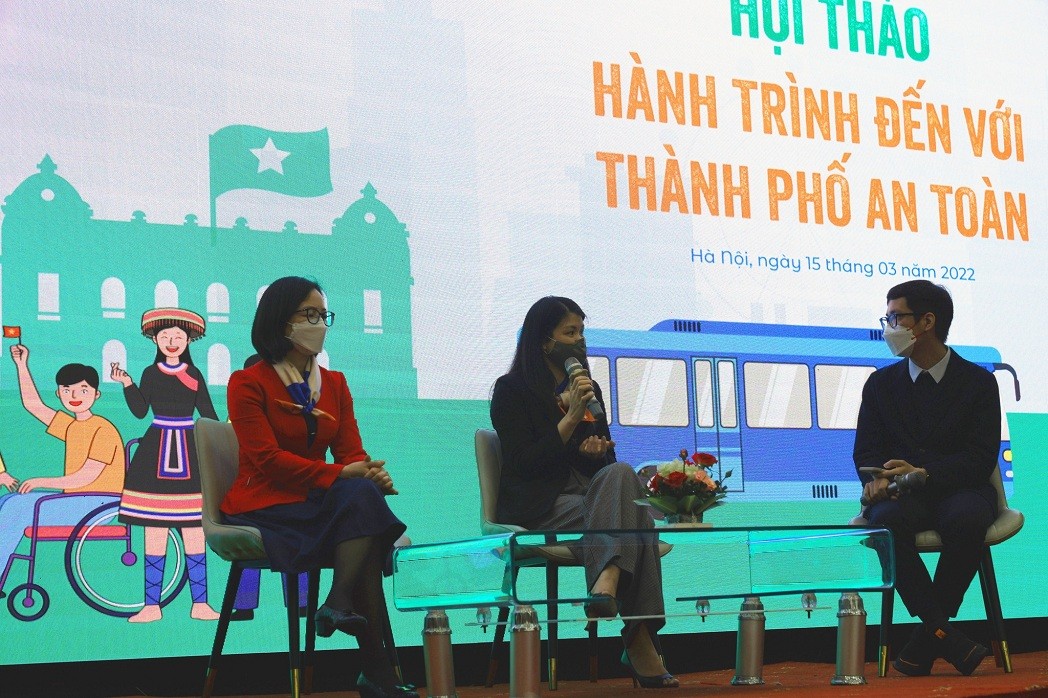 Speakers at the event.
Harassment - Not Just Women's Problem
Although not a new issue, sexual harassment in public places, especially with girls, women and LGBTIQ+ groups is still unfortunately quite common.
According to Plan International Vietnam's 2014 Girl Safety Survey Report on Public Transport and Public Transport, 31% of 1,128 girls have been sexually harassed when they are young ride on the bus and only 13% of girls and 8% of boys think girls always feel safe in public.
The reason that the problem of harassment occurs with such an alarming number is because its manifestations are always perceived as mere joke or harmless fun. That's why people are often indifferent, or fail to recognize the seriousness of such acts. In particular, in most cases of sexual harassment, victims and witnesses tend to remain silent.
According to Nguyen Thu Giang, deputy director of the Institute for Development & Community Health (LIGHT), for women and girls in general, they all face huge problems in public places including places such as buses, parks, and invisibility like on the network environment.
For LGBTIQ+ groups and other disadvantaged groups: children, ethnic minority women and girls, people with disabilities, there are still many limitations in both access to information, awareness of problems and mobility. The problems and barriers that surround girls, women, people with disabilities, and other disadvantaged groups come from many dimensions, not only from the environment, physical conditions and the surrounding community, but also from subjective factors."
Teenagers - Leaders of Change
Emphasizing the role of youth in this journey, MSD representative, Tran Van Anh, shared that they always appreciate the role of youth in building and creating a safe, friendly community. Therefore, in all their activities, they always mobilize active participation from youth groups by: raising their awareness and capacity on related issues, thereby accompanying and empowering the youth to be able to implement the initiatives initiated by them.
"Listening to the voices of youth is done through surveys, research, regular dialogue so that we can receive opinions and have a basis to identify opportunities to promote the participation of young people in their efforts to prevent and respond to gender-based violence issues in particular and contribute to the process of building a safe and civilized community and city in general," Van Anh said.
Phan Thi Phuong Thao, representative of the Leaders of Change Club (COC) of Van Noi High School recalled her experience after joning in the club, saying it helped heraware of the roles of both men and women, according to which she believes that men and women have equal roles and should be given conditions and opportunities to promote their capacity, and at the same time contribute to the development of women, families and communities, and equally enjoy the fruits of that development.
"During the participation in the club, we have also seen or heard many stories of girls being victims of harassment and gender-based discrimination, for example: girls often being teased when walking on the street, boys in the LGBT community are teased and ostracized by male friends," Thao remembered.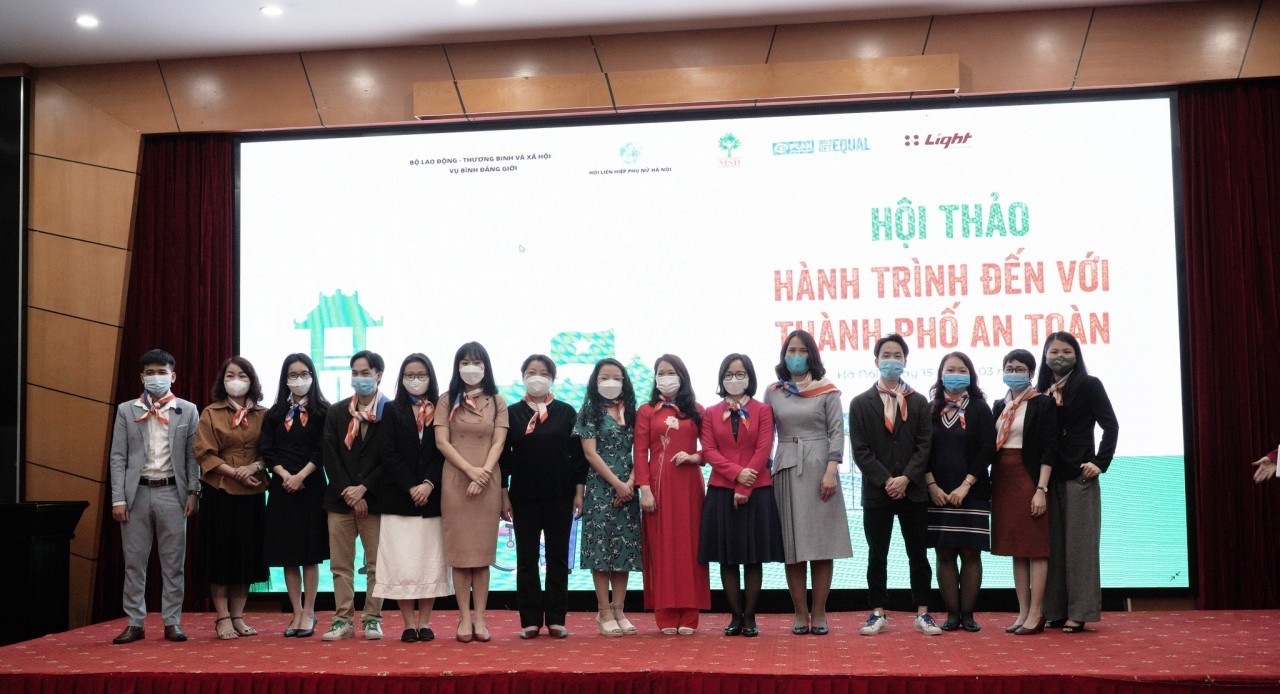 Delegates at the event.
Building Safe Public Spaces for Women and Girls
As part of an effort to build a safe city for women and girls, Tran Thi Bich Loan, deputy director of Gender Equality Department (Ministry of Labour, Invalids and Social Affairs) stressed that they have plans and is in the process of promoting the improvement of the policy and legal framework, while also taking specific actions to prevent and respond to gender-based violence such as: promoting activities to raise awareness survey and data collection.
Not only that, they also promote cross-sectoral coordination and develop pilot models for prevention and response to gender-based violence. All of the activities aim to join hands to build a safer, more friendly public space for women and girls.
"The Gender Equality Department will always accompany and support units to create positive changes together," Loan affirmed
As an active content creator in community campaigns, Nguyen Viet Anh from group 1977Vlogs which launched the initiative, said that you need to craft well-designed promotion activities with creative content and positive messages, encouraging good behaviour, learning about how to deal with bullies and harassments.
In addition to the media communication, I still hope to have sex education activities from an early age, before waiting for protection from others. Girls who learn to love themselves. Stop self-deprecating. Only confidence can help you overcome difficulties that come from the outside."
It is extremely necessary to build a safe public space for women and girls, requiring support, joint efforts and actions from all units and communities. Any of us can be pioneers of change. When we unite to speak out, unite, cooperate and take action, all acts of harassing women and girls, wherever they are, in any form will have to stop.