Khanh Hoa to fund education hall and building in Cambodia's Stung Treng province
The People's Council of Khanh Hoa province on April 14 has decided to put aside VND 15 billion (over USD 650,300) to fund the construction of two friendship projects in Stung Treng province of Cambodia.
At the meeting of the People's Council of the south central coastal province of Khanh Hoa. Source: Khanh Hoa newspaper
According to VNA, the project to construct a psychological education hall and a working building of Stung Treng's Military Command aim to strengthen the solidarity between the Vietnamese and Cambodian provinces in particular, and the two countries in general.
Khanh Hoa province's Military Command will be the investor of the project, which will cover a total area of nearly 1,100 sq.m at the headquarters of Stung Treng province's Military Command in Stung Treng city.
According to Colonel Bui Dai Thang, Commander of the Military Command of Khanh Hoa province, said the construction of the project will be implemented in 2022 and 2023.
Chairman of the Khanh Hoa provincial People's Committee Nguyen Tan Tuan emphasised that Khanh Hoa and Stung Treng have enjoyed a fine traditional friendship, noting that in the context of complicated developments of the COVID-19 pandemic, the friendship works are vivid manifestation of the good relationship between the two twinning provinces.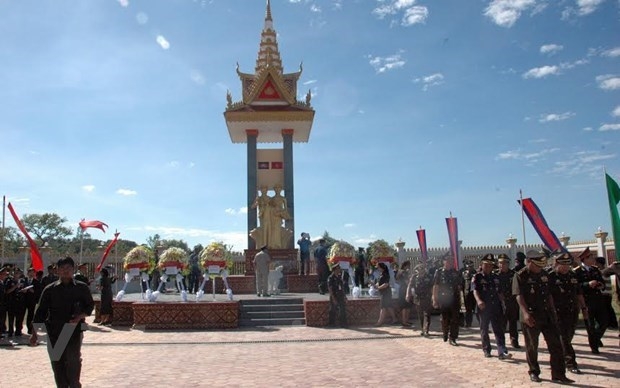 A monument dedicated to fallen voluntary Cambodian and Vietnamese soldiers in Stung Streng province. Photo: VNA
Vietnam and Cambodia share 1,137km of land border that runs across 10 Vietnamese provinces and nine Cambodian provinces. Of this, 73km runs across Buon Don and Ea Sup districts of Dak Lak and Koh Nhec district of Mondulkiri.
The Khanh Hoa's Vietnam - Cambodia Association of Friendship together with the provincial Union of Friendship Organizations holds exchange meetings with Cambodian students in Khanh Hoa every year on the occasion of Chol Chnam Thmay New Year, Independence Day of Cambodia, etc. Members take tours to Cambodia every year to visit the old battlefield as well as promote international togetherness with Cambodian people, says Huynh Kim Le, Chairman of Vietnam – Cambodia Association of Friendship./.