Lao Cai Province to Receive Additional USD 2 Million in Aid from NGOs
Foreign non-governmental organization (NGOs) will provide an additional USD 2 million in aid to the northern mountainous province of Lao Cai
This is the result of the 2023 International Friendship Exchange Program organized by the Viet Nam Union of Friendship Organizations (VUFO) in collaboration with Lao Cai northern province on March 27 in Lao Cai City.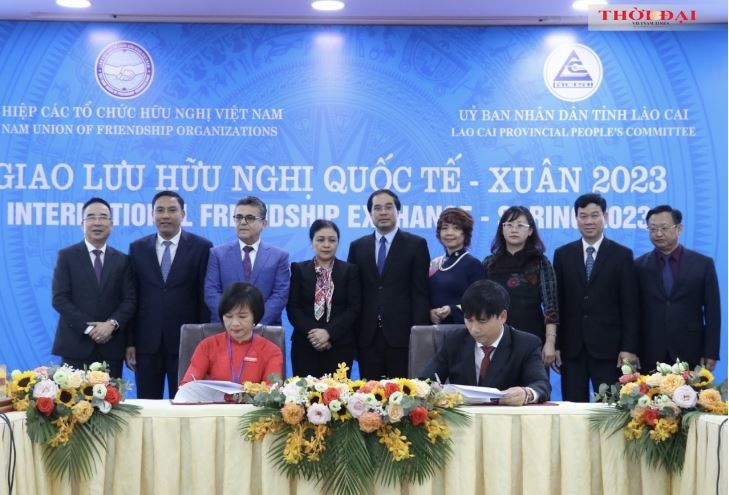 Giang Thi Thu Thuy, executive director of Hagar International, and Pham Nam Hong, deputy director of the Provincial Department of Foreign Affairs, sign a memorandum of understanding to aid Lao Cai in the coming period. Photo: Thu Ha
At the event, six foreign NGOs including Adoptionscentrum (Sweden), France's Aide et Action (AeA), Enfance Partenariat Vietnam (EPVN), Hagar International (Switzerland), Habitat for Humanity International (USA), SNV Netherlands Development Organization have signed the above-mentioned memorandum of understanding.
In addition, two foreign NGOs, including EPVN and Espoir Pour un Enfant, also presented scholarships to disadvantaged students in Lao Cai province with a total funding of more than USD 3,000.
The delegates also exchanged and discussed measures and policies to enhance the effectiveness of cooperation, investment, and aid for the northern province.
Speaking at the event, Palestinian Ambassador Saadi Salama, head of the diplomatic corps in Vietnam said, "We have witnessed the strong development of Lao Cai and believe that in the not-too-distant future, this remote locality will fulfill the goal of becoming a dynamic and modern economic center in the Northwest region, an attractive destination of international stature to attract more and more tourists to come and enjoy the charming natural scenery and unique cultural space in Lao Cai."
According to Ambassador Saadi Salama, he and the international friends will bring with them beautiful memories of Lao Cai, the places they have visited along with the kind and friendly people they have met like such emotional poems.
'Lào Cai đó thành phố trẻ ta yêu
Nơi biên cương địa đầu của tổ quốc
Nơi sông Hồng chảy về miền đất Việt
Thắm đỏ tình, đất bồi nặng phù sa.'
Literal Translation
'Lao Cai, the young city we love
The frontier of the nation
Where the Red River flows to the Viet land
Deep red affection, rich alluvial soils.'
Ambassador Nguyen Phuong Nga, VUFO president, stressed that this year for the first time the international friendship exchange program was held in Lao Cai.
She believes that the trip would leave a deep impression on the delegates about the vitality and development potential of Lao Cai, the traditions and hospitality of the people here.
At the same time, it contributes to promoting exchanges, cooperation and economic development, trade, investment and tourism with Vietnam in general and Lao Cai in particular.
Trinh Xuan Truong, deputy secretary of the Provincial Party Committee, Chairman of the Provincial People's Committee, assessed that the program is a practical and meaningful activity, creating opportunities for Vietnamese and international delegates to meet and exchange, contributing to strengthening friendship, understanding and cooperation between Vietnamese people and people around the world, as well as introducing the image and beauty of Vietnamese culture to international friends.
He suggested localities closely coordinate with VUFO, foreign diplomatic missions, and NGOs to consolidate and strengthen friendship and cooperation and establish new relations with other organizations, bilateral and multilateral development cooperation agencies, and foreign embassies.
At the same time, actively implement economic and people-to-people diplomacies, learn strategies and aid orientations of organizations, partners, and donors to take advantage and mobilize aid sources in line with Vietnam's socio-economic development priorities and orientations.
Truong also hopes that VUFO, foreign diplomatic missions, agencies, and organizations would create a favorable environment and legal corridor for the activities of foreign NGOs in particular and the resources mobilization work for development in general, continue to maintain and effectively promote the coordination mechanism between the central and local governments.
At the same time, support and share regular information on the operation of NGOs, agencies, and associations so that localities can promptly grasp and proactively establish relationships with organizations, consistent with development cooperation goals.
Foreign diplomatic delegations support, promote and encourage Vietnamese businesses to explore investment opportunities and cooperation in Lao Cai in particular and localities in general, especially investment projects in the field of environmentally friendly advanced technology industry, tourism, services, and high-tech agriculture.