Laos applauds Vietnamese medical experts in Covid-19 fight
A ceremony was held by the Lao health ministry in Vientiane on May 23 to honour Vietnamese health experts who have been sent to help the neighbouring country combat the pandemic.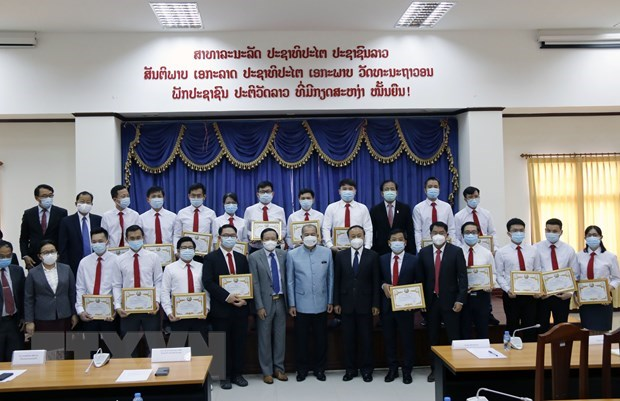 Lao Deputy Prime Minister Kikeo Khaykhamphithoune (centre) and officials pose for a group photo with Vietnamese medical experts. Photo: VNA
Lao Deputy Prime Minister Kikeo Khaykhamphithoune on May 23 highly valued the timely and effective support of the Vietnamese Party, State and people to his country in the Covid-19 fight.
He was speaking at a ceremony held by the Lao health ministry in Vientiane to honour Vietnamese health experts who have been sent to help the neighbouring country combat the pandemic, according to the Vietnam News Agency (VNA).
Kikeo Khaykhamphithoune, who is also Chairman of the National Taskforce Committee for Covid-19 Prevention and Control, described the assistance as a vivid demonstration of the great friendship, special solidarity and comprehensive cooperation between the two Parties, States and peoples.
He lauded the achievements the Vietnamese medical experts gained during the past more than 10 days in Laos, saying with their assistance, Laos has been able to better curb the pandemic spread and reduce Covid-19 cases.
The Deputy PM expressed his belief that the bilateral relationship will further prosper in the time ahead.
At the ceremony, Lao Minister of Health Bounpheng Phoummalaysith presented certificates of merit to the Vietnamese experts in recognition of their contributions to the pandemic fight in Laos.
The ministry on May 23 reported 19 new cases, including four locally-transmitted infections, pushing the national tally to 1,801. The number of recoveries stands at 1,074, while there are two fatalities.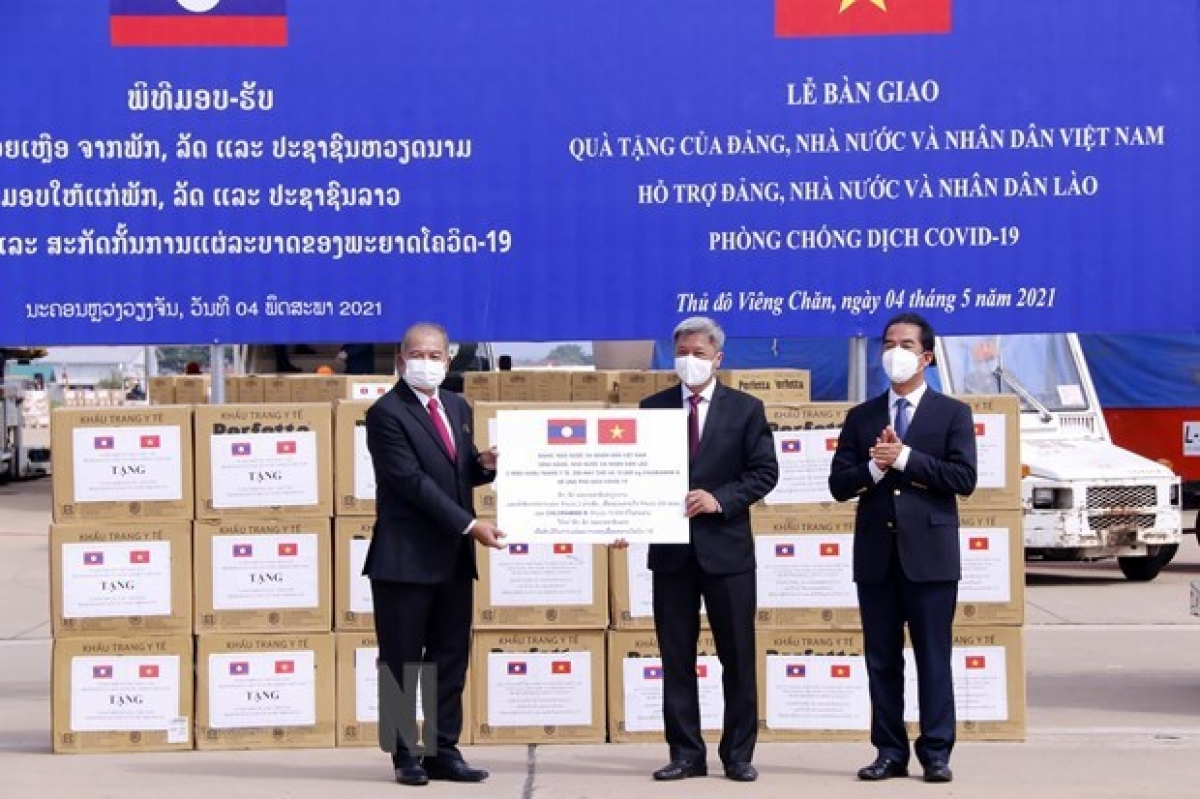 At a ceremony to hand over Vietnam's financial aid and medical supplies to Laos. Photo: VNA
Vietnamese Deputy Minister of Health Nguyen Truong Son and 35 medical experts travelled to Laos to provide support for that country's Covid-19 fight, VnExpress reported earlier this month.
They have help build field hospitals, enhance intensive care and Covid testing capabilities.
They also brought $500,000 and medical items including 200 ventilators and two million face masks to help with Laos's Covid fight.
Laos has sought Vietnam's support in the capital Vientiane and Savannakhet city, Son said.
The Vietnamese delegation was drawn from several major facilities like Hanoi's Bach Mai Hospital and National Hospital for Tropical Diseases and HCMC's Pasteur Institute and the Institute of Hygiene and Public Health.
On May 5, Star Telecom (Unitel), a joint venture of Viettel in Laos, also presented the Lao Government and people with more than 5 billion kip (US$538,000) in cash and technology solutions to improve the efficiency of Covid-19 prevention and control, Viet Nam News said.
Particularly, along with transferring over 500 million kip to the Lao Ministry of Health's steering committee for Covid-19 prevention and control and over 1 billion kip to the bank accounts of frontline medical staff of Vientiane and Champasak and Luang Prabang provinces, Unitel assisted the Lao health ministry in operating a national vaccination information system worth more than $200,000.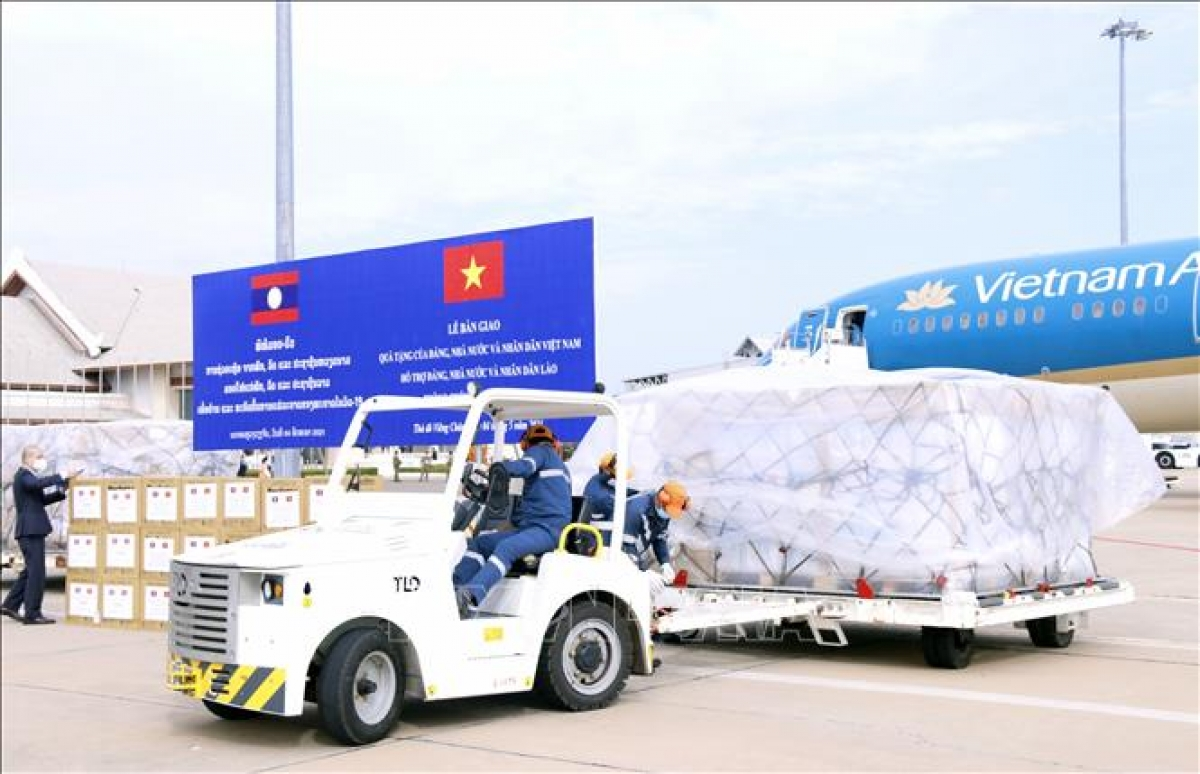 Vietnam's assistance for Laos in the COVID-19 combat. Photo: VOV
Amid the complex developments of the pandemic, Lao medical staff in co-operation with the Vietnamese Association in Vientiane conducted Covid-19 testing on Vietnamese living and working in Thatluang, Naxay and Sisangvone wards and the area around the NUOL.
Those showing symptoms will be placed in quarantine and receive treatment.
Earlier on May 3, LaoVietBank, a joint venture between the two countries' banks, also presented the Health Ministry of Laos with medical supplies worth more than 100 million kip (over $10,000). Meanwhile, Vietnamese mining firm Sakai also handed over to Laos more than 208 million kip worth of cash, medical supplies and necessities.
At the same time, Venerable Thích Minh Quang and Buddhist dignitaries and followers in Phat Tich Pagoda in Laos as well as the Vietnamese Association in Vientiane capital provided free meals at some charity facilities in Vientiane./.