Major Japanese TV brands pull out of Vietnamese market
Major Japanese brands have all but disappeared from Vietnam's television market, unable to compete with South Korean and Chinese brands in terms of technology and price.
Duc Minh, a Hanoi resident, wants to buy a Japanese brand TV for his relatives but finds no choice apart from Sony.
"I found an electronics store that sells Toshiba TVs, but it was an old model with thick bezel and unable to run on an Android operating system," he said.
He said his elderly relatives prefer Japanese brand TVs, while youngsters like his friends and himself have shifted to South Korean, Thai, or Chinese brands as they are cheaper and more models and choices.
On the websites of large electronic retailers, Panasonic, Toshiba, and Sharp television sets are absent. The common TV brands are Japan's Sony, South Korea's Samsung and LG, China's TCL and FFalcon and Thailand's Casper.
Toshiba and Panasonic TVs still can be found in some small electric stores, but most of the units are only for display.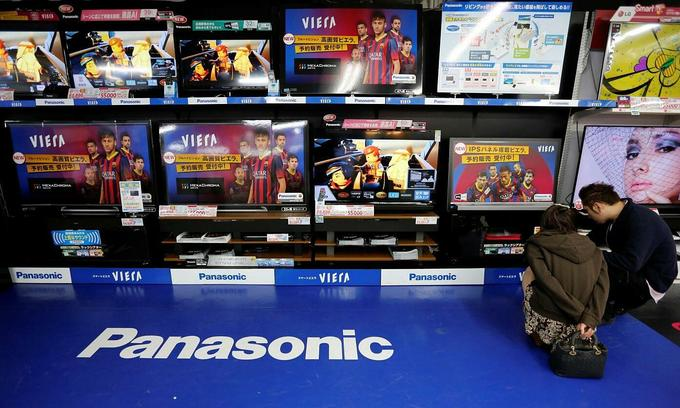 People look at Panasonic's televisions displayed at an electronics store in Tokyo on April 28, 2014. Photo by Reuters/Toru Hanai.
Toshiba Vietnam said that it has stopped selling TVs in Vietnam and was focusing on manufacturing other electronic appliances. The Toshiba TVs still seen in electronic stores are for display or those left in the store's inventory. Toshiba closed its TV manufacturing plants in Vietnam in 2014, VnExpress reported.
Another Japanese electronic giant, Panasonic, announced recently that it will stop its low-end TV production in Vietnam by the end of fiscal 2021 to cut costs because it was offering low margins.
The company has followed other leading Japanese brands in scaling down TV production, an area formerly a major competitive advantage for the country's electronics industry. It will continue to produce its own high-end TVs, mainly for sale in Japan, but will also consider consolidating or shrinking production locations at home and abroad.
Japan's Kyodo News said in an article published: "Panasonic's TV business has been struggling due to fierce competition from Chinese and South Korean rivals."
Panasonic used to have a 10 percent share of the global TV market but gradually lost its appeal when low-cost competitors from China appeared.
It earlier withdrew from the plasma TV segment and discontinued production in the U.S. and China.
According to British research firm Omdia, by 2020 Panasonic ranked 12th worldwide in TV shipments with a 1.8 percent market share.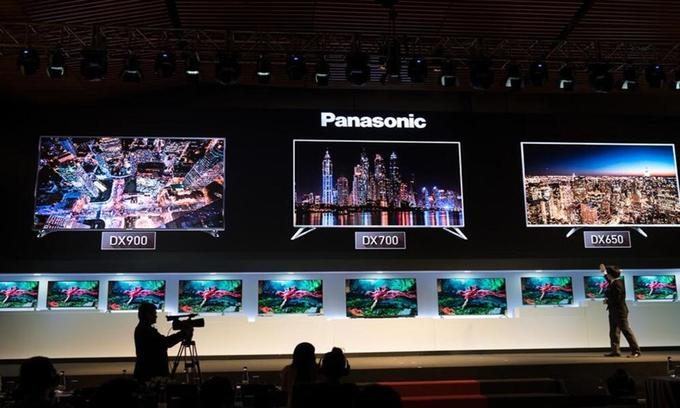 A Panasonic TV convention held in HCMC, July 2016. Photo courtesy of Panasonic.
Sales and production of TVs account for less than 10 percent of Panasonic's total revenues. This segment was profitable in the year ending March 2021 thanks to a strong domestic market.
But the company has found the opportunity to earn long-term profits from TVs is no longer stable and has been forced to restructure like many other Japanese brands.
Sharp TVs sold in Vietnam are imported from Thailand and Malaysia, mostly in the low-priced segment, using old technology and lacking new features compared to its competitors. An electronic store representative said that Sharp TVs were available, but in small quantities, because they are hard to sell. He explained that the company does not have a customer support policy for the TV segment.
Dao Tuan, an electronic store manager in Hanoi, said sales of Japanese TV brands like Toshiba, Panasonic, and Sharp have been dull for many years now.
"Aside from Sony, Japanese brands leaving the TV segment is not surprising because they have not caught up with the latest technologies and have only a few models for customers to choose from. Besides, their prices are 30 percent higher than TVs of South Korean and China brands with the same size and features," he said.
According to the German market research company GfK, South Korean electronics giant Samsung and LG, and Japan's Sony accounted for 90 percent of Vietnam's TV market share in 2020. Samsung led the market with over 44 percent.
According to GfK, the highest growth last year was in the large-sized TV segment (55 inch or bigger), with around one million units sold.