Marvel At Mai Chau's Ban Gioc Waterfall
Ban Gioc Waterfall has long been a rare gift that was given by Mother Nature to this land. Possessed with the most majestic and mesmerizing nature, Ban Gioc Waterfall becomes one of the four largest waterfalls in the world and the biggest one in Southeast Asia.
This place attracts many adventurous trekkers coming to explore its wilderness and wonderful natural beauty that makes it a highlight among other destinations in Cao Bang. It is also considered one of the most beautiful waterfalls in Vietnam.
Ban Gioc Waterfall is located in Dam Thuy commune, Trung Khanh district, Cao Bang province. At the foot of the waterfall, there is a large, flat river surface that looks like a big mirror reflecting the beautiful blue sky. On both sides are green lawns and lovely rice fields.
Photo: Luu Anh Tuan
The climate at Ban Gioc waterfall is divided into two distinct seasons: the rainy season and the dry season. From June to September every year, the heavy rains will show the place and causes the water to flow even stronger, pouring down and creating white foam. Many people said this is the most perfect moment to visit Ban Gioc and feel the powerful forces of nature.
However, most tourists find it uncomfortable coming here during this time because of the constant rains and prefer the dry season more. After September, the weather is cool and the sky is a shade of alluring blue color that creates an incredible background for young couples taking Instagram check-in pictures.
The most special thing is that you can still admire the Quay Son river at that time with a turquoise color - a masterpiece from the hands of mother nature.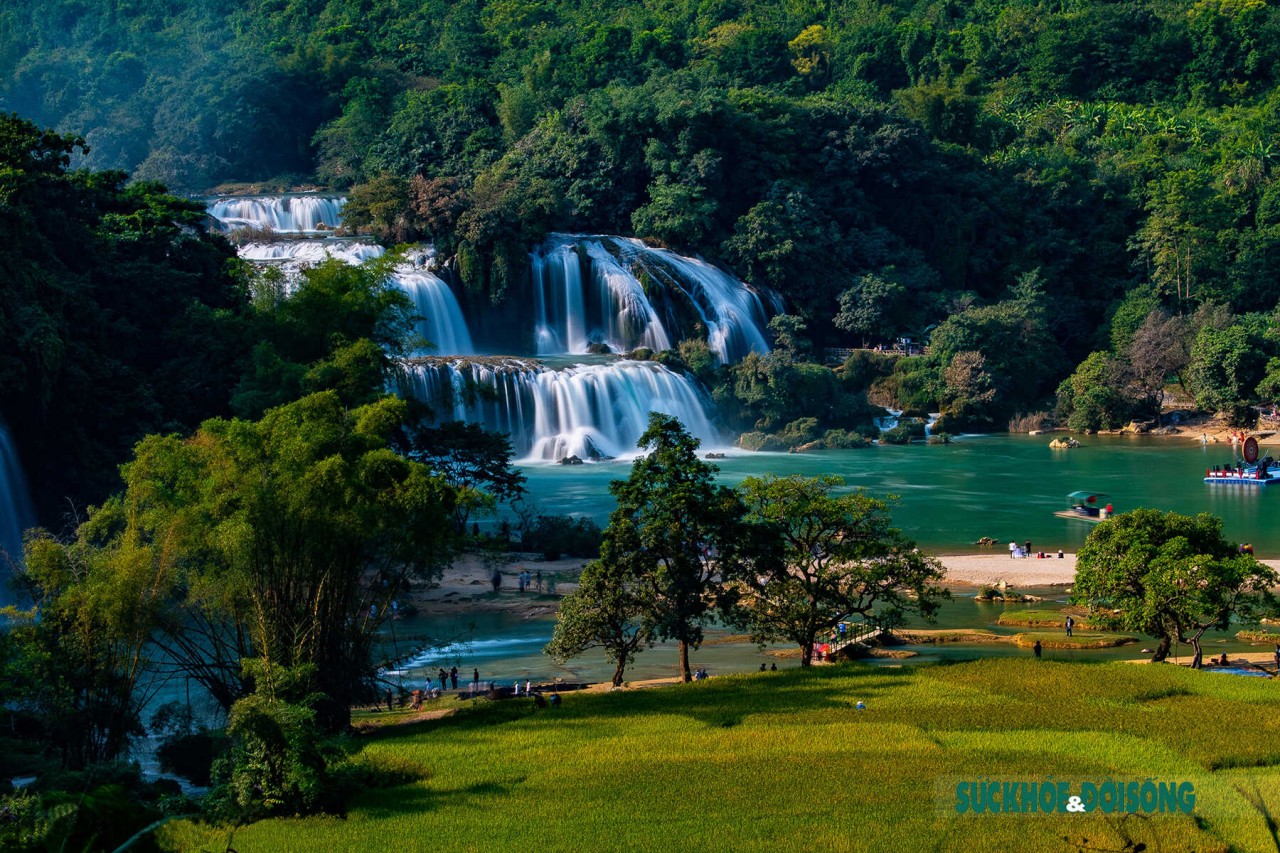 Photo: Luu Anh Tuan
From a distance, tourists can hear the growling sound of the waterfall flowing, making the natural scenery even more majestic and breathtakingly beautiful. Standing at the foot of the waterfall, you will feel deeply relaxed with a refreshing and pleasant atmosphere that is created by the rising water mist.
From a height of over 30m, the water blocks like silk strips through limestone steps mixed with moss and grass. Coming to Ban Gioc waterfall on a sunny day, the steams also form a virtually shimmering rainbow, which is stunning and impressive.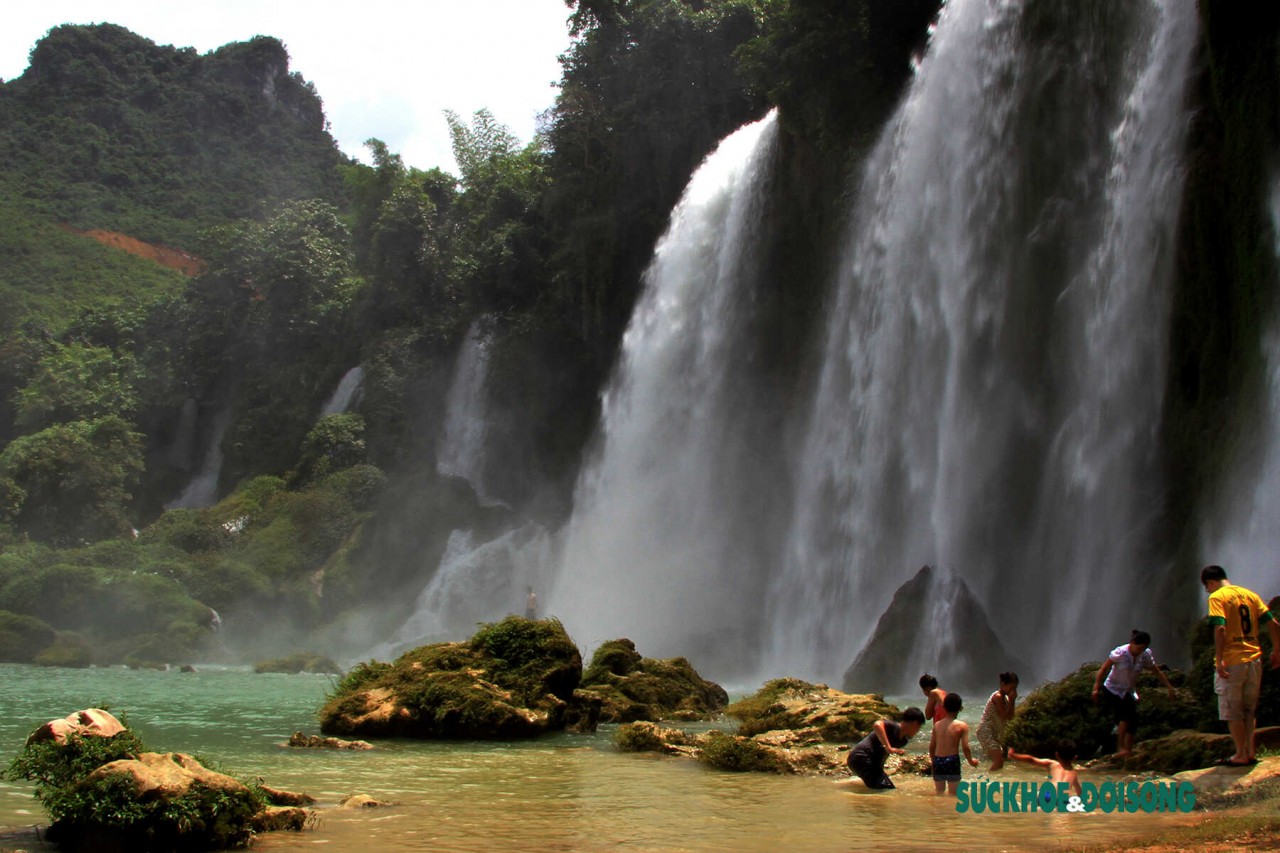 Photo: Luu Anh Tuan
Located in Dam Thuy Commune (Cao Bang) which is 335km away from Hanoi, the Ban Gioc Waterfall area achieves a rich diversity of cultural patterns from indigenous ethnic minorities.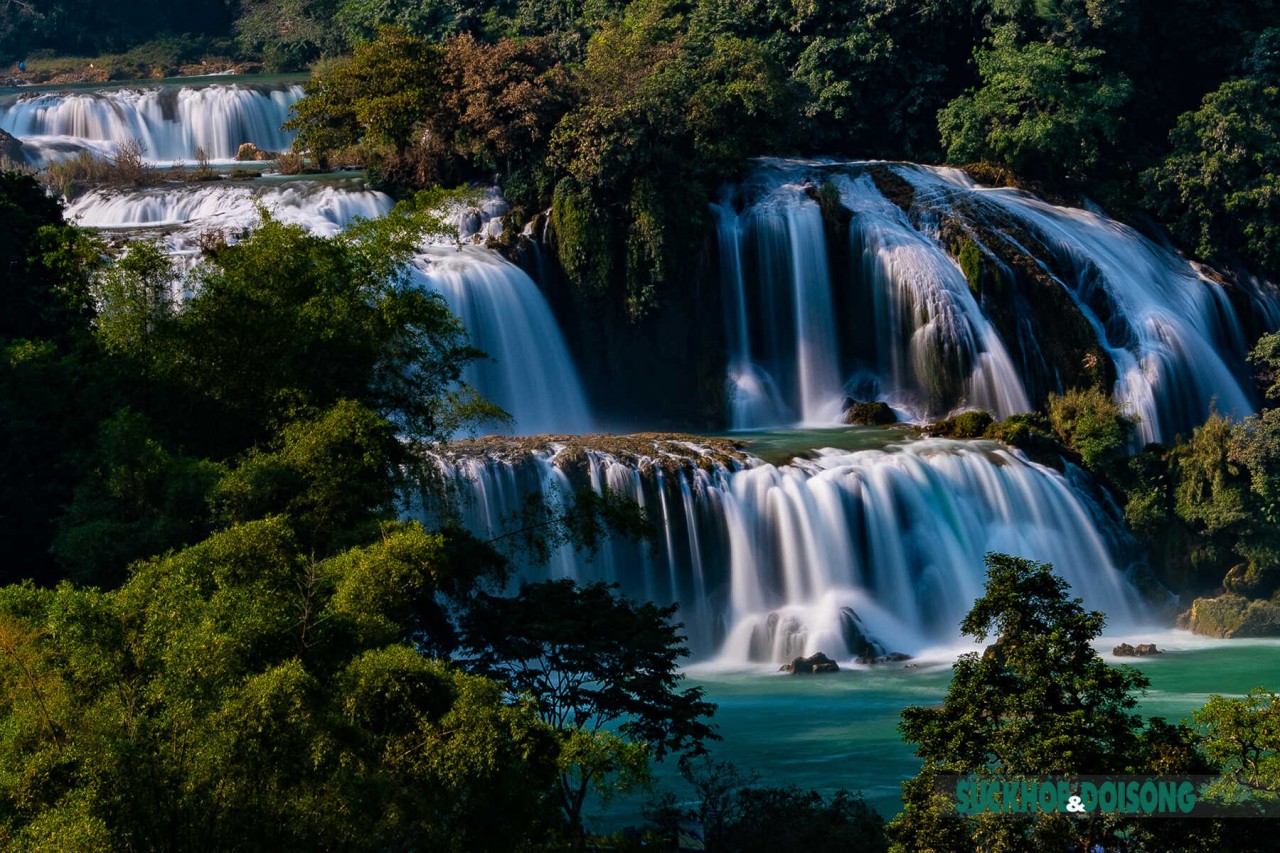 Photo: Luu Anh Tuan
Both countries are committed to deriving substantial benefits from the site in terms of tourism and economic profits. What makes the Ban Gioc Waterfall scene captivating is its extraordinary flow of water running dazzlingly along stair-like molds, which looks like a giant doorstep of mother nature. This seductive charm is undoubtedly a major factor that attracts tourists from all over the world.
In 2015, Ban Gioc is voted to be the fourth largest waterfall in the world, and is one of the 10 most majestic waterfalls, according to the Touropia tourism website.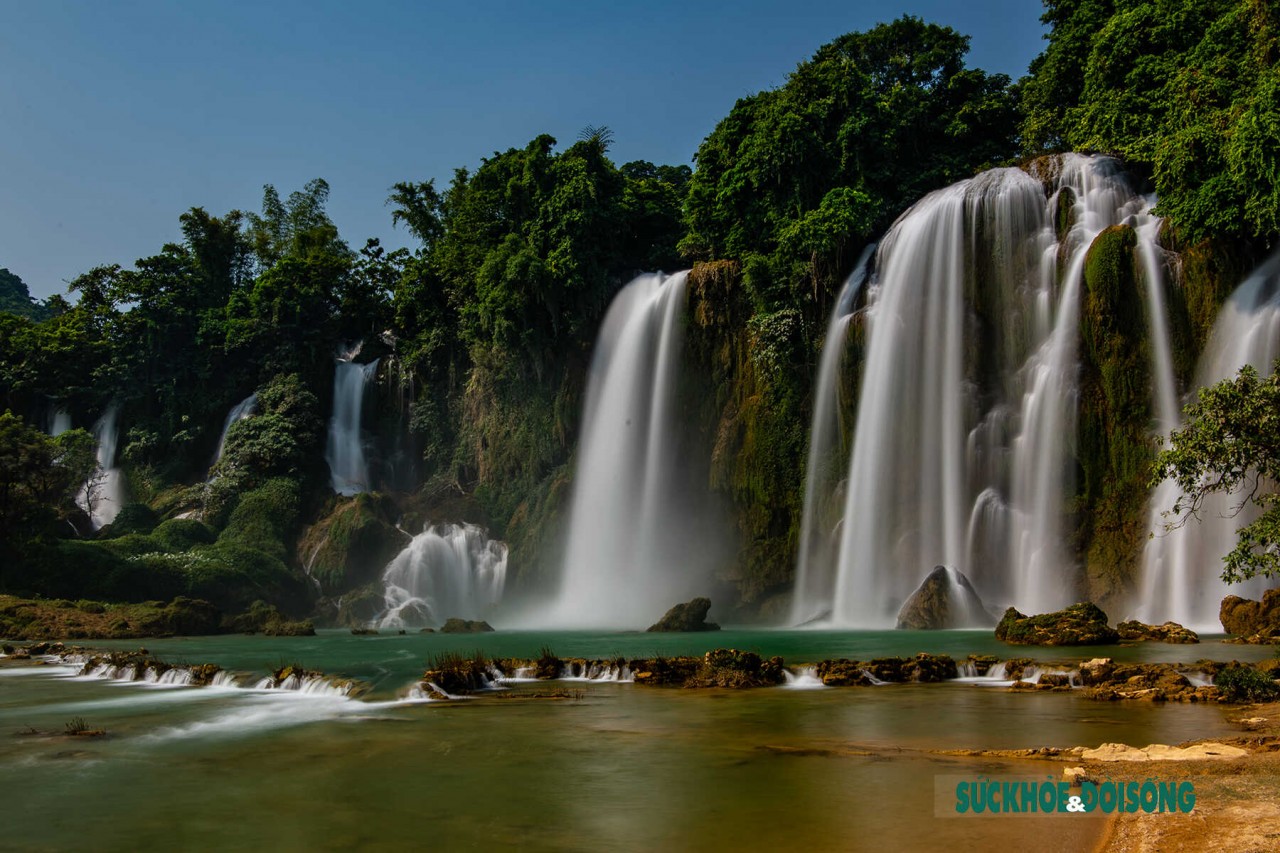 Photo: Luu Anh Tuan
The cool atmosphere, and the majestic waterfall surrounded by the stunning natural scenery, everything creates a wonderful picture that makes tourists feel like they are stepping into a fairyland.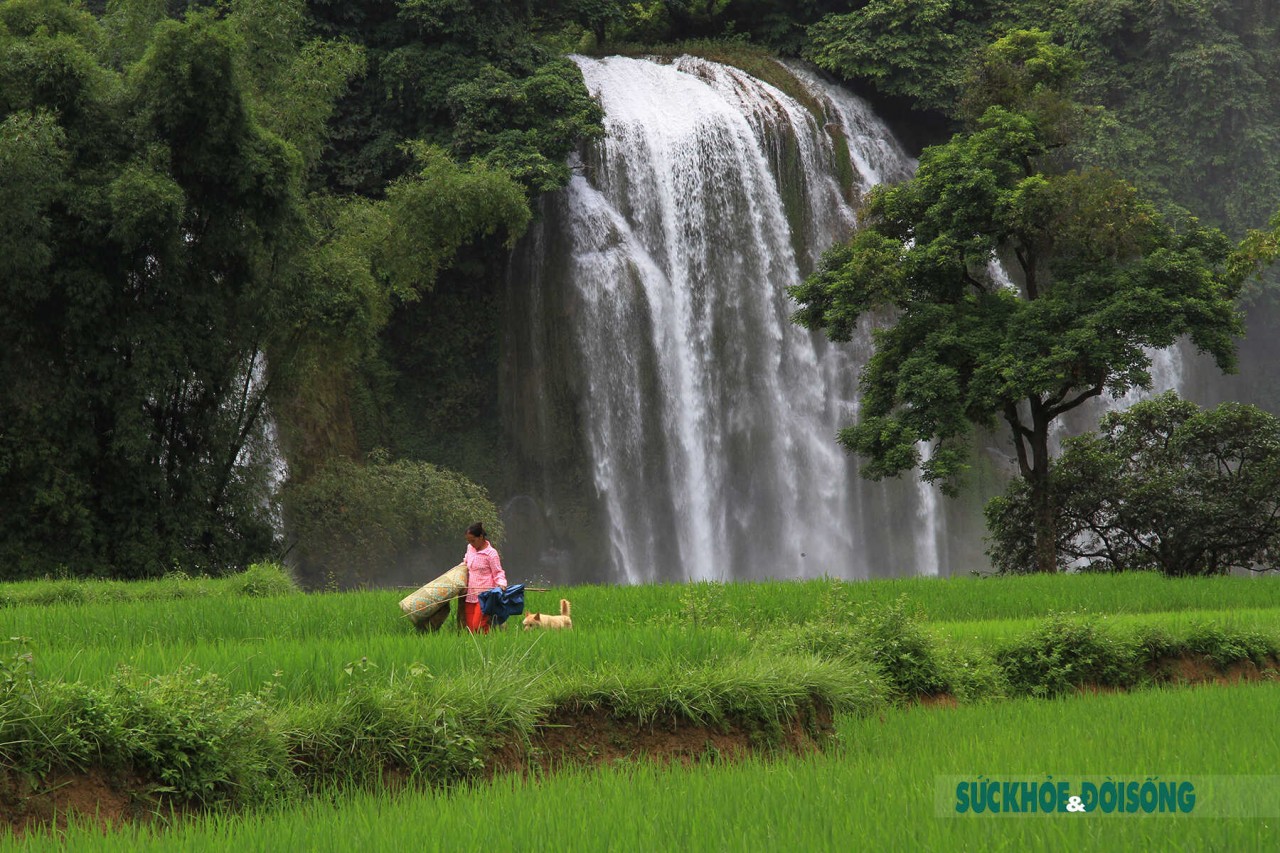 Photo: Luu Anh Tuan
What to see and what to do at Ban Gioc Waterfall?
Thang Hen Lake
Photo: @benz.mind
Aside from Ban Gioc waterfall, Thang Hen Lake is also an ideal destination that you should visit when coming to Cao Bang. It is located on the mountain in Quoc Toan commune, Tra Linh district, Cao Bang. The lake has a very unique diamond shape, located in the heart of the Northeast mountains. Surrounding the lake is the forest growing rocky mountains, creating a majestic natural landscape.
Ma Phuc Pass
Ma Phuc mountain pass situated between Tra Linh District and Hoa An District has gained recognition for its outstanding beauty. In order to get through, people must go past a narrow 7-bend road which can only be handled by capable drivers. The pass overlooks the highlands with a grandiose view of interminable mountains and forests.
Nguom Ngao Cave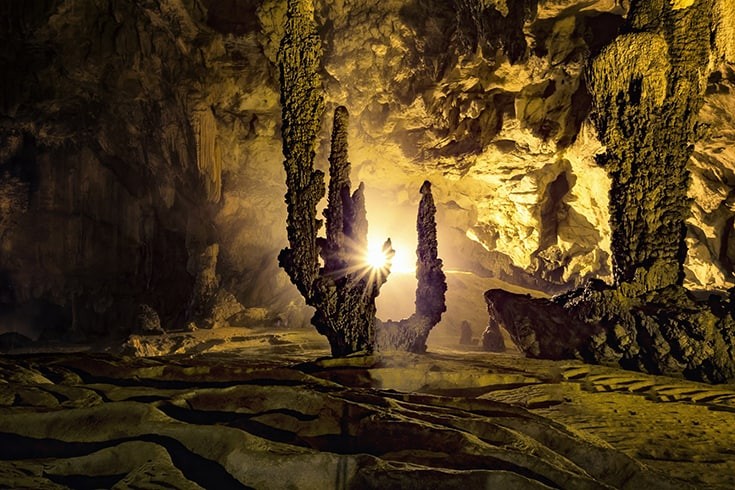 Photo: christinas.vn
Deeply carved into a mountain, the 2144-meter cavern stands among the most charming caves in Vietnam found in 1921. According to the Tay people's traditional language, "Nguom Ngao" means "tiger" or "cave of the stone valley". Its stalactites hanging from the roof would make a lasting impression as they have been deposited by dripping water for hundreds of millions of years.
What to eat
Grilled "Aloeswood Fish"
Photo: Vietnamdiscovery
This dish is one of the most famous foods that you must try when you travel to Ban Gioc waterfall, Cao Bang. In the past, people could find a lot of aloeswood fish living at the foot of the waterfall, but ever since they became well-known to local fishermen and tourists, mass fishing has caused them to breed less and become rare.
The fish's name originates from its habit of feeding on aloeswood leaves and trunks. Before the grilling process, they are rinsed thoroughly with water to get rid of the dirt, stuffed with spices such as onions, chilies, dill, etc, then wrapped into banana leaves. You can feel the sensation of aloeswood flavor when you taste the fish.
Ant's Egg Cake
Being one of the most unique cuisines in Cao Bang mountainous area, the cake only appears from April to May when black garden ants multiply rapidly. Covered by mochi and tree leaves, people use immature eggs of the ants as the main ingredient. In case you feel worried about contaminated substances, the eggs are always fried with onions, peanuts, and some pork before being crammed into the cake.
Cao Bang Steamed Rice Pancake
Unlike the common rice pancake, the Cao Bang alternative is famous for its special sauce that is made from bone stock. Usually, the bones are simmered gently for hours before serving, added with minced meat and spices to make it more sweet-smelly than ever.