Mass testing would help to detect Covid-19 infections in community: experts
Experts suggested stepping up mass screen testing as up to 60 percent of cases in the ongoing Covid-19 outbreak have displayed no symptoms.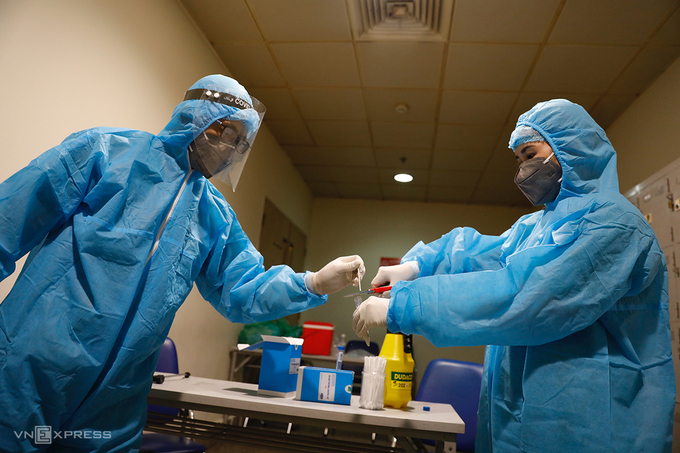 Medical workers collect samples for Covid-19 testing at Tan Son Nhat International Airport in Ho Chi Minh City. Photo: VnExpress
Experts have suggested stepping up mass screen testing as up to 60 percent of cases in the ongoing Covid-19 outbreak have displayed no symptoms and many infections have yet to be found within the community.
Deputy Minister of Health Tran Van Thuan on May 12 described testing, particularly quick testing, as an important tactic to seal off pandemic hotbeds.
The work should be accelerated given new infections detected in industrial parks in the northern provinces of Bac Ninh and Bac Giang, and the central city of Da Nang, he stressed, suggesting localities conduct screen tests in high-risk places such as hospitals, factories, and industrial zones to prevent the pandemic spread.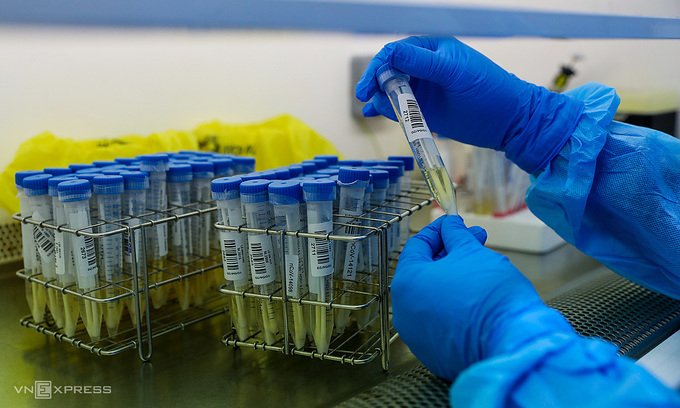 A medic holds a tube with samples taken for the new coronavirus tests at the HCMC Hospital for Tropical Diseases, March 2020. Photo: VnExpress
Currently, Vietnam houses a total of 175 testing laboratories with a combined capacity of handling 65,000 samples each day. Earlier, the Ministry of Health ordered hospitals each with more than 300 beds to equip themselves with RT-PCR testing machines.
According to Associate Professor Dr Tran Dac Phu, senior advisor at the Public Health Emergency Operations Centre, Vietnam has reported many Covid-19 clusters and cases infected with Indian coronavirus variant during the fourth wave of the pandemic.
"Mass screen testing costs less than social distancing," Phu said, noting that it would help to end community transmission.
Dr. Le Quoc Hung, head of the Department for Tropical Diseases at the Cho Ray Hospital, also said the current outbreak is worrisome as about 60 percent of patients show no symptoms.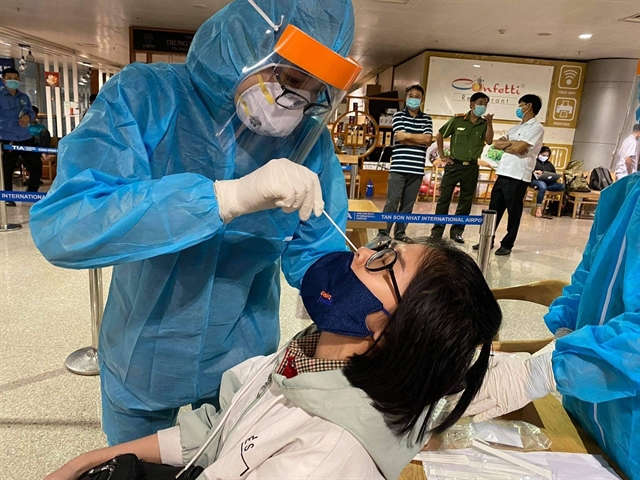 Health workers take samples for COVID-19 tests on an employee at Tan Son Nhat Airport on Feb. 6. Photo: VNA
Health authorities confirmed 30 new Covid-19 community infections on May 12 evening, all of them already quarantined after contact tracing.
Of these 20 patients were recorded in Da Nang, seven in Hanoi, two in Bac Giang, and one in Phu Tho.
The new cases took the total number of domestic cases confirmed on May 12 to 82, with 18 recoveries.
Since April 27 Vietnam has confirmed 611 community transmissions in 26 localities. Hanoi leads the list 162 cases, 99 of which are in two hospitals, followed by Bac Ninh with 124, Bac Giang with 81 and Vinh Phuc with 73.
The national Covid-19 tally stands at 3,623, with 2,636 recoveries./.