Ministry of Foreign Affairs calls on Vietnamese Myanmar to dial 2 hotlines in urgent situations
Regarding the recent developments in Myanmar, the Vietnam Ministry of Foreign Affairs has tasked the Vietnamese Embassy in Myanmar to closely monitor the situation, stay in touch with local authorities, and regularly update and take measures to protect citizens when necessary.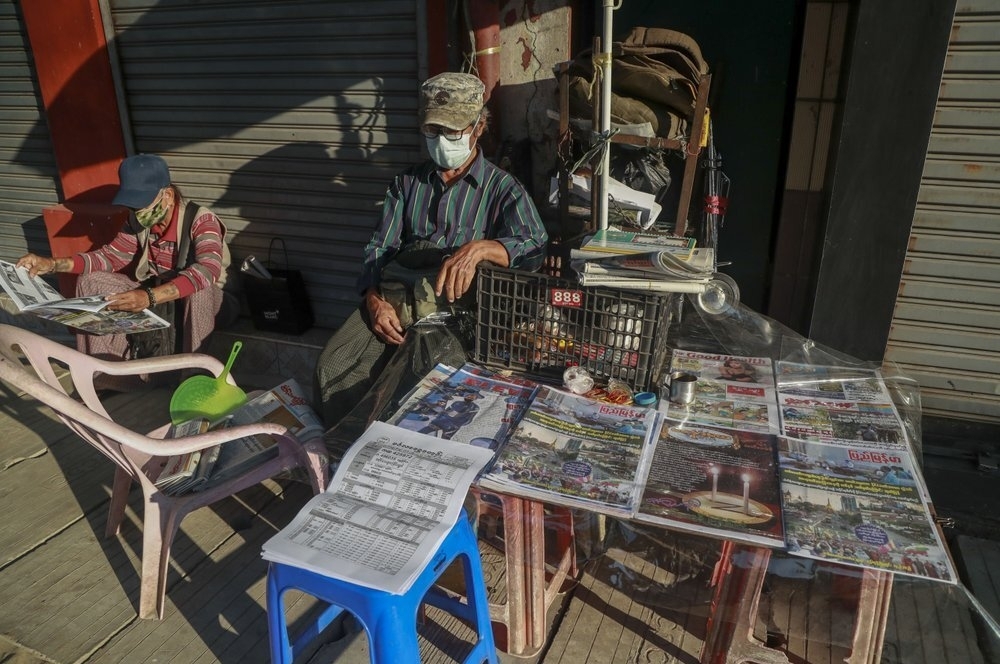 One man reading newspaper at a newsstand in Yangon, Myanmar on February 2 (Photo: AP)
The Vietnamese Embassy in Myanmar has proactively contacted Vietnamese communities in Myanmar to remind overseas nationals and Vietnamese enterprises of ensuring normal operations, restricting on leaving their living areas, avoiding crowded places, paying attention to security and safety, especially in the coming Lunar New Year occasion.
If any Vietnamese nationals in Myanmar need support or know someone is in urgent situations, the Ministry of Foreign Affairs calls on people to contact the Vietnam Embassy Citizen Protection hotline at (+95) 96.6088.8998; or by email address: baohocongdan123@gmail.com or Public Protection Call Center of the Ministry of Foreign Affairs: (+84) 981.848.484.
Le Thi Thu Hang, spokesperson of the Foreign Affairs Ministry on February 1 said Vietnam was keeping a close eye on the situation in Myanmar. She expressed her hope that Myanmar would soon stabilize for further building and development.
"As a neighboring country in the region and also a member of ASEAN, Vietnam is very caring for the ongoing situation in Myanmar. Vietnam wishes that Myanmar would soon stabilize to build and develop the country, and for the regional peace, stability, cooperation and further contribute to the development of ASEAN community ", the spokesperson was quoted by Thoi Dai as saying.