"My Biggest Concern for Ben Tre's Quick Development in Lines With Its Potential"
With regards to Ben Tre, besides the vague impression by the song "Ben Tre pose", the province still left its imagination of development in an open question. In terms of economy - a narrower scope, Ben Tre's imprint is even less clear. This is probably the biggest difficulty and obstacles for Communist Party Committee Secretary Le Duc Tho with his responsibility to lead Ben Tre's economy develop sustainably.
On the occasion of the Politburo's promulgation of Resolution 13-NQ/TW on the overall development of Mekong Delta, Vietnam Times had an interview with Mr. Tho about potentials, hopes, opportunities as well as challenges that Ben Tre will encounter.
- How does Resolution 13-NQ/TW by the Politburo on socio-economic development direction, ensuring national defense and security in the Mekong Delta until 2030, with vision to 2045 (referred hereafter as Resolution No. 13) define Ben Tre's development goals in the regional link?
- Secretary Le Duc Tho: Regional link has been oriented by our Party in documents of Congress VIII, X, XI and most recently Resolution No. 13-NQ/TW by the Politburo.
The resolution has realized the Party's policy on regional link with many integrated policies, creating a breakthrough for the development of the whole Mekong Delta region and its respective provinces. On 10th October 2022, Ben Tre Communist Party Committee realized Resolution No.13 by Program No. 26-CTr/Tu, which identified the provincial development goals in lines with the regional link. Details are as below:
- By 2030, Ben Tre province will develop quickly, comprehensively and sustainably in Mekong Delta region; strive to become a moderately developed province across the nation (top 30); strengthen intra-regional, inter-regional, domestic and international connections; switch into a key agricultural center connected with main raw material regions of fruits and vegetables in Mekong Delta; build a synchronous and modern system of socio-economic and digital infrastructure conveniently linking to Mekong Delta provinces and the whole country.
-By 2045, Ben Tre will have an advanced and sustainable economic development with a smart, creative, green and clean environment and become a place "worth living in" for its residents with growth pillars as an important development drive of Ben Tre, the Mekong Delta and the nation.
- What are Ben Tre's strengths being focused for exploitation according to the Resolution No. 13?
- Secretary Le Duc Tho: The following strengths will be focused for exploitation:
- Firstly, Ben Tre is located in a relatively convenient position of the economic exchange route with HCM City and the southern key economic region with the HCM City - Trung Luong – Rach Mieu bridge express way and the southern provinces of the Mekong Delta. As a matter of fact, Ben Tre is a goods trading hub and urban satellite area of HCM City. This is a good opportunity for Ben Tre to promote its rapid development of trade, service, tourism and urbanization. In addition, Ben Tre has about 65km of coastline with 3 coastal districts (50% of the province area), which is beneficial for the continental shelf exploitation to develop marine economy, tourism, renewable energy…
-Secondly, Ben Tre's estimated gross domestic product (GRDP) at 2022 prices is VND 63,585 billion, mainly driven by the agriculture and manufacturing sectors as its economic pillars, accounting for about 34.9% of the province's GRDP.
The province has built some value chains of key agricultural products and achieved some positive results. Ben Tre's high-value agricultural products have affirmed their position in domestic and export markets such as: coconut, durian, mangosteen, green-skinned pomelo, rambutan, mango, seedling plants, ornamental plants...
This is Ben Tre's strength for the development of a focal center for agriculture associated with the main raw material areas of fruits and vegetables in Mekong Delta region. Ben Tre prioritizes famous specialty products such as green-skinned pomelo, siamese coconut and strong domestic brands with clear geographical indications. Especially, the province has just exported Vietnam's first batch of green-skinned pomelo to US market, affirming the brand and value of Vietnamese and Ben Tre's agricultural products. Besides, Ben Tre also have other high quality fruit and seafood products accessible to many international markets
- Thirdly, with the advantage of tourism resource and coastal plain of Mekong Delta region, Ben Tre is very attractive to international tourist market. Ben Tre has great strengths to develop eco-tourism with mangrove forests and beaches.
- Fourthly, socio-economic infrastructure, especially transportation infrastructure, has been being concentratedly invested. This drives more investors coming to Ben Tre.
Currently, the construction of Rach Mieu 2 bridge has started. In the near future, the province will implement many other projects such as Dinh Khao bridge (replacing Dinh Khao ferry), Tan Phu bridge construction project... This will bring about Ben Tre's fast development in coming time.
Especially, the coastal road connecting Ben Tre - Tra Vinh - Tien Giang and HCM City drives a new and breakthrough growth for Ben Tre, strengthening the connection of 3 coastal districts: Binh Dai, Ba Tri and Thanh Phu, and promoting the link between Ben Tre and Tra Vinh, Tien Giang and HCM City.
-Fifthly, Ben Tre population is about 1.3 million people, with very high working age percentage. Ben Tre can meet the demand of labour-intensive industries in early stage (FDI enterprises, processing industry, infrastructure construction…), which is supposed to be the foundation for knowledgeable economy in the future.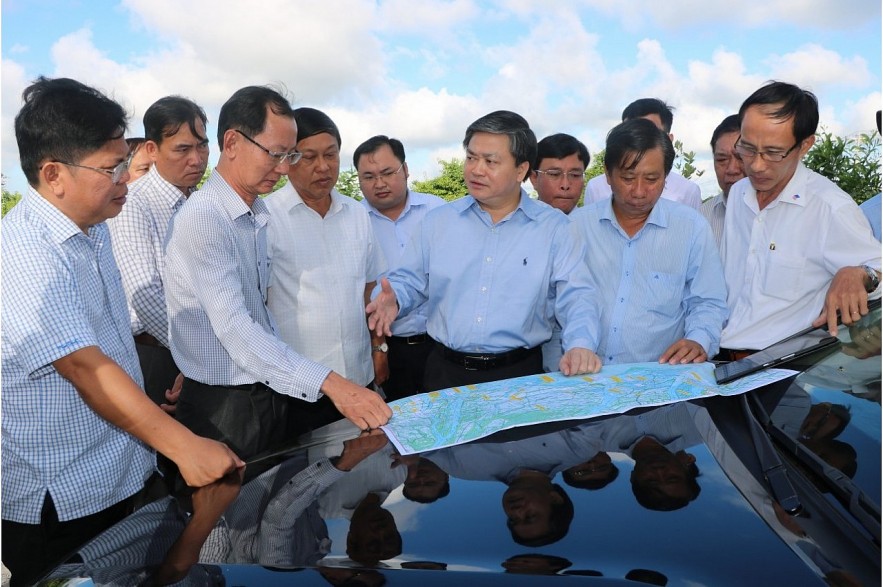 Mr. Le Duc Tho (middle) during a progress survey of the research on the coastal route through Ben Tre
- Earlier this year, in the working session with Ben Tre, National Assembly Chairman Vuong Dinh Hue emphasized on Ben Tre's development towards the East, including sea encroachment for new development space. How is this proposal linked to the Government's Action Plan for Resolution No. 13?
- Secretary Le Duc Tho: Developing sea encroachment area is in line with Ben Tre's development orientation towards the East according to Resolution No. 04-NQ/TU by Provincial Party Committee, in which the focus is on marine economic development associated with the provincial potential and advantages.
Ben Tre has also proposed to the Central Government to allow the pilot implementation of sea encroachment projects in some coastal areas to effectively exploit the potential of the marine economy, prevent landslides, create land fund and develop new space.
The province has also established a steering committee and marine economic zone development project. At the same time, investors also came to study, research and survey urban, commercial, service and seaport projects in 3 above coastal districts. Sea encroachment proposal was included in the Ben Tre Provincial Plan for the period of 2021 - 2030, with a vision to 2050, which is now is being submitted to the Central Appraisal Council for according consideration and approval.
- Ben Tre has a humble position as compared to other provinces. Having been Secretary of the Provincial Party Committee for nearly a year and a half, what are your concerns about the development of the province?
- Secretary Le Duc Tho: What I am most concerned is the socio-economic situation of the province, which has recently rapid developed but still below its potential: GRDP is relatively low with Per Capita Income in 2022 is only VND 49 million. According to a preliminary survey at the end of 2022, the province has 14,326 poor households, accounting for 3.55%.
The province still faces many difficulties in accessing export markets due to high transportation costs. The infrastructure still need much more investment to overcome such obstacles as many rivers and canals separating the provincial terrain, soft ground, lack of material resources...
Despite certain industrial development, Ben Tre does not have many production/processing industries with high added value; agro-fishery processing industry has not yet strongly developed; the development of the marine economy has not been adequate to its potential. Economic and technical infrastructure system, especially transportation and irrigation system are still weak. There are not many large enterprises but mainly SME enterprises with low science and technology application. Although the business investment environment has been improved, there are still limitations such as lack of clean land, difficulties in site clearance, high investment costs... Hence, not many business opportunities are made for investors and enterprises in expanding their production and business.
- In your opinion, what difficulties and challenges need to be completely identified for Ben Tre Provincial Party Committee can work out of comprehensive solutions?
- Secretary Le Duc Tho: Due to extensive international integration, Ben Tre will face competitive pressure from international market, domestic market and other provinces in the Mekong Delta region. Ben Tre is one of the southwestern coastal provinces most affected by climate change and sea level rise. Climate change, saltwater intrusion, riverbank and coastal erosion have been increasingly severe with serious impact on production and people's lives, taking a lot of society's resources which should be spent on socio-economic development instead.
There're also challenges due to the competition between agriculture, industrial development and resettlement land fund. The clear land fund of invested industrial zones/clusters is no longer available. Meanwhile, it is difficult to make new clear land funds for domestic and foreign investors.
Although labour's professional and technical knowledge has much been improved thanks to training but still does not meet the demand for high-quality human resources. In addition, well-trained labour may tend to leave Ben Tre for better opportunities, affecting the local workforce and culture.
- What future do you expect for Ben Tre after the action plan of Resolution No. 13 is promulgated and strongly implemented?
Secretary Le Duc Tho: As the head of Ben Tre Party Committee, in the coming time, together with the Provincial Standing Party Committee and the Provincial Central Party Committee, I will direct effective implementation the Provincial Party Committee's program for Resolution No. 13-NQ/TW; take advantage and maximize the potentials, advantages, development opportunities and achievements in the past years; overcome difficulties and challenges, mobilize and effectively use resources to create breakthroughs for fast and sustainable economic development; quickly narrow the development gap with other provinces in the region and country; reach the average annual economic growth rate of GRDP at 12 -13% by 2030; GRDP per capita as the national average level.
-Thank you very much