New US Ambassador to Vietnam Shares Tet Greetings
Ambassador Marc Evans Knapper sent new year greetings in Vietnamese in a virtual event, affirming that he would do his best to foster the U.S.-Vietnam relationship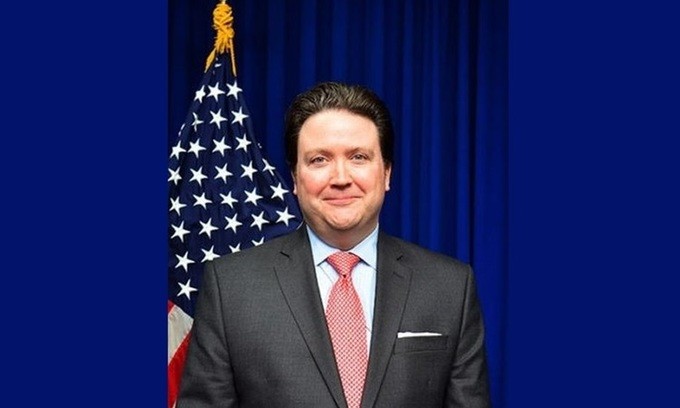 Marc Evans Knapper, new U.S. Ambassador to Vietnam. Photo by the U.S. State Department.
Knapper conveyed his "happy new year" wishes in the online Homeland Spring program hosted by Vietnam's Ambassador to the U.S. Ha Kim Ngoc on Jan. 21 to celebrate Lunar New Year 2022, a press release of Vietnam Embassy in Washington DC stated.
Knapper expressed his pleasure and honor to be returning to work in Vietnam as an ambassador, saying he would make every effort to boost bilateral relations, contributing to peace, security and prosperity in the region and the world, VNE reported.
On Dec. 18, 2021, the U.S. Senate confirmed Knapper as the next ambassador to Vietnam, eight months after his nomination by President Joe Biden.
Ambassador Marc Evans Knapper (top L) attends a virtual event celebrating Tet on Jan. 21, 2022. Photo courtesy of Vietnam Embassy in the U.S.
In the Friday event, Ambassador Ngoc stated that in 2021, Vietnam and the U.S have been resiliently fighting and controlling Covid-19 and recovering socio-economic activities. Both countries acquired significant achievements in all aspects of politics, economy, health, culture, education, science - technology, war legacies, people-to-people exchanges as well as in international and regional affairs.
He sent his new year wishes and sincere thanks to American and international friends, Vietnamese Americans for their support, expecting that Vietnam – U.S. relations would develop stronger.
There were 150 guests attending the event, including Deputy Assistant Secretary of State Mark Lambert and U.S. government representatives.
Last year, French President Emmanuel Macron also extended his Lunar New Year greetings on Twitter and Facebook in Vietnamese, Chinese, and Korean languages.
Macron said "I extend my best wishes to all those celebrating the Lunar New Year, and wish everyone health, success and happiness!"
His greetings in Vietnamese have received more than 17,000 likes, over 2,100 comments and some 1,900 shares on Facebook.
Macron's Lunar New Year greetings in Vietnamese. Photo: Captured
On February 12 morning last year, Macron shared a video on Twitter to "all our compatriots who celebrate the Lunar New Year," in which he wishes "the Year of the Ox full of joy, hope and happiness," according to China's Xinhua News Agency.
"Numerous people are in French mainland and overseas to share this cultural heritage and link with China, Korea, Vietnam and Southeast Asia," he said.
"Thanks to your dynamism and engagement in cultural, artistic, associative, economic and political domains, you contribute to the opening of France to new horizons and to the building of the future of our country," he added.
Top leader offers Tet greetings

Party General Secretary and State President Nguyen Phu Trong sent best wishes to all of the Vietnamese people, both inside and outside the country, on ...