New Year Support Given to Struggling Workers, Needy People
Despite formidable challenges caused by the Covid-19 pandemic, gifts were delivered to the needy across the nation.
Several groups of people, including children, the middle-aged and elderly, as well as disadvantaged students and families, have received gifts, ahead of Lunar New Year (Tet) - the biggest traditional festival in Vietnam.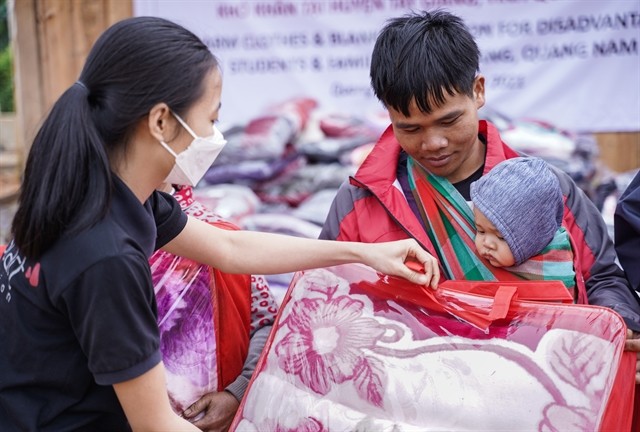 A Co Tu father and his son in Tay Giang district get warm clothes from Lifestart Foundation in a charity programme in Quang Nam Province. Photo courtesy of Lifestart Foundation
Lifestart Foundation, in cooperation with Quang Nam Union of Friendship Organizations recently visited and donated new warm clothes and blankets to disadvantaged students and families in Tay Giang district, reported Vietnam News.
238 gift parcels including 38 blankets and 200 sets of clothes with each set containing a warm coat, a hat, gloves, socks, and a scarf, valued at over VND 62 million (US$2,700). The new warm clothes were immediately put on the recipients to help them cope with the cold spell in this mountainous district.
95 children, 105 middle-aged and elderly people as well as 38 disadvantaged families, all are from the Co Tu ethnic minority group in Tay Giang district have benefited from this project.
Karen Leonard, Lifestart Foundation founder, hopes that the provision of this donation will not only help to keep underprivileged ethnic minority people warm this winter but also support to alleviate some of the difficulties for those living in already-struggling circumstances.
Warm clothes and blanket distribution are just one of the many Lifestart Foundation community activities in 2021, which included donation of much-needed hamper boxes; clean water systems for schools; and building new houses for families who lost their houses after floods, typhoon and landslides.
The Lifestart Foundation, a grassroots charity, found in 2000 by Australian Leonard, has helped disadvantaged Vietnamese families to become self-sufficient through education scholarships for disadvantaged students and housing improvements.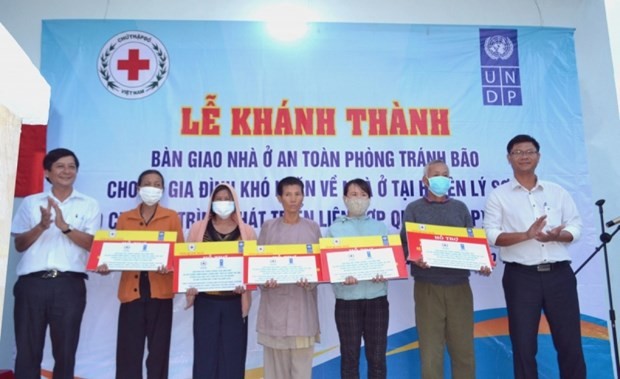 At the handover ceremony. Photo: VOV
In neighboring Quang Ngai province, 10 storm-proof houses were handed over to families in Ly Son island on Dec. 29, to ensure that everyone is able to enjoy a warm New Year, VNA reported on the same day.
The houses, each equipped with a solar power system, were designed by the provincial Department of Construction in line with criteria set for such building type.
They are part of a project funded by the United Nations Development Programme (UNDP) in Vietnam, with beneficiaries being poor and near-poor households; families with disabled members; and women living alone with their houses affected by storms.
According to a representative of the UNDP in Vietnam, storm-proof houses are among the most effective solutions to help Ly Son people reduce risks from natural disasters.
In addition to the building of these solar-powered shelters, more than 680 storm-proof houses were constructed in Quang Ngai with the assistance of the Green Climate Fund, the UNDP in Vietnam, and the Vietnamese Government.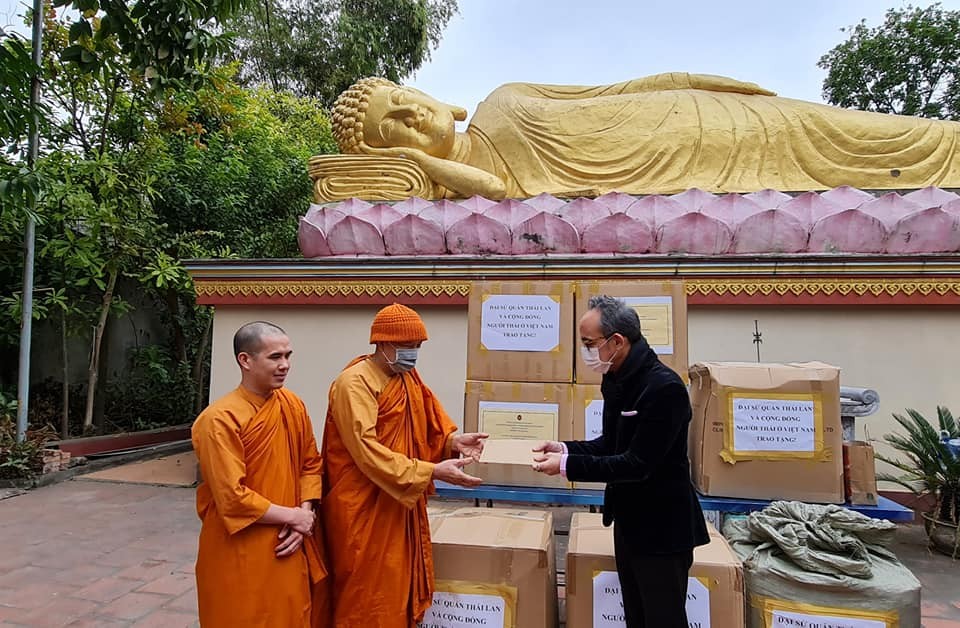 Nam Thien Pagoda pledges to ensure fast distribution of aid to the needy. Photo courtesy of Royal Thai Embassy in Hanoi
Thai Ambassador to Hanoi Nikorndej Balankura, his family, and embassy staff on Dec. 27 also presented essential items donated by the Thai community in Vietnam to Nam Thien Pagoda in Soc Son district on the outskirts of Hanoi.
The abbot of Nam Thien Pagoda and the representative of the Fatherland Front Committee of Soc Son district received the above items and sent their thanks to the entire Thai community in Vietnam for participating in this volunteering activity.
The temple will deliver these support items to give to people in difficult circumstances in Bac Quang district, Ha Giang province as soon as possible.