Over 100 people in Hanoi fined for not wearing face masks during holiday
As many as 110 people, including foreigners, were fined VND 300 million ($13,800) for not wearing masks in Ha Noi's Hoan Kiem district during the four-day holiday from April 29 to May 2, according to Bui Van Dang, deputy head of the district's police department.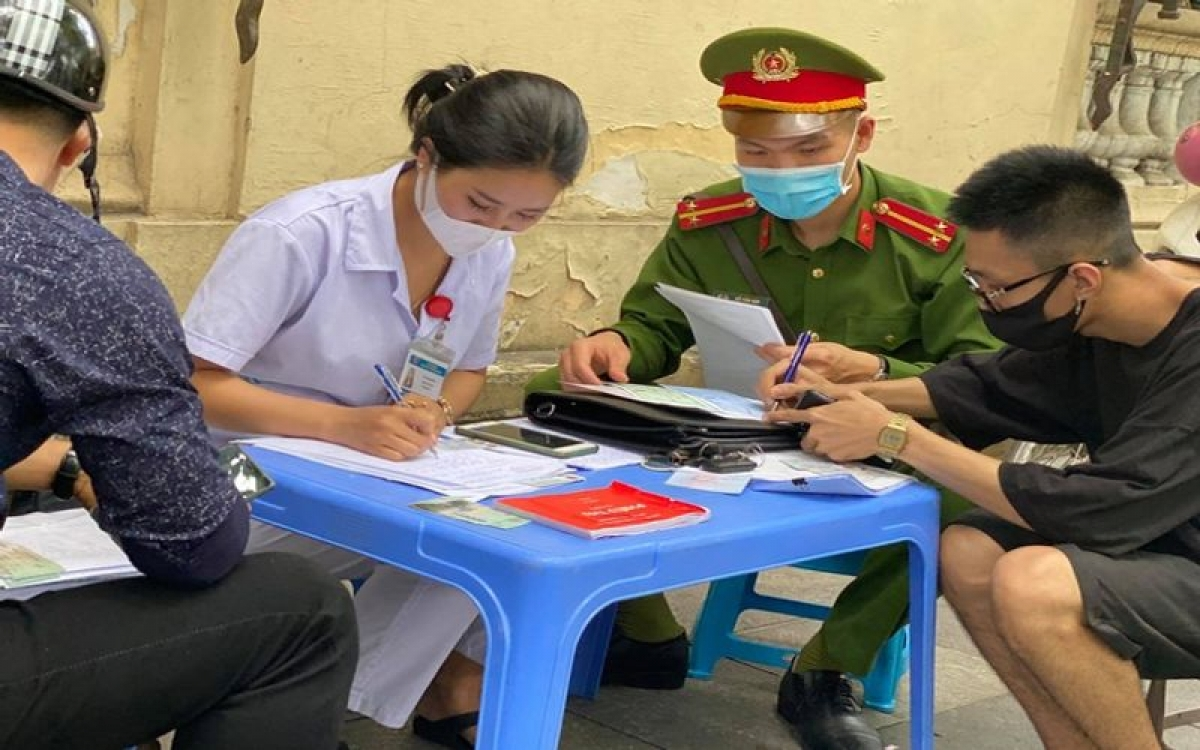 A coronavirus checkpoint in Hanoi's Hoan Kiem district asks people to wear masks in public. Photo: VOV
This move is an effort to prevent the spreading of the COVID-19 pandemic in the city. All people are required to follow the regulation strictly, according to Hanoitimes.
"Those found not wearing face masks in public have to pay a fine of up to VND3 million (roughly $130)," Dang said.
In Dong Anh District, five people were fined VND10 million for the same violation during the holiday.
Hanoi has confirmed four community transmissions, three of them making contact with a Ha Nam man who returned from Japan and tested positive after completing his two-week centralized quarantine, and the other one making close contact with an infected Chinese expert on a flight from Da Nang to Hanoi on April 29.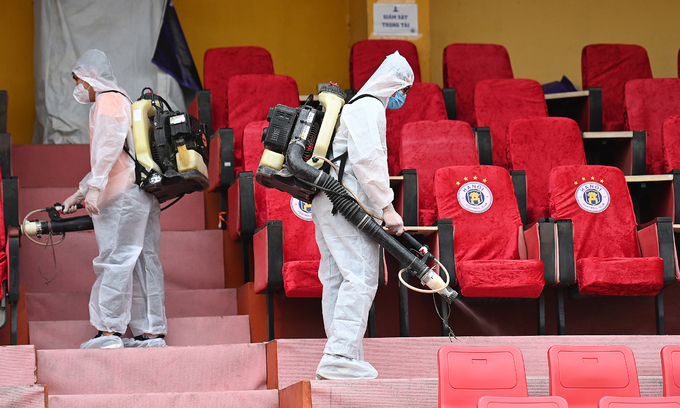 Two staff disinfect Hang Day Stadium in Hanoi, March 2021. Photo by VnExpress/Giang Huy.
The capital has suspended non-essential services like bars, karaokes, and dance clubs, as well as street food vendors and cafes to prevent the disease from spreading.
Theaters, massage parlors, spas, and gyms in the city also have to shut starting Wednesday to cope with the ongoing Covid-19 outbreak, municipal authorities said.
Municipal vice-chairman Chu Xuan Dung also said at a meeting Tuesday that events like birthday parties, death anniversaries, weddings, and grand openings of establishments are to be limited to the maximum extent.
Deputy PM urges more drastic actions against COVID-19
Deputy Prime Minister Vu Duc Dam has said though complicated, the COVID-19 pandemic has been basically under control, but more drastic actions are needed, Nhan Dan Newspaper reported.
During a meeting in Hanoi on May 4, Dam, who is also head of the National Steering Committee for COVID-19 Prevention and Control, said this outbreak is different from the previous three ones due to pressure from the southwestern border and the quicker spread of new variants from India.
He also reiterated a need to prepare for a plan in response to a scenario of having 30,000 infection cases, adding that all must strive to not make it happen.
Dam ordered that from 0:00 on May 4, all who have finished 14-day quarantine in concentrated facilities and tested negative for the coronavirus twice must temporarily stay there.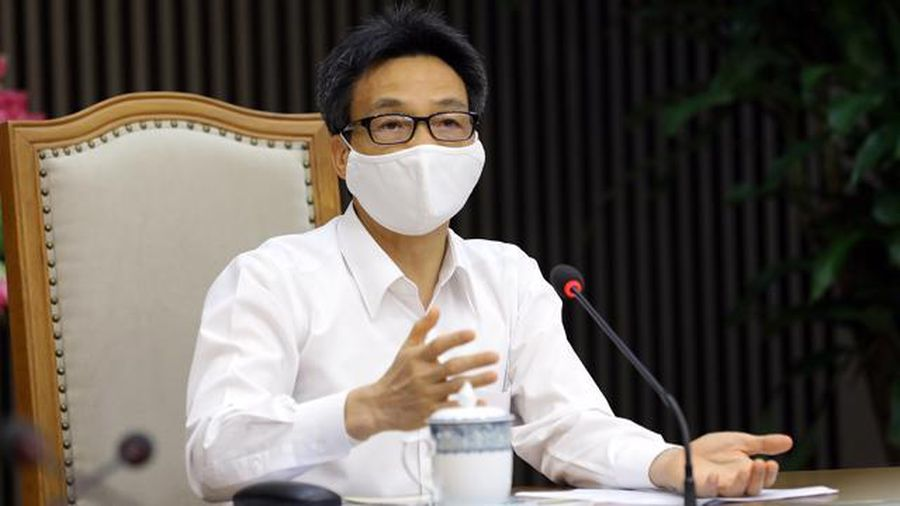 Deputy PM Vu Duc Dam speaking at the meeting. Photo: VGP
It is a must to enhance the monitoring of the pandemic in the community, zone off affected areas, and wipe it out as soon as possible, he said.
Warning of illegal entries across the border, he called on border guards, authorities, and mass organizations from border provinces to keep a close watch over immigrants.
Speaking at the event, Health Minister Nguyen Thanh Long urged localities to seriously follow the directions of the Secretariat, Government, Prime Minister, the National Steering Committee for COVID-19 Prevention and Control as well as guidelines of the Health Ministry, ministries, and agencies concerned because the transmission risk is very high.
He underscored a need to continue following the 5K principle, including compulsory mask-wearing in public places.
According to him, the Health Ministry is stepping up negotiations to bring vaccines to Vietnam and facilitate technological transfer to produce vaccines at home.
Vietnam logged no new COVID-19 infections in the past 12 hours to 6 am on May 5, making the nation's tally unchanged at 2,996 with 1,608 locally transmitted cases, according to the Ministry of Health.
The ministry's Department of Medical Examination and Treatment Department said the country has seen 2,560 recoveries so far.
A total of 40,736 people who came in close contact with COVID-19 patients or arrived from pandemic-hit areas are under quarantine nationwide, including 560 at hospitals, 21,733 other quarantine sites, and 18,443 at home.
Among patients under treatment, 24 have tested negative for SARS-CoV-2 once, 12 twice, and 38 thrice.
A total of 585,539 frontline medical workers and members of community-based anti-COVID-19 groups in Vietnam had been injected with the COVID-19 vaccine as of 4 pm on May 4. The country began its COVID-19 inoculation campaign on March 8.
In a bid to live safely with the pandemic, people should strictly follow the Ministry of Health's 5K message: khau trang (facemask), khu khuan (disinfection), khoang cach (distance), khong tu tap (no gathering), and khai bao y te (health declaration).