Over US$17.2 billion of remittances sent to Vietnam in 2020: World Bank
Vietnamese living abroad sent home 17.2 billion USD worth of remittances in 2020, a year-on-year increase of 3 percent, making the country the third-largest remittance recipient in the East Asia and Pacific region.
Vietnamese living abroad sent home $17.2 billion USD last year Photo Hanoi Times
The figure was revealed recently in a joint report named 'Migration and Development Brief' of the World Bank and the Global Knowledge Partnership on Migration and Development.
The number was higher than the World Bank's earlier estimate of 15.68 billion USD. In the East Asia and Pacific region, Vietnam came after China in remittances last year which received 59.5 billion USD, while the Philippines raked in 34.9 billion USD.
According to World Bank, despite Covid-19, remittance flows remained resilient in 2020, registering a smaller decline than previously projected. Officially recorded remittance flows to low- and middle-income countries reached 540 billion USD in 2020, just 1.6 percent below the 2019 total of 548 billion USD.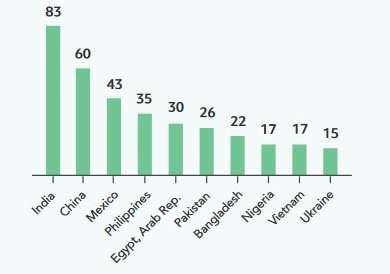 Vietnam was the ninth biggest remittance beneficiary in the world last year. Photo World Bank
With remittances equivalent to 5 percent of the country's gross domestic product (GDP), Vietnam was among the top 10 countries in the region by the share of GDP. This was the fourth straight year that Vietnam had been among the top 10 beneficiaries of inbound remittances. The figure was 13.8 billion USD in 2017, 15.9 billion USD in 2018 and US$17 billion in 2019.
In 2020, in current US dollar terms, the top five remittance recipient countries were India with some 83 billion USD, China with 60 billion USD, Mexico with 43 billion USD, the Philippines with 35 billion USD and Egypt with 30 billion USD.
"As Covid-19 still devastates families around the world, remittances continue to provide a critical lifeline for the poor and vulnerable," said Michal Rutkowski, Global Director of the Social Protection and Jobs Global Practice at the World Bank.
"Supportive policy responses, together with national social protection systems, should continue to be inclusive of all communities, including migrants," he said.
Dilip Ratha, lead author of the report on migration and remittances and head of KNOMA need for livelihood support said "They can no longer be treated as small change. The World Bank has been monitoring migration and remittance flows for nearly two decades, and we are working with governments and partners to produce timely data and make remittance flows even more productive."
Also in the report, the World Bank expected remittance flows to low- and middle-income countries to increase by 2.6 percent to 553 billion USD in 2021 and by 2.2 percent to 565 billion USD in 2022. Remittances are expected to grow twice as fast in Latin America and the Caribbean and in South Asia, but they are expected to decline further in Europe and Central Asia and remain sluggish in Sub-Saharan Africa./.
Focus
According to the Vietnam Trade Office in the US, the US market still has a lot of room for Vietnamese fruit to expand and develop due to the huge consumption demand with diverse needs.
June 05, 2023 | 09:07
Economy
(ANI): The Union Public Service Commission (UPSC) witnessed a three percent rise in the number of Muslims candidates who cracked the most competitive exam in the country this year.
June 03, 2023 | 06:00
Focus
The book "Vietnam's Direct Investment Abroad and in Myanmar" - the first in-depth publication on Vietnam's foreign investment lauched on May 31 in Hanoi.
June 02, 2023 | 16:12