Pandemic-hit province calls for medical personnel, students to join Covid battle
Bac Ninh Department of Health has called for medical personnel, including the retired and students, to join fight against the coronavirus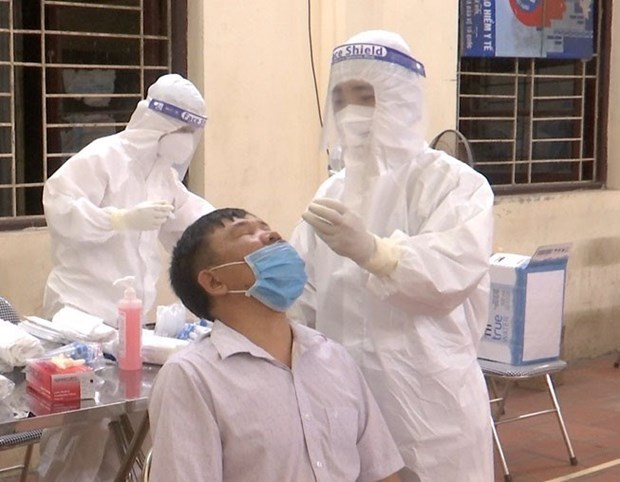 A resident in Mao Dien commune of Thuan Thanh District in Bac Ninh has a sample taken for Covid-19 testing. Photo: VNA
Bac Ninh Province has reported 102 Covid-19 cases in the past five days, 90 of which have been detected in Thuan Thanh District, making it the largest hotspot in the province, according to Vietnamese VnExpress.
As the Covid-19 situation is worsening, Bac Ninh Department of Health has appealed for medical officers, workers and students to join the Covid-19 fight to reduce the workload for frontline forces. Students at Bac Ninh Medical College are currently taking part in the battle.
Volunteers need to provide their full name, date of birth, qualifications, place of residence, place of working and studying and phone. They can contact 0975717833 (Bac Ninh Department of Health) or email tccbsybacninh@gmail.com for further information.
Vice Chairman of the Bac Ninh People's Committee Vuong Quoc Tuan (first from right) inspects a quarantine post in Thuan Thanh District's Mao Dien commune. Photo: VNA
The whole of Thuan Thanh District, home to 182,000 people, has applied social distancing starting May 9.
The health sector has rushed to conduct contact tracing and take samples from all F1 and F2 cases. Thuan Thanh has contact traced 1,452 F1 cases, 4,350 F2 and 6,463 F3. All F1 cases have been put under centralized quarantine. A total of 651 Covid-19 community groups have been established in the province.
More centralized quarantine facilities have also been set up.
Two field hospitals at the Medical Centers of Tien Du and Gia Binh Districts, which can receive 200-250 Covid-19 patients, will be established.
Vietnam confirmed 28 new Covid-19 infections, all detected in locked-down areas in the north, over the 12 hours to 6 a.m. on May 11, taking the national tally to 3,489, according to the Ministry of Health.

The new patients comprise one in Hanoi's Kim Chung facility of the National Hospital for Tropical Diseases, 13 in Bac Ninh, seven in Vinh Phuc, five in Bac Giang, one in Lang Son and one in Hai Duong.

So far, the country has counted 1,433 imported cases and 2,056 domestic infections – 486 of which have been found since the fourth coronavirus wave hit the country on April 27. A total of 211,016 samples have also been collected for Covid-19 testing since then, the ministry said.

As many as 67,877 people who had come into close contact with Covid-19 patients or entered Vietnam from pandemic-hit areas are under quarantine or self-quarantine nationwide at present.

The total number of recovered cases remains at 2,618. Among active patients, 25 have tested negative for the coronavirus once, 17 twice and 25 three times.

The ministry added that 25,057 more people were vaccinated against the virus on May 10, raising the number of vaccine doses administered in Vietnam to 892,454. Most of the vaccinated are health and frontline workers..

Residents have been required to strictly adhere to the 5K message comprising khau trang (face masks), khu khuan (disinfection), khoang cach (distancing), Khong tu tap (no gatherings), and khai bao y te (health declarations).