PeaceTrees continues UXO-clearing efforts in Quang Tri
The COVID-19 pandemic had impacted unexploded ordnance (UXO) operations. However, PeaceTrees Vietnam still maintain two teams in response Quang Tri people's emergency call.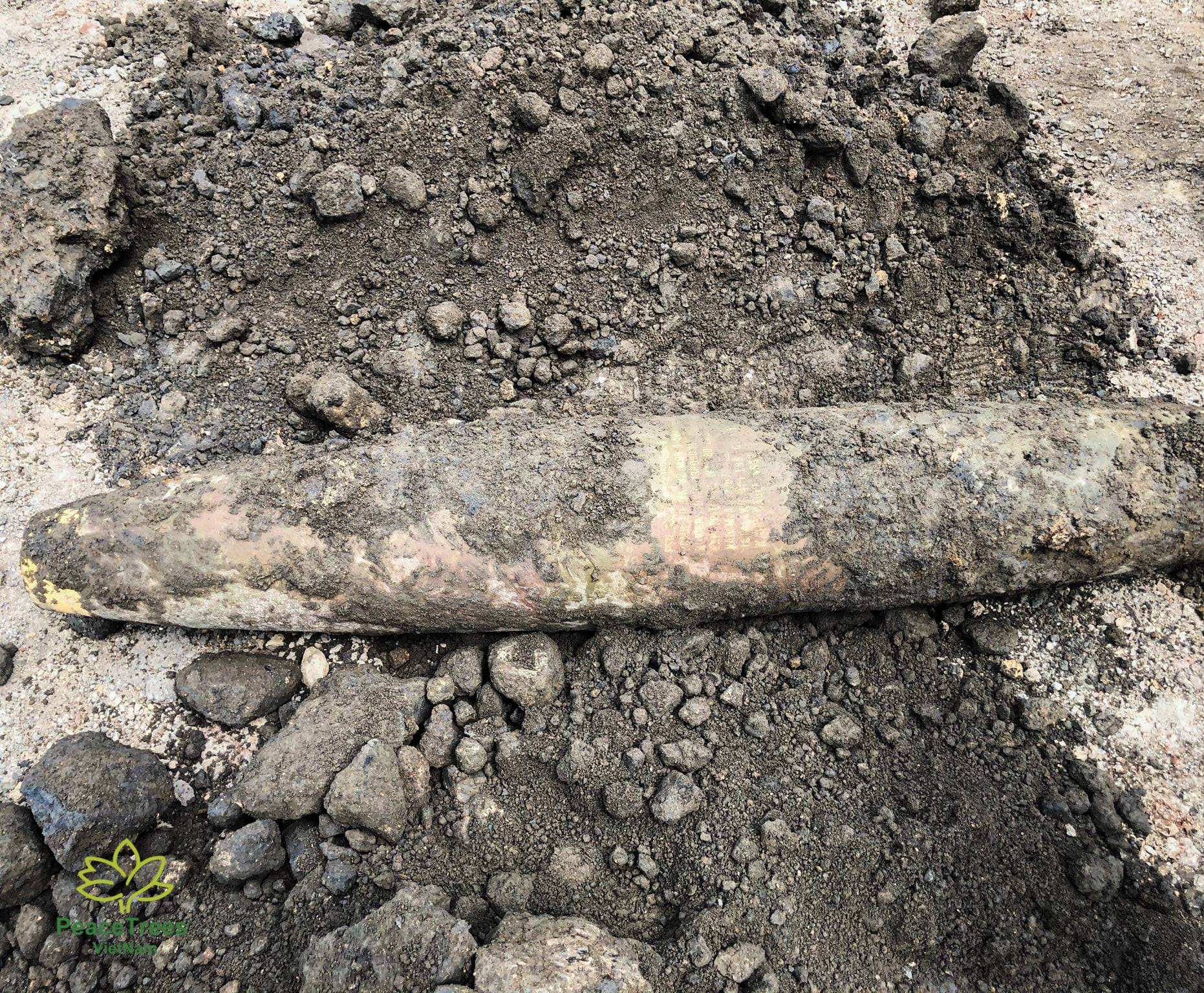 Discovered by quarrymen, the bomb was about 20 metres underground. Source: PeaceTrees Vietnam
On the afternoon of August 20, a worker working at a quarry at Luong Le village, Tan Hop commune, Huong Hoa district, central Quang Tri province found a bomb under the ground.
The case reported to Quang Tri Mine Action Center via hotline 0901 941 941 and transferred to the Explosive Ordnance Disposal Team No. 1 (team EOD 1) of PeaceTrees Vietnam. Immediately, the team moved to the site, checked surrounding area, placed danger warning signs, cooperated with local authority and people to temporarily block the area for safety, at the same time, built a plan to excavate the bomb.
Through verification, this was the bomb left over from the war; it's a US-made MK-82 bomb with a length of 1.54 m, a diameter of 274 mm and a weight of about 227 kg. The bomb's signs and paint color remained intact, with no tail fuse, head fuse broken horizontally, and EOD expert defined it safe to be moved.
Due to the difficult terrain, it took more than two hours for the team to reach and access the bomb and safely move it to the storage location to conduct destruction.
The US-made MK82 bomb was 1.54 metres in length. Source: PeaceTrees Vietnam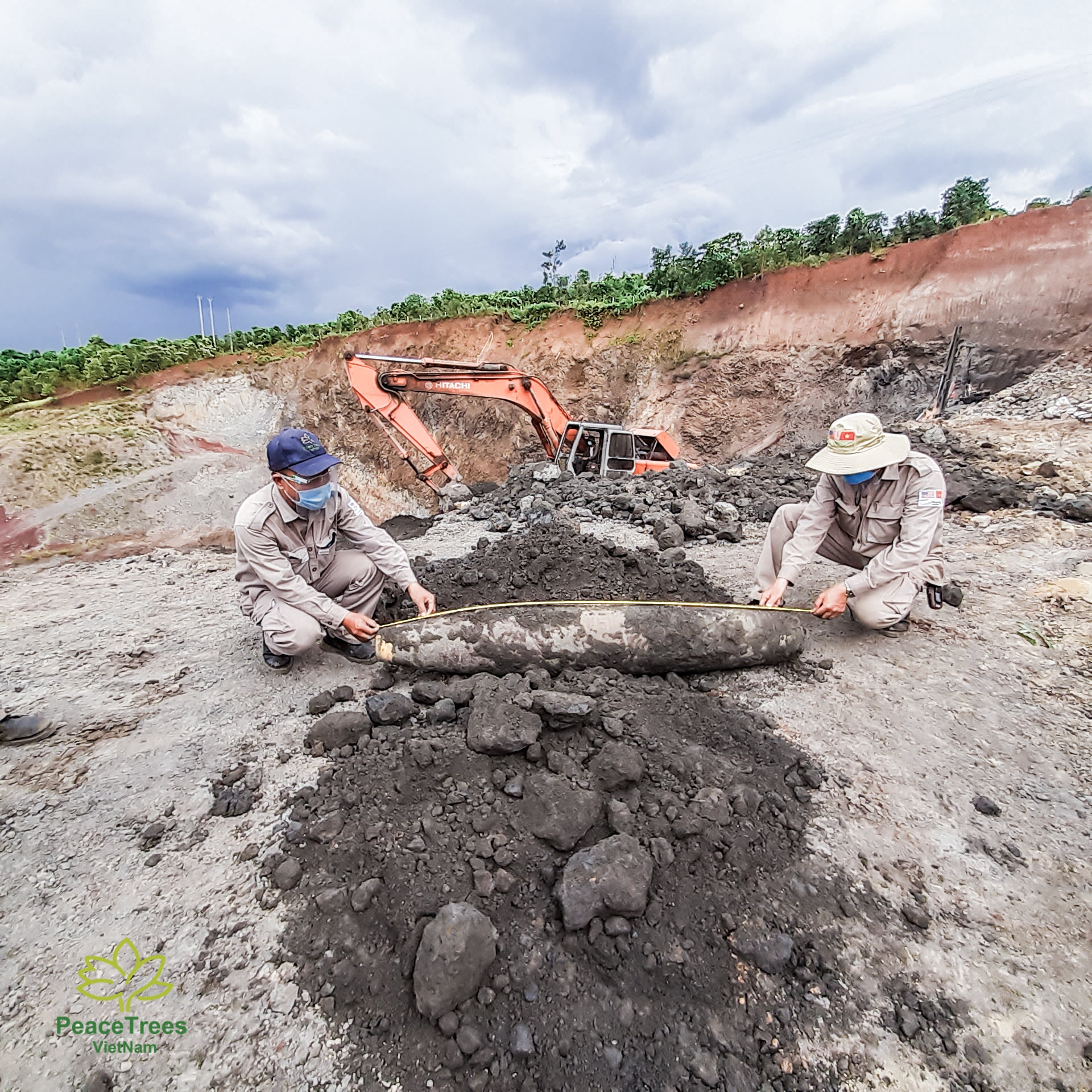 It took the team two hours to approach it, evaluate its condition, and then remove and destroy it. Source: PeaceTrees Vietnam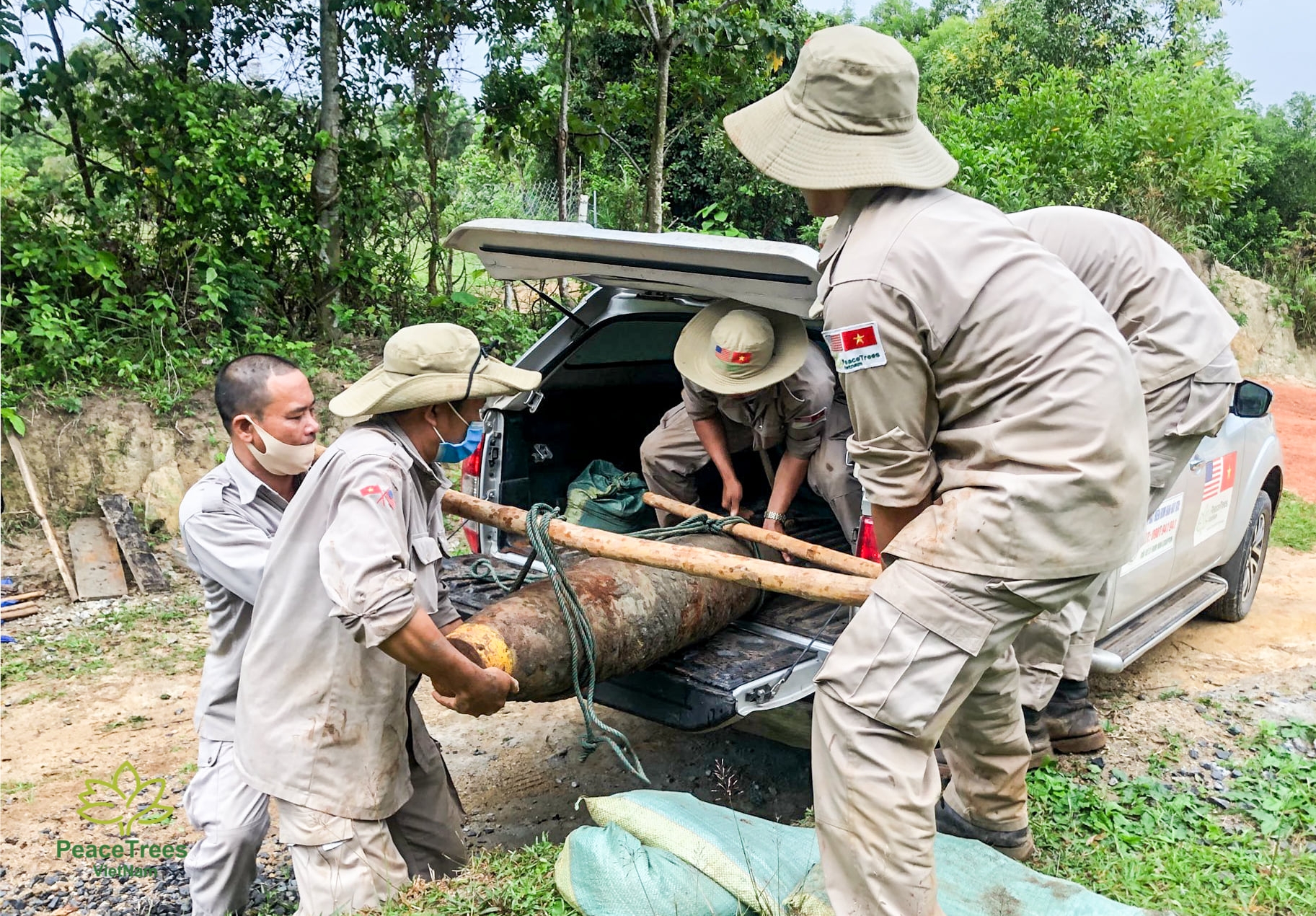 The bomb was moved to a disposal site and safely handled there. Source: PeaceTrees Vietnam
PeaceTrees Vietnam is a US non-governmental organisation specialising in healing the legacy of war by removing UXO and returning the land to safe use.
Quang Tri is the most severely contaminated place for bombs and mines in Vietnam. It has seen over 3,400 deaths and 5,100 injuries from UXO since the war ended in 1975.
The COVID-19 pandemic has been happening so complicated in Vietnam Since a recurrence of COVID-19 in late July, Quang Tri province has recorded seven cases of infection. However, besides the threat of this disease, people of Quang Tri is still facing with the threat of accident from the explosive remnant of war (ERW).
During the time that many activities have been paused for social distancing, to ensure the safety for people, being approved by Quang Tri's Department of Foreign Affairs, PeaceTrees Vietnam still maintain two teams in response the people's call out (or EOD spot task). Their well-equipped team members' now been provided adequate self-protection supplies to conducted their work.
Only a couple days from August 10, the teams have received and responded about 20 tasks at districts: Huong Hoa, Cam Lo, Gio Linh, Trieu Phong, Hai Lang, Quang Tri town and Dong Ha city. As the result, there were almost 80 ERW items found, in which one cluster munition and 140mm grenade were detonated on spots, the others were removed to safe storage.
These items were found by local people at their farms, rice fields, river bank or even right in their garden./.