Reading Culture in Truong Sa (Spratly)
In Truong Sa (Spratly) island district, Khanh Hoa province, the means of information and entertainment are not as diverse as in the mainland. Books are like confidants of island soldiers, creating beautiful, intimate moments on remote islands.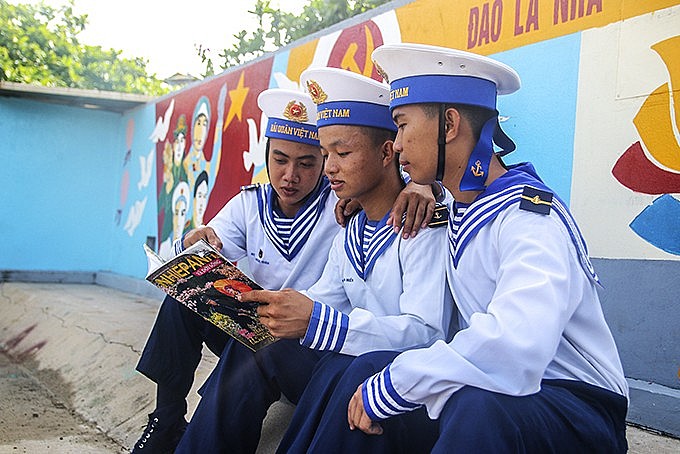 Soldiers read books and newspapers on Truong Sa Dong island.
Friend of soldiers on the island
On the eight islands of Truong Sa (Spratly) district and DK1 rig, there are always bookcases. Books and newspapers are neatly placed there.
Receiving a mission on Da Lat island for four months, Private First Class Nguyen Phuc Thinh (21 years old, from Cam Lam district) said that when he first came to the island, he could not avoid nostalgia for his family.
Along with the encouragement of officers and soldiers on the island, books and newspapers are his confidants, helping him to overcome the initial time.
The bookcase on the island has more than 500 books, with a variety of topics on history, culture and law. When reading books and newspapers, he knows more about his homeland's sovereignty over the sea and islands, about those who have sacrificed themselves for the country. He raised his determination to complete the assigned task.
Private First Class Nguyen Van Bi, soldier on Thuyen Chai A island came to books, and gradually formed the habit of reading books. Soldier Nguyen Van Bi said: Whenever I have free time, I always read books. Reading books helps me gain more knowledge, understand more about my hometown and country, and relieves my homesickness.
In the Truong Sa (Spratly) archipelago, depending on the space, each island has hundreds to thousands of books.
For example, Sinh Ton island has a reading room, a newspaper with 3,500 titles and more than 30 newspapers and magazines of all kinds: law, education, and health.
At the DK1 rig, despite the small space in the middle of the sea, officers and soldiers here still have a bookcase about President Ho Chi Minh right next to the meeting room.
Books in Truong Sa are mainly periodically supplemented, donated by organizations and local authorities. Every 6 months, the 146th Brigade, 4th Naval Region, will exchange books on the islands so that the soldiers can read more books.
The bookcases are neatly arranged; located in the common areas, in the Ho Chi Minh room or the library on the island. People can easily borrow books there.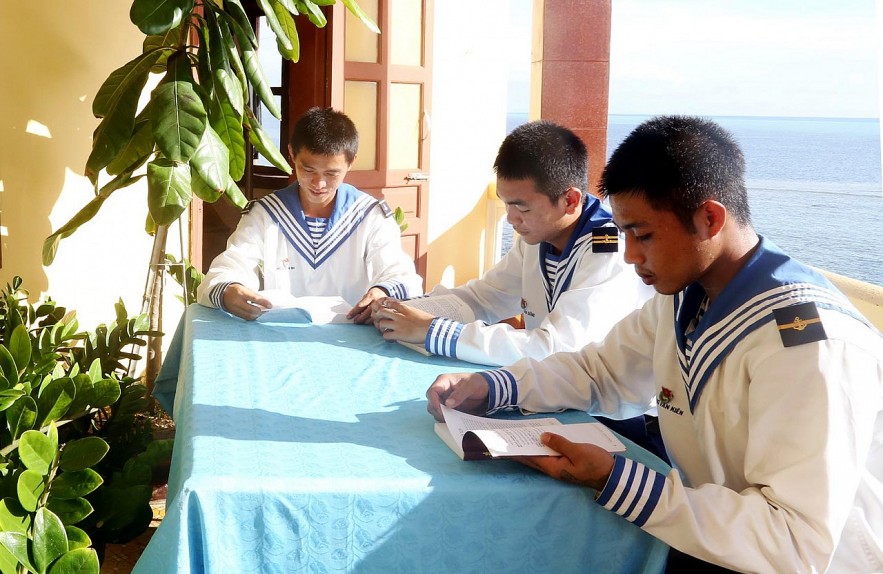 Photo: baohaiquanvietnam
Valuable source of knowledge
Banh Huu Tinh, primary school teacher in Truong Sa town said that in Truong Sa (Spratly), where there is no 3G and 4G signal, the value of books and newspapers is extremely important. The library of books and newspapers becomes the spiritual and cultural center of each island. It is an effective source of knowledge so that every day, outside of class time, he comes to find suitable materials to teach students.
Hoang Van Thao, politician of Da Lat Island (Truong Sa district) also said that, in addition to training and duty time, officials and soldiers on the island often go to reading rooms to borrow books to read.
The unit also views tapes and discs about the traditions of the Navy. Every week, officials and soldiers on the island listen to political and social issues of the country.
Activities of reading books and newspapers; Youth union, cultural and artistic activities took place vibrantly. They promptly encouraged the people on the island to rest assured to firmly protect the homeland's sacred sea and island.
The books in Truong Sa are cherished by the soldiers on the island. They help enrich the spiritual life, contribute to improving knowledge, and spread the beauty of reading culture in Truong Sa.