Scottish in Hanoi goes to prison for drug offences
A Vietnamese man in Hanoi was sentenced to 18 years in imprisonment for trafficking drugs while his Scottish accomplice was pronounced two-year jail.
Nguyen Duc Manh, 35, and Andrew Eachan Alexander, 26, were found guilty of "illegal trading in narcotic substances". The latter should be deported from Vietnam upon release from prison, the Hanoi City People's Court ruled on August 3.
Manh was a drug addict and ran an eatery in Hanoi's Old Quarter. He became acquainted with many foreigners looking for drugs, learned online how to mix drugs with additives and coloring, ordered equipment from a Chinese shopping site, produced synthetic narcotic pills on his own, and sold them to foreigners for VND300.000 each, according to VNExpress.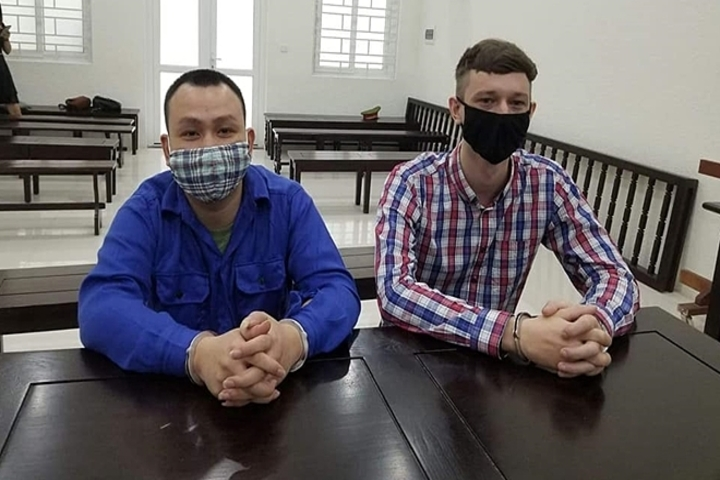 Nguyen Duc Manh (L) and Andrew Eachan Alexander sit at a trial for trading drugs in Hanoi, August 3, 2020. Photo courtesy of Hanoi Police.
In December last year, police officers arrested Alexander with two bags of marijuana and three ecstasy pills. He confessed to officers that he had acted as a "middle man" for Manh, and would buy drugs from him then sell them to others, mainly foreigners.
Based on his testimony, officers raided Manh's house and seized 232 grams of methamphetamine and a small amount of ketamine.
They detected he had sold in all 232 grams of meth and two grams of ketamine while the Scotsman had sold 1.4 grams of ecstasy and meth and five grams of marijuana.
More drugs discovered as an investigation into ring led by former Korean police officer expands
Police arrested 15 suspects and have seized 19 bricks of heroin and 120kg of various types of drugs in the last two days after searching 11 locations, including nine in HCM City and two others in the southern province of Dong Nai, informed Vietnamnet.
Among the seized drugs, 75kg of methamphetamine was found at a storehouse in HCM City's Binh Chanh District, while another 30kg of methamphetamine was found at a storehouse in Tan Binh District.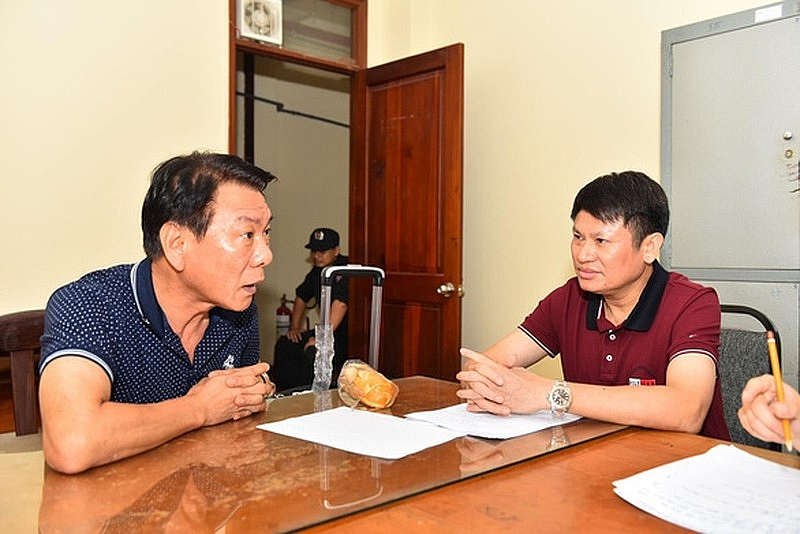 Kim Soo-Sik questioned by police. Photo: Vietnamese police.
The crackdown is part of an expanded investigation into a transnational drug trafficking case involving South Korean, Chinese, and Vietnamese suspects which police uncovered on July 19.
On that day, when examining a container in HCM City's Cát Lái Port, police found 40kg of methamphetamine hidden in granite blocks in the container. At the time of inspection, the container was set to be sterilized before being shipped to Incheon Port in South Korea.
Examining five locations in the city, authorities seized five suspects including two Chinese, two Koreans, and one Vietnamese national. Of them, Kim Soo-Sik, 50, a South Korean and a former police officer was believed to be in charge of the drug trafficking ring. The drugs were intended to be sold in southern localities or exported.
Lao Cai police break big trans-border drug trafficking ring
Police in the northern border province of Lao Cai said on August 3 that they have broken down a drug trafficking ring, seizing three suspects and 84,800 tablets of meth.
Cu A Vang, born in 1972, residing in Nam Tin commune, Nam Po district of Dien Bien province; Tran Thi Din, born in 1979 and Vang Thi Pang, born in 1986, both from Muong Khuong district of Lao Cai province, were arrested on July 31 in O Quy Ho ward, Sa Pa district while transporting the drugs, according to Vietnamnet.
The suspects are part of a trans-national drug trafficking ring that avoided police by changing the delivery method and addresses regularly.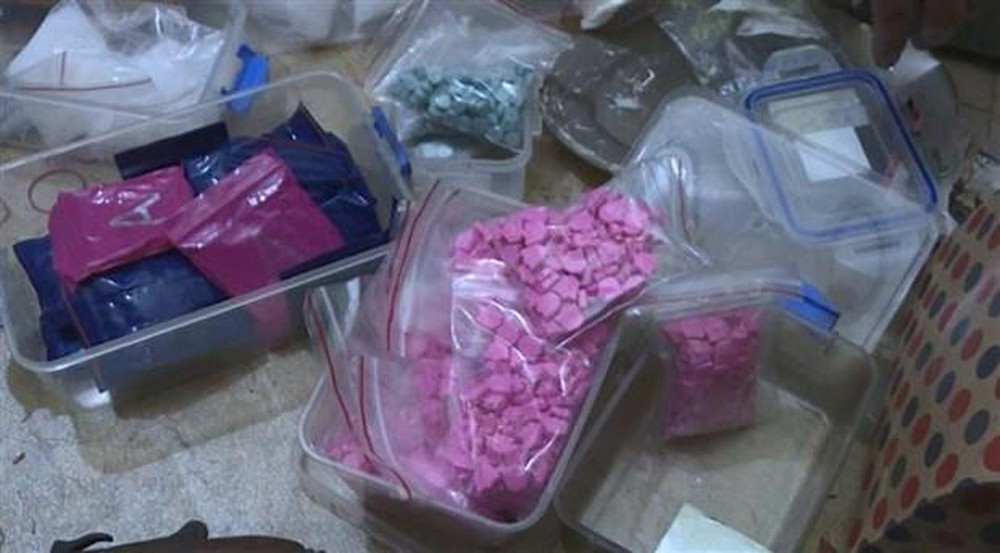 Illustrative photo: Bao Moi
At the police station, they said that they took the drugs from a Lao national called "Minh" who hired them to transport the drugs from an area on the Vietnam-Laos border in Nam Po district of Dien Bien to Lao Cai city, and then deliver to a Chinese called "Thao" for 150 million VND. Pang and Din took the role as guides for Vang to the delivery address where they were arrested.
Vietnam has some of the world's toughest drug laws. Those convicted of possessing or smuggling more than 600 grams of heroin or more than 2.5 kilograms of methamphetamine face the death penalty. The production or sale of 100 grams of heroin or 300 grams of other illegal narcotics is also punishable by death.