State President pushes for stronger Vietnam-China relations
In its foreign policy, Vietnam attaches great importance to developing the friendly neighborliness and comprehensive strategic cooperation partnership with China, State President Nguyen Xuan Phuc has said.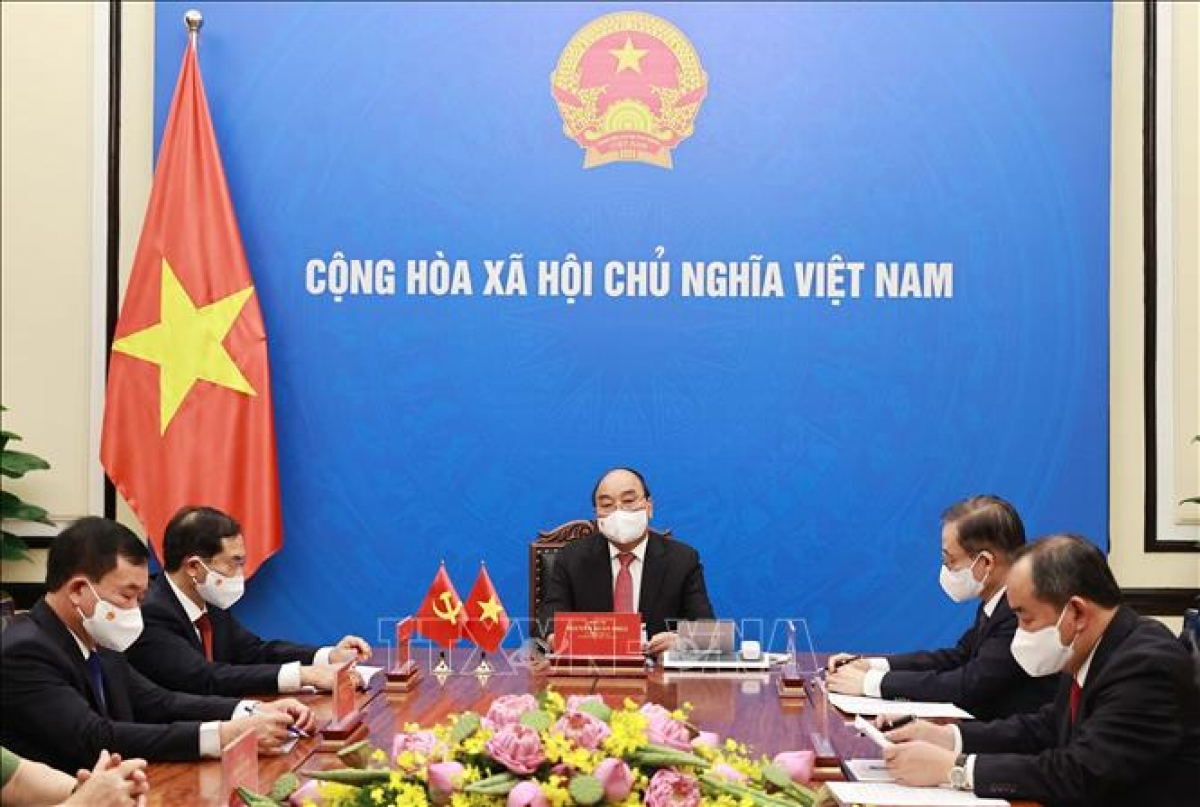 State President Nguyen Xuan Phuc has invited Chinese Party General Secretary and State President Xi Jinping to visit Vietnam during his phone talks with the top Chinese leader on May 24. (Photo:: VNA)
Phuc made the affirmation during his phone talks on May 24 with Chinese Party General Secretary and State President Xi Jinping.
He congratulated the Communist Party of China on its upcoming 100th anniversary celebrations as well as the tremendous achievements China has recorded over the years, including building a moderately prosperous society. He expressed his belief under the leadership of the Communist Party of China, the Chinese people will reap greater successes in the party's second 100-year anniversary.
Briefing the Chinese leader on Vietnam's situation, Phuc noted that despite the negative impact of the COVID-19 pandemic, Vietnam has successfully accomplished the dual goal of epidemic prevention and economic recovery. It has also successfully held the general election to elect deputies to the National Assembly and grassroots-level People's Councils for the 2021-2026 tenure.
Vietnam is facing many difficulties and challenges, but its people will continue to unite and strongly promote internal resources to surmount the difficulties, Phuc affirmed, adding that in this process Vietnam hopes to receive cooperation from countries around the world, including China.
During the talks, the Vietnamese State President outlined a number of key measures to strengthen the two countries' relations in the time ahead, including building up trust, and promoting comprehensive, equal and mutually beneficial cooperation.
He proposed that the two countries strengthen bilateral cooperation in COVID-19 prevention and control, improve the quality and efficiency of economic, trade and investment cooperation, and increase local cooperation and people-to-people exchanges.
The two countries should make efforts to maintain a peaceful and stable environment, jointly handle sea-related issues in accordance with high-level common consensus as well as international law, including the 1982 United Nations Convention on the Law of the Sea, while continuing to strengthen coordination at multilateral forums, Phuc said.
He sincerely invited Party leader and State President Xi and other senior Chinese leaders to visit Vietnam.
For his part, Party General Secretary and President Xi Jinping expressed his belief that under the clear-sighted leadership of the Communist Party of Vietnam (CPV), the Vietnamese people will successfully realize the goals and tasks set out by the 13th CPV Congress held earlier this year.
He affirmed the Chinese Party, State and people's desires to continue strengthening the friendship and cooperation with their Vietnamese counterparts, vowing to take the comprehensive strategic cooperation partnership between Vietnam and China to new heights.
Underlining the importance of increasing high-level reciprocal visit exchanges and contacts, Xi invited Vietnamese Party General Secretary Nguyen Phu Trong and State President Nguyen Xuan Phuc to visit China.
He acknowledged Vietnam's interest in bilateral cooperation projects, and suggested that the ministries, agencies and localities of the two countries should increase exchanges to create a platform for mutually beneficial cooperation while managing differences and strengthening cooperation on maritime issues.
The Chinese leader reiterated China's support for Vietnam at multilateral cooperation mechanisms and expressed his country's willingness to cooperate and support its neighbour in the COVID-19 fight.
english.vov.vn