Vietnam calls for closer cooperation at 2021 Boao Forum for Asia
Vietnamese State President Nguyen Xuan Phuc proposed countries ramp up cooperation to address global challenges, in his video speech at the 2021 Boao Forum for Asia.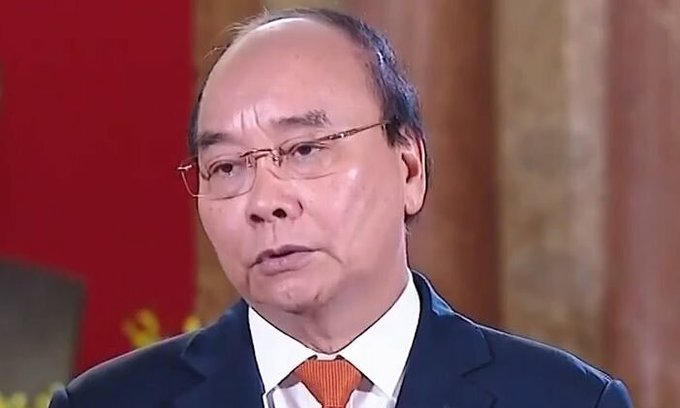 President Nguyen Xuan Phuc is seen in a video sent to the Boao Forum for Asia on April 20, 2021. Photo by Vietnam Television.
Vietnamese State President Nguyen Xuan Phuc proposed countries ramp up cooperation to address global challenges, including COVID-19 and climate change, in his video speech at the 2021 Boao Forum for Asia in China's Hainan province on April 20.
Solidarity, cooperation in dealing with challenges
The world is facing unprecedented challenges which cannot be solved by a single country, Phuc said, noting that only cooperation and solidary could bring about success.
He called on countries to take joint actions for inclusive, sustainable and safe development for all.
Due attention should be paid to certain issues, including promoting cooperation in disease control and prevention, improving the capacity of the public health system and ensuring the accessibility to vaccines at reasonable costs for countries.
Countries should also maintain macroeconomic stability, facilitate trade and investment, settle international trade barriers, secure supply chains, boost production, create jobs and improve the resilience of the economy against possible similar shocks in the future, he said.
It is necessary to mobilise necessary resources for sustainable and inclusive economic development, towards materialising the UN sustainable development goals set for 2030, especially those on climate change response, clean energy, sustainable management of natural resources, and education, the leader continued.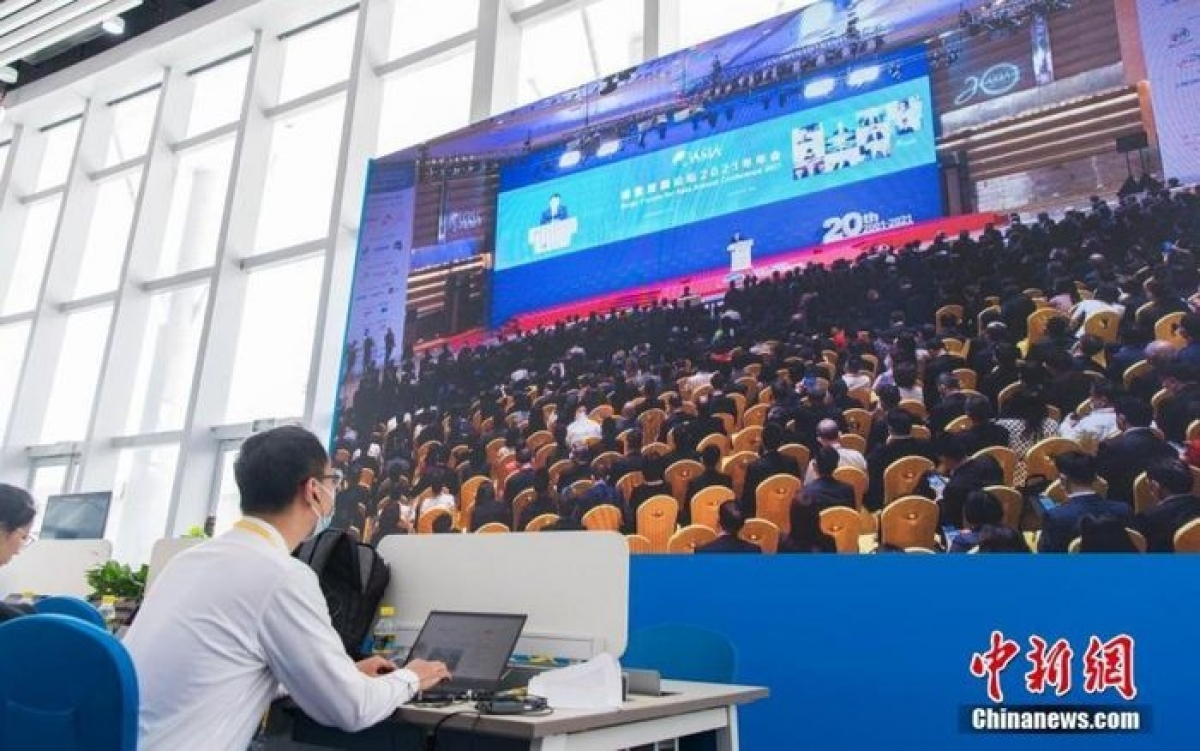 The 2021 Boao forum for Asia opens in China on April 18, drawing the participation of heads of state and government of many Asian countries, as well as economic experts, scholars and businesspeople in the region. Photo: Chinanews via VOV
Another priority is building a synchronous infrastructure system and developing human resources for digital transformation so that none will be left behind, he said.
The President praised achievements the Boao Forum for Asia has recorded over the past two decades, expressing his hope that the forum continues to serve as a communications channel for politicians, scholars, and businesses regarding key regional matters.
Vietnam wishes to enhance ties with China
Mentioning Vietnam – China cooperation, President Phuc said the countries are close neighbours that have worked closely together to contain the COVID-19 pandemic, maintain economic growth and become bright spots the region and the world at large.
Vietnam wishes to enhance comprehensive, effective, equal, and mutual beneficial cooperation with China so that the two could together overcome the pandemic, maintain a peaceful and stable environment, and strengthen the bilateral ties, he affirmed./.
The Boao Forum for Asia Annual Conference 2021 (AC2021) is set to run from April 18 to 21.
Under the theme "A World in Change: Join Hands to Strengthen Global Governance and Advance Belt and Road Cooperation," it consists of six modules - "Explore China", "Understand the Changing World", "Belt and Road Initiative Cooperation", "Embrace the Industrial Changes", "Dance with New Technologies" and "Development for All".
The Boao Forum for Asia is an international organisation jointly initiated by 29 member states. It holds its annual conference in Boao. The founding purpose of the forum is to promote economic integration in Asia. It has since said the mission is to pool positive energies for the development of Asia and the world.