Struggling Due to Covid, Citizens Walk for Miles to their Hometowns
Unemployed and cannot afford coach or train tickets, many people walk from big cities to their hometowns.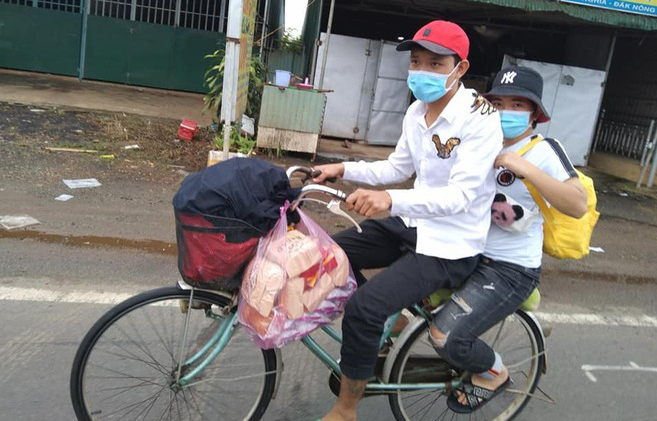 Tran Thi Huyen and Tran Van Du were gifted a bike to go home. (Photo: Zing)
Losing jobs due to Covid, unable to buy tickets home
After months of struggling with the pandemic, Tran Thi Huyen (18 years old) and Tran Van Du (17 years old) decided to leave Binh Duong, the city where they work to their hometown in Kon Tum province, which is more than 250 km apart. Unemployed, having no savings left, they had no choice but walking home.
"At that time we only had VND 200,000 (USD 9) left. Knowing we could not afford to live in the city anymore, we decided to go home. However, to cope with the pandemic, cross-province traffic was halted. We carried some clothes and cakes with us and walk home," said Huyen.
Tran Van Khanh, a worker in Dak Lak province, had walked 180km in 16 days, trying to reach his sister's house. Khanh came to Buon Me Thuot city in Dak Lak to work. More than two months ago, he broke his leg and ribs and could no longer work. The man planned to leave the city and come to his sister's house in Binh Phuoc, about 250 km from Dak Lak. When he could not afford a ticket to Binh Phuoc, the man had to undertake a hard journey.
Earlier in June, a group of 47 people was found walking along Highway 1A toward their hometown in Quang Ngai. They left home to work on an afforestation project more than 400 km away. Due to the low income and the pandemic, they had to walk home.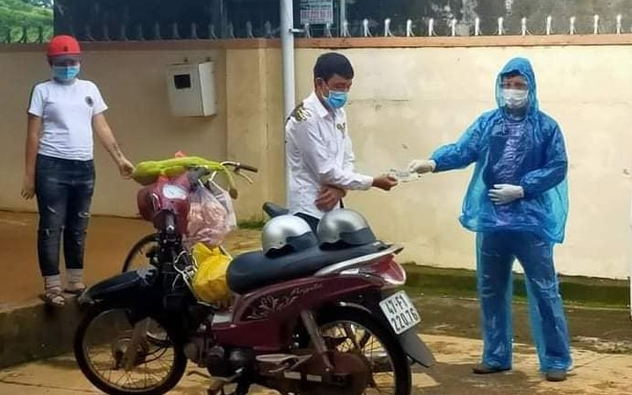 Using the donated money, Huyen and Du bought an old motorbike. (Photo: Zing)
Receiving help on the road
Tran Thi Huyen and Tran Van Du said to reporters that they reached their hometown after three days of traveling, thanks to the help of the local people and authorities that they met along the road. Huyen said that after walking for over 10 km, they were exhausted and sat down to rest. Seeing them sitting by the sidewalk, local people gave Huyen and Du a bike to continue their journey.
When they reached a pandemic control point in Dak Nong province (more than 100 km from their home). Having no Covid test results, they were not allowed to enter the province and had to spend the night in the control point. Listening to their stories, the local authority helped them call for donors and do the Covid test. Quickly after that, Huyen and Du were gifted cash and food. They used the money to buy a motorbike, which was sold at a low price thanks to the owner's kindness.
"We had no other choices but to go home. There were times we thought we could not carry on, fortunately, we met many kind sisters and brothers who offered great help. We sincerely thank them and hope that those in need like us will receive such support," Huyen said.
Tran Van Khanh had to walk 16 days before receiving help. (Photo: Zing)
After 16 days walking, Tran Van Khanh was helped by an official in Dak Nong province tax department. The official, named Nguyen Hai Bac, read about Khanh on social media and tried to find him. He found Khanh walking along the road with a big backpack. Nguyen Hai Bac drove Khanh to a pandemic control point and asked officials in the control point to take Khanh to his hometown.
At the control point, Khanh was given food and VND 7,7 million from donors. However, the man only took enough money to complete the journey and returned the rest. He was also tested for coronavirus. After 17 days, Khanh finally arrived at his sister's house.
"We already verified Khanh's story before offering support. During the pandemic, anything to help needy people to receive community support is all good," said Nguyen Hai Bac.
The group of 47 Quang Ngai people was also helped by the Ninh Hoa authority, which directed two coaches to bring them to their hometown.
The Government has just issued a resolution on a number of policies to support employees and employers facing difficulties due to the pandemic in early July. The relief package worths a total of VND 26 trillion (USD 1.13 billion). The Politburo on June 25 agreed to support workers and employers affected by the pandemic, according to VNA.
New regulation issued to fight pandemic
Prime Minister Pham Minh Chinh has asked local authorities, which are imposing social distancing, not to let residents leave their places of residence for another locality after July 31 until the end of social distancing in his latest dispatch. Under the document, Ho Chi Minh City along with 18 southern localities will continue to enforce social distancing measures in line with the Government's Directive 16 for two more weeks.
Hanoi Mayor Chu Ngọc Anh has signed a document to ask the districts' administration to not allow people to move out of the city during the time of social distancing, except for those who got the permit of the administration on August 2, according to Vietnamnet.