Thailand records highest number of daily Covid deaths
Thailand has recorded a total of 141,217 Covid-19 cases, including 920 deaths so far
The Thai government has sped up vaccinations for health workers and people in at-risk areas.
In Bangkok, on May 27, Thai health authorities recorded the highest number of daily deaths from Covid-19, which was 47 deaths over the past 24 hours. A day earlier, Thailand also recorded a new high, of 41 deaths.
In addition, Thailand has seen 3,323 new Covid cases, 1,219 of which are in prisons.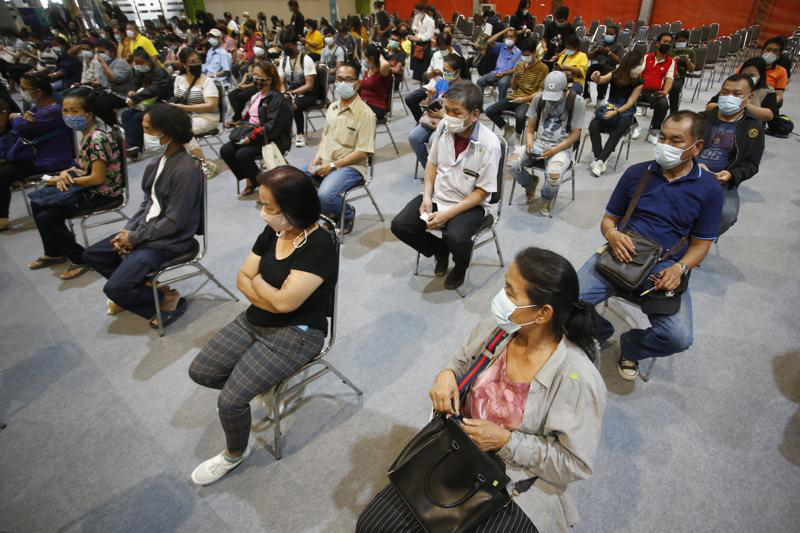 People waiting to receive the AstraZeneca Covid vaccines in Bangkok, Thailand on May 17, 2021. Photograph: Anuthep Cheysakron/AP
Since the emergence of the pandemic in early 2020, Thailand has recorded a total of 141,217 infections, including 920 deaths.
Thai Prime Minister Prayut Chan-o-cha said the government had sped up the process of vaccination for health workers and people in at-risk areas, which are those aged over 60 and those with underlying medical conditions. .
Over 3 million Thai people have been vaccinated against the virus, in which about 2 million people have gotten the first shot and about 1 million have gotten the second.
In another development, according to the VNA reporter in Seoul, the South Korean government on May 26 announced a series of measures, in which those vaccinated against Covid are not required to wear masks.
This is considered part of the country's efforts to encourage people to participate in the expanded vaccination program that is being implemented on a national scale.
However, local health experts questioned the effectiveness of the measures, saying that easing the regulations on social distancing could cause the epidemic to re-emerge.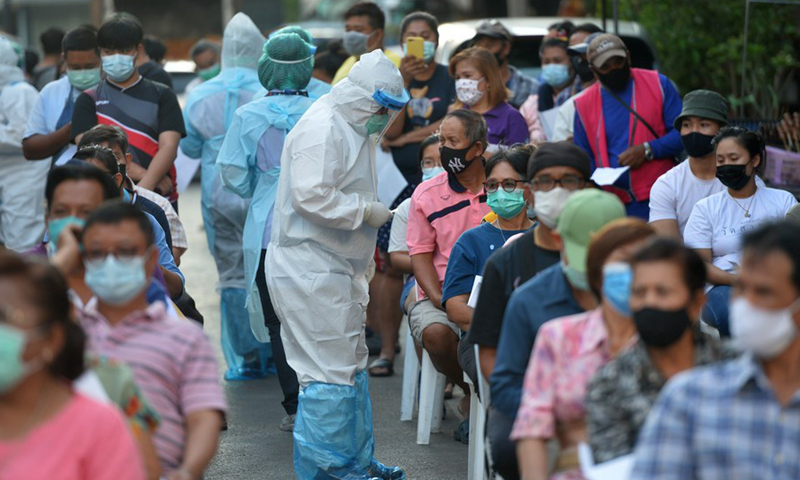 People waiting to receive Covid-19 tests in Samut Sakhon province, Thailand on Dec 22, 2020. Photograph: Rachen Sageamsak/Xinhua
South Korea's Ministry of Health and Welfare said that current social distancing measures, including mandatory wearing of face masks in public and a ban on gatherings of five or more people, will be gradually eased for those vaccinated against the virus.
Specifically, starting in June, people who have received at least 1 dose of the Covid-19 vaccine will be exempt from implementing the ban on in-person gatherings with family members, which currently only allows for up to eight people.
From July, these people will be able to go out without wearing a mask, and the ban on gatherings of five or more people will be lifted for those who have received two doses of the vaccine.
In addition, religious institutions will be allowed to organize activities with the participation of an unlimited number of people who have received at least one dose of the vaccine.
By next October, when more than 70% of the population is expected to have received at least one dose of the vaccine, the current social distancing measures will be completely revised, significantly loosening regulations including wearing masks in enclosed areas.
The Ministry of Health and Welfare further notes that those who have vaccinated will receive a discount on tickets to a number of state-run cultural facilities including museums, parks and theatres.
Some Korean health experts expressed concern that the lifting of isolation restrictions for those who have not been fully vaccinated with two doses of the vaccine could lead to the spread of the virus, especially when the cases of new Covid variant are increasing.
Chon Eun-mi, a respiratory disease expert at Ewha Women's University Medical Center in Korea, said: "According to data from UK health authorities, one dose of Pfizer vaccine or AstraZeneca is only 34% effective with the new variant which originated from India."
Chon Eun-mi emphasized that it was still too early for South Korea to ease social distancing rules when vaccination rates were still too low.
According to the Korea Centers for Disease Control and Prevention, as of May 27 more than 4 million people (7.8% of the population) have received at least one dose of the vaccine. in which 2 million have had two shots.
Specifically, 2.07 million people were vaccinated with the AstraZeneca vaccine and 1.96 million with the Pfizer vaccine.
Chon Eun-mi said the easing of social distancing measures should only be considered when at least 60% of the population had received the first dose of the vaccine and up to 50% had been fully vaccinated with two doses.
Jung Jae-hun, professor of preventive medicine at Gachon Medical University, said that another concern was how the authorities could check whether people not wearing masks were fully vaccinated or not, especially when the rule of non-mandatory mask wearing for some people was lifted in July.
From April 15, the Korean Government has launched an application to issue Covid-19 vaccination certificates on mobile phones for those who have been vaccinated. The system uses blockchain technology to prevent forgery, which confirms the vaccination but will not store personal information after the confirmation is completed.