The Incredible "Roots" of a Hoi An Artist
From the dry, rough bamboo roots, Huynh Phuong Do has brilliantly crafted them into unique and impressive products that attract tourists from all over Vietnam.
Spending half of his life sculpturing his masterpieces on bamboo roots, Phuong Do has become well–known not only in Hoi An but also to the foreigners coming here. Thanks to social media, the images of his works have amazed a lot of young people and tourists all around Vietnam to travel here and try their hands at sculpting their own pieces.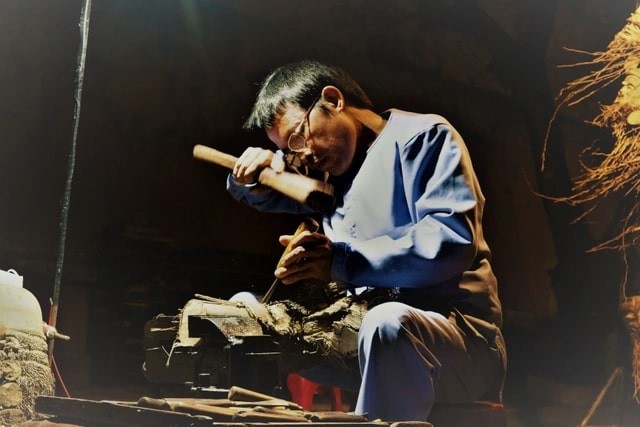 Photo: Dantri
"Do tre" (Red Bamboo) is the name the local people have given to Huynh Phuong Do, a 49 – year – old sculpture artist. For over 20 years, he has been following his passion for sculpturing bamboo roots to create wonderful and unique artworks, conquering all the hardships to achieve his dream.
Since he was only 16 years old, he wanted to pursue the woodcarving profession, but there were times when he almost had to quit his passion because of his financial situation, and the money he made from sculpturing was not enough to afford the basic needs.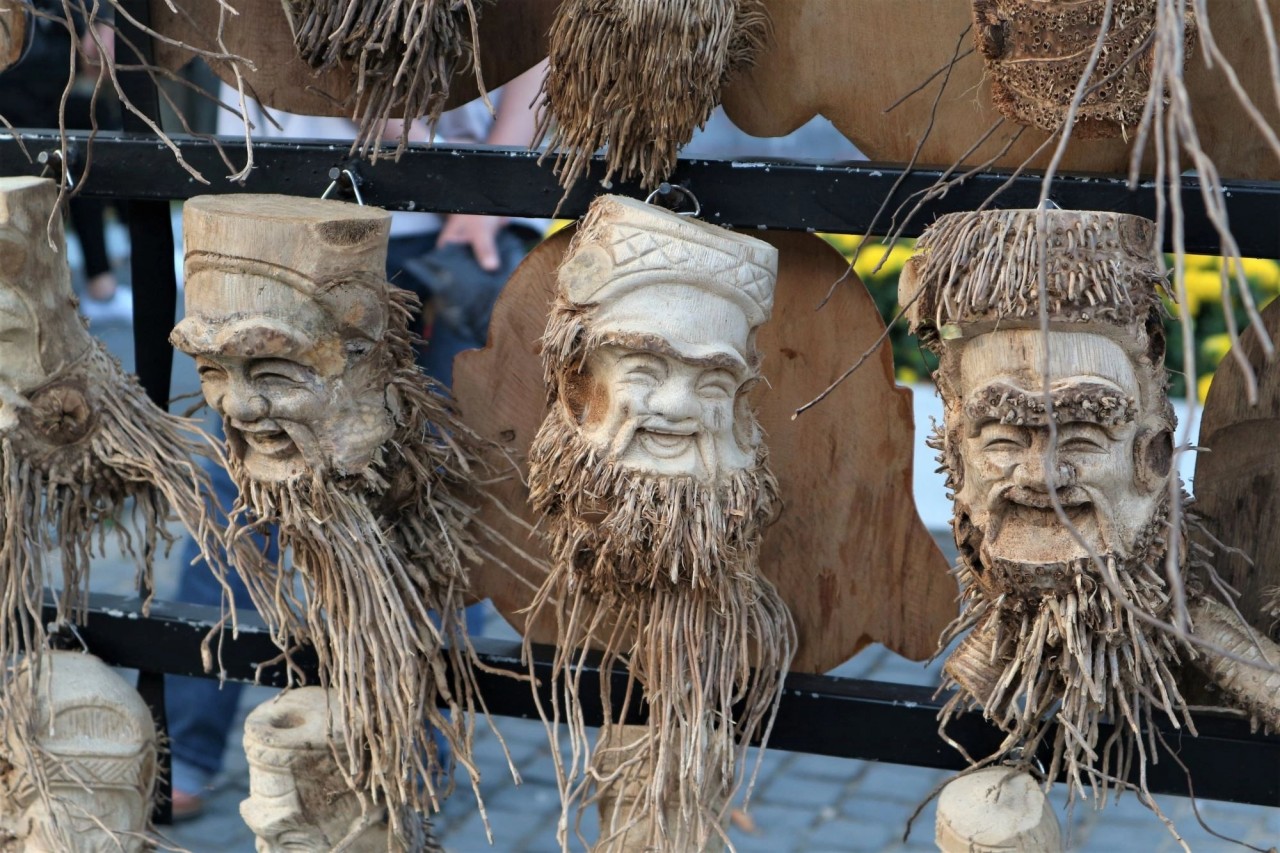 Phuong Do's amazing sculpture art on bamboo roots. Photo: Dantri
His life changed dramatically after the historic flood in 1998 when a bamboo tree floated near his house. As Hoi An recovered from the tragedy, Do put his attention into making something beautiful. He picked up the fallen bamboo, salvaged the wood, and created friendly faces from the roots. It was his first ever work and also inspired him to make more.
With 34 years of working and blowing "soul" into the bamboo roots, and shaping them into magnificent statues, Phuong Do's shop at 26 Bach Dang street produces the best statues and sculpture works for the local people, tourists, and customers from all over the country. On average, each work will be sold for VND150,000 (US$6.39) – VND400,000 (US$17.05) / statue.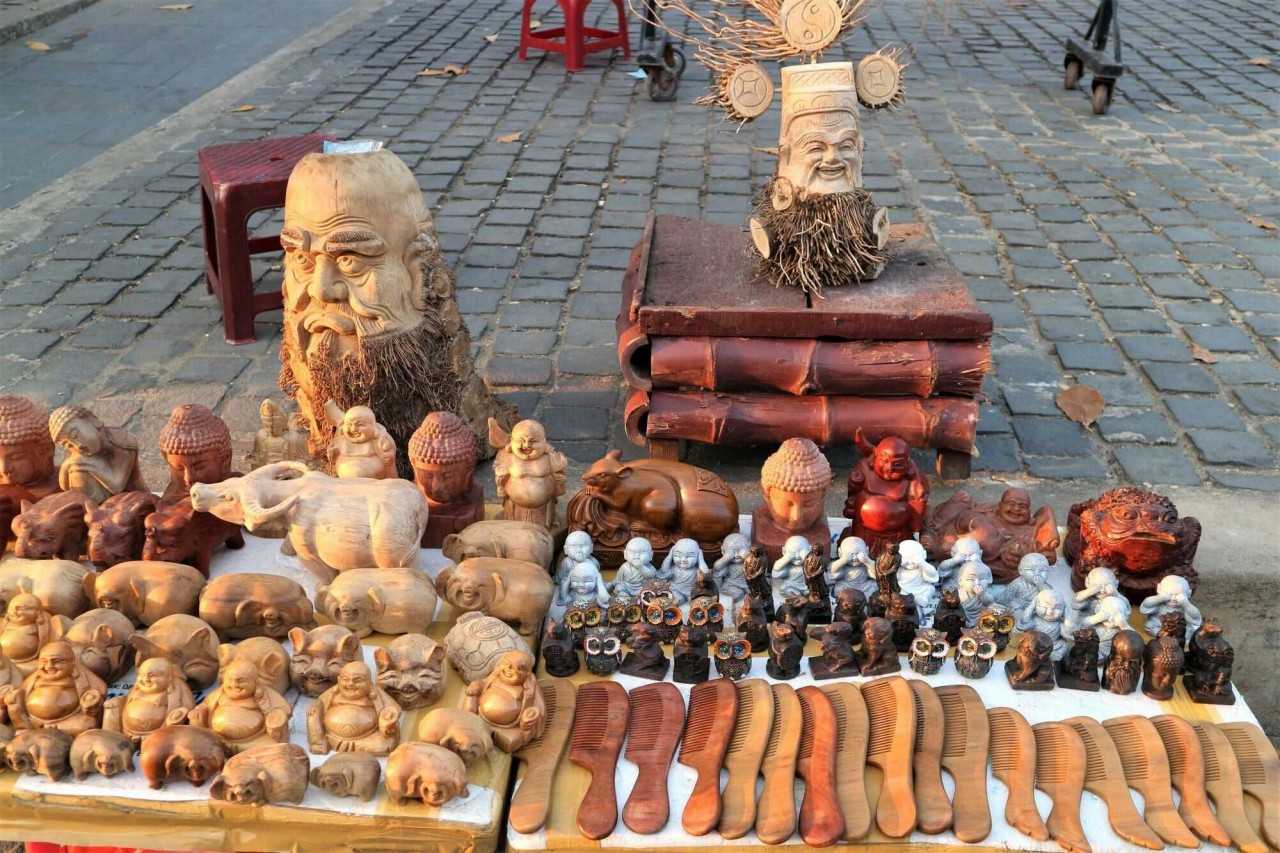 Photo: Dantri
In order to create the perfect bamboo root sculpture art, Do said the imported bamboo roots will be washed cleaned, and dried, then it will take 1-2 hours for him to think about the poses and shapes of the new artwork.
An inspiration for young people
To Phuong Do, his work is not only to support himself and his family, but it is also to inspire young people and share his experiences with others after 34 years of being a professional sculpture artist.
"I have done all kinds of jobs and failed so many times, and even encountered accidents. Those who come up from poverty always keep their optimism and are not scared of failure. I do not care about how I can become rich, and I have everything that I need right now. When you feel satisfied and positive, good things will come to you," he shared.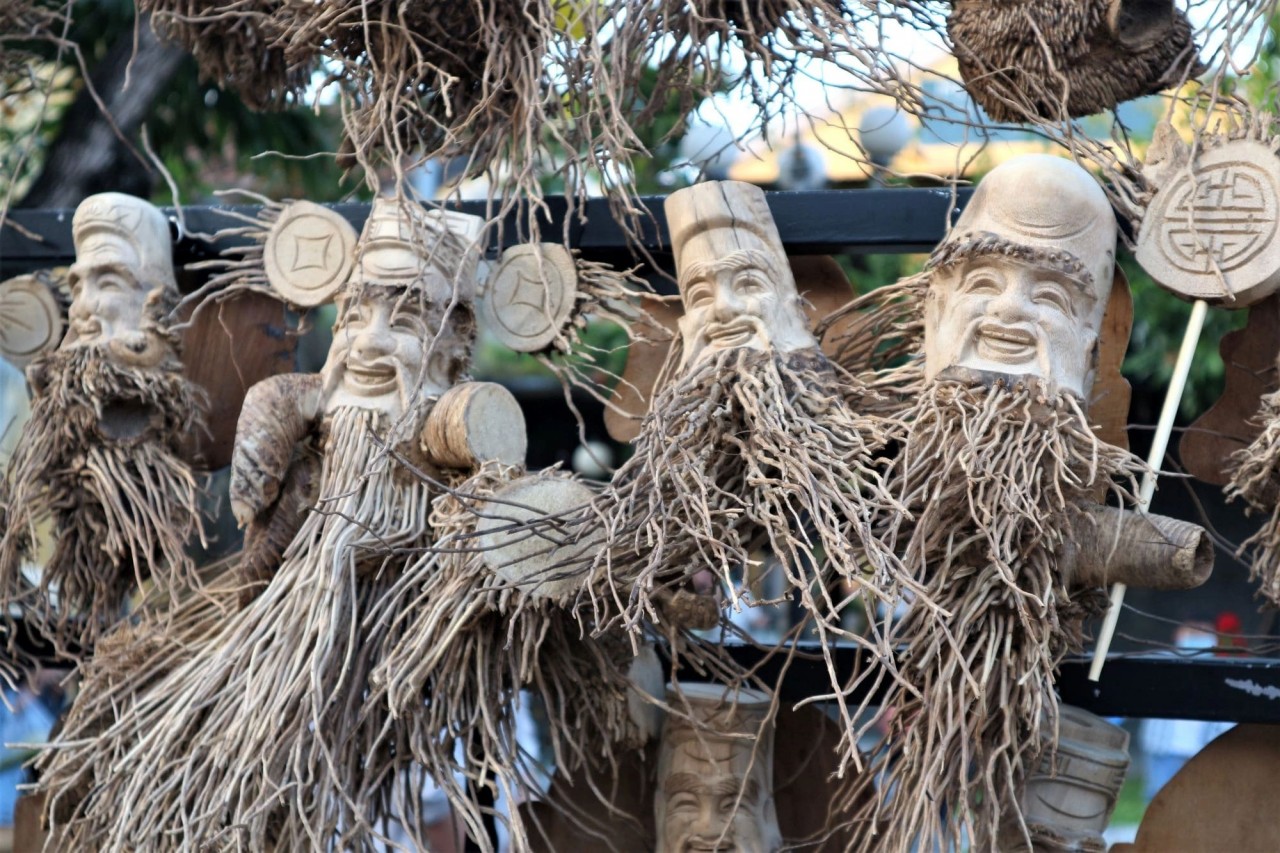 Photo: Dantri
Thanks to social media, Do has a chance to connect with more young people in Vietnam, even foreigners outside the country. Currently, his Tiktok channel has more than 204000 followers, and 3,5 million likes, and his Facebook page has about 44000 people following.
Tourists watch Phuong Do perform his skills. Photo: Dantri
With the purpose to transfer his positive energy to a lot of people through his posts on social media, the sculpture artist has attracted many followers, especially young travelers, who come to his shop in Hoi An and watch him perform his skills on the bamboo roots, and even have a chat with him.
"There are days that we can not sell any products, but our shop is always crowded with guests coming to see my artwork, watch me perform, or take pictures. My wife often says, 'Even though we do not sell much, I still feel happy.' A lot of people come here to see the shop," Do said.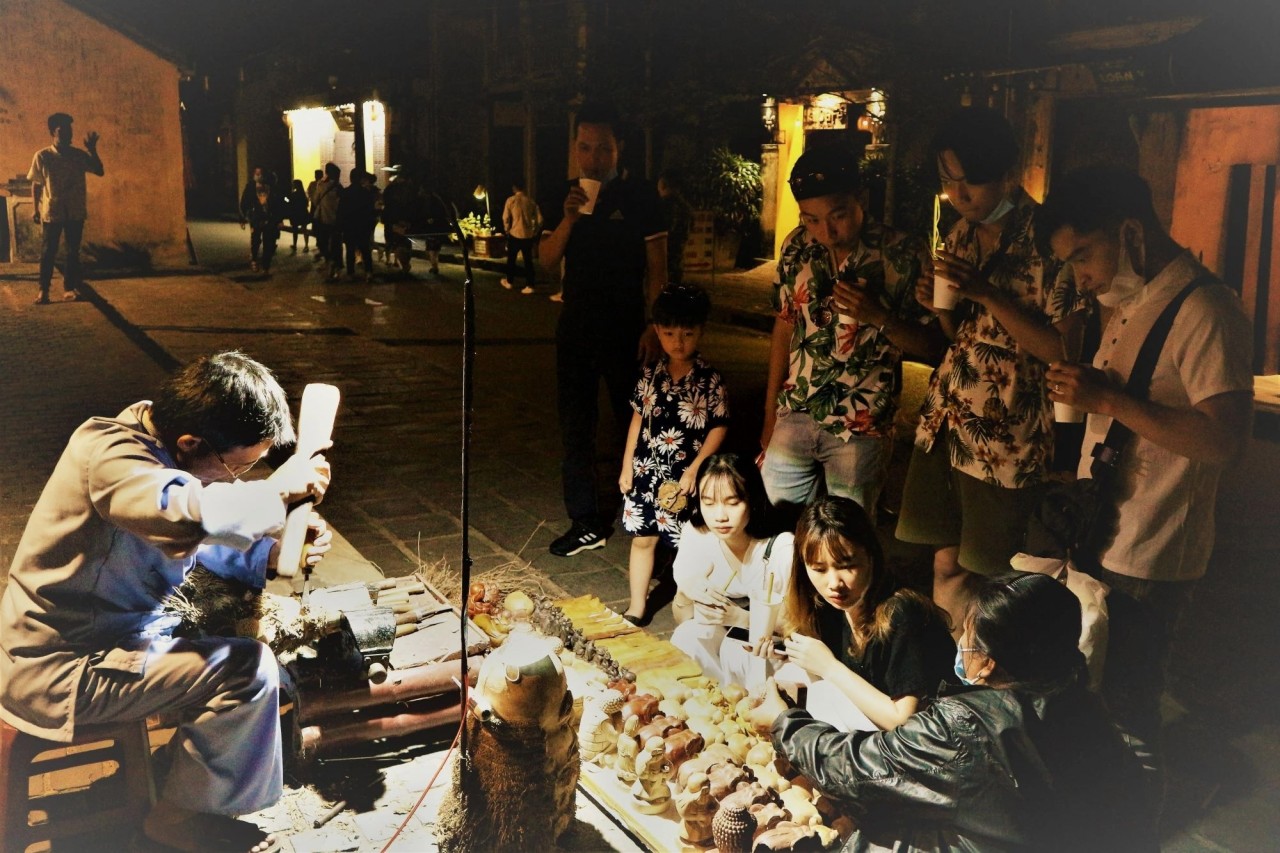 Photo: Dantri
In order to inspire art lovers and enthusiasts and bring his products to everyone, Phuong Do opened a Bamboo Roots Carving Workshop for foreign tourists five years ago. The visitors were very excited to experience this art style themselves and were warmly welcomed by the local people.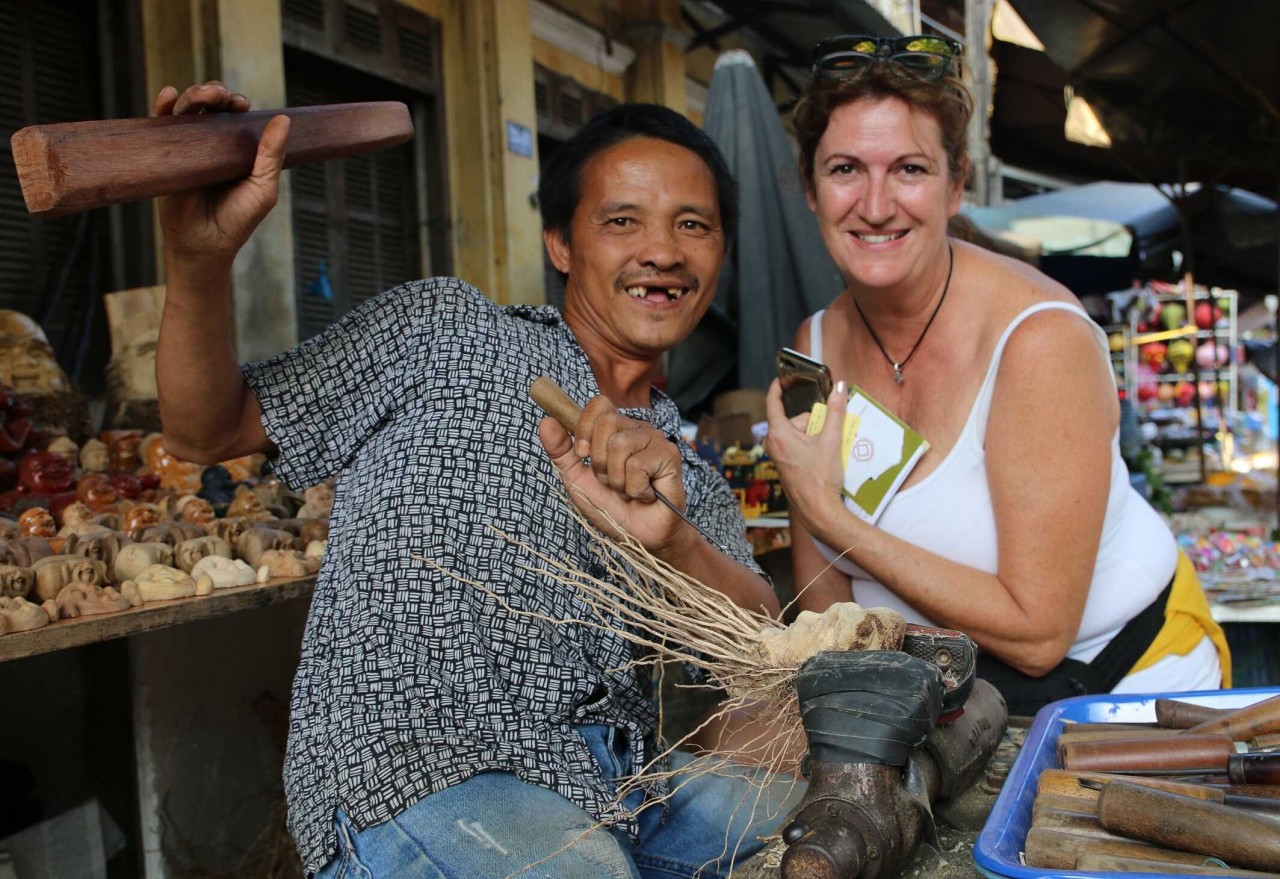 Phuong Do with a foreign tourist. Photo: Bao Cong Thuong