Top 8 Most Beautiful Beaches To Visit This Summer Trip In Vietnam
Nothing is more perfect than immersing yourself in the sun and the cool waves of these beautiful beaches in Vietnam for your summer holiday.
Boasting some 2,000 miles of coastline plus a handful of renowned island destinations, Vietnam naturally has no shortage of beautiful beaches. Sure, you could just stick to cities, what with the colonial architecture and history of Hanoi, the imperial charms of Hue, and the bustling nightlife of Saigon. But you'd be remiss to plan a Vietnamese vacation without hitting the water at least once—plus, most cities are just a day-trip from the coast, if not on the coast already, according to Forbes.
1. Sao Beach, Phu Quoc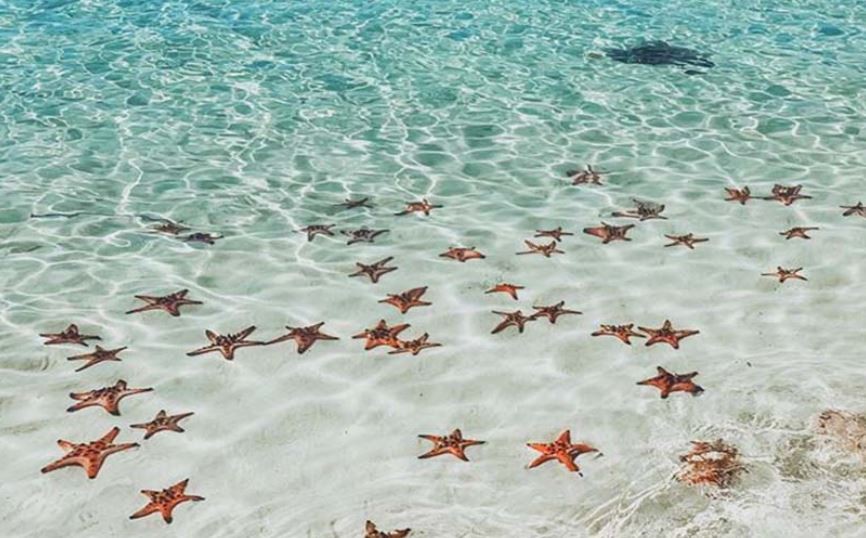 Photo: Dang Thi Duyen
Bai Sao Beach, aka Star Beach, located around 25km from the capital of Phu Quoc island is an ideal place to escape from the hustle and bustle of a busy life. It has a perfect beach, white powdery sand, jungle backdrop and so many swaying palm trees for tourists to enjoy.
There are so many reasons why Bai Sao is so popular to visitors worldwide. First of all, we should talk about its beautiful white sand. Then, you can sit and enjoy a fresh coconut, take some photos and play games with your friends.
Second, Bai Sao is famous for a wide range of marine creatures. Once you snorkel deep down into the beach, you will have an opportunity to see all of them.
Next, the tropical jungle in the southern and northern tip of the beach is also beautiful. This is the place that contains lots of huge trees that have existed for so many years. Furthermore, exploring this pristine forest, you can hear wild birds singing so many beautiful songs.
Bai Sao beach is a perfect destination for people to do lots of interesting activities. Tourists often come here to immerse themselves in the clear water. Some go for swimming, some go for sunbathing, scuba diving or kayaking. However, the most preferable water sports in Bai Sao Beach, Phu Quoc Island is kite surfing.
2. Nha Trang, Khanh Hoa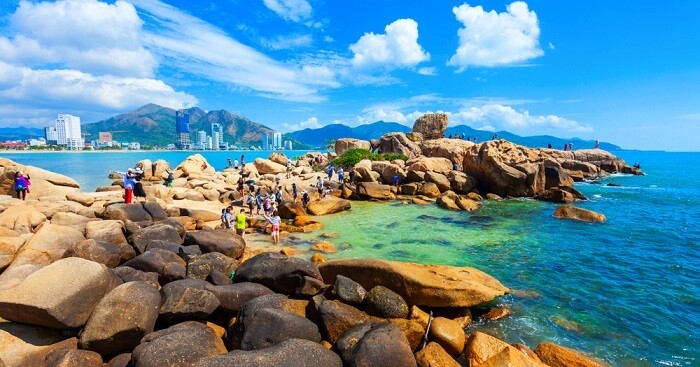 Photo: Travel Triangle
Perched on a pristine stretch of the southern coast, Nha Trang is a playground for sunseekers. Days here are spent dining on delicious seafood, snorkelling around stunning islands, and partying on the sand after dark. Nha Trang lays claim to some of the country's finest luxury resorts and thrilling watersports. Despite the development boom, colourful fishing villages and serene riverside restaurants are just a stone's throw away.
Rainy season in Nha Trang takes place from September to December, but the southern coast is less prone to heavy storms than its northern counterparts. In fact, Nha Trang gets the most sunshine in the country, meaning travellers can arrive at any time of year and still enjoy their coastal visit.
During the day, Nha Trang Beach is awash with sunbathers. A few kilometres south of the city, Long Beach is home to a clutch of local seafood joints and surfing spots. If you feel like exploring farther, hire a motorbike to Dốc Lết or Đại Lãnh beaches.
3. My Khe, Da Nang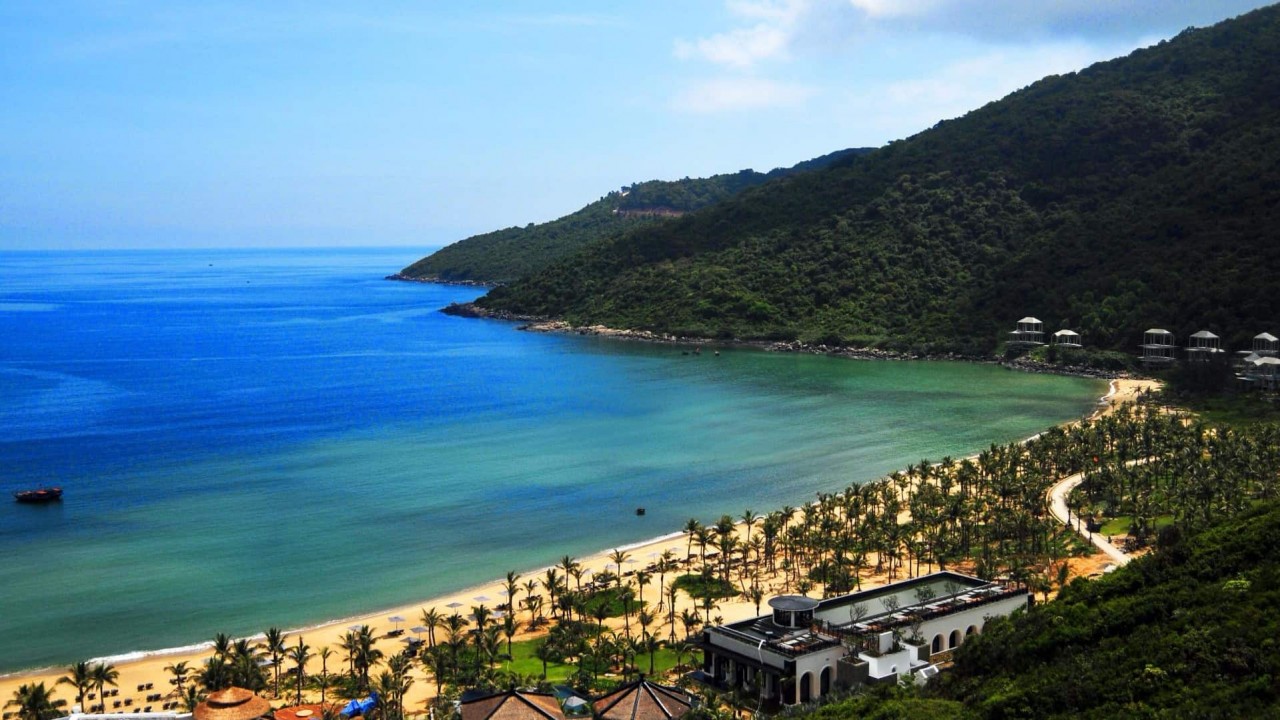 Photo: Vietnam Discovery Travel
With a coastline of 35km long from Hai Van Pass to Non Nuoc, Da nang is one of the most beautiful coastal cities in Vietnam. Closed to the city center (5km), the most popular beach My Khe is the common name of the coastline lasted 10km from the base of the Son Tra Peninsula to the Marble Mountains (Ngu Hanh Son). It's just 5km to get here from Da Nang city center and 25km from Hoi An.
My Khe Beach is famous for its blue sky, smooth white sand, gentle slope, clear & warm water year round and beautiful areas surrounded by coconut trees. Everything around you is peaceful, natural, relaxing, that's why Forbes Magazine selected My Khe beach as "one of the most attractive beaches on the planet" title. This recognition was given after an endless effort of the government and the Da Nang Lifesaving Association in keeping the beach clean, safety for visitors, free admission for tourists, great accommodations...etc. Moreover, My Khe beach was commended as one of 10 most popular beaches in Asia by The Sunday Herald Sun of Australia.
4. Mui Ne, Binh Thuan
Photo: VietnamOnline
A popular beach heaven in Vietnam, Phan Thiet has been internationally recognized as a desirable destination for those who are inclined to a holiday in tropical coastal areas.
As home to one of the most beautiful beach in South East Asia, Mui Ne, the city emphasizes on and seeks to improve the local tourism by keeping the scenery beaches clean and providing multiple recreational services aside swimming. Beside, other landscapes located in close proximity to the beach of Mui Ne such as the sand hills, picturesque gulfs, islets, Khmer ancient towers, religious architectures and markets will see to fulfilling your experiences to a larger extent.
Standing by its title as the resort capital in Vietnam, Mui Ne has a host of luxurious bungalows, resorts, hotels aligning by the sea, catering to the needs for a comfortable living of the pleasure-seeking tourists and fulfilling their experiences in this tropical paradise.
5. Cua Dai, Quang Nam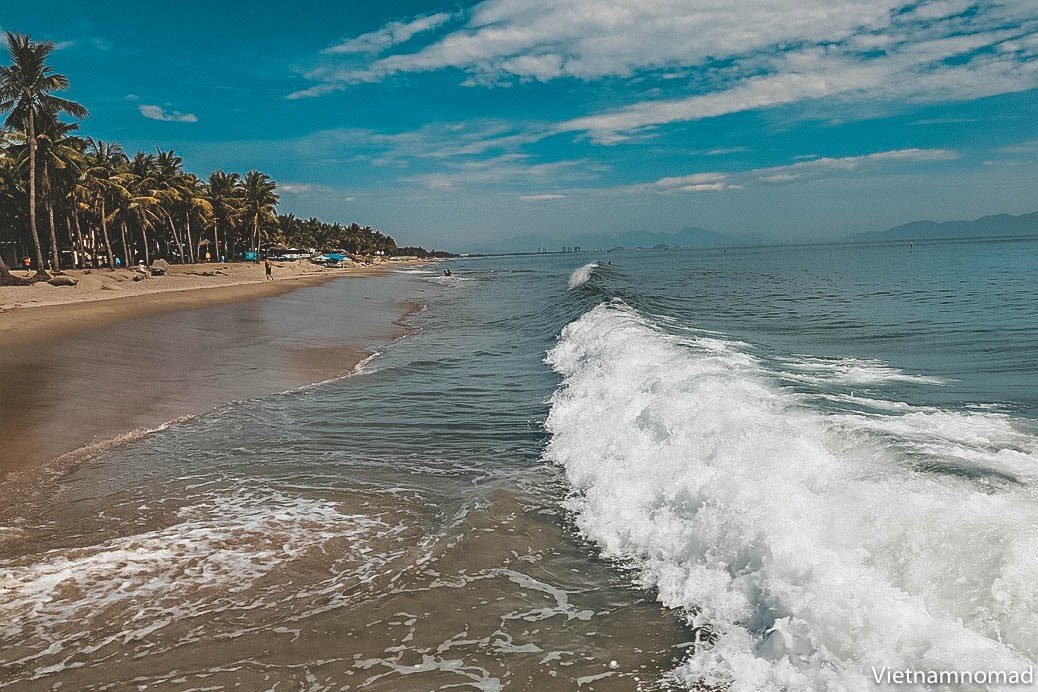 Photo: Vietnamnomad
Literally meaning the "big sea mouth", Cua Dai Beach is only 4 km far from Hoi An Ancient Town which used to be the busiest trading port in Southern Vietnam. As the confluence of Thu Bon River, Yangtze River and De Vong River, it stretches 3 kilometers in length from the Cham Islands ferry port to An Bang Beach.
Cua Dai Beach is bestowed with shimmering white sand, clear turquoise water, moderate slopes and calm waves. Despite having suffered from erosion, it is still adorably suitable for relaxation as well as recreational activities like swimming and other water sports.
6. Con Dao, Ba Ria – Vung Tau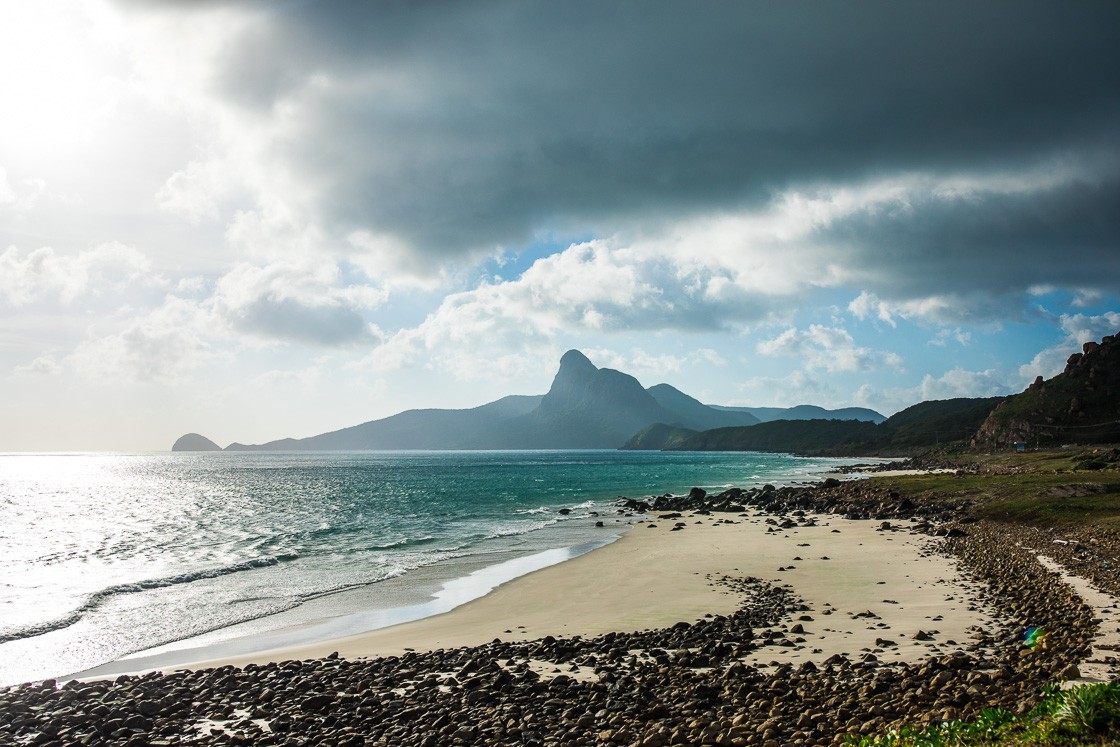 Photo: Vietnam tourism
Con Dao Islands has another name, Poulo Condore. It is an archipelago of 15 islands within the sea region of Ba Ria-Vung Tau province in southeastern Vietnam.
The island is most well known for its colonial past, during which period the French built the most notorious prison on the main and largest island of the archipelago to keep anti-colonial protestors. Owing to the lack of transportation to the island, it is left rather untouched by mass tourism. Also, for that same reason, the islands can preserve its pristine nature and serene atmosphere. In addition to great diving experience with lovely coral reefs and the marvelous scenic beach, there are some wide life watching opportunities, one of the most famous is the green sea turtles.
7. Ca Na, The southern coast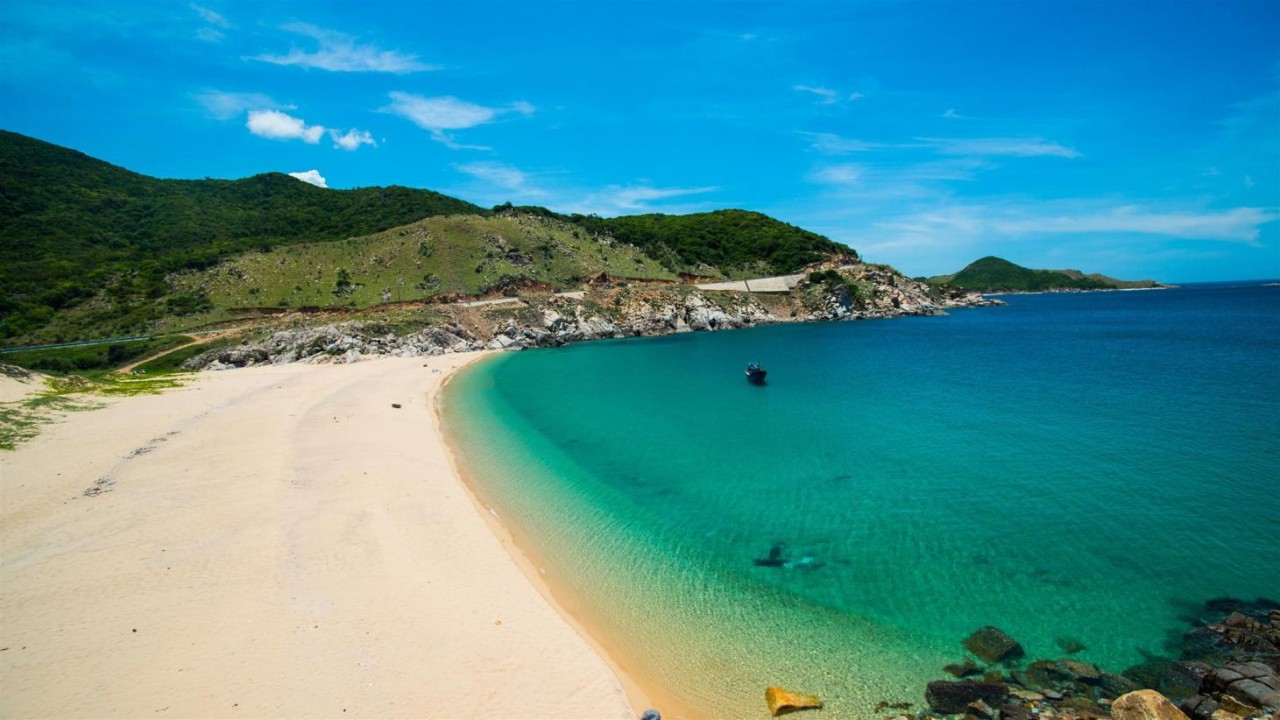 Photo: Vietnam Online
Numerous parked coracles (round boats) line the beach at Ca Na, with its invitingly clear water and healthy, but razor sharp, coral. It's easily accessible and, if wanting a little more solitude, just 2km to the south lies another good stretch of sand.
Hon Co Resort - A budget resort, at least in layout, this is a surprisingly nice place for somewhere as remote as Ca Na. You can opt to stay in the regular hotel section, rather than the bungalows; the whole place is aimed at domestic tourists, and the karaoke room can get rather noisy.
8. Ninh Chu Beach, Ninh Chu

Photo: Vietnam Discovery Travel
Five kilometres north of busy Phan Rang lies the pleasant, wide crescent of Ninh Chu Beach. Less popular with tourists than Mui Ne or Nha Trang, the beach still provides a quiet midweek stop, good for swimming, sunbathing and beach games in general.
Where to stay
Saigon - Ninh Chu Hotel & Resort - At the far north end of the bay, this hotel has nicely furnished, spacious rooms with thick carpets, and its executive suites even have beach views from each bath. There's also a big pool, tennis courts, a spa and a classy restaurant that's easily the best place to eat for miles around, and is reasonably priced to boot.