Ties between Vietnamese, Japanese Localities Expected to Grow
This is a golden time for localities boosting cooperation in a number of areas including promoting delegation and people-to-people exchanges, encouraging two sides' enterprises to invest.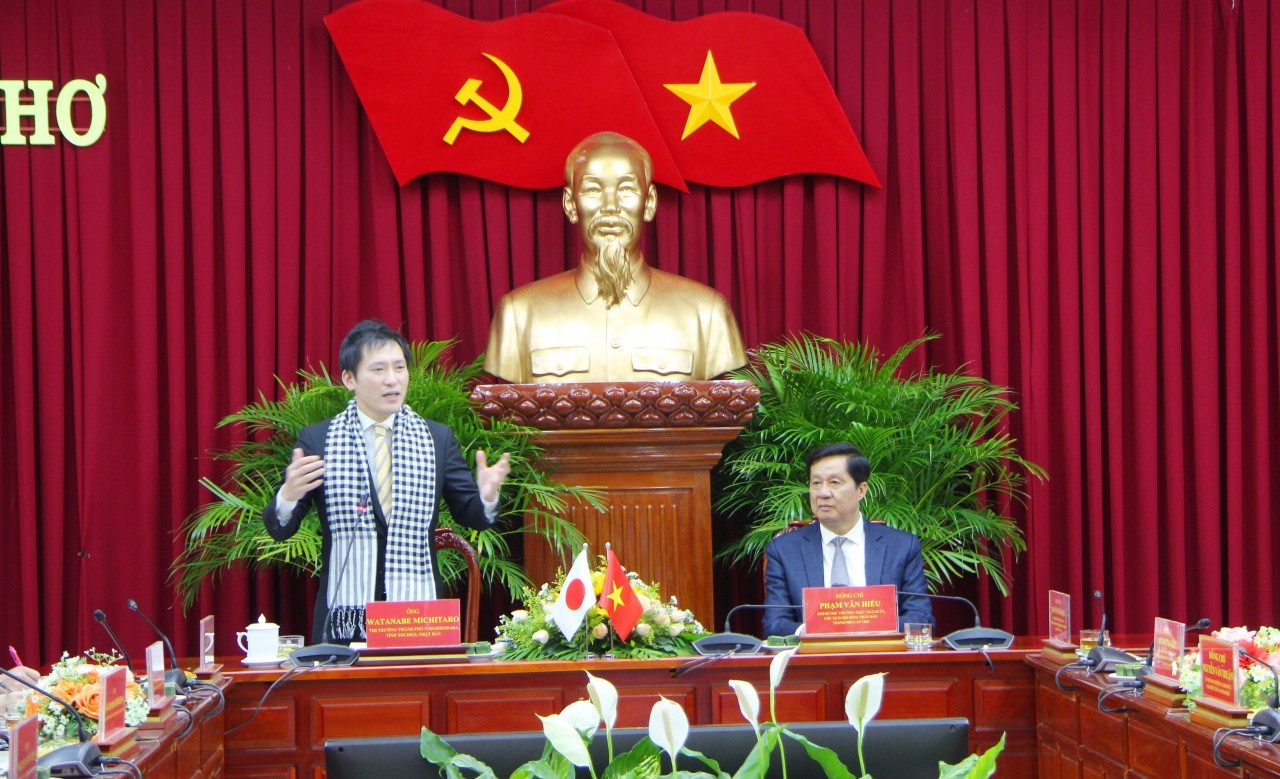 Wantanabe Michitaro, Mayor of Nasushiobara city of Tochigi prefecture talks about areas that need cooperation with Can Tho city in the near future. Source: VNT
Japan wishes to expand cooperation with the Mekong Delta city of Can Tho in agriculture and human resources, said Wantanabe Michitaro, Mayor of Nasushiobara city of Tochigi prefecture, who is on a working trip to Vietnam.
The information was revealed at a working session between leaders of Can Tho city and a Japanese delegation led by the Mayor of Nasushiobara city on December 23, VNA reported.
Wantanabe told the hosts that Japan had planned to sign a Memorandum of Understanding (MoU) on cooperation with Can Tho in the fields of agriculture and human resources exchange in July 2020. However, it was delayed due to the outbreak of Covid-19.
As the pandemic is basically under control, Japan wants the two sides to hasten the signing of the MoU, paving the way for trade expansion, especially in agriculture.
Nasushiobara boasts strength in agriculture, with dairy cow and rice being key products. Livestock farming accounts for 70% of the city's agricultural production structure.
For his part, Pham Van Hieu, Chairman of municipal People's Council, said farming land makes up 80% of Can Tho's total area and hi-tech agriculture is currently one of its strengths.
This year, 172 labourers in the locality were sent to work in Japan, he added. He hoped that more activities will be conducted by the two cities next year on the occasion of 50th anniversary of Vietnam-Japan diplomatic ties.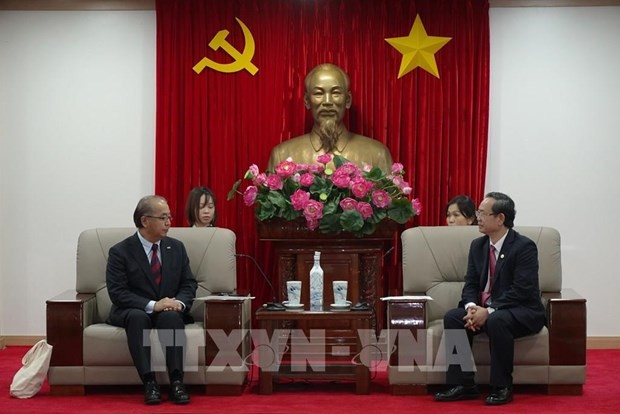 Vice Chairman of the Binh Duong Provincial People's Committee Nguyen Van Danh (R) receives Governor Nitta Hachiro. Photo: VNA
Meanwhile, on December 22, Nguyen Van Danh, vice chairman of the Binh Duong Provincial People's Committee, hosted a reception for a delegation from Japan's Toyama prefecture led by Governor Nitta Hachiro.
The governor said the delegation comprises more than 20 enterprises of Toyama which have interests in the investment environment in the southern province.
The prefecture's authorities have conducted a survey showing that Japanese businesses are interested in investing in Vietnam, especially Binh Duong province, as Vietnam has reported rapid and sustainable economic growth, he added.
Danh told the guests that Binh Duong, a magnet for foreign investment in the South, is home to 29 large-scale industrial parks with a total area of nearly 12,700 hectares.
As of November 30, it had attracted approximately USD 40 billion with 4,082 projects from 65 nations and territories, of which Japan ranked second with a total of nearly USD 6 billion.
Binh Duong is planning to attract investment in projects with less labor and land use by utilizing advanced technology and lowering environmental impacts, he said.
The proportion of Japanese enterprises that intend to expand their investment in Vietnam in the next one to two years is 60%, up 4.7 points from the previous year and the highest among Southeast Asian countries.
This figure is part of a survey on Japanese investment in Asia and Oceania 2022 by the Japan External Trade Organisation (JETRO) in Vietnam.
In addition, the percentage of Japanese enterprises operating in Vietnam forecast to be profitable in 2022 is 59.5%, up 5.3 points compared to 2021.
According to JETRO, the main reason for the improving business profits in Vietnam, in both manufacturing and non-manufacturing sectors, is due to the country's strong socio-economic recovery from the pandemic.
Many firms said business this year improved compared to last year largely due to a strong recovery after the pandemic, especially in the consumer goods manufacturing industry and the service industry.
However, some businesses said they faced difficulties in purchasing raw materials due to increased labor costs and logistics costs, according to the survey.