Top 10 Christmas Toys For 2021
Top 10 Christmas toys for 2021 according to industry experts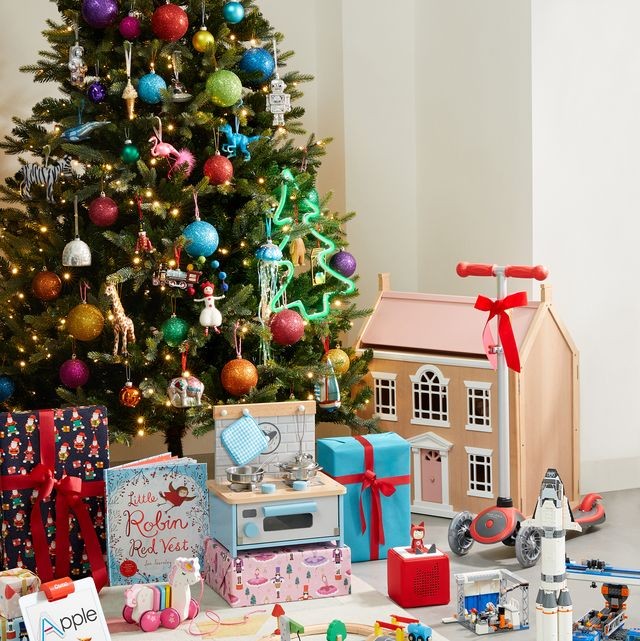 Here are the hottest toys of the 2021 holiday season.
If you have a little one in your life and aren't too sure what to get them this year, we've spoken to top industry experts to find the toys every child will want this Christmas.
"Some of the top toy trends we're seeing for 2021 are those tied into films, with the lack of new releases last year meaning we saw very little along these lines in 2020," says Peter Jenkinson, a UK-leading toy expert who regularly features on popular television programmes. "This year, we'll have a new Ghostbuster film, Paw Patrol hitting the big screen and a Top Gun movie, too."
"There are lots of brands we're excited about for Christmas 2021," says Gary Grant, Founder and Executive Chairman of toy shop The Entertainer. "This includes Paw Patrol, following the movie this summer. Other popular brands will include CoComelon (based on the popular children's TV show), Super Mario, L.O.L. Surprise! (mini baby dolls), Barbie and Bluey (another popular kids TV series)."
We can also expect people of all ages to fall in love with toys and games for Christmas 2021. "This year we've seen a huge surge in the popularity of traditional toys and games that can be enjoyed by the whole family," says Rachael Larkman, Toy Buyer at John Lewis. "For example, sales of construction toys and puzzles such as Lego have risen 50% in the last 12 months, and we predict this trend will continue for Christmas 2021."
Barbie Dreamtopia Colour Change Mermaid
Barbie is always a popular choice. This particular one is a mermaid with rainbow hair and a colour-changing tail - dip her into hot water and her stripy tail fades to pastel shades, pop her in an ice-cold bath, and it returns to its vibrant original. Oh - and it's available in two different skin tones, which is certainly a step in the right direction for diversity.
Bluey Family Home Playset
Bluey, for those who don't know, is from the animated TV series on CBeebies and Disney+ and here, the Blue Heeler pup comes complete with his own home. Open-fronted, with 10 accessories like chairs and beds, little ones can play out scenes inside the house. The bottom half also shuts up, which will help with tidying up and keeping the mess at bay.
WowWee Got2Glow Fairy Finder
One of the most buzzed about toys of the year, the best-selling Got2Glow Fairy Finder, available in pink and blue, is a jar designed to search for virtual fairies. Similar in concept to Pokémon and Tamagotchi, kids search for little winged BFFs wherever they roam. Once caught, they function as digital pets. Each jar offers 30 virtual fairies to find, 100 in all. Fairies can even be traded among friends.
PAW Patrol Movie Ultimate City Transforming Tower Playset
This 91.2cm-tall playset the tallest PAW Patrol tower yet brings the pups' Adventure City headquarters from the big screen to life. It's jam-packed with amazing features to discover, including a transforming light-up rescue ramp, command centre, vehicle lift, pup elevator, lights and sounds and so much more.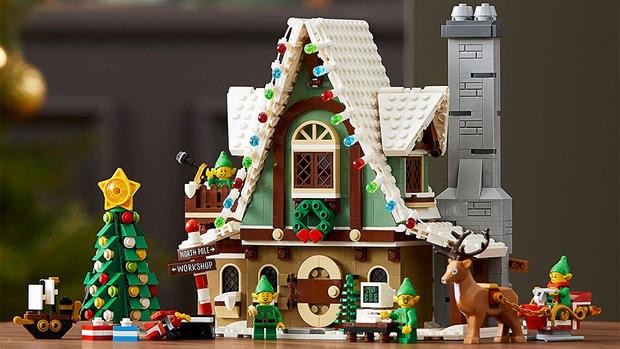 The Lego Elf Club House is one of Amazon's picks for the top gifts of 2021. LEGO
LEGO Creator 10275 Elf Club House
If you're looking to recreate the cozy feeling of your favorite Christmas memories, we've got the perfect thing for you – the LEGO® Elf Club House. It's the ideal way to enjoy quality time with a sugar-sweet DIY project. Build the intricately detailed Elf Club House then explore all its merry features.
Scalextric C1415M Spark Plug - Batman vs Joker Mains Powered Slot Car Racing Set
This set also features 2 x Spark Plug Dongles, the latest innovation from Scalextric which allows you to race your car using your Android or IOS smart device. Simply plug the Spark Plug dongle into your Scalextric analog powerbase rather than a traditional hand controller, download the app and race away meaning no more wires!
Disney Princess Ultimate Celebration Castle
Why settle for a castle designed for one Disney princess when there is one suitable for all of them? Disney Princess Ultimate Celebration Castle, released in August, provides a magical home for everyone from Belle to Tiana to Ariel. The dollhouse comes furnished with rooms designed specifically for each princess and also plays music and lights up to resemble a fireworks show.
National Geographic Mega Science Series Earth Science Kit
An educational gift that promotes an early love of science, this kit is just one of the many engaging offerings from the educational institute. The Earth Science kit includes 15 science experiences -- such as water tornadoes, building an erupting volcano, growing a crystal and two geologic dig kits -- sure to keep kids eight and up entertained for hours on end.
Soft Cuddly Friends Hoppie rabbit soft toy
Though Steiff are best known for their adorable teddy bears (they've been making them since 1880), we can't get enough of their other charming characters, just like Hoppie the rabbit. Made from an extra soft plush, this stuffed toy features floppy ears and an adorable nose, with a beanbag interior to help her sit upright. Finished with the brand's iconic tag, it's one for all ages.
Harry Potter Games Compendium
A wonderful selection of 35 various Harry Potter themed games. This collection of Harry Potter themed games will keep the whole family entertained. Games include Nine Mens Morris, Draughts and Ludo. It also made Amazon's list.