Top 3 tourist spots in Ninh Binh
Located 100 km from Hanoi, Ninh Binh has risen as a favourite tourist spot for young people in recent years thanks to its natural beauty and unique architecture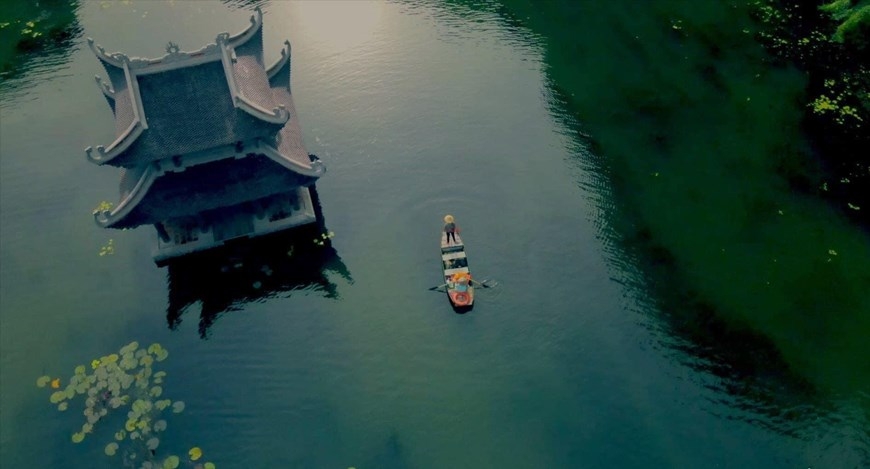 There are many scenic spots in Ninh Binh province Photo Vietnamplus
Mua Cave or Hang Mua
Mua Cave is located at the foot of Mua Mountain. Although it's not as famous as many other scenic spots in Ninh Binh, the cave is much-loved due to the beautiful natural scenery and it being much quieter than other places.
Hang Mua means "dancing cave" as it is where the Tran king would enjoy dancing and singing shows performed in this cave. Photo Vietnamplus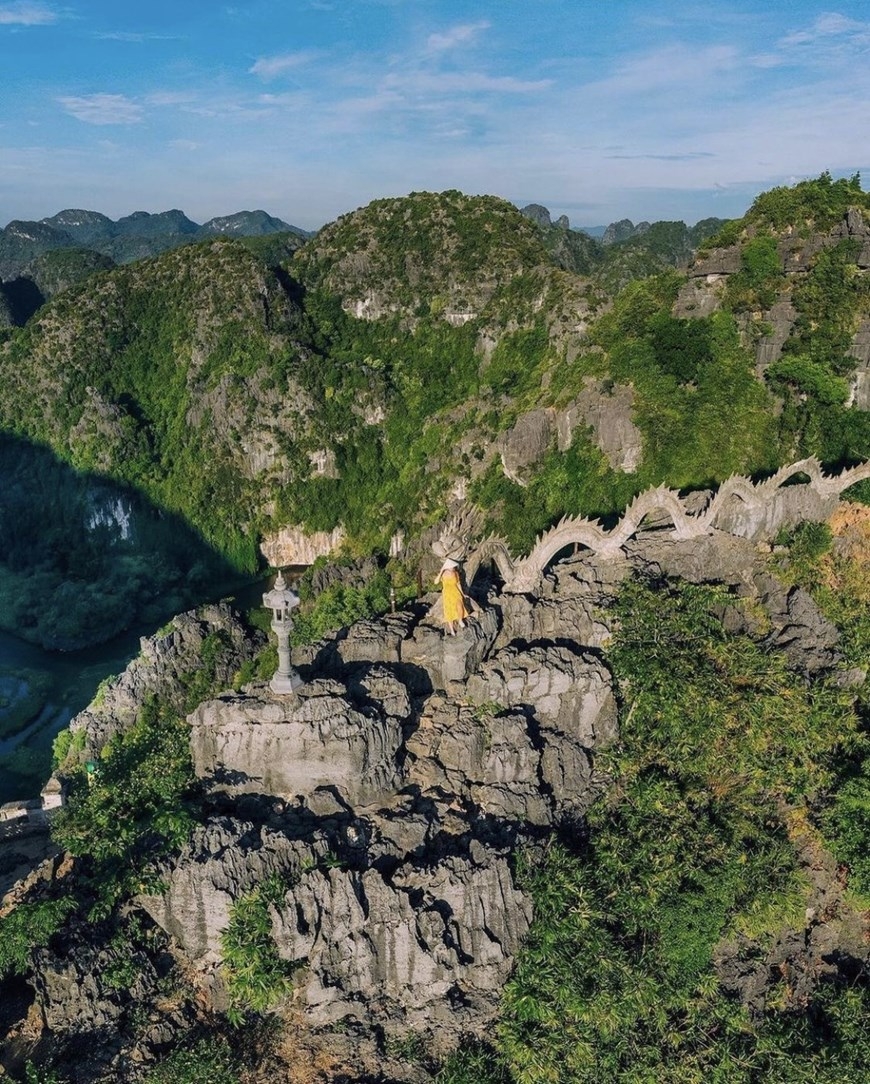 At the top of the Mua Mountain, you can see the view of the nine rice fields, and rowing boats rowing low on the water. Photo Vietnamplus
Hang Mua is like a "miniature Great Wall" with nearly 500 steps up the mountains to conquer. It is a hard trek up with many uneven limestone steps, especially at the top.
Care must be taken on the steep steps. For wonderful panoramic photos of the golden rice fields and limestone monntains, it is best to arrange your trip to Ninh Binh and the Mua cave between late May and early June. Sometimes early in May when the rice is getting ripe, you can see the fields changing from green to yellow.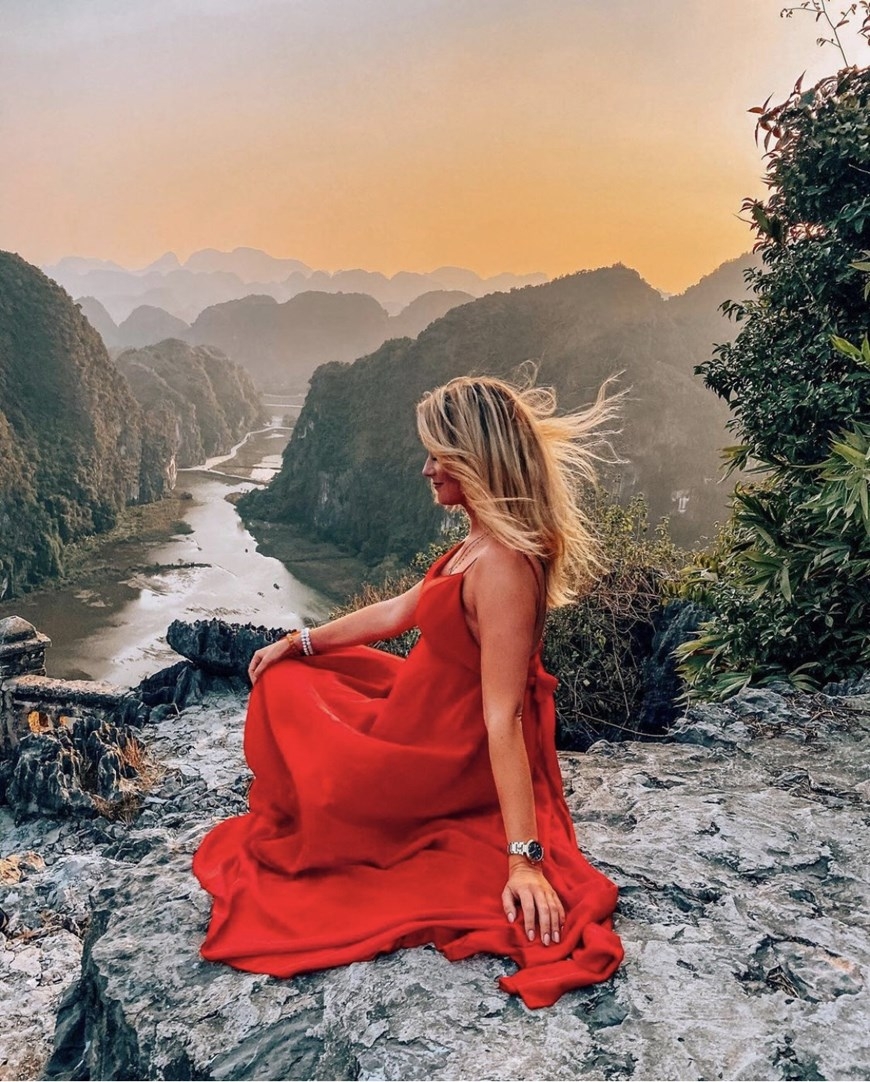 Photo Vietnamplus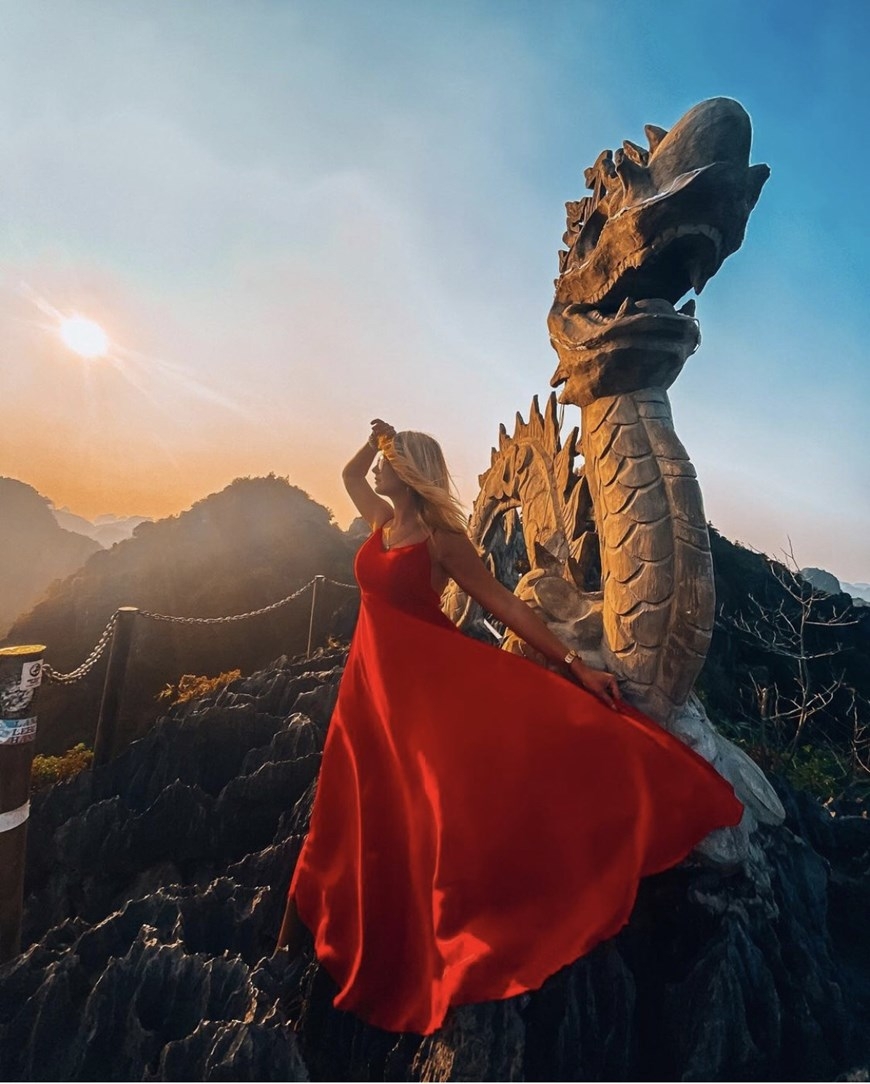 Photo Vietnamplus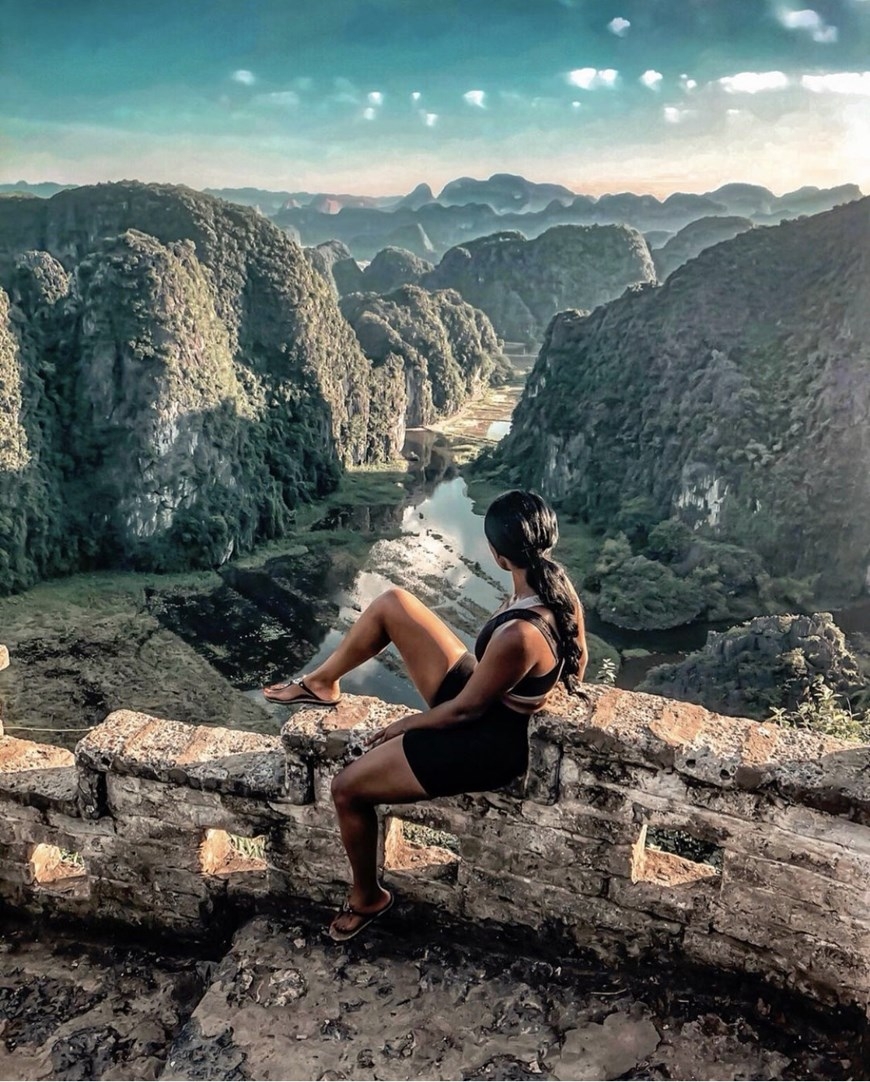 Photo Vietnamplus
Bai Dinh pagoda
Only 15 km from Ninh Binh city, Bai Dinh pagoda is one of the largest pagodas in Vietnam.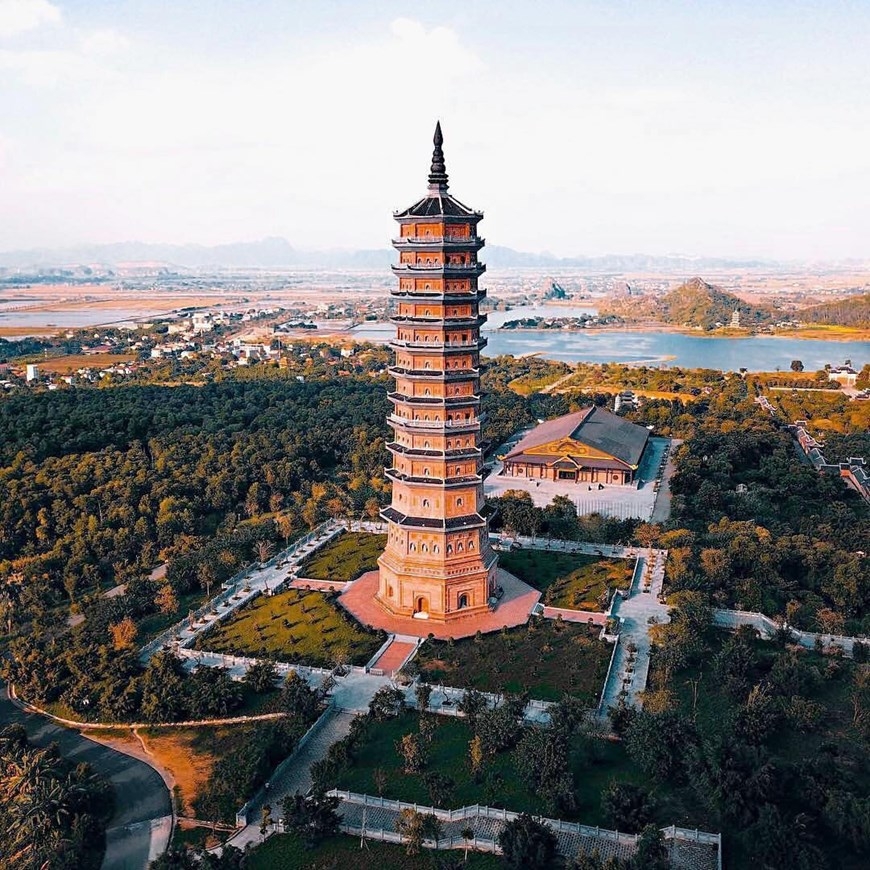 The tallest bronze statue of Vietnam is located at Bai Dinh pagoda. Photo Vietnamplus
Bai Dinh pagoda has two complexes of old and new pagodas. The old pagoda is located on a quiet hill where tourists can visit caves and temples.
The new pagoda is famous for architecture as can be seen in traditional Vietnamese villages. There are many meticulously-sculpted Buddha statues and arhat statues here.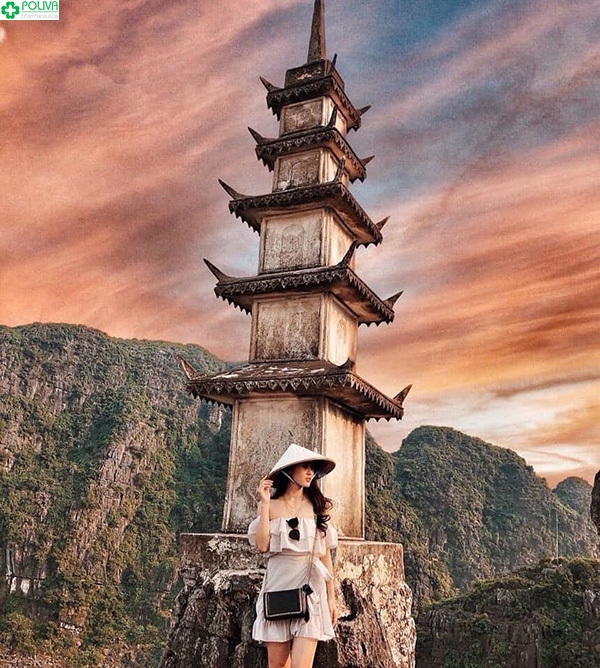 The temple has the largest well in Vietnam, as well as the statues having the most stones in Vietnam. Photo Poliva
Visitors can feel the purity and peace while staying inside the pagoda. Photo Ivivu
Singer Bich Phuong made famous music video 'Bao Gio Lay Chong' (When Will You Get Married?' at Bai Dinh pagoda. Photo Dan Viet
Trang An Landscapes
Trang An is the most famous tourist destination in Ninh Binh today. With beautiful unspoiled natural scenery, Trang An Ninh Binh has been recognized by UNESCO as a natural heritage and World Cultural Heritage Site.
The scenery is made up of winding rivers flowing through limestone mountains, creating countless natural mystical caves. Boat is the best way to explore Trang An; visitors will be seated on a rowing boat for watching the beautiful surrounding nature.
Trang An is an eco-tourism site surrounded by wetland ecosystems, forests on limestone mountains and many historical sites associated with the ancient capital of Hoa Lu. Photo Vietnamplus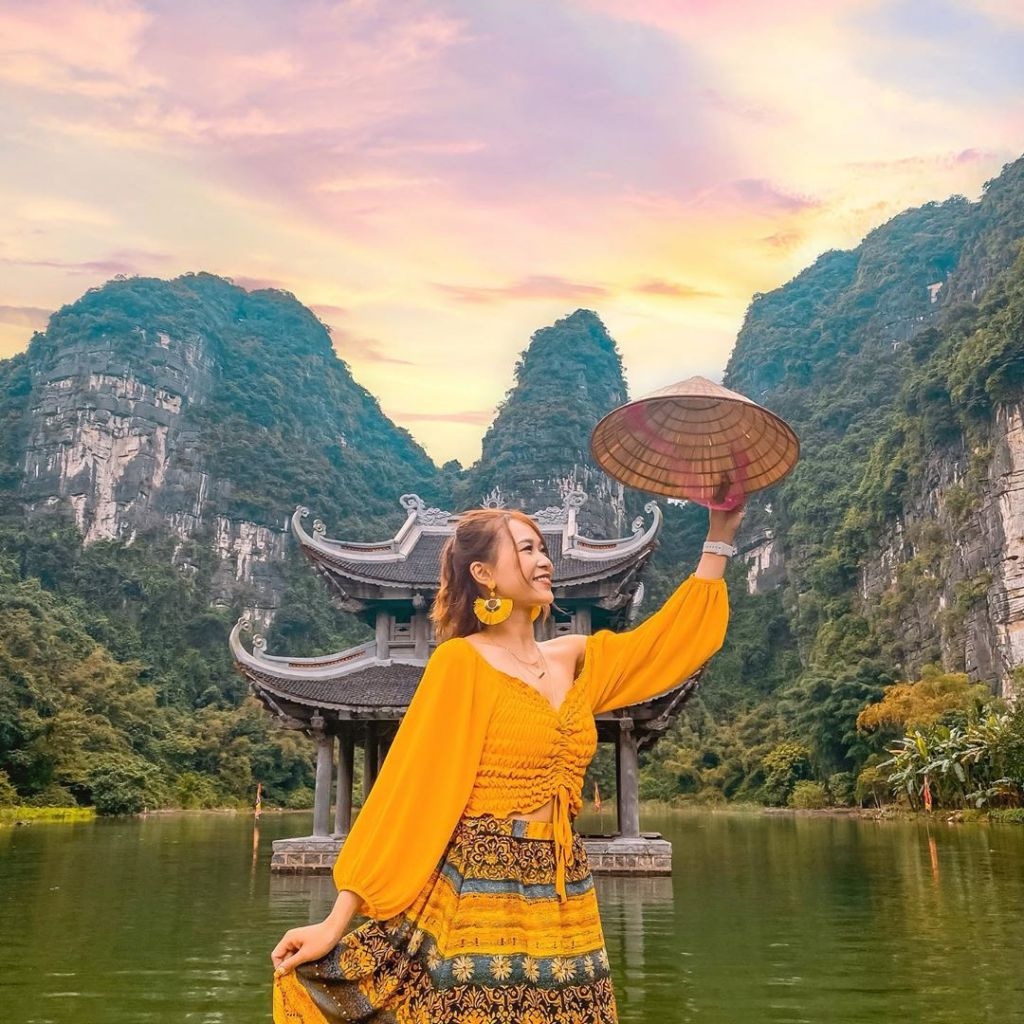 Photo check-in at Ninh Binh
Photo Vietnamnet
Travel
With more than 40 countries, it is clear that no one can summarize Asia in a few short lines. Among the best and most beautiful destinations in Asia voted by CNN, Da Lat City and Lan Ha Bay in Vietnam are called the "hidden gems" that are worth discovering.
June 06, 2023 | 07:19
Travel
The Saigon Central Post Office (Ho Chi Minh City) landed second place in the list of 11 most beautiful post offices in the world, announced by American architectural magazine Architectural Digest.
June 05, 2023 | 22:04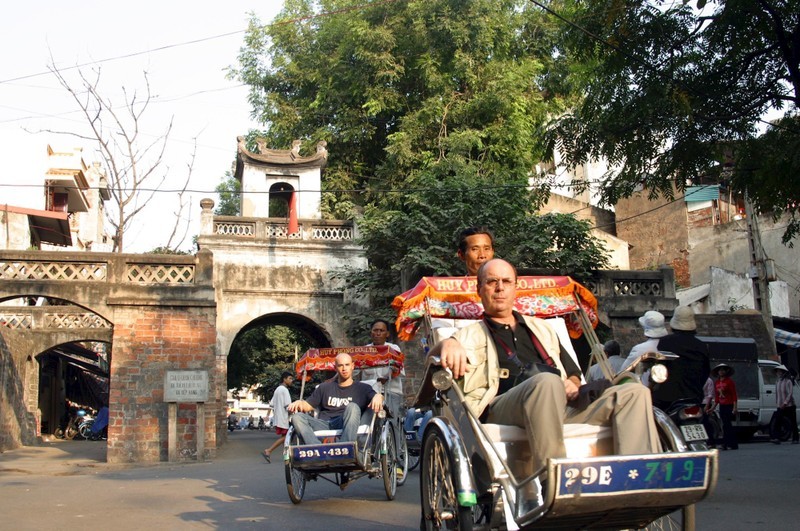 Travel
One of the top choices of British travellers is
Vietnam
with its diverse natural beauty, said The Independent, a British online newspaper.
June 05, 2023 | 09:31
Travel
The US's travel website Travel Off Path has called the Ho Tram beach tourism area "the perfect getaway for those looking to unwind and escape the hustle and bustle of the big city, if only for a long weekend."
June 04, 2023 | 19:53