UK and Europe weather forecast latest, September 24: Freeze smashs Britain with torrential rain and powerful winds
Europe is forecasted to leap at autumn-winter months with thunderstorms affecting many parts of the continent. Meanwhile, freezing weather sets to batter Britain as temperatures plummet.
UK's weather forecast
According to Express, freezing weather will strike the UK as temperatures plummet with Storm Aiden set to batter the country this autumn.
Susan Powell, BBC Meteorologist, said: "By mid-week, it will be much cooler, much windier, and for many, wetter as well. The reason for the change – we lose the persistent area of high pressure."
She added: "Areas of low pressure will take over from the Atlantic, eventually dragging in Arctic air."
Britons could see the first frost of the season this week as temperatures drop dramatically. Aidan McGivern, Met Office Meteorologist, said: "By the weekend some places could experience their first frost of the season."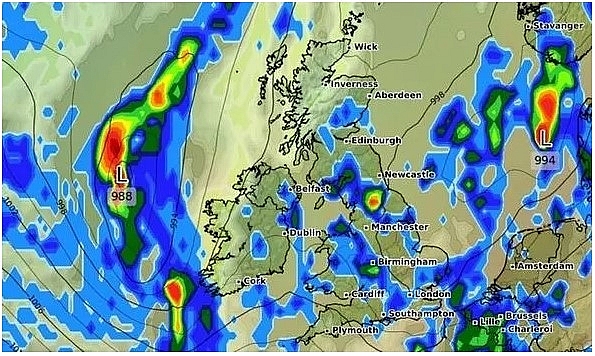 Wednesday will see heavy rain across most of England and Wales (Image: WXCHARTS)
Wednesday is set to kick start the drastic change in weather as the UK prepares to head into the deep Autumn.
Alex Deakin, Met Office Meteorologist, said: "Did somebody order Autumn? A definite change in our weather taking place and now that we're past the equinox it's Autumn however you measure it. But definitely a chill in the air over the rest of this week."
In some areas there will be some sunshine holding out in northern parts of the UK. Mr Deakin added: "We'll still see some sunshine, especially across northern Britain during Wednesday."
But for England and Wales, the weather will see a dramatic change after a glorious start to the week. A cold front is bringing the wetter and colder conditions to the UK this week.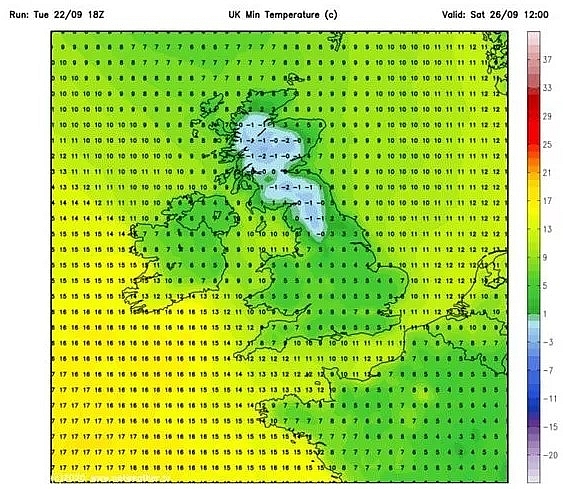 Britons could see the first frost of the season this week as temperatures drop dramatically (Image: Netweather)
Mr Deakin said: "It will be a different day across England and Wales on Wednesday. Much more cloud around and outbreaks of rain as that cold front continues to only slowly push its way eastwards."
Temperatures will drop well into the low teens across much of the country. Mr Deakin said: "For most places we're struggling in the low teens despite some sunshine across Scotland and Northern Ireland."
In Scotland and Northern Ireland, temperature will barely reach 11-13C. For more southern parts of the UK, temperatures will range reach 14C and possibly 19C at most. From Thursday, low pressure will sweep across the country bringing more rain and cold temperatures.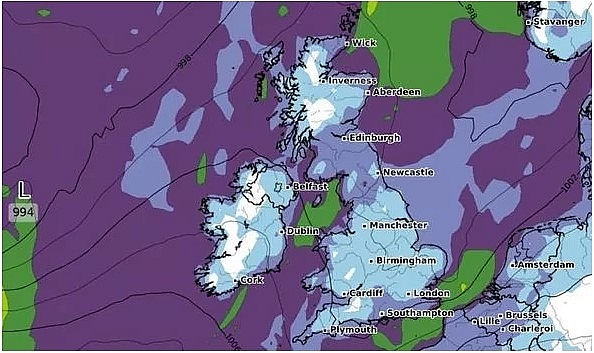 UK weather: Powerful winds are also set to blast the UK with Arctic air (Image: WXCHARTS)
Later on in the week, winds will become more powerful bringing even chillier conditions.
Nick Finnis, Netweather forecaster, said: "Winds turning northerly on Friday, which will be quite strong and gusty, further showers spreading south, heaviest and most frequent towards the east, but also some sunny spells.
"Temperatures ranging from 10C in the north of Scotland to 16C in the south of England."
On September 24
According to Weather Online, an area of low pressure will be drifting across Ireland and the south of the UK on Thursday. This is going to be bringing heavy showers and longer spells of rain. The rain probably most persistent in southern Ireland, Wales and northern England. This rain then drifts into the Midlands during the afternoon.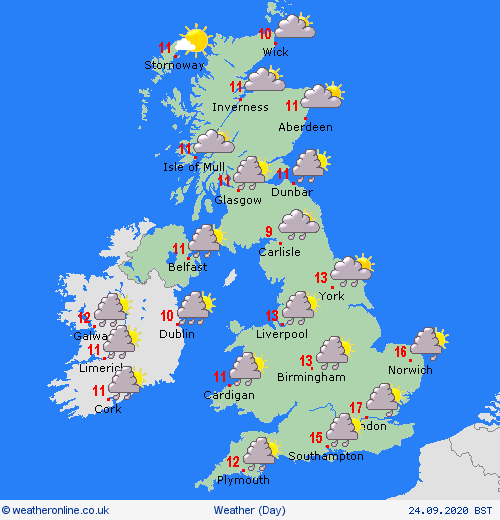 Photo: Weather Online
Some brighter spells in east Anglia and southeast England. Cloudier in northern and eastern Scotland, a few bright spells here. brighter in wester Scotland and the north and west of Ireland. Tops at 10 to 16C.
Europe's weather forecast
BBC WEATHER forecast a distinct change in conditions for Europe this week as the continent heads into the autumn-winter months with warnings out for thunderstorms affecting many parts.
The weather's going to be turning distinctly autumnal across the northwest of Europe as the week closes out, according to BBC meteorologist Stav Danaos. He noted northwesterly winds will be digging in with "areas of low pressure introducing Arctic air". Outbreaks of rain and strong winds will also be affecting the British Isles.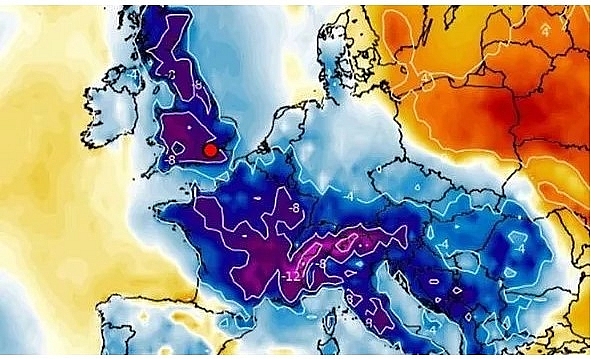 BBC Weather: Arctic air slams into Europe as temperature plunge threatens freeze this week (Image: WXCHARTS)
Mr Danaos told viewers: "Then these conditions will move into northwest France, the low countries, pushing across into the northwest of Germany, Denmark and Scandinavia."
"So temperatures will be lower on Wednesday in London than what we've seen over the past week or so. They'll be even lower as well in Paris."
"Across the Mediterranean, certainly across central portions, thunderstorms and showers will continue. This will affect Italy, the Alps and across into the Balkans."
He continued: "Certainly across the Adriatic coastline as well. Slovenia down into Croatia and northwestern parts of Greece will be hit."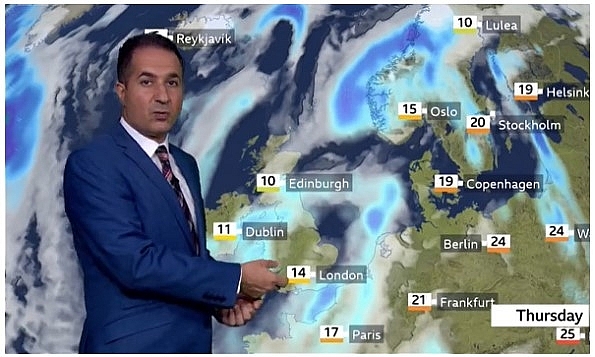 'Temperatures will be lower on Wednesday in London than what we've seen.' (Image: BBC)
"But generally speaking the eastern Mediterranean will be fine and dry on Wednesday and Thursday. It will be hot and sunny in Cyrpus with very pleasant weather conditions for Greece and the islands."
Mr Danaos said: "Some pretty wet weather lightly across Scandinavia too. Probably the best of the sunshine across Europe will be across the northeast."
"So much cooler, fresher outbreaks of rain for London and for Paris over the next four or five days."
"It looks like Berlin will see that drop in temperatures as we head on into the weekend with that heavy rain. But for Athens, it should stay dry, sunny and warm."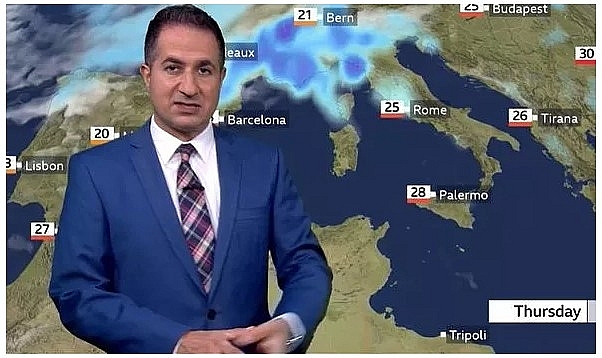 'Slovenia down into Croatia and northwestern parts of Greece will be hit.' (Image: BBC)
On September 24
According to Weather Online, heavy showers over northern coasts of Spain. Bright for much of Portugal but some rain in the south. More rain in central parts of Spain, although the south and much of the east is dry and bright. Showers for Corsica, dry in Sardinia. Scattered showers in northern Italy, fair to the south. Heavier showers in Greece but fine and dry with plenty of sunshine in Turkey.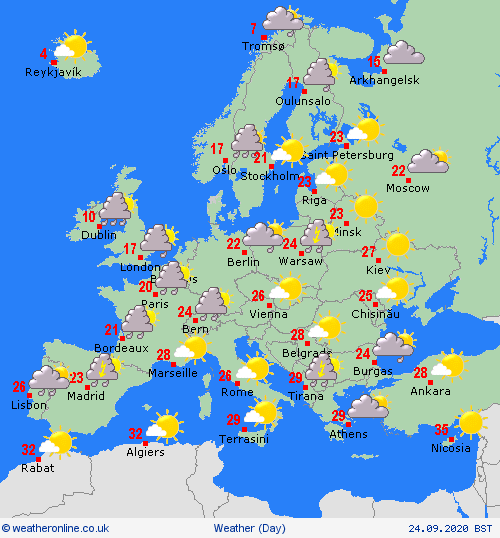 Photo: Weather Online
Unsettled in France with wind and heavy showers or rain in much of France. Bright in the Low Countries and dry in much of Germany. Poland will be bright and mostly dry. Some showers in western Hungary with heavier showers or rain affecting Austria and Switzerland.
Bright and breezy in Denmark. heavy rain affecting the southern half of Norway as well as southern Sweden. Bright in the Baltic States and staying dry here. Staying mostly dry in Finland as well. Some spots of rain in northern Sweden but brighter in the north of Norway.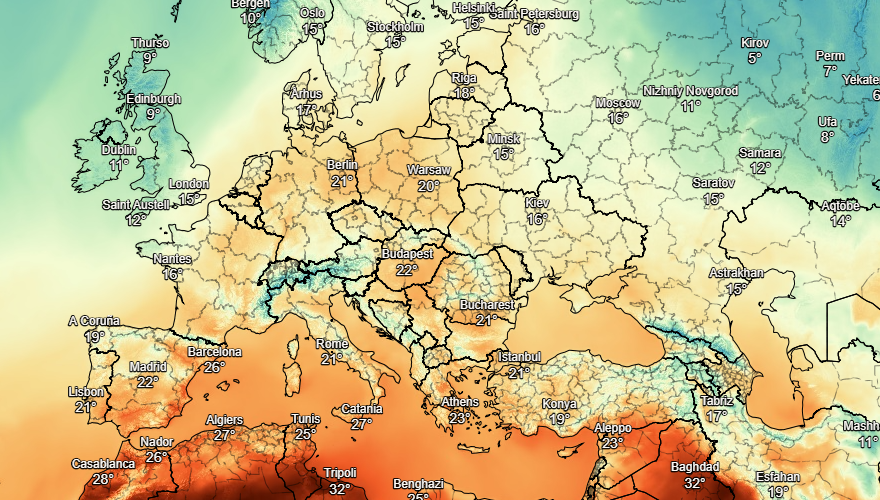 Photo: Stirimeteo