US Ambassador visited Temple of Literature on Vietnamese Teachers' Day
On the occasion of Vietnamese Teachers' Day November 20, the US Ambassador to Vietnam Daniel J. Kritenbrink visited the Temple of Literature (Quoc Tu Giam) to pay respect to Vietnam's outstanding teachers.
Accompanying the US Ambassador were Prof. Dr. Pham Quang Minh - Former Principal of the University of Social Sciences and Humanities and the university's students.
Ambassador Daniel J. Kritenbrink said: "The Temple of Literature is one of my absolute favorite places in Hanoi. I love it because it is so beautiful and peaceful. The architecture is stunning and historically and culturally meaningful as well. I learned a lot about Chu Van An here today and I learned that he is one of 4 people in Vietnam recognized by UNESCO. I feel particularly inspired today by Vietnam's teachers, Vietnam's students, Vietnam's long and rich history and tradition. I wish all of Vietnam's teachers a happy Teacher's Day!"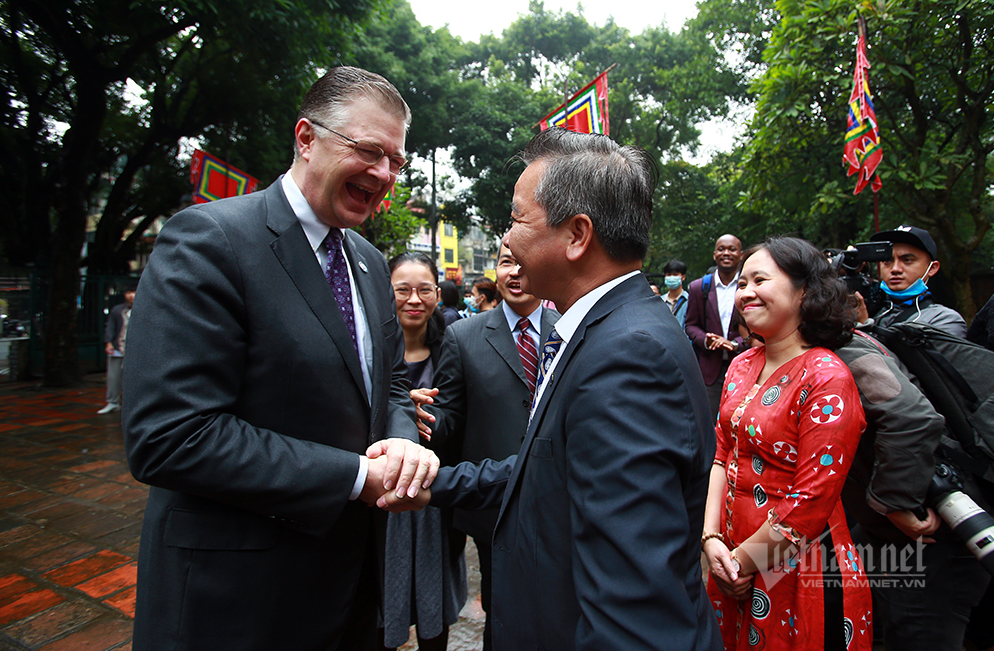 The visit to the historic site aims to show respect for Vietnamese culture, including the nation's traditional fondness for learning, while boosting mutual exchanges. (Photo: Vietnamnet)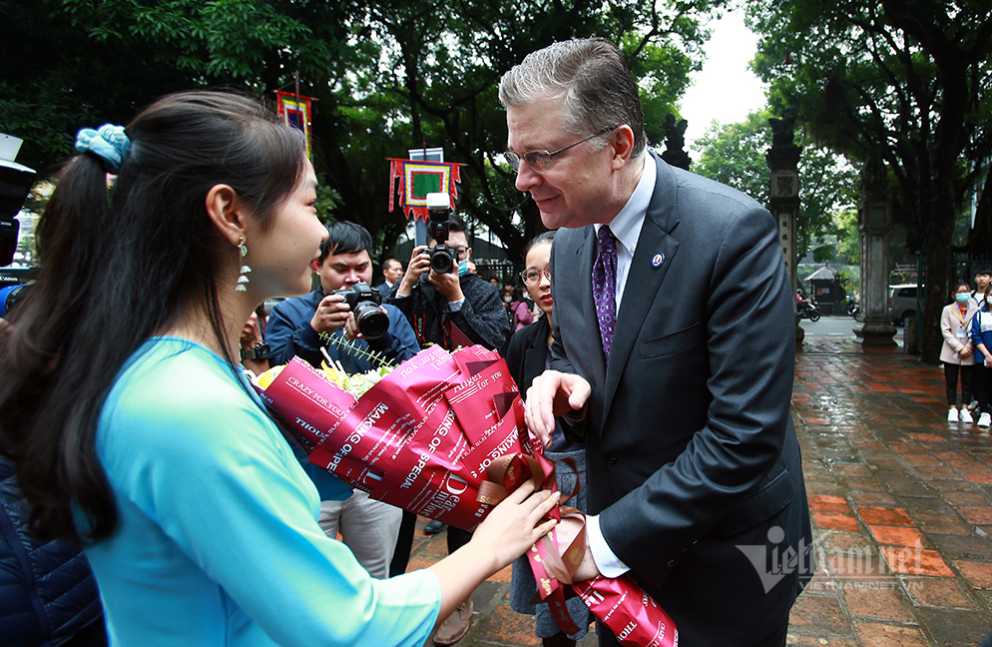 University of Social Sciences and Humanities students gave flowers to the ambassador. (Photo: Vietnamnet)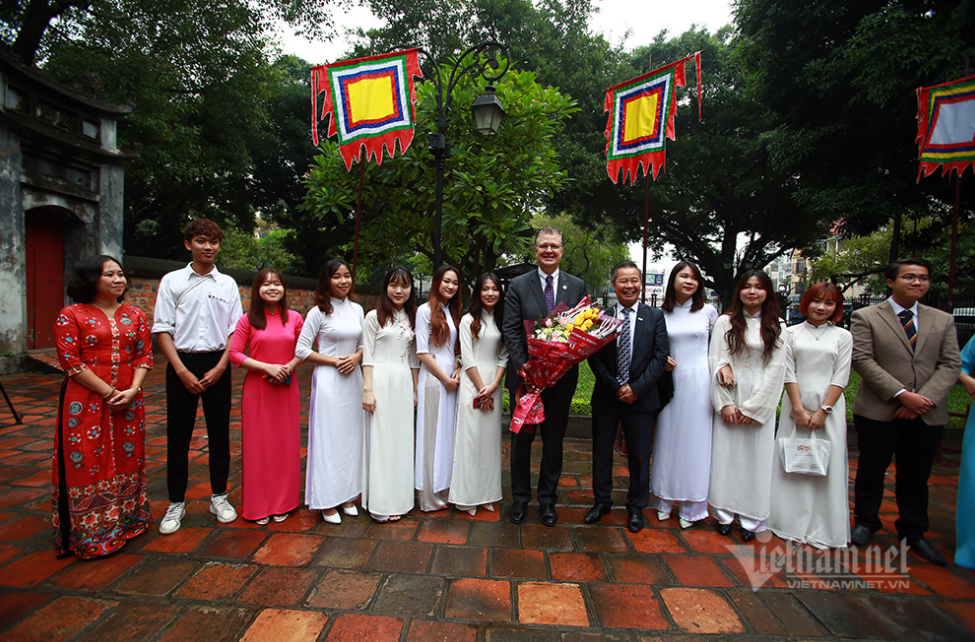 Ambassador Kritenbrink receives a warm welcome from Vietnamese students at the Temple of Literature. (Photo: Vietnamnet)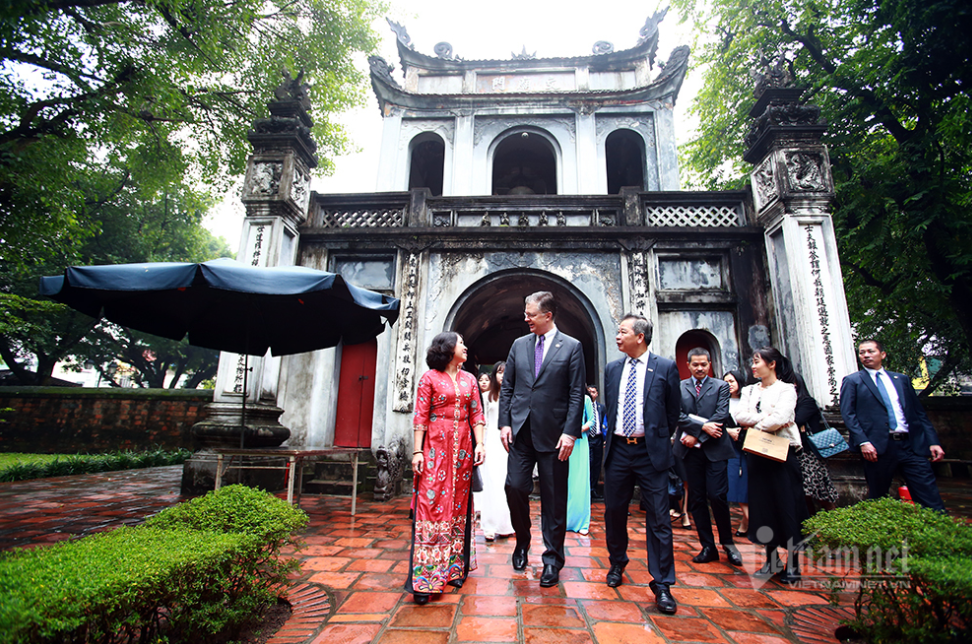 Dr. Do Thi Huong Thao, a teacher from history faculty of the University of Social Sciences and Humanities, (L) gives the US diplomat a brief introduction on the Temple of Literature. (Photo: Vietnamnet)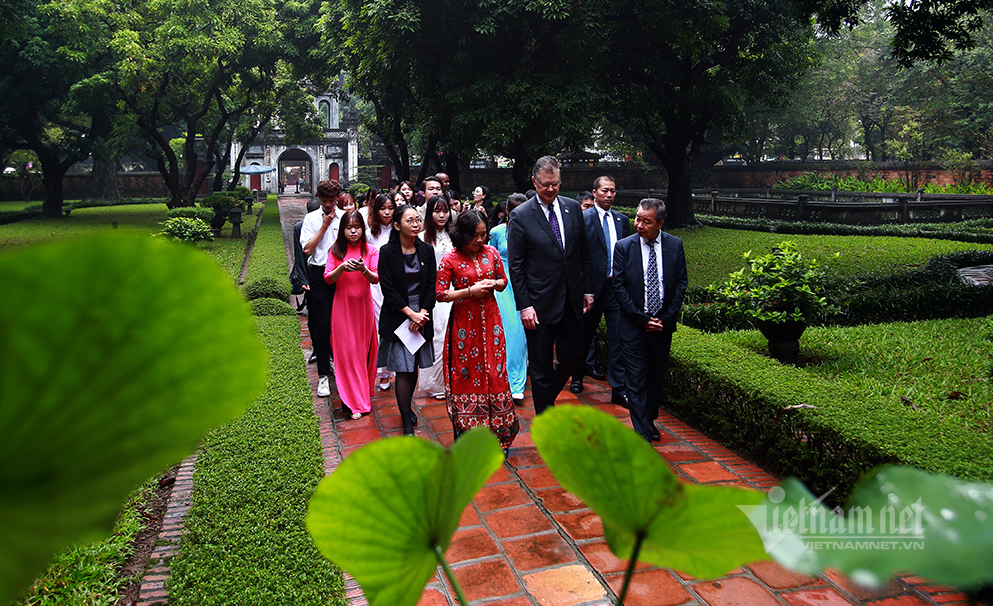 The US ambassador shares that the Temple of Literature is one of his favorite places in Hanoi and he is greatly impressed with its peaceful beauty coupled with the historical architectural style on show. (Photo: Vietnamnet)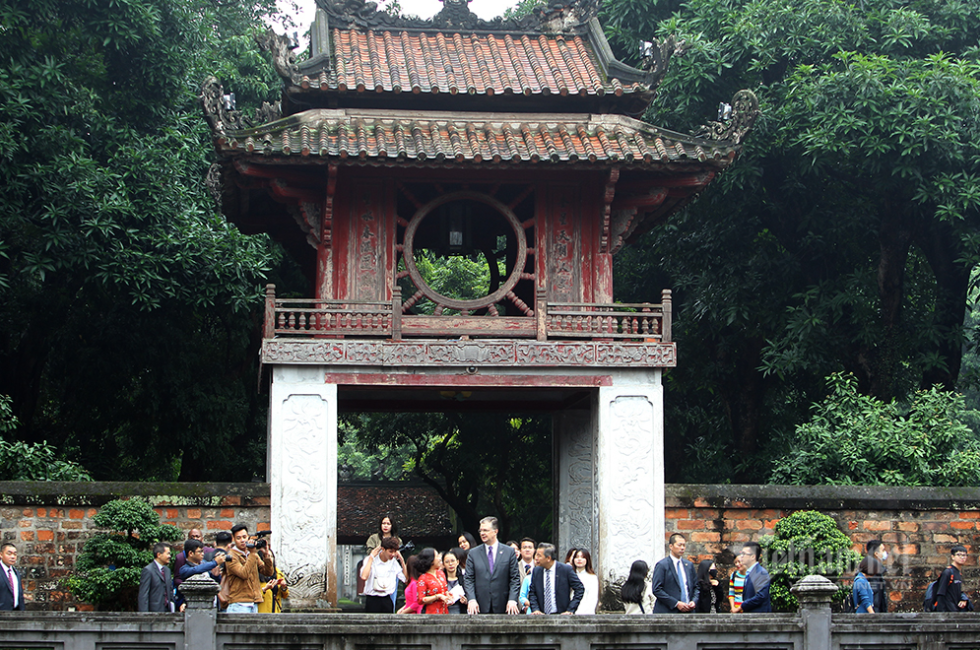 The US ambassador says the visit will allow him to learn much more about historical teaching figures such as Chu Van An, along with Vietnamese cultural traditions. (Photo: Vietnamnet)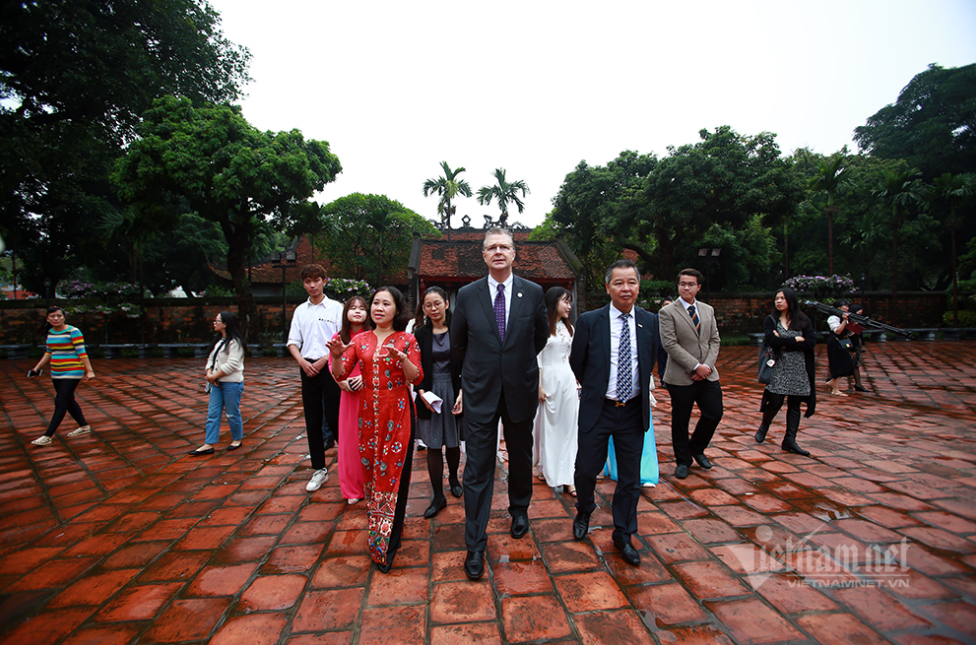 The US ambassador notes he is impressed with the intelligence, industriousness, and talent of Vietnamese students. (Photo: Vietnamnet)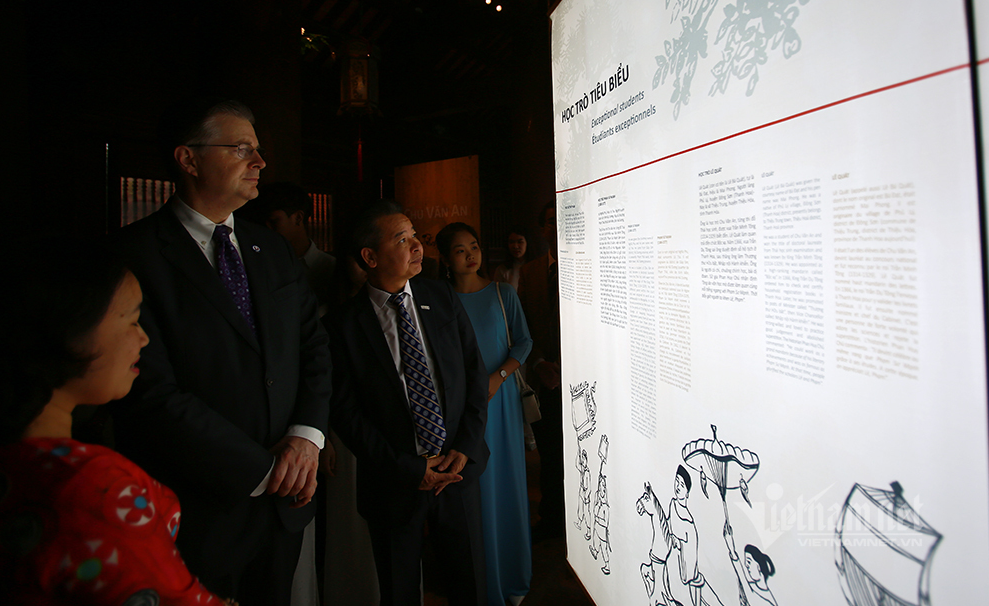 US Ambassador visited the exhibition about the life and career of teacher Chu Van An. (Photo: Vietnamnet)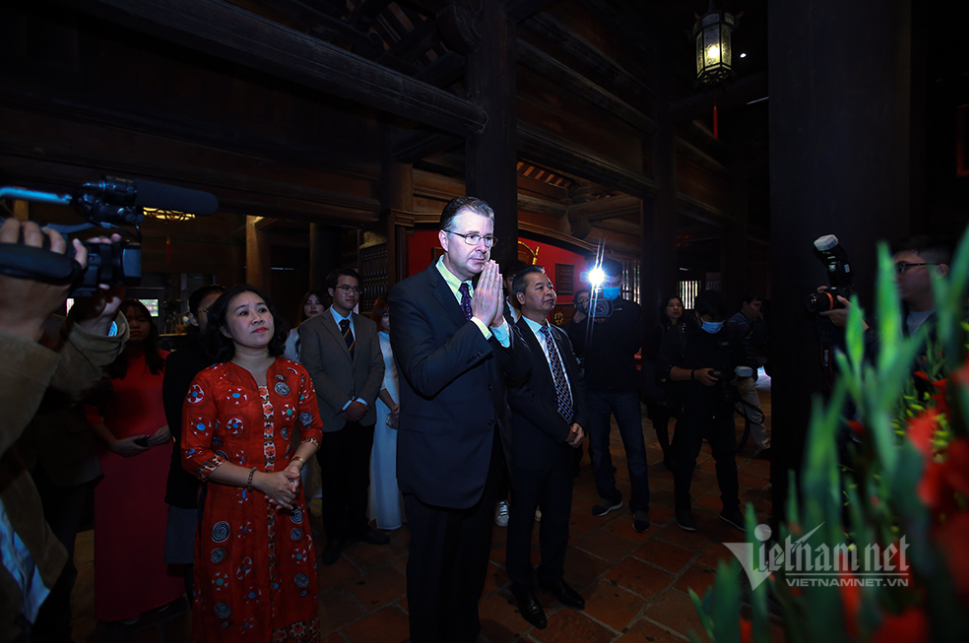 ... and burning incense in the relic of Van Mieu Quoc Tu Giam. (Photo: Vietnamnet)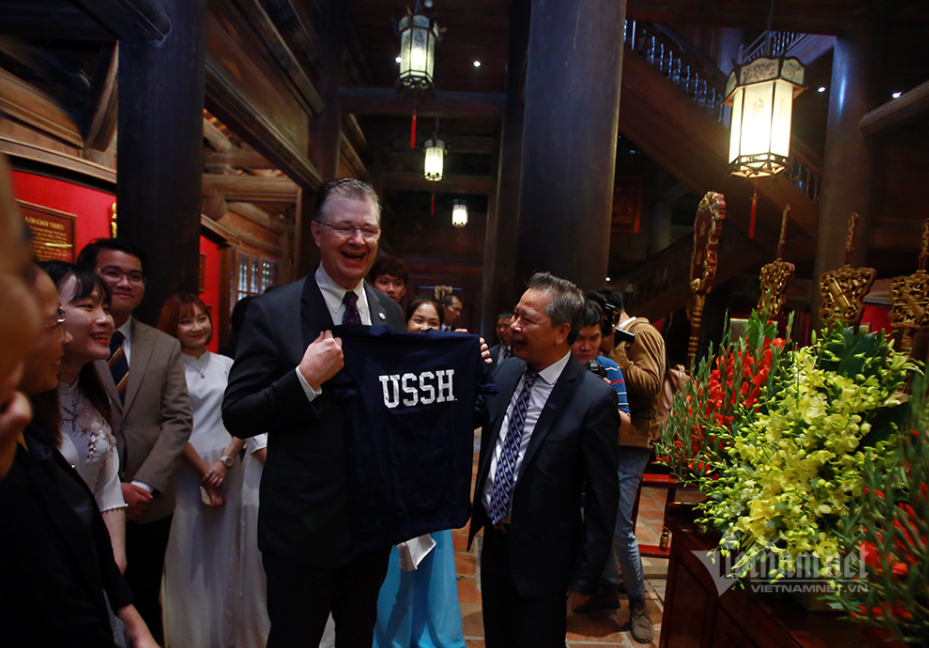 Professor and historian Pham Quang Minh presents a local T-shirt and books detailing Vietnamese history as special gifts to Ambassador Kritenbrink during his first visit to the site. (Photo: Vietnamnet)