Vietnam and ILO Cooperate to Create Jobs and Ensure Social Security
Vietnam is working with the International Labor Organization to create more jobs, and ensure that employees can work in better, safer and more secure environment, aiming to facilitate higher productivity and income.
On March 28, the Vietnam Decent Work Country Programme 2022-2026 was signed between the representatives of the Government, the General Confederation of Labor, the Vietnam Trade Federation, the Vietnam Cooperative Union, and the International Labor Organization (ILO).
The new program provides a framework for cooperation between the ILO and its partners in Vietnam through 2026 with the goal of working towards decent work for all. Accordingly, by 2026, Vietnamese people, especially those at risk of being left behind, will contribute and benefit equitably from a sustainable, inclusive, and gender-responsive economic transition based on innovation, entrepreneurship, productivity enhancement, competitiveness, and decent work.
All citizens will benefit from inclusive, gender-responsive, disability-sensitive, equitable, affordable, and quality social services and social security systems. The program will be carried out with the goal of multidimensional, inclusive, and sustainable poverty alleviation, and empowering people to reach their full potential.
It is expected that all Vietnamese people will enjoy and contribute to a more equitable, secure and inclusive society based on improved public governance, more responsive institutions, enhanced rule of law, protection and respect of human rights, gender equality and the elimination of all forms of violence and discrimination, in line with Vietnam's international commitments.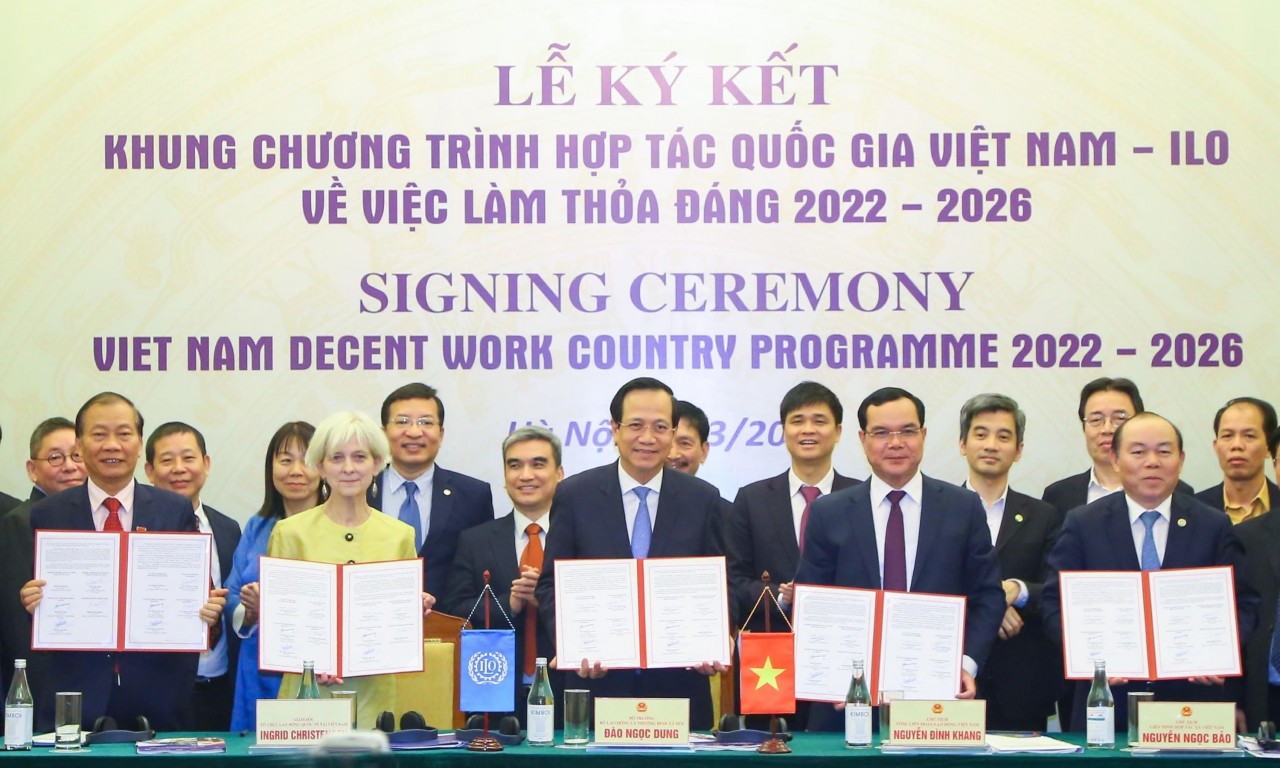 The signing ceremony of the Memorandum of Understanding between Vietnam and ILO on the Vietnam decent work country programme 2022 -2026. (Photo: Thoi Dai).
According to Minister of Labor, Invalids and Social Affairs Dao Ngoc Dung, in this fourth cooperation cycle, the Vietnamese Government continues to focus on employment, human resource development and social security associated with international economic integration in the new context. These focuses are in line with the sustainable development strategy, balancing economic and social goals, and ensuring the rights and interests of employees, enterprises and of society.
In the coming time, Minister Dung requested the ILO to prioritize and provide support to the development and improvement of the legal system on labor, building and completing social policies for the period of 2023 – 2030, as well as supporting harmonious, stable, and progressive labor relations at enterprises.
In addition, he referred to strengthening cooperation and support for ratification of several ILO conventions, including Convention 87 on freedom of association and protection of the right to organize. In the context of rapid digital transformation, aging population, and climate change, Minister Dao Ngoc Dung noted the importance of supporting capacity building for Vietnam to ensure a fair transition towards a green and sustainable economy.
Speaking at the ceremony, Director of ILO Vietnam Ingrid Christensen highly appreciated Vietnam's priorities on creating green and productive jobs, protection and social security for workers and maintaining effective market governance and labor relations. She also mentioned the initial discussions on how Vietnam could become a pioneer in the United Nations Secretary-General's initiative on the Global Program to promote employment and social security towards equal transition.
"ILO stands ready to work closely with the Government of Vietnam and social partners. With close cooperation between the parties, we can make a difference at the national and local level in Vietnam. We believe today's signing and the framework on Vietnam decent work 2022-2026 will be the next important step in the journey towards the shared goal of promoting social justice and sustainable employment for all," said Christensen.