Vietnam, Cambodia put new international border gates into operation
The international border gate pair was officially opened on May 31.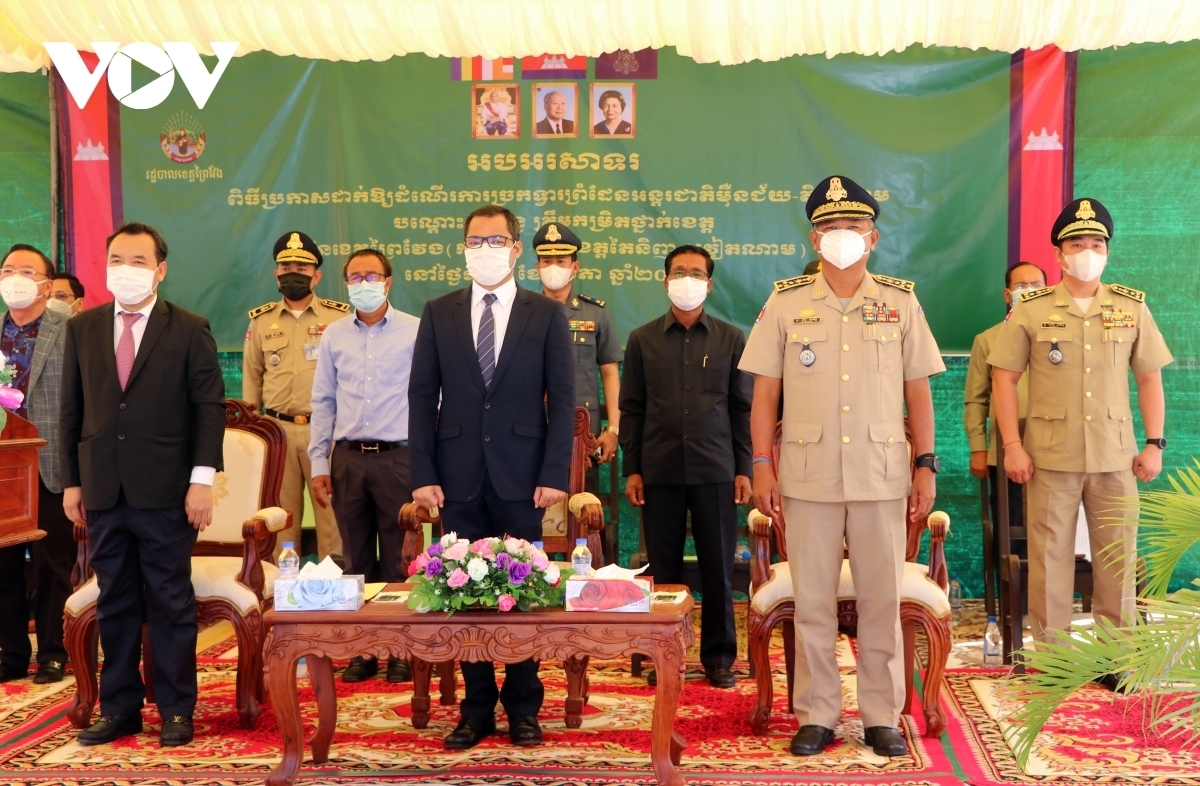 At the ceremony on May 31 to announce the operation of the Tan Nam (Tay Ninh) - Meun Chey (Prey Veng) international border gate pair. Source: VOV
The southeastern province of Tay Ninh worked alongside the Cambodian province of Prey Veng to internally organize a ceremony to announce the launch of the Tan Nam (Tay Ninh) - Meun Chey (Prey Veng) international border gates, reported VOV.
Speaking at the ceremony on behalf of the Cambodian side, Governor Chia Sok Me Thy of Prey Veng province emphasised that putting the Meun Chey - Tan Nam international border gate into operation is of great significance to the authorities of both nations.
This is along with being a milestone in the development of co-operating between both provinces and countries.
Governor Veng affirmed that the Meunm Chey - Tan Nam border gate pair, when in full operation, will create favourable conditions for citizens of both sides, allowing people to visit their relatives, boosting the exchange of goods, promoting co-operation, and improving the lives of border residents.
This will serve to contribute to taking joint ties to new heights, embodying the motto "good neighbourliness, traditional friendship, and comprehensive, sustainable and long-term cooperation" agreed by both leaders of the two countries.
The site is also an important historical location, marking the fruitful co-operation and great assistance given by the Vietnamese side to the Cambodian people during the process of overthrowing the genocidal Khmer Rouge regime, he said.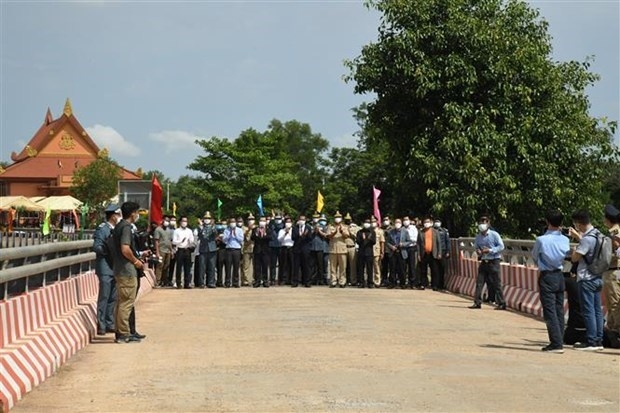 The Tan Nam (Vietnam's Tay Ninh province)- Meun Chey (Cambodia's Prey Veng province) international border gate pair was officially opened on May 31. Photo: VNA
Vice Chairman of the Tay Ninh People's Committee Nguyen Manh Hung stressed the upgrading of the local Tan Nam border gate into an international one aims to foster economic, education, cultural and trade cooperation with Prey Veng and other localities in Cambodia.
In recent years, both volume and value of goods traded via the pair have been on the rise.
The Tan Nam international border is developed in association with eco-tourism, with its links to Prey Veng's eco-sites set to be formed in the future, serving the two localities' economic growth and job creation.
Currently, the southern province of Tay Ninh is home to three international and three national border gates.
Both nations share a 1,255 km long common border, with the starting point located at the intersection of the border line between Vietnam, Cambodia, and Laos, whilst the end point is situated at the last position of the land border on the Gulf of Thailand. This position is between the Vietnamese province of Kien Giang and Cambodia's Kampot province.
Both nations share 10 international border gates, 11 main border gates, and 20 auxiliary ones.