Vietnam, Canada to Cooperate on Coronavirus
Vietnam and Canada have discussed ways to boost bilateral ties and cooperation in the fight against the Covid-19 pandemic.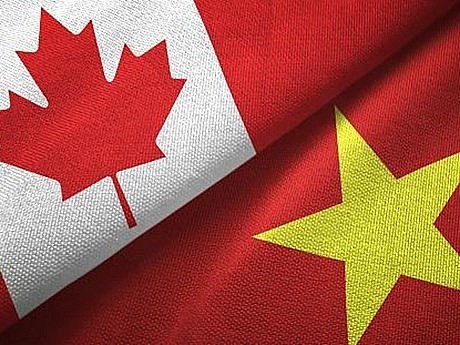 Photo: Internet
Deputy Minister of Foreign Affairs Nguyen Quoc Dung held a phone call with the Foreign and Defence Policy Advisor to the Canadian Prime Minister, David Morrison, on Oct. 15.
Dung conveyed Prime Minister Pham Minh Chinh's congratulations to Canadian PM Justin Trudeau and his Liberal Party on their victory in the general election on Sept. 20, said Nhan dan (People) newspaper.
The Deputy Minister spoke highly of Canada's foreign policy in the Asia-Pacific, and with the Association of Southeast Asian Nations (ASEAN) and Vietnam.
Towards the 5th founding anniversary of the comprehensive partnership next year and the 50th anniversary of diplomatic ties between Vietnam and Canada in 2023, Dung expressed his wish to strengthen the bilateral comprehensive partnership in all areas to bring benefits to both people of both nations, contributing to peace, stability and development in the region and world.
Amid the pandemic's complex development, he called on Canada to continue providing vaccine and treatment medicine support for Vietnam.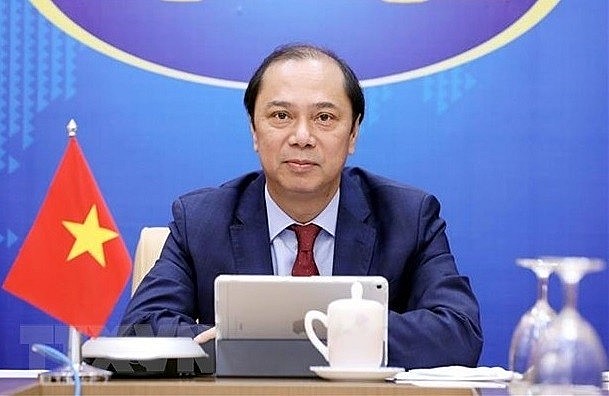 Deputy Minister of Foreign Affairs Nguyen Quoc Dung. Photo: VNA
Morrison said wanted to deepen the Canada-Vietnam comprehensive partnership.
He said he highly valued Vietnam's Covid-19 prevention and control efforts with safe and flexible adaptation to the pandemic.
The official affirmed Canada's commitment to help Vietnam and regional countries access vaccines via the COVAX Facility and the ASEAN COVID-19 Response Fund.
Both sides agreed to strengthen bilateral relations, initially facilitating visits all levels when conditions allow and maintaining regular cooperation mechanism between the two foreign ministries.
For regional and global issues of shared concern, including the South China Sea (Bien Dong) issue, they highlighted the observance of international law, including the 1982 United Nations Convention on the Law of the Sea (UNCLOS), and agreed to continue close cooperation at regional and international multilateral forums
Ample room for cooperation
Speaking at a seminar on Oct. 15, Vietnamese Ambassador to Canada Pham Cao Phong said trade between Vietnam and Canada increased by 12.8% last year and 28.5% in the first seven months of this year.
The Comprehensive and Progressive Agreement for Trans-Pacific Partnership, of which Vietnam and Canada are founding members, offers tax incentives for trading in both consumer goods and raw materials.
"This factor creates favourable conditions for trade, providing goods, services and materials for production lines in the context of the turbulent global economic environment, ensuring human and economic security of the two countries," Phong said.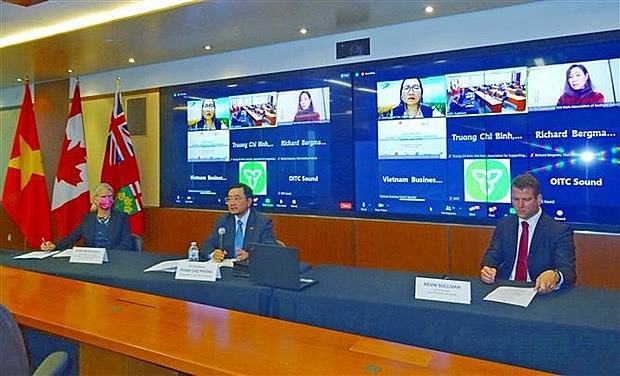 Vietnamese Ambassador to Canada Pham Cao Phong (centre) speaks at the event. Photo: VNA
Senator Victor Oh emphasised that although the Covid-19 pandemic had severely affected global trade, trade ties between Vietnam and Canada remained firm, proving that there were still growth opportunities to explore.
Since 2015, Vietnam has been Canada's largest trading partner in ASEAN. Canada has removed 94% of the total tariff lines on goods importing from Vietnam within the framework of CPTPP, and Vietnam has abolished 66% of tariff lines on Canadian goods.
Jay Allen, Executive Director for the Trade Policy and Negotiations – Asia Division at Global Affairs Canada (GAC) said the CPTPP was a great success for businesses as well as consumers in Vietnam and Canada.
Given the two countries' deep ties, trade cooperation has just begun, he added.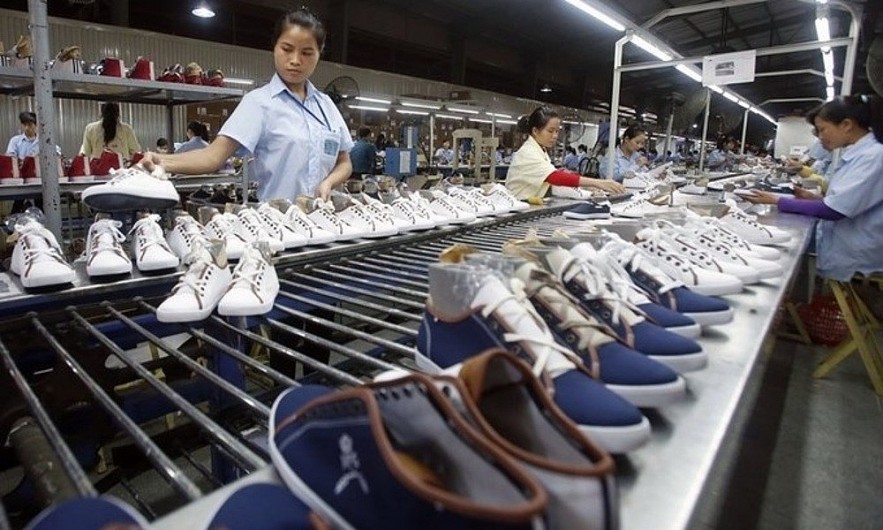 Workers at a footwear factory in Hanoi. Photo: Reuters.
Ambassador Phong said that in order to adapt to the new normal in the post-Covid period, businesses of the two countries needed to discuss the establishment of a common governance support centre, the B2B model ( transaction conducting between two companies), research and development (R&D), after-sales service, digitisation and digital security.
With GDP growth of 1.42% in the first nine months of this year, Vietnam is an attractive destination for investment and business activities thanks to its political and macroeconomic stability as well as dynamic and abundant human resources.
As a founding member of the Regional Comprehensive Economic Partnership, Vietnam can act as a bridge for Canadian businesses to reach a market of 2.2 billion people, or almost 30% of the world's population, with a combined GDP of UD$26.2 trillion or about 30% of global GDP.
Meanwhile, Canada can be a door for Vietnamese goods to penetrate the US and Mexican markets - members of the new North American Free Trade Agreement.