Vietnam employs multiple strategies to keep health workers safe in Covid fight
Experts in Vietnam have strongly recommended suitable strategies be applied to ensure the health of health workers.
Health experts across Vietnam have called upon various methods to be used to ensure the safety f medical workers,
Dr. Nguyen Huy Nga, former director of the Ministry of Health's General Department of Preventive Medicine, said health workers were particularly vulnerable in the COVID-19 pandemic. Other than the risks of getting infected, health professionals face numerous adversities and challenges such as thirst, hunger, and exhaustion as they work long hours under scorching sun and heat.
On May 12, three nurses f,ainted while taking Covid specimens at a hotspot in Thuan Thanh district of Bac Ninh province. They suffered from heat stroke due to working non-stop in exteme conditions while wearing air-tight protective gear. Similar cases were recorded in other provinces such as Dien Bien and Bac Giang.
According to Dr. Truong Huu Khanh, former head of the Infectious Disease Department at the Ho Chi Minh City Children's Hospital, health workers, particularly specimen collectors, can face serious risks if overworking. The weaker their immune system, the greater the risks of getting the virus. When they are not healthy, medical staff can make mistakes while taking specimens, leading to serious consequences.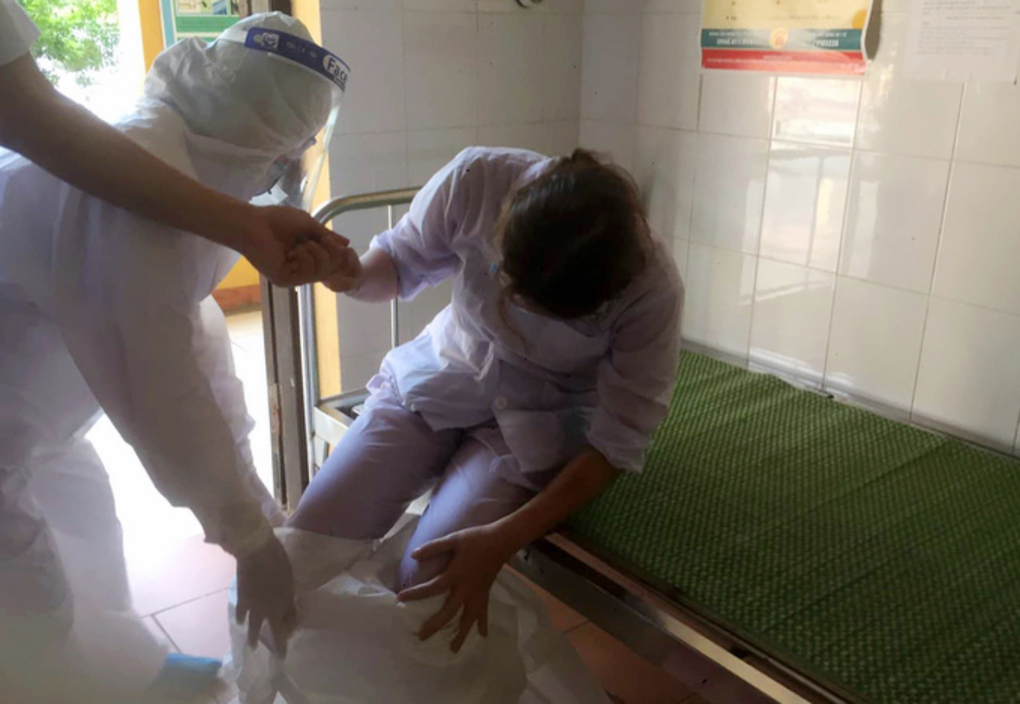 Photo: A nurse working at the Thuan Thanh District Medical Center of Bac Ninh Province, fainted at a Covid-19 hotspot on May 9. / Nguyen Huong, VNExpress.
To reduce the workload for health workers, Dr. Nga said that it was necessary to allocate staff to different shifts, particularly when they have to work outdoors in potentially contagious areas with adverse weather conditions. Health workers should avoid working non-stop. Instead, they should take time to rest properly between shifts.
People responsible for entering data/labeling the test tubes should sit down, while those collecting specimens normally have to stand. Dr. Khanh accordingly recommends that the specimen collectors switch shifts every hour.
Khanh also cautioned that localities should increase the number of qualified staff by providing training on collecting specimens for local health workers, including medical students, nurses, doctors, and technicians from departments other than the department of infectious diseases. This is the best way to sustainably reduce the workload for specimen collectors. Staff can be mobilized between localities, but this should be considered a temporary solution.
Keeping health workers safe
Taking Ho Chi Minh City as an example, Khanh said the city's Department of Health required that for every 50 beds, there should be a group of three Covid-19 specimen collectors. So far, Ho Chi Minh city has over 600 groups of specimen collectors from hospitals, medical centers, and medical schools in the city. In case of emergency, around 100,000 samples can be collected in 24 hours.
"Collecting specimens is not a complicated task. After two training courses, any health workers can perform this duty perfectly. What is important is providing them with appropriate safety measures," Khanh said.
Health workers should also take good care of themselves and know what to do in case of adverse weather conditions. They should not take off their protective gears even if they are tired, as this may increase the risk of getting infected.
"All personal protective equipment should be used only once and must be disposed after being taken off," Nga said.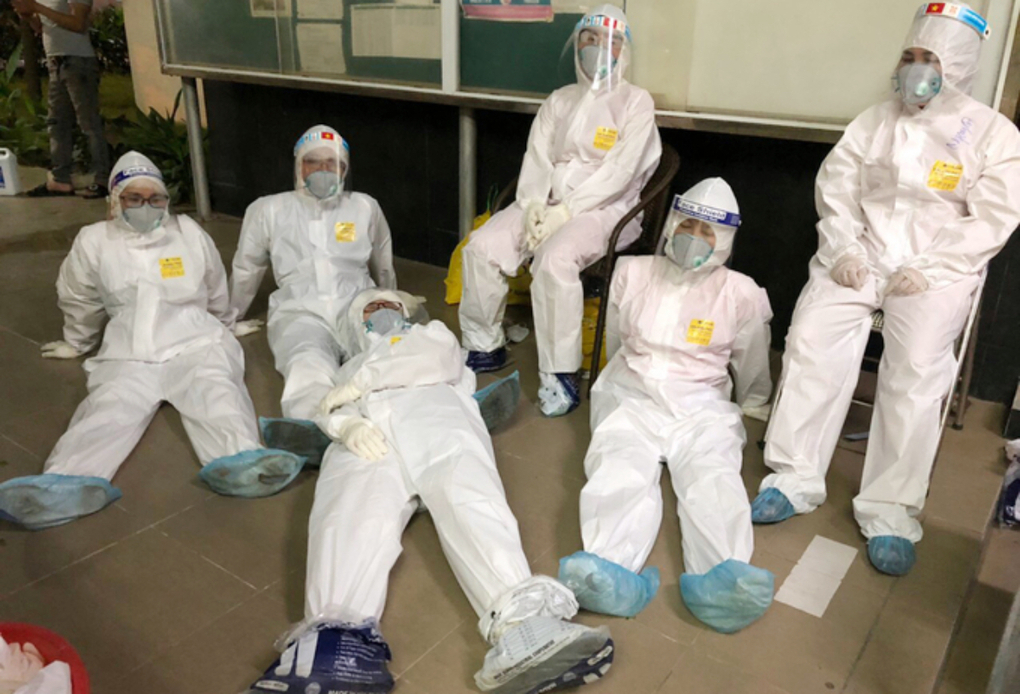 Photo: Health workers from Tien Du district of Bac Ninh province take a rest / Photo: VnExpress
As a human resource coordinator and specimen collector, Doan Van Cong – head of the Department of Laboratory and Diagnostic Imaging at Binh Thanh District Medical Center, said overworking and exhaustion were unavoidable.
Cong and colleagues have learned to adjust themselves appropriately. Instead of mobilizing all staff at once to collect specimens, Cong puts his colleagues into groups, with two main groups and one groups on stand-by.
While working on field, he also observes his colleagues carefully and requires people on the verge of exhaustion to take a break. He encourages his colleagues to eat liquid food for easy digestion and take short naps as much as possible as they can to regain energy quickly.
Health workers are strongly recommended to drink enough water and increase intake of minerals and vitamins. In their daily diet, they should limit cholesterol intake, ensure they have enough protein, and eat a lot of vegetables.
In addition, all health workers should be trained on labor safety when working in hot weather and how to deal with heat stroke. People suffering from heat stroke should be taken to cool places, helped to take off protective gear, apply cool towels, and drink fluids. If their condition is serious, they should be taken to the hospital.
"The fight against COVID-19 is still ongoing. Health workers are key to win this fight, so they need to take proper rest and support each other well," Nga said.