Vietnam Eyes Foreign Investment in Medical Devices Production
With its demand for medical equipment growing, Vietnam had emerged as one of the most promising sectors for foreign investors, and its government offered tax incentives to promote the industry.
The Vietnamese medical devices market, which is growing annually at more than 18%, relies heavily on imports, representing significant opportunities for foreign businesses, VNS cited the Ho Chi Minh City Medical Equipment Association.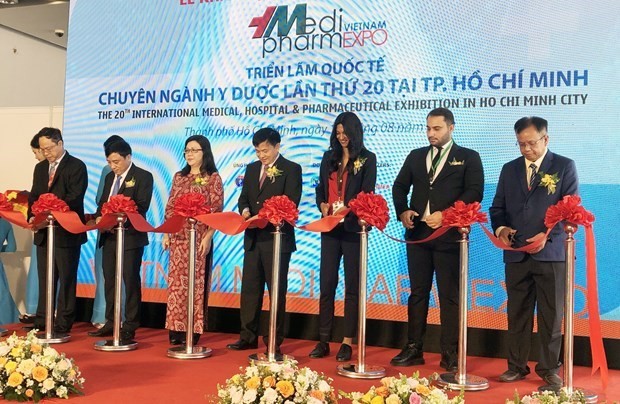 The 20th International Medical and Pharmaceutical Exhibition (Vietnam Medi-Pharm Expo) opened in Ho Chi Minh City on August 11, attracting visitors to 320 stalls of diverse products and equipment. Photo: VNA
The market is now worth USD 1.5 billion, up from USD 1.1 billion in 2017, Hua Phu Doan, deputy chairman of the association, said.
Domestic medical devices manufacturers make mostly basic stuff and meet only 10% of demand while the remaining 90% is imported, he told a meeting held recently in HCM City.
The number of foreign manufacturers in Vietnam remains modest due to the lack of development of supporting industries and the absence of an industrial cluster in this sector, he said.
In Doan's opinion, foreign investment in the production of medical devices is vital to reduce reliance on imports and facilitate development of supporting industries serving the healthcare sector.
The 20th International Medical, Hospital & Pharmaceutical Exhibition, which opened in HCM City on August 11, serves as a platform for foreign businesses to explore partnerships and investments in Vietnam, he said at the inaugural ceremony.
Vietnam Medi-pharm Expo 2022, with its larger scale and exhibitor portfolio, is also a great opportunity for local businesses to access advanced technologies and specialised equipment in the pharmaceutical and medical device sectors, Doan added.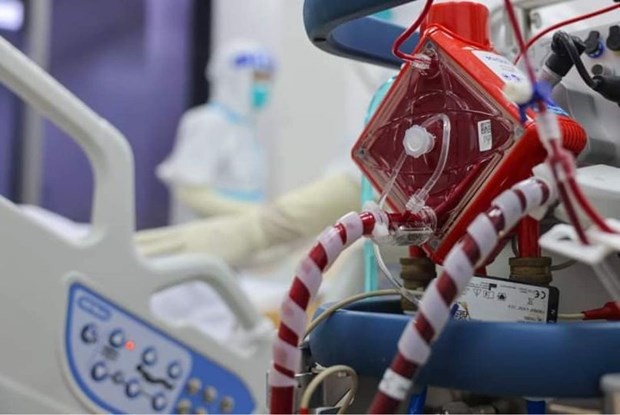 At HCM City's COVID-19 intensive care hospital. Photo: VNA
The expo, organised by Vinexad JSC in collaboration with the association, brought together 260 exhibitors from 20 countries and territories, with businesses making pharmaceuticals and functional foods accounting for half of them.
The expo, wrapped up on August 13, also has five national promotion booths of India, Germany, the Republic of Korea, Malaysia and Turkey
Vietnam could become a major export market for Indian medical device makers and also act as a springboard to other ASEAN countries, according to the Engineering Export Promotion Council of India.
Vietnam imported around 90% of its medical devices, with Japan, Germany, the US, China, and Singapore accounting for around 55 percent, its chairman, Mahesh Desai, told an online India-Vietnam Business Meet on medical devices held in May.
The local industry comprising around 50 manufacturers accounted for less than 10% of the market share. Indian companies could look to tap the burgeoning medical devices market, he said.
"Many Indian manufacturers of medical devices and pharmaceuticals have already entered and invested in the Vietnam market, which is a very positive sign," he added.
Dr Madan Mohan Sethi, Indian Consul General in HCM City, said the medical device sector was one of Vietnam's most promising for foreign investment due to its rapid economic development and rising demand for medical care.
"There is a lot of untapped potential in this area. The Covid-19 crisis provides an opportunity for both sides to join hands and set up alternative global supply chains for various products that have been disrupted by the pandemic."
Doan Quang Minh of the Ministry of Health's department of medical equipment and infrastructure, said that the Government had been providing a conducive policy environment for manufacturing and trading of medical devices.
T S Bhasin, a former chairman of EEPC India and current chairman of the Committee on Trade with ASEAN countries, said Covid-19 had motivated the industry to explore and adopt alternative ways of collaboration.
Vietnam and other ASEAN nations could be major export markets.