Vietnam imposes 21-day quarantine in Covid-19 battle
Vietnam has extended its quarantine policy from 14 to 21 days for both foreign arrivals and those who come into contact with Covid-19 patients.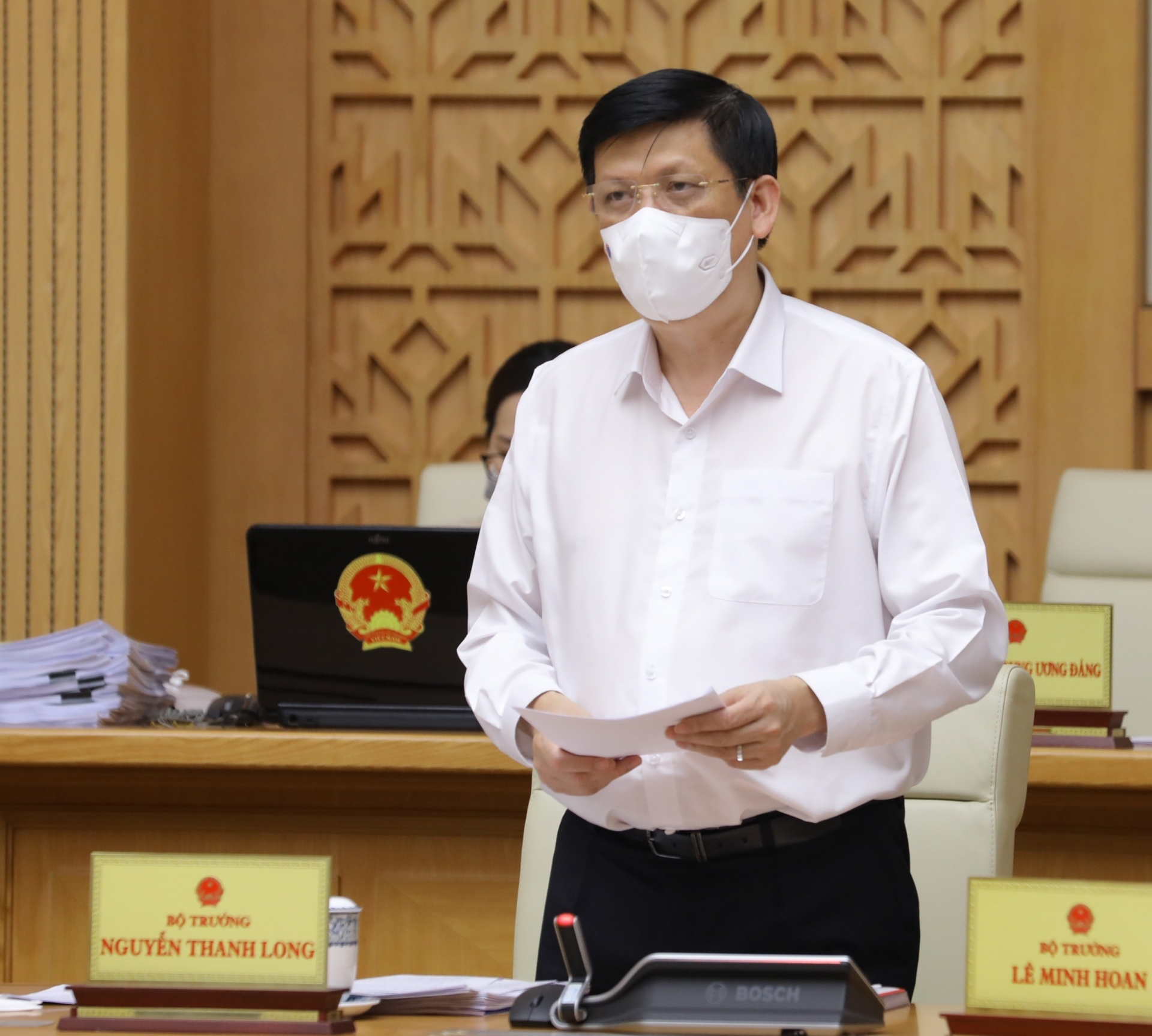 Minister of Health Nguyen Thanh Long speaks at the Cabinet meeting, Ha Noi, May 5, 2021. Photo: VGP
The decision has been made after several individuals contracted the virus after they'd already completed the 14-day quarantine and tested negative twice or thrice, according to VNE. The decision, which took immediate effect Wednesday, was taken after the Health Ministry consulted experts on ways to keep the larger community safe, said Minister Nguyen Thanh Long.
In the past week, at least three such cases have been detected.
The latest decision is the second reversal in as many days. The ministry had said a day earlier that those in centralized quarantine facilities would not be allowed to go home after completing the mandated 14-day quarantine and testing negative twice during the period. It had not specified the new duration.
Then, it reversed the decision earlier today, saying the original 14-day quarantine period will remain with strengthened post-quarantine monitoring and restrictions.
Minister Long has urged concerned facilities to impose quarantine procedures strictly to prevent contagion. A person who has completed the 21-day quarantine needs to be supervised for the next seven days at home, he said.
He also asked localities to find and conduct random tests for foreigners who have entered Vietnam recently, as well as employees of bars, karaoke and massage parlors.
Vietnam has reported 64 cases since April 29, when the latest wave began. To date, Hanoi reported 27 new cases, the highest among the 9 localities affected. Ha Nam and Vinh Phuc confirmed 14 cases each.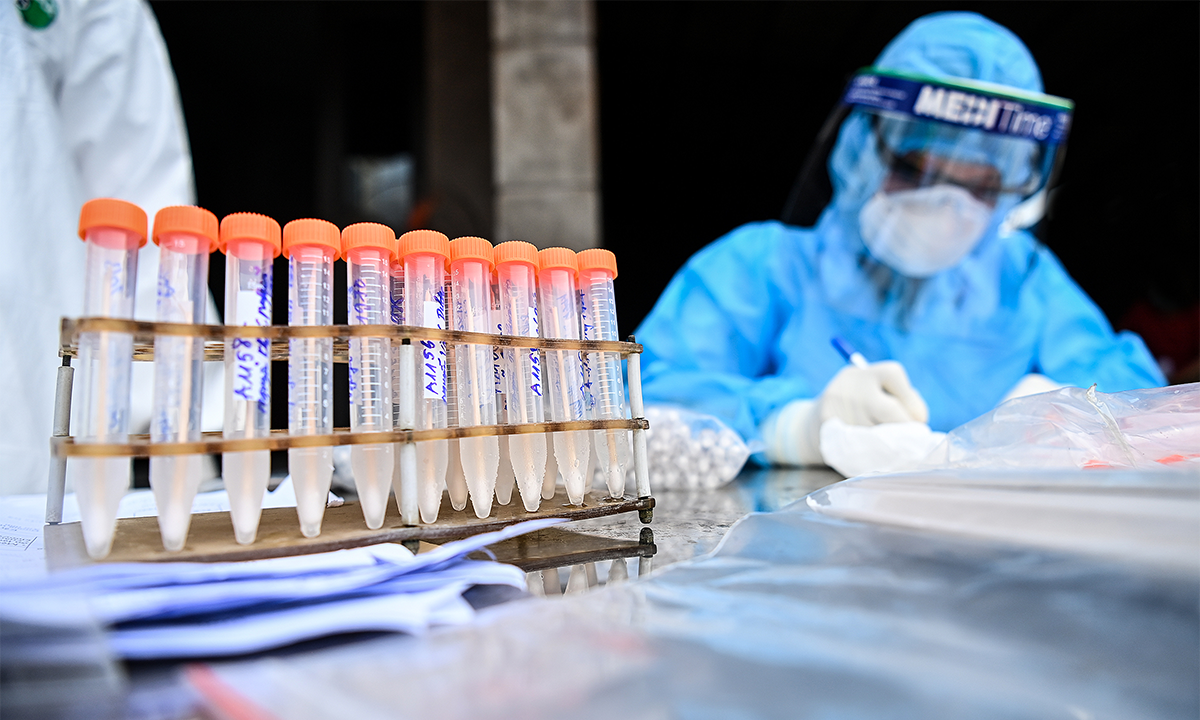 A medical staff conducts Covid-19 tests on people of Viet Hung Commune, Dong Anh District, Hanoi on May 3, 2021. Photo by VnExpress/Giang Huy.
Experts evaluates that Hanoi is running a high risk of a new Covid-19 outbreak, given new cases scattered in different districts and the high frequency of commuting during holiday break.
Tran Thi Nhi Ha, director of Hanoi Department of Health, claimed that the ongoing Covid-19 situation in Hanoi is very complicated. She called for comprehensive regulation at places where patients or suspected patients have been at.
On his part, Chu Xuan Dung, vice chairman of Hanoi People's Committee, said most of the recent cases detected in the city contracted the virus from other localities. Therefore, he tasked all districts to further crackdown on preventive measures, especially face mask mandates and social distancing at either private or public places. Contact tracing, localization, quarantine, and bans against unnecessary social events must be deployed in an urgent, effective and proper manner.
The city leaders requested the Health Department to direct relevant units, medical facilities, pharmacies to have clear plans for caring and testing those with fever, coughing, breathing troubles, as well as screening at high-risk areas.
Municipal police must ensure that all residents have their health declaration and those entering Vietnam without consent face hefty fines.
Prime Minister Pham Minh Chinh on May 5 presided over the first regular Government meeting, where he called on Vietnamese people both at home and abroad to voluntarily observe COVID-19 prevention and control regulations.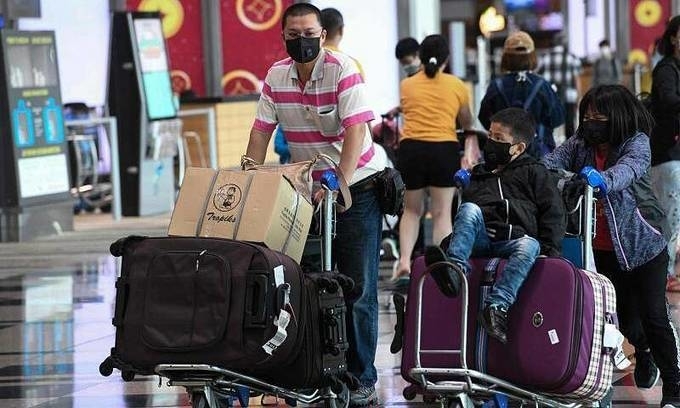 Travelers wear face masks at the departure hall of Changi international airport in Singapore, August 2020. Photo by AFP.
Singapore has recently increased the stay-home notice period from 14 days to 21 for travelers arriving from higher-risk countries and regions, including Vietnam.
The extension, to take effect from Friday, will apply to visitors arriving from all countries and territories, except Australia, Brunei, mainland China, New Zealand, Taiwan, Hong Kong, and Macau, The Strait Times newspaper reported.
Travelers from Vietnam will have the option of staying the last seven days at their places of residence.
The stay-home notice, issued under the Infectious Diseases Act, requires travelers to remain in their place of residence or dedicated facility for a stipulated period.
Singapore's Ministry of Health said all visitors will undergo a polymerase chain reaction (PCR) test on arrival, the 14th day and before the end of the quarantine period.
Travelers from Vietnam had earlier been allowed to opt out of dedicated facilities and serve their 14-day stay-home notice period at their place of residence.