Vietnam News Today (July 20): Local Covid Vaccine Covivac Proves Effective Against Virus
Vietnam News Today (July 20): Local Covid vaccine Covivac proves effective against virus; Fresh groceries rush in Hanoi after Covid-19 restrictions tightened; Nearly 8,000 Vietnamese farmers take to online sales and 6,800 tourism staff in Quang Ninh get vaccinated.
Vietnam News Today (July 20) notable headlines
Local Covid vaccine Covivac proves effective against virus
Fresh groceries rush in Hanoi after Covid-19 restrictions tightened
Nearly 8,000 Vietnamese farmers take to online sales
6,800 tourism staff in Quang Ninh get vaccinated
Vietnam named among world's top 20 host economies for FDI for first time
Central localities receive people back from Covid-19 epicenter HCMC
Lockdown in Nha Trang leaves beach town desolate
High-speed boats to deliver Mekong Delta produce, medical supplies to HCMC
Pilots must have two Covid vaccine shots to fly, aviation authority says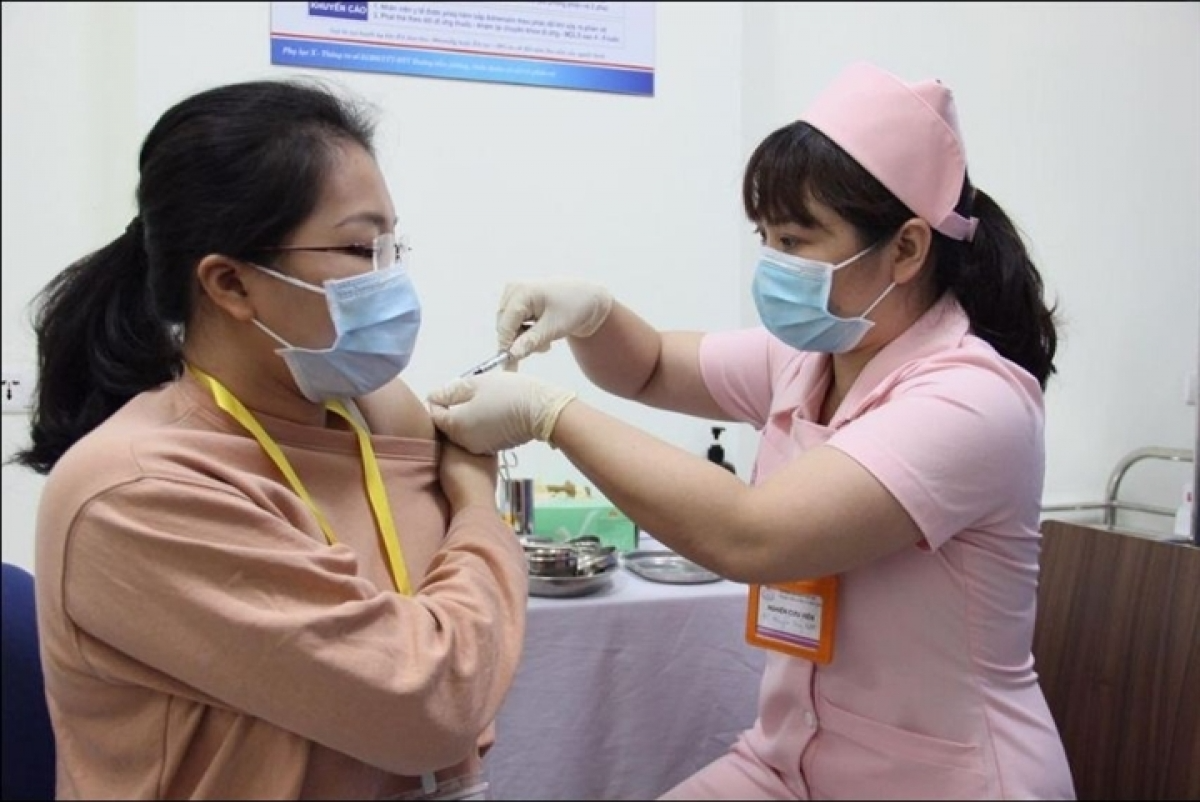 A volunteer receives a Covivac shot during the trial. Photo: VOV
Local Covid vaccine Covivac proves effective against virus
Vietnamese scientists are set to conduct the second phase of a human clinical trial of locally produced Covid-19 vaccine Covivac in August following encouraging results in the first phase.
Initial evaluation shows that Covivac has produced good results and is expected to become a vaccine for Covid-19 prevention in Vietnam, said Dr. Duong Huu Thai, director of the Institute of Vaccines and Biological Medical (Ivac) that produces Covivac.
Thai said that after the second shot, all 120 volunteers involved in phase 1 were in stable health condition. Only a few had mild side-effects such as pain and swelling in the injection area, while no one had severe reactions, cited VOV.
The research team has made a report and sent it to an independent monitoring unit in Thailand for safety analysis and statistics, with the final results expected to come out in late July.
For immunogenicity, all blood samples from 120 volunteers have been sent to an international control unit for testing, and the results will be then transferred to a monitoring unit in Thailand for analysis.
"According to our initial evaluation, the Covivac vaccine is safe and it produces immunity that provides good protection against the virus," stressed Thai.
Ivac researchers are now putting the final touches to the second phase of the human clinical trial of the vaccine which is anticipated to begin in late July or early August at the latest and last until September.
In August they will work on a draft plan for the third and final phase of the trial and hope this phase will be carried out soon this year.
"If all goes well as planned, we expect to have a vaccine product to be approved for emergency use in Vietnam by the end of 2021 or early 2022," said Dr. Thai.
Fresh groceries rush in Hanoi after Covid-19 restrictions tightened
Traditional markets and supermarkets were crowded Monday morning as Hanoi began a new phase with tightened Covid-19 restrictions.
Khoa, a meat seller from the rural district of Thuong Tin, transported pork to the Ha Dong Market in the eponymous urban district at 5.30 a.m., and sold out his meat in two hours. "There were too many buyers early in the morning. My wife and I were as busy as a bees," he said.
Ha, another pork seller at the Ha Dong market, had also sold out her meat by 7.30 a.m., although she had brought 10 kilograms more than usual, according to VnExpress.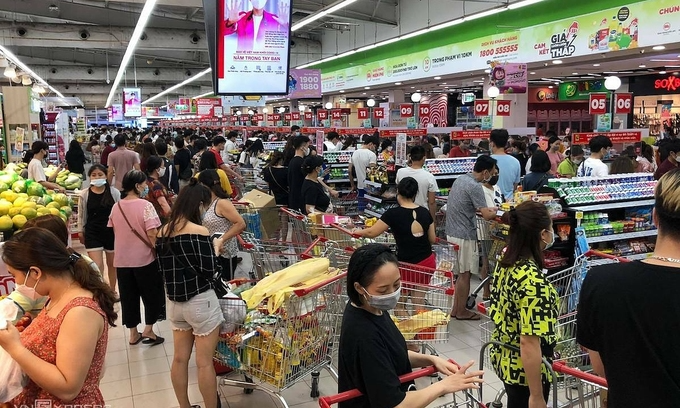 Customers shop at Big C Thang Long Supermarket. Photo: VnExpress
"Sold out today, but on the shelf tomorrow," she said, implying that people had rushed to buy groceries only because it was the first day of tightened Covid-19 restrictions.
The Hanoi People's Committee Sunday asked citizens to stay home, avoid public gatherings of over five and maintain a distance of at least two meters between people starting Monday.
Khuc Tien Ha, operations director of the VinMart chain in the northern region, said there was sudden high demand for essential goods and fresh groceries, and a few items ran out of stock at some outlets, but they had prepared plans to ensure sufficient supplies in the coming days.
Tran Thi Phuong Lan, acting director of the Hanoi Department of Industry and Trade, said that even if purchases surged for several days, supply was still abundant.
"Distributors are implementing plans to stock goods at the highest level, ensuring sufficiency for three months," she said.
The department has actively coordinated with the departments of transport and health to assist enterprises in transporting goods smoothly while keeping logistics costs low, she added.
The trade department is ready to make use of nearly 240 vehicles to transport goods to outlets alongside the suppliers.
The department and supermarkets have advised residents not to stock goods. Some supermarkets have opened online distribution channels so that buyers can place orders via popular apps and e-commerce platforms such as Now and Lazada.
Nearly 8,000 Vietnamese farmers take to online sales
Nearly 8,000 Vietnamese farmers started trading on e-commerce platforms in the first six months, up 191 percent year-on-year, as authorities pushed development of the digital economy.
The total value of agriculture produce on e-commerce platforms in the period tripled to VND 944 billion (US$41 million), according to a Ministry of Information and Communications report.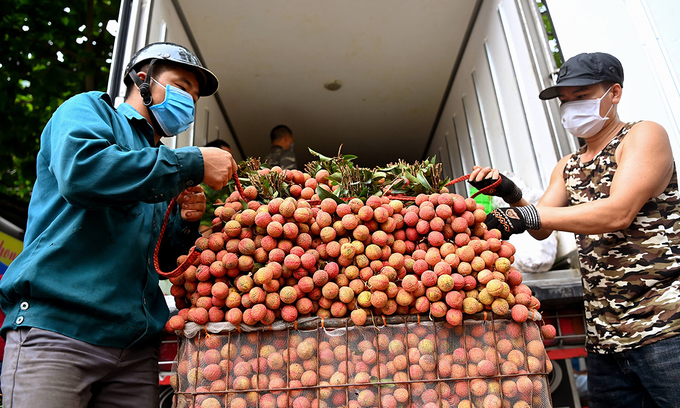 Farmers prepare lychee for distribution in the northern province of Bac Giang. Photo: VnExpress
It stated this was the result of the ministry and municipal authorities pushing postal companies to partner with e-commerce platforms to help distribute produce.
This year, Vietnam's lychees became the first agriculture produce to be exported to Europe via a domestic e-commerce platform, reported VnExpress.
Minister of Information and Communications Nguyen Manh Hung said e-commerce and logistics is the future of the postal sector, thanks to technology paving the way.
Vietnam's digital economy is forecast to grow by 29 percent annually from 2020 to US$52 billion by 2025, according to a study by Google, Temasek Holdings and Bain & Co.
6,800 tourism staff in Quang Ninh get vaccinated
A total 6,800 tourist accommodation and cruise ship employees in Quang Ninh have received their first Covid vaccine shots as the province tries to revive its crippled tourism industry.
The vaccination program started on July 14 and is expected to complete Tuesday. A month later, they would receive their second shots, VOV reported.
So far, Quang Ninh province, home to Van Don International Airport and world famous Ha Long Bay, has organized five vaccination campaigns entailing more than 60,000 doses. It strives to administer about 200,000 doses for its residents and tourism staff between July and August.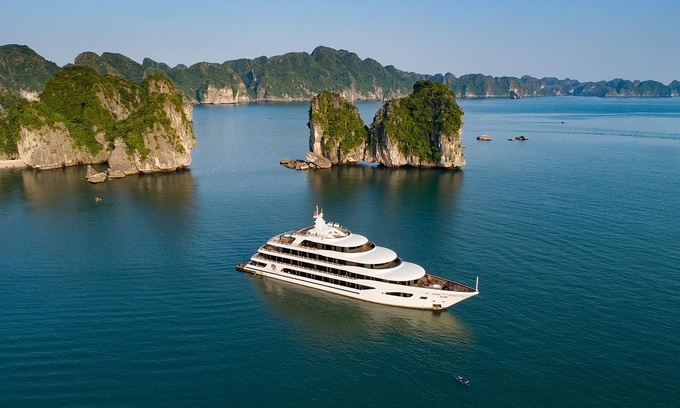 A cruise ship on Ha Long Bay, Quang Ninh Province. Photo courtesy of Scarlet Pearl Cruises. Photo: VnExpress
Last week, Phu Quoc, a popular tourist island off the Mekong Delta province of Kien Giang, also started vaccinating its 60,000 tourism workers in preparation for international reopening.
The tourism industry in Quang Ninh has been hard hit by the Covid-19 crisis with hundreds of cruise ships remaining at anchor in the absence of visitors.
Since June 8, Quang Ninh reopened tourist destinations, relics, historical sites, and golf courses but still prohibits external visitors. Provincial authorities last month also offered free entry tickets to tourist hotspot Ha Long Bay until the year-end to stimulate domestic tourism.
The number of visitors to Quang Ninh fell by 37 percent last year to 8.8 million as Vietnam closed its borders from March 2020 to keep out Covid.
Vietnam named among world's top 20 host economies for FDI for first time
Vietnam was named among the world's top 20 host economies for foreign direct investment (FDI) for the first time in 2020 with an inflow of US$16 billion.
The country was up five places against last year's ranking to reach 19th on the list, according to UN Conference on Trade and Development (UNCTAD)'s World Investment Report 2021.
While global FDI flows fell by 35 percent to US$1 trillion amid the Covid-19 pandemic, the lowest level since 2005 and almost 20 percent lower than the 2009 trough after the global financial crisis, the FDI in Southeast Asia, considered an engine of global FDI growth for the past decade, contracted by 25 percent to US$136 billion, said the report.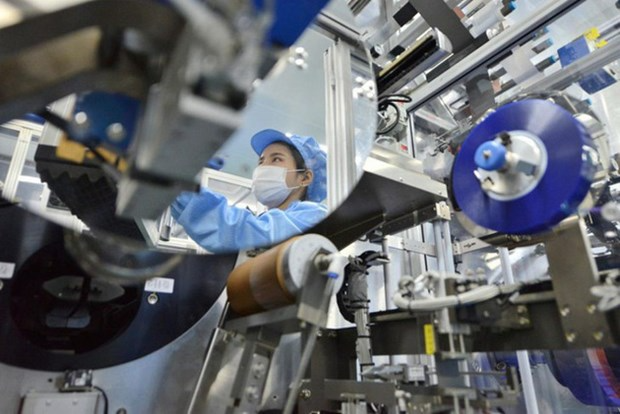 Vietnam is named 19th among the world's top 20 host economies for FDI in 2020. Photo: VNA
It stated that Vietnam remained among the three largest recipients in the region with a decline of only 2 percent, while the remaining two of Singapore and Indonesia suffered drops of up to 21 percent and 22 percent, respectively, cited VNA.
According to UNCTAD, a slight decline in FDI to the country was due to significantly lower investment contractions in manufacturing and realty activities.
However, thanks to the rise in investment in electricity projects, including a US$5 billion gas-fired power plant proposed by ExxonMobil (US) and a US$2.2 billion coal-fired power plant developed by Thai MNEs in the Quang Tri Economic Zone, the flow of FDI was still okay.
As investors, Singapore and Japan topped the list of countries and territories having investment projects, in which Singapore's reached US$5.64 billion, 37 percent of the total and Japan invested US$2.44 billion, a surge of 67 percent in investment compared to 2019.
UNCTAD pointed out local measures to promote investment, including the permission for certain disputes between foreign investors and the State to be taken to international arbitration, were keys to attract FDI inflows.
The report also said the Vietnamese government has expanded the list of business lines eligible for investment incentives, along with the publishing of a detailed list of conditions applied for businesses to be considered high-tech enterprises eligible for tax incentives as good points.
"Vietnam for the first time introduced a negative list on market access, affording foreign investors with national treatment (NT) except in the sectors included in that list. The country also raised the cap on foreign ownership in domestic airlines."