Vietnam News Today (Mar. 23): First Heat Wave Bakes Vietnam in 2023, Temperature Rises to 39℃
Vietnam News Today (Mar. 23): Vietnam, Belgium enjoy fruitful 50-year-ties; First heat wave bakes Vietnam in 2023, temperature rises to 39℃; Vietnamese coffee finds ways to gain foothold in RoK market; More than 50 US firms sound out investment opportunities in Vietnam.
Vietnam News Today (Mar. 23) notable headlines
Vietnam, Belgium enjoy fruitful 50-year-ties
First heat wave bakes Vietnam in 2023, temperature rises to 39℃
Vietnamese coffee finds ways to gain foothold in RoK market
More than 50 US firms sound out investment opportunities in Vietnam
Small ship itineraries in Vietnam amongst best Southeast Asia cruises
Vietnamese, Dutch localities step up cooperation
Vietnam, Italy enjoy strong partnership bilaterally and multilaterally
Singaporean site highlights Vietnam's potential for fintech growth
Vietnam attends 29th ASEAN Economic Ministers Retreat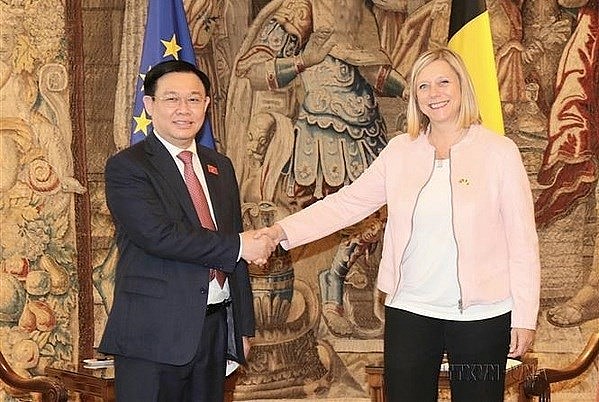 National Assembly Chairman Vuong Dinh Hue (L) meets with President of the Chamber of Representatives of Belgium Éliane Tillieux in Brussels on September 9, 2021. (Photo: VNA)
Vietnam, Belgium enjoy fruitful 50-year-ties: Ambassador
Over the past 50 years, Vietnam and Belgium have enjoyed fruitful partnership across all fields from politics, diplomacy to economy, culture and people-to-people exchange, said Vietnamese Ambassador to Belgium and Luxembourg Nguyen Van Thao.
The ambassador noted that although Belgium is a small country with a population of only more than 10 million, the European country is a partner with great cooperation potential for Vietnam. As the centre of Europe, Belgium has acted as a gateway for Vietnam to the European Union (EU).
According to him, Vietnam and Belgium are both members of the International Organisation of the Francophonie (IOF), and share many similarities in culture, which are favourable conditions for them to bolster their friendship. He added that the two countries have regularly exchanged high-ranking delegations.
Agriculture is one of the successful cooperation areas between the two countries, said the diplomat, noting that the two sides set up their strategic partnership in agriculture from 2018. Belgium is one of the two strongest countries in Europe in agriculture, making it a great partner for Vietnam to build and develop an agricultural economy, he said.
In terms of economy, after the EU-Vietnam Free Trade Agreement (EVFTA) took effect, two-way trade surged 60% in 2022 to over 6 billion EUR (6.46 billion USD) from 3.9 billion EUR in 2021.
Located in the centre of Europe, Belgium is a hub for high technologies, including those for semi-conductor chip production. In the recent visit to the Belgium of the Prime Minister, Vietnam and Belgium signed a cooperation agreement on semi-conductor chip research and production in Vietnam, which is expected to become a bright spot in bilateral partnership, he said.
The diplomat also thought that green, digital and circular economy is also a promising area for bilateral cooperation.
At the same time, culture cooperation has also drawn great attention from both countries, helping connect localities of the two countries. Namur city of Belgium and Hue city of Vietnam have set up twin relations and regularly conducted exchanges in culture, art and heritage conservation, he said.
In April, the Mayor of Namur will lead an art delegation to the Hue Festival, while a Vietnam Day will be held in Belgium to introduce the Vietnamese cultural identity to Belgian friends, said the ambassador, holding that promoting cultural exchange will help people of the two countries deepen their mutual understanding, paving the way for the development of ties in other fields.
The diplomat also pointed to other promising areas in bilateral cooperation, including education and training.
In addition, Vietnam and Belgium have maintained close coordination and cooperation within multilateral organisations. Both countries have been elected to the UN Human Rights Council in the 2023-2024 tenure, he noted, expressing belief that cooperation between the two sides within the council will contribute to the development of human rights in the world as well as the growth of bilateral ties.
Ambassador Thao said that this year, to celebrate the 50th anniversary of the bilateral diplomatic relations, about 50 activities will be held in Vietnam in many forms, including a number of high-level visits and those to boost cultural, trade, investment and tourism collaboration. The visit of Prime Minister Pham Minh Chinh to Belgium last December was a great start of the series of events.
Regarding measures to further bolster the Vietnam-Belgium relations, Ambassador Thao said that proper preparations and appropriate investment are needed to optimise cooperation potential with Belgium in all fields, especially agriculture and high technology, ensuring benefits for all parties.
First heat wave bakes Vietnam in 2023, temperature rises to 39℃
A heat wave, the first of its kind this year, is spreading northern and central regions of Vietnam, causing temperatures to rise sharply to 36 - 39℃.
The hot low pressure area is forecast to bake the western part of the northern region and the whole of the central region, with daily temperatures rising to 37℃ or even 39℃, and humidity falling to between 35-50%.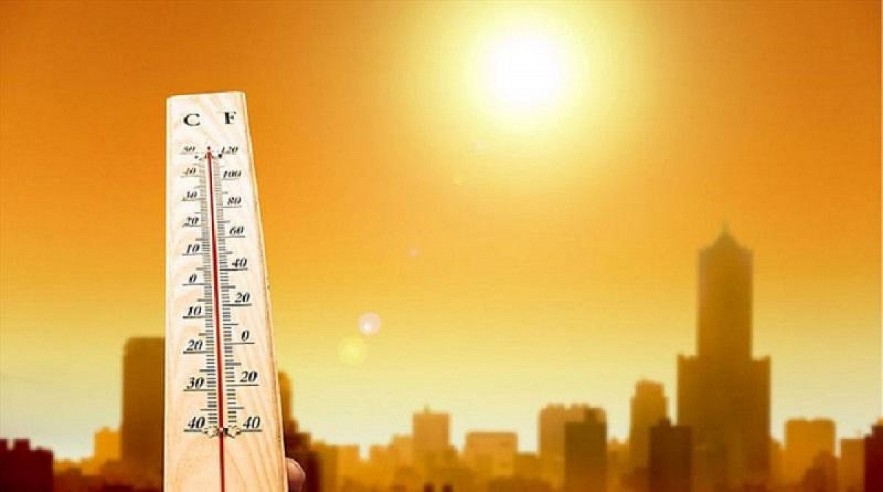 A heat wave is baking the northern and central regions. (Illustrative image).
According to the National Centre for Hydro-Meteorological Forecasting, daytime temperatures of 35-39℃ and beyond will be recorded in central provinces from Thanh Hoa to Quang Ngai, while those in northern provinces will hover around 35-37℃.
In Hanoi, daytime temperatures will also rise to 35-36℃ on March 22 and 35-37℃ or even above 37℃ on March 23.
Meanwhile, the ongoing heatwave is spreading across southern Vietnam, especially in the South-eastern area, with the highest daytime temperature going up to more than 37℃, according to VOV.
The heat wave is expected to gradually increase in intensity on March 23 before decreasing in the northern region on March 24 and in the central and southern regions on March 25.
Due to the influence of the heatwave and low humidity in the air, weather experts warned about a risk of fires in residential areas and forests. In addition, the hot sun will also cause dehydration, exhaustion and heat strokes is people are exposed to high temperatures for a long time.
Vietnamese coffee finds ways to gain foothold in RoK market
Supporting start-ups in building coffee shops in the Republic of Korea (RoK) is among the recommendations by the Vietnam Trade Office in the RoK to help spread the Vietnamese coffee culture in this country, thus contributing to boosting the export of the product.
Statistics of the General Department of Vietnam Customs show that in the first two months of 2023, Vietnam earned more than 13 million USD from over 6,400 tonnes of coffee it shipped to the East Asian nation.
The RoK is assessed to be the world's second biggest consuming market of coffee, with the market scale of around 6.5 billion USD.
Vietnam mainly exports coffee beans, canned coffee and instant coffee to the RoK. The scale of this segment in the RoK is about 2.5 billion USD, while the scope of filter coffee used in shops is much larger, with 4 billion USD.
Vietnamese exporters should pay more attention to this market segment, according to the Vietnam Trade Office in the RoK, VNA reported.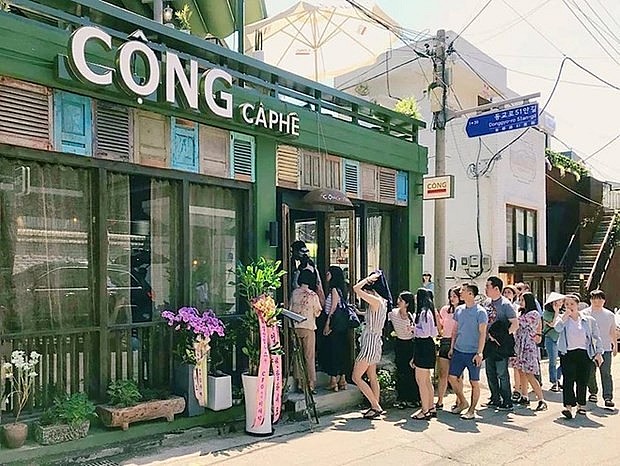 A Vietnamese coffee shop in the Republic of Korea (Photo: cafebiz.vn)
However, they are facing difficulties in increasing the export to the Korean market, as Vietnam mainly ships Robusta abroad, while Koreans prefer Arabica.
In addition, Vietnam is also facing considerable competition from other producers like Brazil, Colombia, Ethiopia, and Guatemala.
This year, the office plans to carry out a wide range of trade promotion activities such as supporting Vietnamese firms to participate in trade fairs and expos in the host country, strengthening business linkages in both in-person and online formats, and helping in bringing Korean firms to Vietnam.
It also recommends Vietnamese localities, associations and businesses to carefully analyse the Korean market to define appropriate products and ensure quality requirements.
More than 50 US firms sound out investment opportunities in Vietnam
As many as 52 large firms of the Unite States, including Boeing, Coca Cola, SpaceX, Netflix, and Apple, have come to Vietnam to seek cooperation opportunities in various fields.
This is the largest US business delegation ever to come to Vietnam at a time when the two countries are celebrating 10 years of their comprehensive partnership.
The trip is to show US businesses' commitment to investing in Vietnam, said Marc Knapper, Ambassador of the US to Vietnam, at a press briefing on March 21.
According to the diplomat, Vietnam is a potential market with many business opportunities, especially when bilateral relations are developing positively, with their trade expanding vigorously over the years.
Sharing the view, Ted Osius, president & CEO of the US-ASEAN Business Council (USABC), noted US firms have a greater interest in ASEAN, especially in Vietnam, amid global economic difficulties, adding this is a vibrant and growing central area.
Despite a downward trajectory globally, Vietnam, with its 2022 growth of 8% and the 2023 forecast of 6%, is becoming one of the global growth centers that has received great attention of US firms, he said.
According to USABC, US firms are seeing great opportunities to expand their production centers and global supply chains in Vietnam in the fields of semiconductor, fast-moving consumer goods (FMCG), toys, furniture, and food processing and manufacturing, as well as in digital economy, creative economy, banking and financial services and health care. In addition, US firms are also keen to invest in the aerospace, defense and security sectors in Vietnam.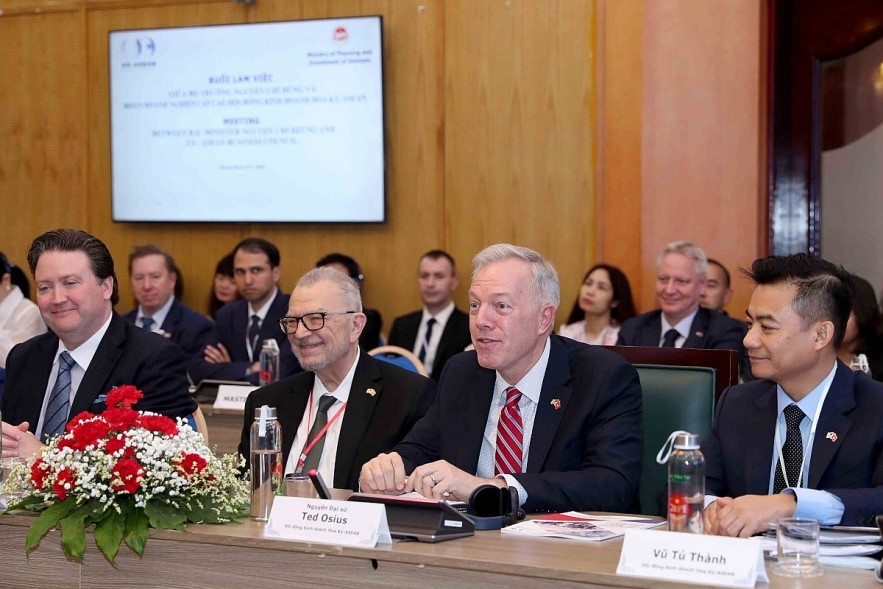 Representatives of the US - ASEAN Business Council and US firms at a working session with the Ministry of Planning and Investment.
During a working session with the Ministry of Planning and Investment on March 21, CEOs of Meta, SpaceX, VISA, AES, Boeing and others all expressed their desires to establish or expand investment and business activities in the Vietnamese market.
Vietnam holds a strategic position in FedEx's business strategy, and FedEx is looking to add flights to and from Vietnam, said the CEO of FedEx in charge of Vietnam and Cambodia, cited VOV.
Meanwhile, the representative of the world's largest investment fund KRR that has invested more than US$1 billion in major firms in Vietnam such as Vingroup, Masan and Kios Viet, said KRR is ready to support Vietnamese businesses to reach out to the world.
The US is currently Vietnam's second largest trading partner and one of the most important export markets. It is also an important ODA donor and the 11th largest investor in Vietnam among 142 countries and territories investing in the country.
Investment Minister Nguyen Chi Dung expressed his wish that the US would soon become the Number 1 investor in Vietnam to promote all opportunities for cooperation based on the relationship of equality, mutual respect and mutual benefit.
CEOs of 52 US firms are scheduled to meet with Prime Minister Pham Minh Chinh, National Assembly Chairman Vuong Dinh Hue and leaders of other ministries to discuss issues related to policies, sales opportunities, supply and investment.
Small ship itineraries in Vietnam amongst best Southeast Asia cruises
Small ship itineraries along Ha Long Bay, the Red (Hong) River and the Lower Mekong River in Viet Nam were named among the top four best Southeast Asia cruises by the U.S. travel guidebook series Frommer's.
Ha Long Bay, a UNESCO World Heritage Site in the northern province of Quang Ninh, covers an area of over 1,500 square kilometers and includes 1,969 islands and islets. This spectacular seascape of limestone pillars is an ideal model of a mature Karst landscape developed during a warm and wet tropical climate.
Among the rewarding ways to spend time off the ship: village walks, kayaking in Ha Long Bay, watching a traditional water puppet show, taking tours of heritage sites, and getting a close-up look at traditional methods for making ceramics, furniture, rice wine, knives, and noodles.
"On a 10-day itinerary, a small ship can cover several hundred miles between Ha Long Bay and Hoa Binh in northern Viet Nam, spending a few days in the picturesque and otherworldly limestone karst–studded Ha Long Bay, the dramatic backdrop to films like Indochine (1992) and The Quiet American (2002)", Frommer's suggested.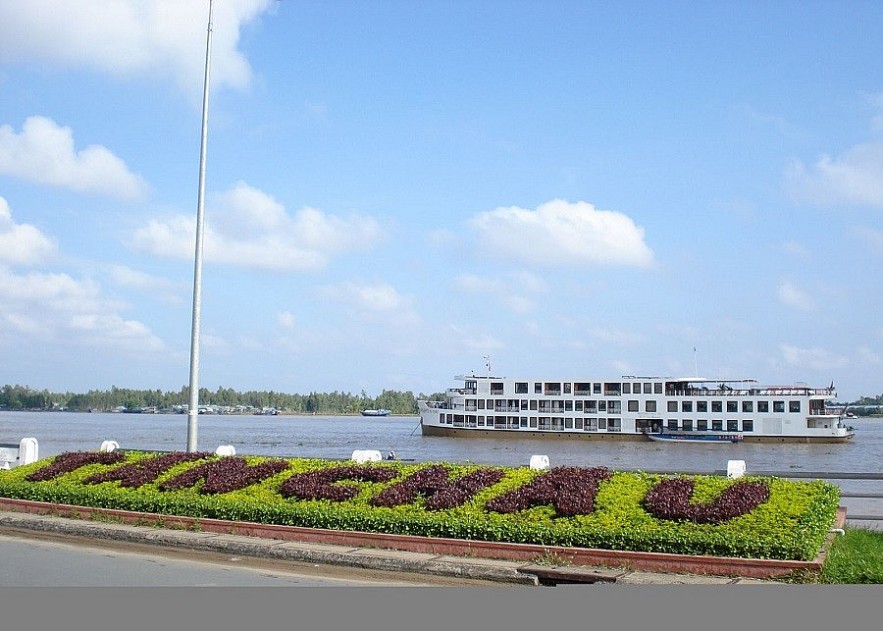 Tan Chau Port, An Giang Province in the Lower Mekong River. Photo: Internet
Regarding the ship itineraries in the Red (Hong) River, the article highlighted that: Except for a day in frenetic and fascinating Ha Noi (notable for its colonial architecture, war heritage, and foodie culture), the rest of this route is spent on the Red River and its tributaries, which reach into the rural landscapes and small towns of Viet Nam's heartland".
Earlier, The Travel, a leading tourism website in Canada, has named Ha Noi among the 10 most beautiful Southeast Asia destinations.
Travelling the Lower Mekong River is a daily adventure and arguably one of the world's greatest river cruising destinations.
Discover Cambodia and Viet Nam, two amazing countries woven together by the lower Mekong river, and both countries are likely to be Southeast Asia's most diverse cruise destination in regards to history, culture and scenery.
Starting cruise trip from between river points near Ho Chi Minh City, visitors experience local life from remote and pastoral on the Cambodian side, to the more industrial and bustling Viet Nam part of the river.
Emerald-green terraced rice fields, shipbuilders, and other businesses cling to the river at many points. Visitors can venture into pungent wet markets and floating fish farms on excursions.